The Best Android Apps For A New Phone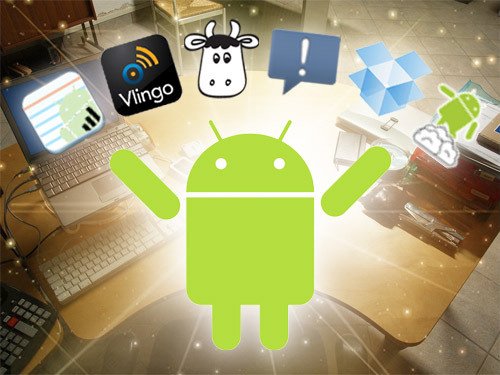 (picture:cooltips.com)
With Christmas right around the corner a lot of you probably either have already picked up a new Android phone for yourself or someone your care about, or you're planing to do it in the near future. But as cool as the new phones are, those 16 GB of free hard drive space aren't going to fill themselves. But thank Google, there are apps to help top off that free space and give us something extra to do with our new Android handsets. So with out further adieu here are our best apps for a new Android phone.
1. Instant Messaging: Whatsapp
Whatsapp was recently bought by Google, meaning there is a good chance this app is already on your phone. If not, download it now; combining instant messaging and SMS services, Whatsapp helps you stay in contact and save money at the same time. You can even send media files via Whatsapp for a fraction of the cost of using a MMS.
2. Browser: Dolphin Browser HD
We still don't know how Chrome for Android is going to turn out and most of us still don't have access to the sweet ICS browsers but in the meantime we have Dolphin Browser HD. Easy to use and easy on the file size, Dolphin Browser HD is a good alternative to the standard Android browser.
3. File Management: Astro File Manager
It might sound funny but Android doesn't come with a file manager preinstalled. That's where Astro File Manager comes in, allowing you to quickly and eaisly manage all your files on both internal memory and SD cards

4. Phone Management: Super A Tool Box
As the name already implies, this app can do it all. If you need an all -round tool box for your Android that gives you information on battery use, data use, file structure and running apps, then this is the app for you!

5.Office and professional work: DocumentsToGo
At around $15, this app isn't cheap, but it is powerful and can turn your mobile into a mobile office. Need a Microsoft Office replacement? This is your app. From Powerpoint to Word to Excel, this app can do it all.
6.To Do/ Productivity: Taskos
Since our cellphones became the modern version of PDAs, staying on top of our schedules with our mobile devices has become more important then ever. This app helps where your old calender leaves off, not only letting you create to-do-lists and schedules but also allowing you to comment on them with standard notes or even voice controls.
7. Time and Weather: Beautiful Widgets
Why would you pay money for a clock widget, you may ask? Because not only does Beautiful Widgets combine your clock and weather widgets but it also adds calendar functionality in a package that is as customizable as you could possibly want. Beautiful Widgets was the first app to reach over a million downloads so they must be doing something right.
8. Music: Shazam
Shazam may not play music but that doesn't stop it from being one of the best music apps out there. For everyone who have ever asked "wait, what's that song?" Shazam is here. Just open the app and it automatically identifies any song – be it on the radio or in a bar—and automatically links to artist and album information.

9. Photography: One man with a camera

One Man with a Camera is a fun little camera replacement app that lets you get a little more creative with your photos. Using classic cameras like the Lomo or an old black and white slide camera as models, you can use Man with a Camera to mimic old school camera with your smartphone.
10. Social Media: Google+ Staying in touch on the go has always been one of the biggest advantages of smartphones and the new generation of social media apps make that easier and more fun then ever before. I love Facebook's sleek, new interface and I have to admit, I probably use it more then its PC counterpart.
11. Note taking: Evernote
Note taking is probably what I do most often on my Xperia handset (well, after listing to music) and Evernote in my experience is the best app for taking notes. Added bonus: Evernote's clound-based service syncs all notes to the cloud meaning you have access to your notes wherever you happen to be.
12. Music: Google Music
Google Music is the Android answer to iTunes and you know what? I love it more then I ever loved iTunes (and this is coming for a dedicated Mac head). It has all the same functions you know and love from iTunes, including access to your music no matter where you are thanks to Google Music's cloud solution. Right now it's a U.S.- only service but there are ways to get access to Google Music abroad.
13. Music: SoundHound
Rounding out the list is the free app SoundHound. It's not just a free Radio app– SoundHound is so much more. If a song is playing anywhere, pull out SoundHound and use the 'What's That Song?' option. It doesn't matter if the song is on the radio or you're at a concert; If the microphone can SoundHound can find it. You might think that this is just a gimmick but it really works and their database is huge. ( I just tested it out and you know what? Apparently an underground 80's experimental Italian-slowenian prog. Rock group wasn't obscure enough. SoundHound got it in less then a second)
But the app goes beyond that! You can find YouTube videos of your current listening choice, find tour dates, buy albums, etc. etc. etc. If you want features, this app has everyone you've ever seriously considered plus some. It's ad-run but if you want a free version, like with most other apps, that can be purchased for around $5
14.Messaging: IM+ All-in-one- Messenger
If you're like me, you still might have some friends who don't rely on facebook alone for their chatting needs. If that's the case then give IM+ a look. Letting you chat on the likes of Google Talk Yahoo Messenger, AIM, Facebook, etc. IM+ is compact and a must have if you're trying to stay connected.
15. Mobile Security: Lookout Moblie Security For Android
Anti-virus protection combined with a back-up service and stolen phone locator? Count me in.
Did we miss any of your favorites? Let us know in the comments below!