Should I Order A Samsung Galaxy Nexus From Abroad?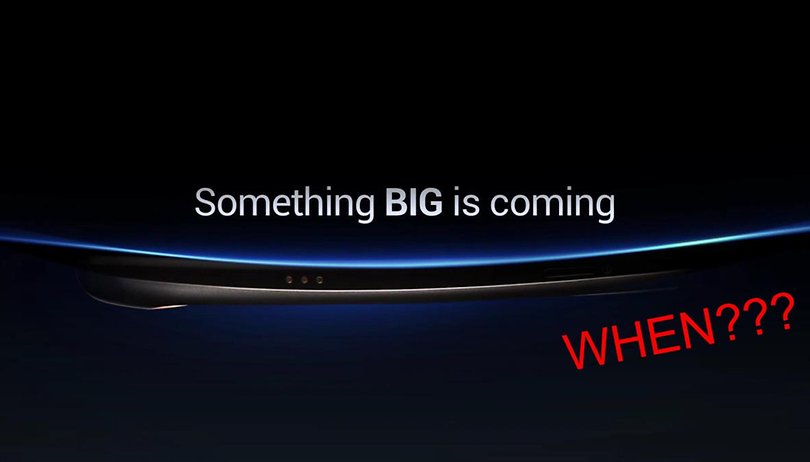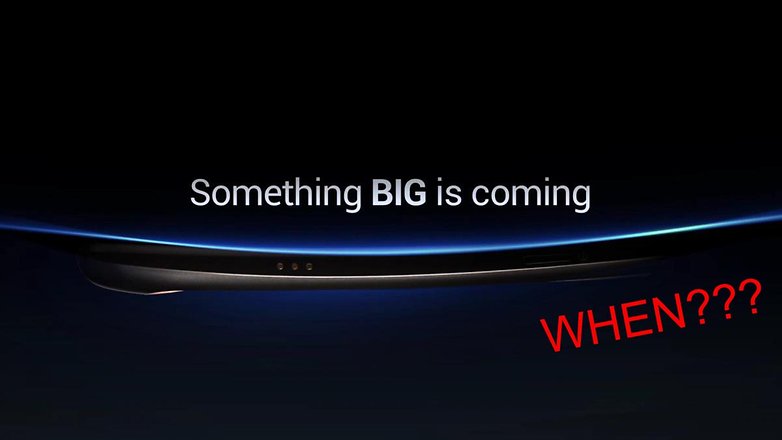 Oh, Gods of Android! When will you smile on American Android fans and finally deliver the promised savior, who will unite the great Android divide? Sorry, I don't mean to be dramatic, but this is getting ridiculous. While some lucky European and Canadian droid-heads already are already basking in the warm glow of the latest Nexus device, Americans are still wondering when they'll finally get a hold of the new ICS device. With as many release dates rumored as there are days in the year some are starting to wonder if it wouldn't be faster to order one from over seas.
The Rumors Continues
Bloggers have, of late, caught a lot of flack for not being able to pin down a release date for the hottest Android on the block, the Galaxy Nexus. While it is true there has been rampant speculation that we'd see a Black Friday, Cyber Monday, 5th of December (etc. etc. etc.) release, each day has come and gone with out a sign of the new Android handset. It's understandable that there would be some major backlash as disappointed fans continue to scratch their heads and wonder what exactly is going on behind Verizon's closed doors. But the blogging community is as much in the dark as any other Android fan at the moment. We constantly receive tips that look authentic like this latest screen capture from Android Central that points to a December 15th release.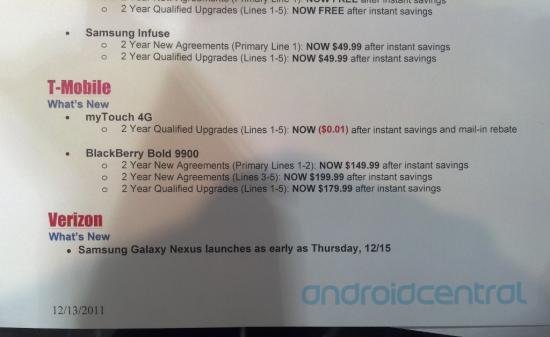 (Picture: Android Central)

But this rumor also failed to pan out and the Android community was again forced to wait for Verizon to make an official announcement.
But what can you do if you're a devoted Android fan and you don't feeling like waiting for the official U.S. Release? A question keeps popping up through out our forums: Is it worth importing a Galaxy Nexus from Europe or Canada instead of waiting for Verizon?
A Question Of Numbers
The Verizon brand Galaxy Nexus has been reported to cost $300 on a 2 year contract, which should take the cost of the new ICS device to around $800 over the lifetime of the contract. It's pricy but for many Android fans, well worth the cost. An unlocked phone in the UK will cost around £514 , in Germany around €609 and in Canada $829.99. If you do the math, then all prices come out to a median price of just around $800 and change. If the prices are the same, then why not just order a Galaxy Nexus from a store over seas? Many who I've chatted with argue that it makes sense to by a nexus abroad because it will most likely arrive faster and you won't have to wait in line on opening day.
While my initial gut reaction would be to say that this sounds like a pipe dream as customs, supply problems over seas and different international tax rates and duties over seas could both delay shipment and increase the price, after doing some research among people who had a unit shipped from Handtec and New Egg and it seems that that isn't the case, necessarily. There are many reports of people already using the Galaxy Nexus in the states after ordering them aboard and some even claim to have gotten a hold of the Nexus for less then it would cost on contract.
But most of the major sites I've checked currently list the Nexus as being out of stock and there is no sign of a major discount (Handtec lists the price as being £509.39 plus shipping) While you might still be able to get a hold of the latest Android flagship a bit earlier, it would also come sans warranty and there is the potential that it wont be 100% compatible with your local network. There is currently no duty assessed on imported smartphones in the US but there is also the chance that the phone could be held by customs, delaying its arrival.
With the Verizon release date still unclear, the answer to our question does appear to be, yes, importing a Galaxy Nexus to the U.S. Could possible help you get your hands on one before the general public. But in doing so you are also introducing the element of chance into your purchase. So at the end of the day you have to ask yourself, how badly do you want the Samsung Galaxy Nexus?
Related Samsung Galaxy Nexus News:
Is Verizon Intentionally Ruining the Release of the Galaxy Nexus?
Verizon's Galaxy Nexus Release Delayed Again, No Longer Available December 9th?