Xiaomi Redmi Buds 4 Lite review: Sorely lacking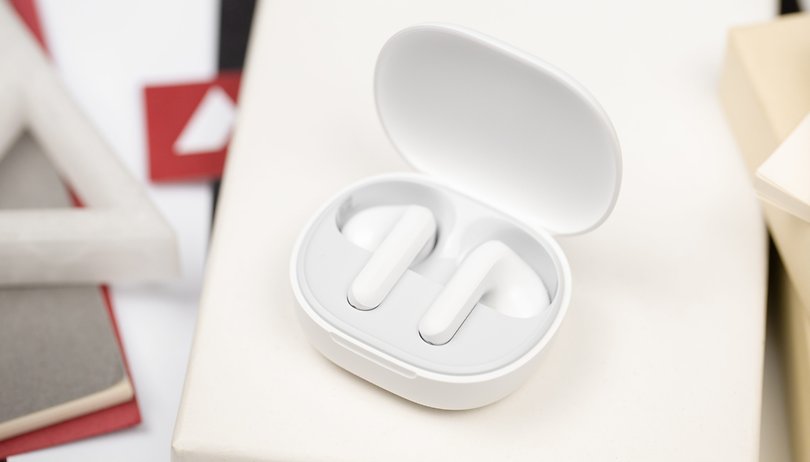 The Redmi Buds 4 Lite debuted on stage in China back in February, and they are now available outside of the world's most populous country. This is reason enough to take a closer look at this inexpensive pair of true wireless earbuds from Xiaomi. In this review, we find out whether the earbuds offer fantastic value-for-money at that price, or are just plain cheap and nothing else.
Good
Very affordable

Pleasant wearing comfort

Appealing design

Uncomplicated setup and operation
Bad
Hardly any bass, rather flat sound

No app support

Volume is too low
The Xiaomi Redmi Buds 4 Lite in a nutshell
Finally, the Xiaomi Redmi Buds 4 Lite have made it outside of China. You can buy them in two colors for $29.99 a pop: white (like our review unit) or black. Apparently, other colors failed to make it Stateside. At that price, they are really cheap true wireless in-ear headphones, but the big question is, are they any good?
For those of you who are in a hurry, I have a summarized opinion here: You get a dull, manageable feature package trapped in the wannabe body of high-quality Apple AirPods. You will not find features like ANC, sophisticated codec support, or in-ear recognition, which is forgivable given its price.
However, I also wish for a few things found in inexpensive headphones to be included: The bass is too flat for me, with the sound generally thinning out and ending up too scratchy at times. Yes, I would have thought having a companion app to be worth making the user experience better.
In addition, the volume is not loud enough, at least for my concert-damaged ears. On the other hand, you only fork out a tiny bit of money for this pair. If you are not walking through loud rush hour traffic, but only use it to listen to podcasts at home, this pair is more than adequate for your needs.
Design
The Redmi Buds 4 Lite disguised themselves as AirPods and rely exclusively on plastic as the primary material of choice. The charging case and stems on the earbuds look appealing, are well-made, and also carry IP54-certification.
---
What I liked:
Very light and comfortable to wear.
Decent workmanship.
IP54 certification.
Appealing look that is based on Apple's design.
What I disliked:
No in-ear detection.
No battery indicator.
---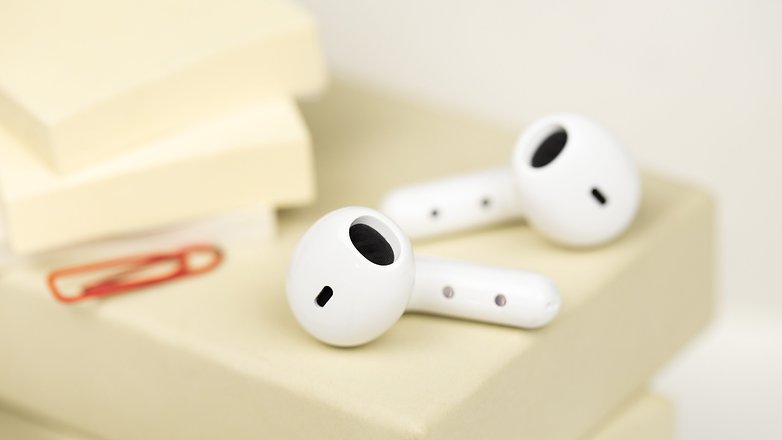 When I fumbled while handling the little beasts out of the packaging for the very first time, including the charging case, I was surprised right away positively. The Redmi Buds 4 Lite, which Xiaomi sent us in white, were made entirely out of plastic, but they carried an appealing look and are also well-made.
Of course, the design and the short stems remind us a bit of the competition from Cupertino, if you can even refer to them as such. We took the two earbuds, each weighing less than four grams, out of the compact case, and they fit perfectly in the ear (which is quite the achievement with my elephant-sized ears).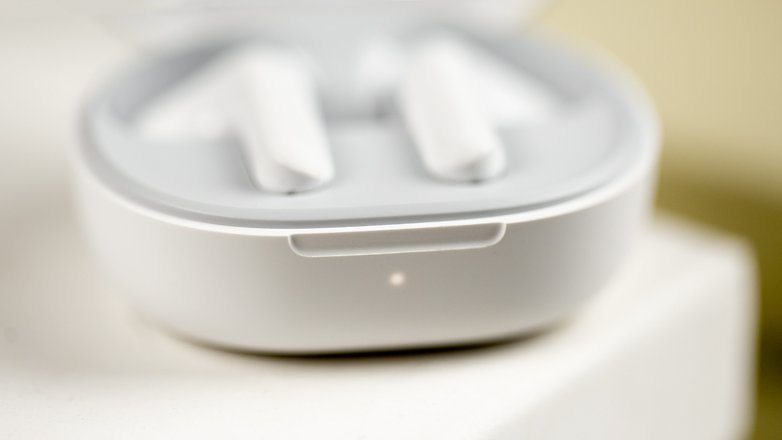 This is especially important to take note of as I danced, pogo-style, around the living room carpet and headbanged to the tunes of the Electric Callboys with wanton abandon while wearing them. How was the result? Yep, those earbuds remained securely in place.
Later, I even fell asleep while listening to a podcast, and even when my age-related weak bladder forced me to go to the bathroom at four in the morning, both earbuds remained exactly where they should be.
I found that to be rather exciting because up till now, I usually encountered difficulties with such plastic models and therefore preferred the alternative design that had rubber plugs.
As a rather prolific sweater, I am also happy to report that Xiaomi at least provided the Redmi Buds 4 Lite with IP54 certification. Thus, you can indulge in your favorite land-based sports with the earbuds without any problems, regardless of grip and sweat.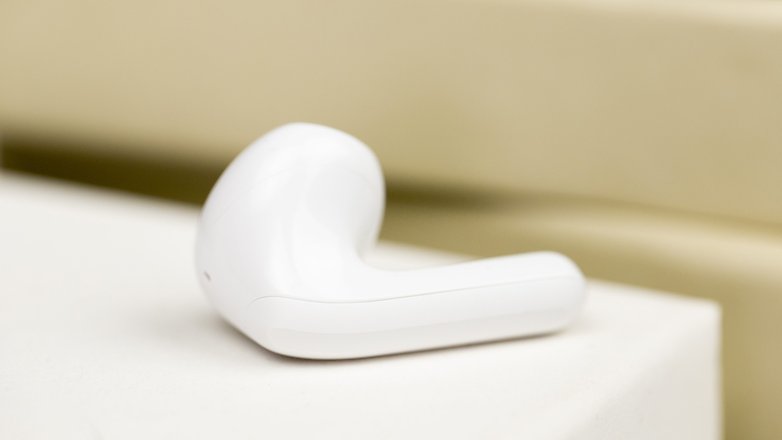 What I like less is that there is no in-ear detection, but that is probably also due to its price. Otherwise, I miss a way to know just how much battery is left. There is only a white LED that glows, but it does not exactly tell whether the Buds or the charging case are full or almost empty. The charging status is only briefly displayed on the phone's screen when pairing it with a Xiaomi smartphone.
Functions and connectivity
The Xiaomi Redmi Buds 4 Lite are easy to set up and similarly easy to use. However, I do miss an app, honestly!
---
What I liked:
Google Fast Pairing is supported.
Easy setup/connection.
Uncomplicated touch gesture operation.
Bluetooth 5.3 compatibility.
What I disliked:
No volume controls.
No app.
---
I noticed that the Redmi Buds 4 Lite were connected to my smartphone in no time at all. This meant that with Fast Pairing, the smartphone was connected within seconds as soon as you removed the two earbuds from the case. That's all you have to do to get started, since there is no app to go along with it. By the way, there is also compatibility with Bluetooth 5.3 connectivity.
Thus, there is very little for you to configure, and you can begin to listen to music almost instantaneously in your ears without having to go through a lengthy setup process (which are not very productive in this case anyway).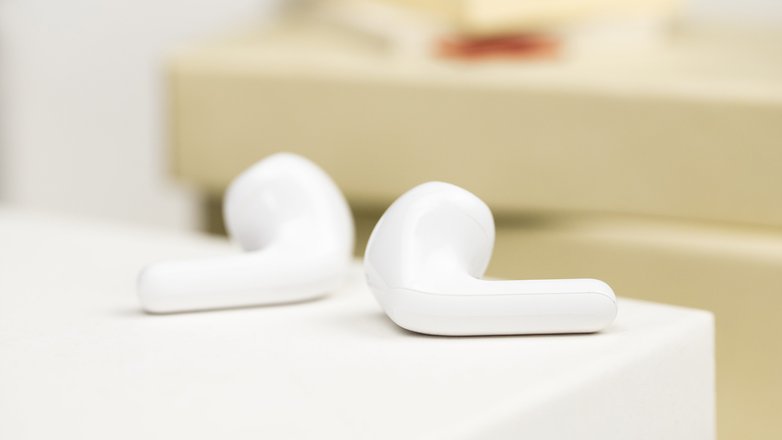 The gesture control is also simple to use and easy to learn: If you want to pause a song, you only have to tap your ear with the edge of your hand, and you can skip the song with a well-placed chin hook. Haha, just kidding, I made that up.
In fact, you tap the left or right side of the stem twice on the earbuds to pause or resume a song. You can also accept calls by tapping twice. You can hang up with three taps and jump to the next track with three taps during music playback.
There is almost nothing else to say about the operation, since you cannot control the volume level via the Redmi Buds. However, there is a low-latency mode that you can activate by holding down both sides for 1.5 seconds. Honestly speaking, the lowered latency did not really make a difference while gaming.
Audio quality
The Redmi Buds 4 Lite are not particularly loud, and neither do they offer plenty of bass. In fact, the sound scratches at times . This may not sound particularly positive, but it pretty much fulfills what I expected in this pair of sub-$30 true wireless earbuds.
---
What I liked:
Mostly decent audio playback.
Average voice quality.
What I disliked:
Where did the bass go?
Flat and sometimes scratchy sound.
The volume level is too soft.
---
First of all, when I complain about the music that I listen to being too scratchy, that there is inadequate bass, or that the overall audio impression struck me as uninspired and somewhat bland, I do so without taking the price tag into consideration.
In other words, I wished that Dave Gahan's scratchy voice wouldn't scrape my ears during his "Let me see you stripped down to the bone". I would like to hear booming bass and crystal clear highs from the 12 mm drivers and preferably at a respectable volume that would make the neighbors four houses away call the police.
But we are not at a rock concert, otherwise Xiaomi would not be able to sell them for less than $30. If I put what I hear in relation to the price tag, then it is actually decent. I can live well with the decent mids, even clear trebles and basses, although both sound a bit flat to me.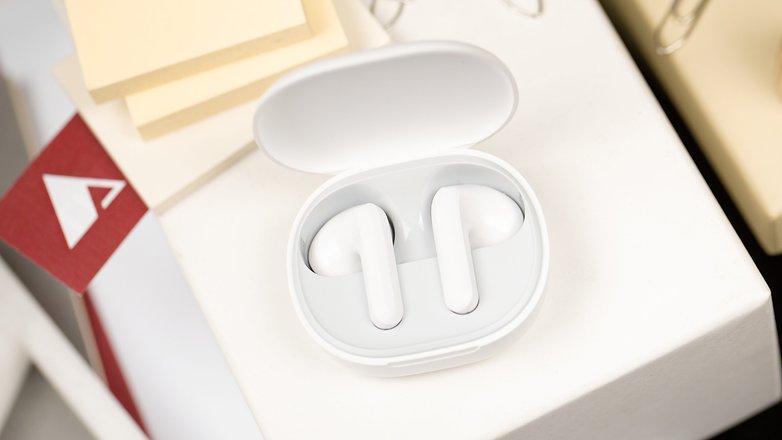 I also actually mentioned voice quality as a point I liked earlier on. The microphones do not deliver anything great, but the microphones in earbuds that cost five times more do not offer a 500% increase in quality, either. The other person can understand me well enough, which should be sufficient for a pair of $30 earbuds, right?
More annoying than the sound quality is the sometimes extremely low volume. I will have to draw the line here: I feel that when I hear the same song on the same platform (Spotify), it is louder on a Xiaomi smartphone than on my own Huawei handset. Since there is no app and thus no equalizer, the lower volume level could be a real problem when you are in the confines of a noisy city. However, the volume is sufficient when you are in the kitchen cooking up a storm or pottering around the house.
Of course, there is no support for major codecs here. Thus, you won't read or hear anything about aptX in this review. If you want to know the exact which codec plays, then take a closer look at our comprehensive guide to know everything about Bluetooth audio codecs.
Battery life and charging
Xiaomi mentioned that the battery lasts up to five hours on a full charge, or up to 20 hours of playback time including the charging case. In reality, I experienced slightly below the stated figures, but I found that to be absolutely acceptable.
---
What I liked:
Can charge up to four times via the charging case.
A short charging cable is included.
What I disliked:
---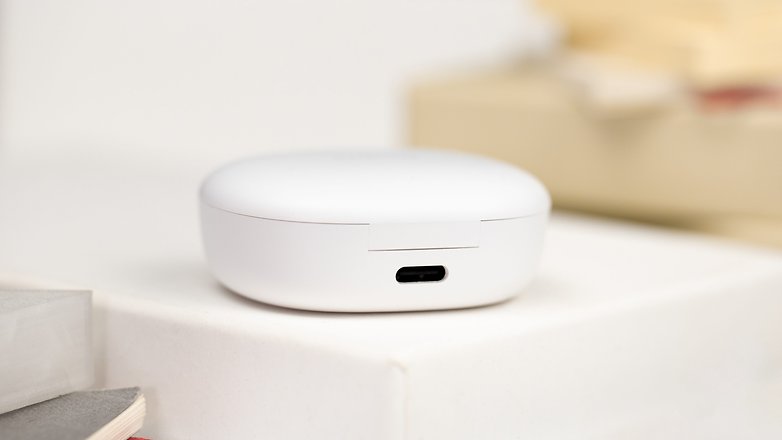 Oops, Drees didn't mention any weaknesses about the battery? Yup, that's right. I had already complained about the missing charge indicator elsewhere, and I actually have nothing else to complain about in this department. Xiaomi packed a short charging cable in the box, which is better than nothing.
I did not quite achieve the estimated five hours on a single charge in reality, but I enjoyed well over four hours of audio playback during my review. This is absolutely acceptable in this price category, and you can fully charge the in-ear earbuds an additional three times thanks to the case. Wireless charging is not supported, but I cannot criticize Xiaomi for omitting that at this price.
Conclusion
The Redmi Buds 4 Lite are really cheap, pleasantly light, and look great. If that is all you are interested in, go for it. However, if you want to adjust your in-ear earbuds precisely to match your listening habits via an app, cannot sleep peacefully without ANC, require multipoint or high-quality codec compatibility, and like it when the bass hits you in the stomach? Well, then Xiaomi's inexpensive earbuds are not your cup of tea.
Personally, they are too quiet and I was annoyed by scratchy sounds in places. Overall, however, they did what they were supposed to, although I like the quality of podcasts even more than for music. I consider the sound, the voice quality of the microphones, and the battery life to be "okay". I liked the fast connection and the uncomplicated setup process. I also like the Apple-esque look and the good fit of the Redmi Buds 4 Lite in my ears.
No wireless charging, no ANC, no equalizer? No problem, as that is exactly what you can expect for $30. Therefore, I will award the Redmi Buds 4 Lite 3.5 stars with a clear conscience.