Xiaomi 12 review: A viable flagship alternative?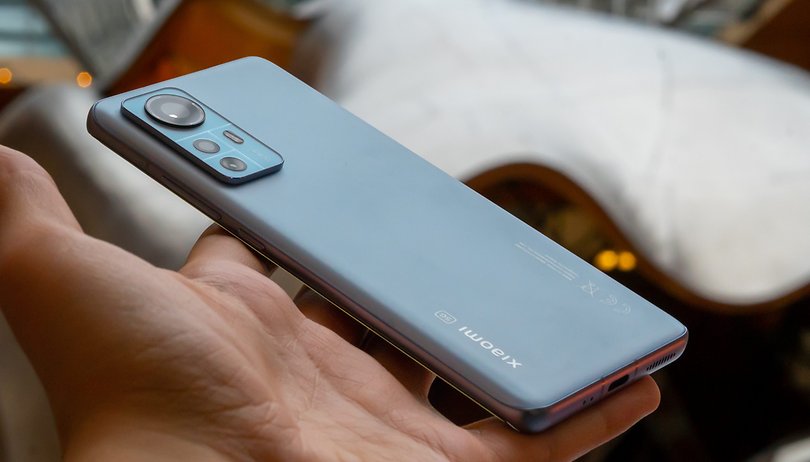 The Xiaomi 12 is another attempt by the Chinese manufacturer to grab a spot in the premium smartphone segment. Technically as well as in terms of price, Xiaomi takes its cue from its South Korean rival, Samsung. The Xiaomi 12 costs just as much as the Galaxy S22 and in our review, we find out whether the smartphone is actually a viable alternative.
Good
Powerful device

High quality workmanship

Good battery life with fast charging support

Solid camera configuration
Bad
No IP certification

Bloatware and advertising in the operating system

SoC overheats

No memory expansion
The Xiaomi 12 in a nutshell
Yes, the Xiaomi 12 is an actual alternative to the Galaxy S22 and other premium smartphones. Because at a recommended retail price of $749 (it is not available officially in the US), the smartphone offers a real high-quality build, a powerful performance thanks to the Snapdragon 8 Gen 1 SoC, and a solid all-round camera for everyday use. At the same time, Xiaomi beats many rivals when it comes to quick charging, and the battery life is also solid thanks to the 4,500 mAh rating.
However, a premium smartphone should have IP certification at the very least. Beyond that, the presence of bloatware and ads in the OS are not acceptable in such an expensive device. The maximum internal storage configuration of 256 GB is also rather sparse for those who love capturing videos, and unfortunately, the option to expand the storage is missing. Overall, however, it is a solid smartphone in times when Samsung's SoC and especially the battery continue to be its main weak points.
Design & Display
The Xiaomi 12 offers a 6.3-inch display that is embedded in a high-quality chassis that comprises both glass and aluminum. The dimensions of the smartphone remain compact at 15.3 x 7.0 x 0.8cm, tipping the scales at 180 grams. However, there is no IP certification to speak of here, which is rather unfortunate.
What I liked:
High-quality workmanship.

Rounded display edges (this is a matter of preference).
Great vibration motor.
What I disliked:
No IP certification.
Large camera bump.
Power button is unpleasant with its sharp edges.
Compared to the predecessor, the Xiaomi Mi 11, the manufacturer has once again improved its production qualities. The Xiaomi 12 is in no way inferior to other premium models in terms of quality. The gaps are negligible, the smartphone only sounds slightly hollow in the knock test, and nothing creaks when you apply additional force in an attempt to bend it. Thanks to its smaller dimensions, the phone also fits well in the hand, and the same goes for your pockets.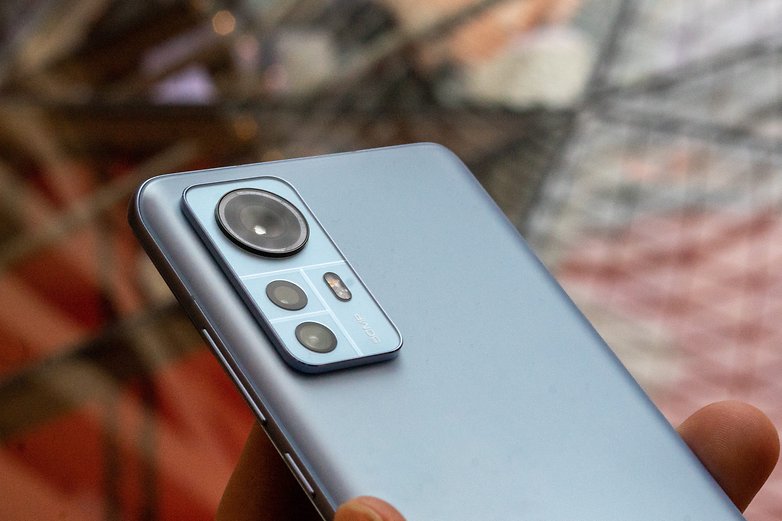 The rather compact 6.3-inch display is wonderfully suited for consuming media content. Thanks to 120 hertz, AMOLED technology and a resolution count of 2400 x 1080 pixels, videos and photos are smooth, crisp and bright enough. The brightness level is also adequate where content remains easily visible even under bright sunlight. The overall feel good factor is rounded off by very loud speakers and a particularly crisp vibration motor.
However, the rather slim, elongated power button cuts into the finger a bit when pressing and holding it, making for a rather unpleasant experience. Furthermore, the camera hump at the back protrudes quite a bit from the chassis and is not tapered away in a gradual slope. The fact that Xiaomi decided not to include IP certification is also hard to forgive in a device that falls under this price segment.
Software: Okay updates, too much bloatware
With the Xiaomi 12, the manufacturer finally upgraded its operating system MIUI to Android 12. MIUI makes a good impression in its thirteenth iteration, but a major flaw of the smartphone shows itself here. This is because advertising placements like Amazon, Facebook, TikTok, Spotify and Joom have no place on a premium smartphone in my opinion. In the mid-range segment, that might still be acceptable because of the lower entry price.
However, I find the ads that you find in the Themes app, for example, to be even more annoy ing. If this also bothers you, Antoine will tell you how you can remove the ads in the Xiaomi operating system. By the way, Xiaomi also upgraded the frequency of its software updates. You can expect to receive up to four years of security updates and three years of operating system upgrades. This is good value for money, but it is also slowly becoming the industry standard among smartphone manufacturers.
Performance: Snapdragon 8 Gen 1 at full throttle
The Xiaomi 12 is equipped with Qualcomm's Snapdragon 8 Gen 1 SoC, which is the most powerful Android processor at the moment as of spring 2022. The manufacturer provides 8 GB of working memory and relies on fast standards for both RAM and internal storage. However, you cannot expand the smartphone's storage via microSD cards.
What I liked:
Sufficient performance for everyday use and gaming.
What I disliked:
Overheating in the stress test benchmark.
Smartphone gets noticeably warm.
No memory expansion slot.
In terms of performance, a kind of one-size-fits-all has finally developed for expensive smartphones in 2022. You get the Qualcomm Snapdragon 8 Gen 1 SoC, which is mated to 8 GB of DDR5 RAM and either 128 or 256 GB of internal UFS 3.1 storage. Thus, you can play all mobile games that are available in the Google Play Store without experiencing any stutters and on high graphics settings, too! Typical as it is for flagships, there is also a performance surplus that should guarantee smooth use over the next few years.
Xiaomi 12
Xiaomi 12 Pro
Nubia RedMagic 7
Oppo Find X5 Pro
Apple iPhone 13 Pro Max
Google Pixel 6 Pro
Samsung Galaxy S22 Ultra
3DMark Wild Life
9.626
9975
10146
9300
9729
6446
5682
3DMark Wild Life stress test

Aborted due to overheating

Best run: 10028
Worst run: 4625

Best: 10143
Worst loop: 8395

Geekbench 5

Single-core: 1179
Multi-core: 3591

Single-core:1155
Multi-core: 3356

Single-core: 1249
Multi-core:3864

Single-core:846
Multi-core:3324

Single-core:1729
Multi-core: 4714

Single-core:1043
Multi-core: 2876

Single-core: 1155
Multi-core: 3356
Another problem with Qualcomm's processors: They heat up a lot inside the smartphone and thus cause two problems: One, the smartphone throttles the processor's performance (also known as thermal throttling) in the long run, and the other, the smartphone gets uncomfortably warm to the touch. The stress test benchmark of the 3D Mark app, which simulates a twenty-minute gaming session, was even interrupted by the smartphone after just under 10 minutes so that it doesn't overheat excessively. However, I could not determine any problems during gaming. Only the chassis's poor heat dissipation was annoying to the touch.
Camera: Beautiful point-and-shoot camera
The Xiaomi 12 offers a triple camera configuration at the back, where you can use the main and ultra wide-angle camera for everyday use. The third camera is a telephoto macro camera with a resolution that is too low to be of any practical use. You can take selfies at 32 megapixels and even videos in 8K at 24 frames per second.
What I liked:
Beautiful pictures, both during the day and at night.

Good performance with videos.
Optimized camera app.
What I disliked:
While the Xiaomi 12 Pro only made it to fifth place in our camera blind test, the base model does not claim to be a flagship camera handset. Thus, you can expect a solid snapshot camera that provides good pictures during the day as well as at night. I have put together a selection of sample pictures in my photo gallery.
However, the smartphone does not offer a dedicated telephoto lens. You only get a macro zoom camera, which you can't focus on objects that are far away in the distance. In the very tidy and pretty camera app, you can also choose between creative modes like long exposures, high-resolution shooting (50 megapixels), and a comprehensive pro mode.
As with the Pro model, Xiaomi also focuses on video quality. While 8K can still be safely ignored in 2022, dual videos, slow motion and fast motion as well as movie effects are fun. Unfortunately, you will have to download the latter first, which is annoying when you use the device for the first time if you are not connected to your home Wi-Fi network.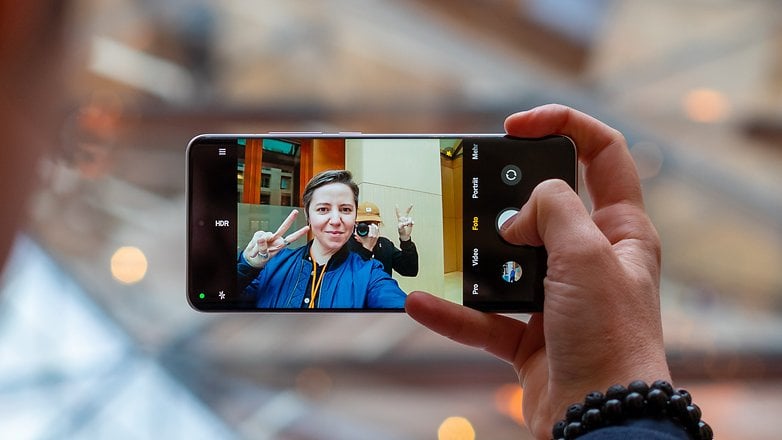 Battery that lasts for 1.5 days!
The Xiaomi 12 has a battery with 4,500 mAh rating that can be recharged quickly via 67 watts. Good news: the corresponding charger is also included! You can also charge the smartphone wirelessly at 50 watts. Reverse wireless charging for charging other smartphones or wearables is also available.
What I liked:
Solid battery life of about a day and a half.

Fast Quick Charging.
Particularly fast wireless charging.
What I disliked:
Not the fastest Quick Charging on a Xiaomi device
In terms of battery technologies, Xiaomi is ahead of all other manufacturers in 2022. For example, Xiaomi is the only one to offer Quick Charging at 120 watts in a smartphone that costs less than $400 - but this feature is, unfortunately, missing in its own flagships. On the other hand, you can charge the integrated 4,500 mAh battery at 67 watts in just under 30 minutes. This is still a very good charging rate in everyday use, which is higher than that of Samsung and Apple.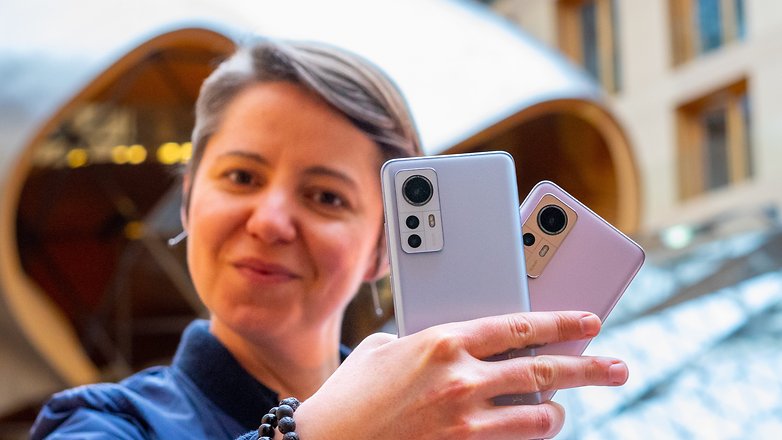 The integrated battery usually lasted longer than one day during my review duration. And even though the display and processor do consume a fair bit of energy, the manufacturer plays its trump card here, because the Galaxy S22 still earns harsh criticism for too short battery runtimes. By the way, you can charge your friend's S22 with the Xiaomi 12 when it is empty thanks to reverse wireless charging support. This is truly bold move, one would think.
Wireless charging is also particularly fast with 50 watts. While a compatible wireless charger is missing in the box, Xiaomi still includes the corresponding charging brick.
Xiaomi 12 technical specifications
Xiaomi 12 series
Product
Image
Display
6.28 inch, Curved AMOLED
2,400 x 1,080 pixels, 120 Hz
6.28 inch, Curved AMOLED
2400 x 1080 pixels, 120 Hz
SoC
Qualcomm Snapdragon 8 Gen 1
Snapdragon 870 5G
Memory
128 / 256 GB ROM
8 / 12 GB RAM
128 / 256 GB ROM
8 / 12 GB RAM
Software
MIUI 13
MIUI 13
Rear camera
Main camera: 50 MP
Ultra-wide angle: 13 MP
Macro camera: 5 MP
Main camera: 50 MP
Ultra-wide angle: 13 MP
Macro camera: 5 MP
Front camera
32 MP
32 MP
Battery
4500 mAh, 67 W, 50 W Wireless
4500 mAh, 67 W
Connectivity
5G, Wi-Fi 5 & 6 (ac/ax), BT 5.2, NFC, Dual GPS/Galileo, GLONASS/ BDS
5G, Wi-Fi 5 & 6 (ac/ax), BT 5.1, NFC, Dual GPS/Galileo, GLONASS/ BDS
Dimensions and weight
152.7 x 69.9 x 8.16 mm, 180 g
152.7 x 69.9 x 8.16 mm, 176 g
Price
from 749 US dollars
from 649 US dollars
To the offer*
will follow soon
follows soon
Final verdict
With the "12", Xiaomi delivers exactly what was to be expected when looking at the hardware specifications! A fast, flagship smartphone that shines with the latest technical standards. Furthermore, the smartphone offers faster Quick Charging compared to many of its rivals and takes photos that are appropriate for a 2022 flagship. At the same time, the manufacturer plays on a level that simply oozes high-end quality in terms of build. The manufacturer also does not disregard details like the vibration sensor or the speakers.
However, there are deductions in points due to the lack of IP certification, overheating problems that led to a crash in the benchmark and the extremely annoying advertising in the operating system. This is not intrusive, but the fact that it exists at all is infuriating, after being $750 poorer for it.
The Xiaomi 12 gets 4 stars from me, which beats the Galaxy S22 in its review. In my opinion, it is the better everyday phone because the battery life is more than adequate and it competes on the same level in premium features. Xiaomi, you are welcome to charge premium prices for such a phone!