Apple knows just how to make us want to use its improved AR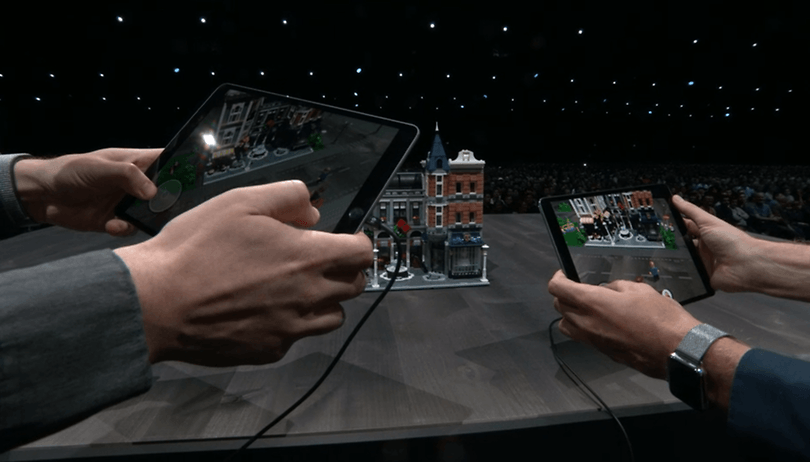 Apple kicked off this year's WWDC with a focus on the improvements coming to its augmented reality platform, introducing ARKit 2 alongside iOS 12. Just from the keynote, we know to expect improved face tracking, realistic rendering, 3D object detection, persistent and shared experiences.
ARKit is one year old and gets a new version to celebrate. Apple's AR developer platform combines information from the inertial sensors of your Apple device and the camera to track its position in space, move around digital objects and place them on the 'real' environment you see through the camera.
Apple gets serious about "transformational" AR technology
"AR is transformational technology," Craig Federighi, Apple's senior vice president of Software Engineering, said on stage in San Jose today at Apple's WWDC. "We're on a relentless pace of advancement."
Right now, we're seeing AR in its infancy, learning to crawl. Most AR apps to date are just cute party tricks, but as the technology matures, we're seeing more and more use cases that seem more appealing in our day to day life (who still plays Pokemon Go everyday?). At WWDC, Apple excelled at selling AR by highlighting the cases in which AR seems the most fun and useful.
ARKit 2 key new features:
Multi-user functionality, so more than one person can share same AR experiences simultaneously.
Improved 3D object detection
Better face tracking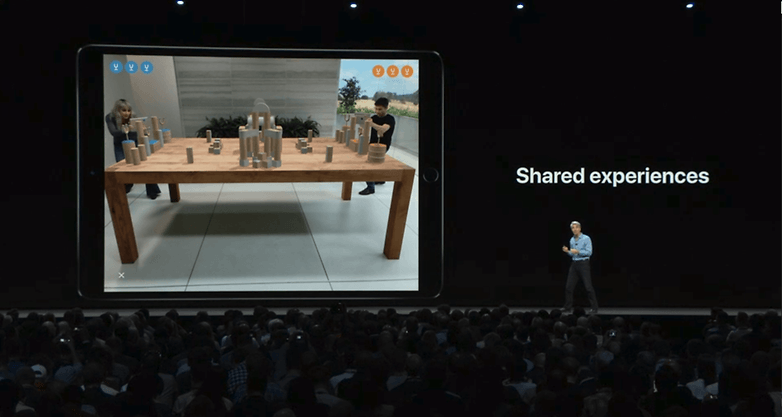 Apple, being Apple, there's a focus on creatives. The Cupertino company will be partnering with Adobe on a new file format for AR, called USDZ. Adobe's Creative Cloud services will support the new format. We'll have to wait a little longer to actually see this in action though, but it's clear Apple is leaning into making creating AR content as accessible as possible.
Measure: AR that everyone will want to use
Probably the best case for AR to skeptics who think it's all frivolous playing around like Snapchat overlays or Pokemon Go is Apple's new measure app.
At the demo we saw at the keynote (and we shouldn't take demos at 100% face value), it worked like a charm - just point your phone at the thing you want to measure, then tap and drag your finger along the edges. Your phone will then calculate an approximate measurement of the width, depth or height of the object.
The app can also recognize and scan rectangles to give approximate dimensions, which might be a handy way to figure out placement of say, furniture or paintings when redesigning your apartment.
Yes, we've said "approximate" a couple of times. We'll have to check how well this works outside of the demo to find out just how accurate it is, but at the moment, I could see a lot of people using this for moving house, design or preparing for travelling.
But what if we want to do some frivolous playing around? Apple's got that covered too.
It'll be hard to let go of AR Lego
To demonstrate the new features of ARKit 2, Apple brought on Martin Sanders, director of innovation for Lego, to show off a demo from Lego that lets people build together. According to Sanders: "With ARKit 2, we get to expand those creative possibilities like never before and take things beyond the physical."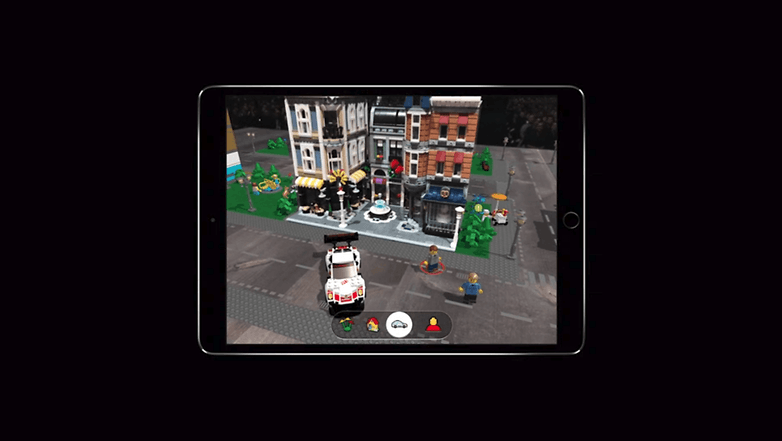 I grew up with Lego as a kid. My feet grew tough through many stumbles onto those plastic caltrops in my formative years. So I couldn't help but feel a twinge of Luddism at the idea of playing Lego through your smartphone screen. But not long into the demo, I was yearning to be up there and join in.
The Lego demo showed a multiplayer game around a real-life Lego set, allowing the movement of various figures around the environment, fire and water effects, sound and interaction of real and AR Lego. If Measure showed the sober, work-and-chore related case for AR, then this is the flipside. Kids are going to eat this up like candy, and more than a few adults will find themselves joining in the fun, too.
Has Apple cemented its lead in AR?
Google didn't have a grand showpiece when it comes to AR or VR at its own developer conference, even though it was clear that Google keeps working at it. Sure, Google has its own version of ARKit, called ARCore, an AR developer toolkit for Android phones, but by and large, Mountain View has struggled to keep up with Cupertino in this field.
Interestingly, something that we did see at Google I/O was the introduction of Cloud Anchors, which matches up what a pair of smartphone users are seeing in the cloud to allow for multiplayer AR applications across different platforms. Will Android and iOS users end up sharing virtual space? Let's all keep it nice and friendly, eh?
What do you think of Apple's new AR features? Could you see yourself using them?