[Video] Nuance's Nina Blows Siri Out of the Water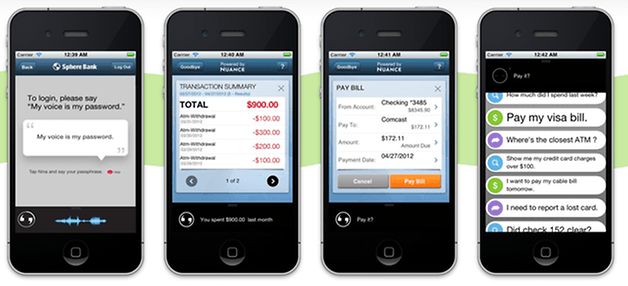 Nuance – famed overloads of Siri – believe you'd rather talk to a computer than click on a screen. The company has just introduced a new, more-versatile version of Siri named Nina, which can be integrated into ANY Android or iOS app. Yup, that's right; you could end up barking orders at your banking app instead of clicking on a button.
But the big, juicy cherry on top is Nina's voice-analyzing security feature. According to Nuance, Nina will include a feature called Dragon ID which can decipher and authenticate the sound of your voice based on distinctive features of your speech. Baked into an app, Nina could let you, say, pay a phone bill or make a transfer just by talking to your phone.
I guess the question I'd like to ask now is, does anyone really want what Nuance is offering? I can see voice recognition being useful for utilitarian apps like Maps and Google Translate, but does anyone feel more secure making a banking transaction via voice? Nuance is banking on enterprise developers here, but I think they should be a bit more open-minded. I'd much rather have an app that translated my speech than one which made it slightly easier to pay for my water bill.
Lastly, while I can see this kind of software being helpful in certain situations (ie, when you're alone and don't feel like typing), it's still not really socially acceptable (or advisable) to be barking orders at your phone in public, especially about your bank account. What do you think?