TechCrunch Disrupt 2017: 5 startups to watch out for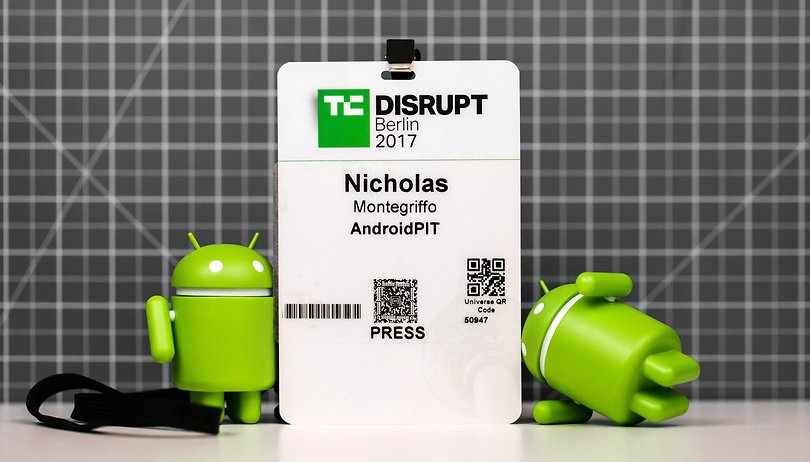 TechCrunch Disrupt 2017 brought together a veritable army of tech startups in the German capital to strut their stuff, network, and discuss their plans to shake up the world next year. We took a look at a few of the most promising ventures to keep an eye out for in 2018.
On the 4th and 5th of December 2017, the Arena in Berlin's trendy Kreuzberg district (soon to host a new Google campus) was swarming with entrepeneurs and enthusiasts over the course of the 2-day convention. Almost any trendy tech you could think of was represented—AR, VR, drones, wearables, blockchain, fintech, medicine, social networks, 3D printing and more.
Although your humble reporter could only spend one frantic morning at the event, I had the opportunity to chat with up-and-coming startups promising to disrupt the world of consumer electronics in the coming year. Here's our pick of the Startup Allee at TechCrunch Disrupt 2017, and what they had to show.
Lightweight AR glasses that don't look (totally) dorky
Augmented reality has been a buzzword for years already, but this futuristic tech is still going through its growing pains. Various companies big and small have tried to get us comfortable with different headsets and smart spectacles but they've generally been too bulky (or silly looking) to catch on.
Korean startup LetinAR might be the company that cracks the balance between comfort and functionality. Their AR glasses are compact and comfortable enough that I could really see them working with everyday use. Below you can see me modelling a pair alongside LetinAR CEO Jaehyeok Kim.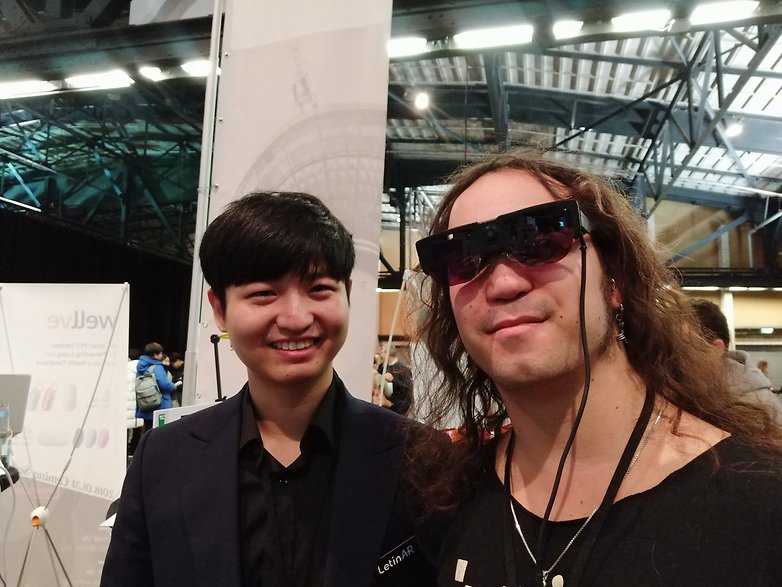 As you can see from the scene above, LetinAR's glasses aren't exactly fashionable but they are lightweight and feel natural (at least, to someone used to wearing regular glasses).
As for use, LetinAR are currently partnered with BMW to provide navigation assistance for drivers and are planning similar software coupled with fitness trackers for cyclists. Perhaps most interesting of all, however, will be AR subtitles—watch a foreign language film through the glasses, and see the subs appear before your eyes.
LetinAR aims to release their glasses in 2017 for Android devices. This means you'll still have to connect the glasses to your phone or tablet with a cable, but LetinAR's ambitions go far beyond that, with standalone glasses in the pipeline over the next couple of years.
Now, a machine can learn to speak with your voice
At AndroidPIT, we've been thinking about vocal recognition a lot this year, but mainly when it comes to smart home tech. Google Assistant, Amazon Alexa and co will recognize and respond to your voice. But voice cloning tech startup respeecher looks at it from a different angle—what if machines could get to know our voices so well that they could perfectly imitate them?
This Ukrainian startup uses deep learning to create a synthesized version of someone's voice, which can then be programmed to say anything. You can check out samples of voice cloning work on their website, and the accuracy and realism is really impressive.
According to CTO Dmytro Bielievtsov, the technology behind respeecher was born from just playing around but could have a wide range of commercial applications. For example, movies can be dubbed in the voice of the original actor. CEO Oleksandr Serdiuk also suggests that in the future, when you contact a customer support call center, the voice you hear on the other line might not belong to the real-life operator at all, but instead be a cloned voice copied from the charismatic and persuasive agent on the team.
The guys for debt collection in call centers, they told us that some guys do almost nothing, but always succeed just because they have such a good voice.
The technology behind respeecher needs an hour of speech from the original speaker to make a clone, which raises an interesting possibility for voice actors. Once you have an hour's worth of your portfolio, could you just upload it and license it out to be cloned by your clients?
If the idea sounds creepy, Bielievtsov insist that their mission is actually to avoid the uncanny valley entirely. He finds it off-putting to interact with bots and automated speech, but hopes that his technology will put us at ease by making the machine speak with all the warmth, nuance and feeling of a real person.
A new world for VR
The idea of a shared virtual world has always captured the imagination of futuristic thinkers, ever since the classic cyberpunk novel Snow Crash. One of the latest efforts to make this a reality comes at the hands of Somnium Space, which promises an open and persistent VR world that is compatible across various different platforms—Oculus, Vive, Dayream, GearVR, etc.
I gave Somnium Space a spin (using the HTC Vive) and explored a little corner of their virtual world. While gamers and thrill-seekers won't find much action here, it has potential as a social space, as users will be able to purchase virtual real estate and construct houses, office buildings, etc.
Naturally, the idea of virtual property pays a key part in the monetization of this experience—free to visit, but pay to settle down. This isn't an action game, but a vehicle for creativity and commerce. You can create and produce things in Somnium Space, and yes, someone might even pay you for what you make.
Essentially, what we're looking at is a VR version of something like Second Life, and if that's anything to go by, there could be huge potential here.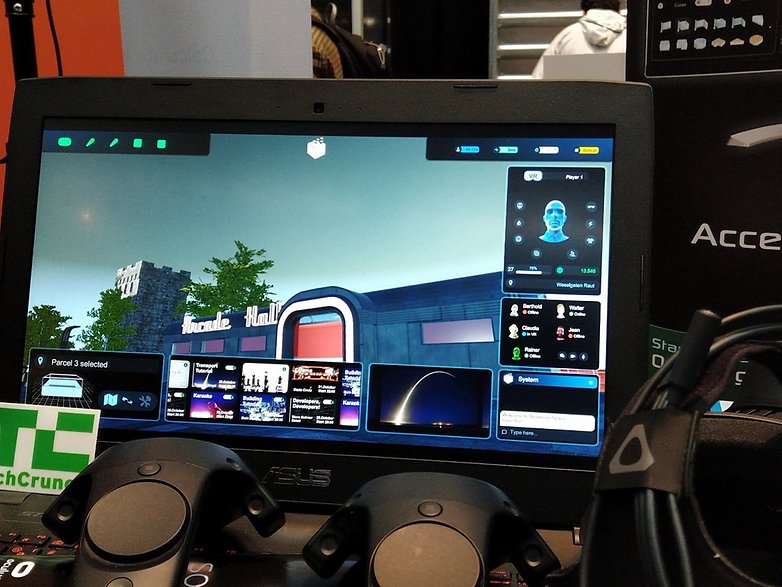 Interestingly, Somnium Space will allow both VR-heads and those more skeptical of the technology to mix freely in their virtual world, since you don't need to be in VR to be there, and whether you're strapped into a headset or not, you can still interact, play games with, or talk to, anyone else you meet in the virtual world.
It's been a long time since Snow Crash, and even The Matrix, but the upcoming Steven Spielberg film adaptation of Ready Player One might propel the idea of shared VR worlds back into the public consciousness at a critical time for Somnium Space.
The 'real' world also gets the VR treatment
Those of us who find the idea of a completely artificial space such as the one offered by Somnium Space unappealing may still find something to like with the VR reality tours offered by ViarLive. This Moldovian startup enables conversation of footage taken by 360-degree cameras to be converted into VR spaces that can be hosted online and embedded onto websites.
Something like a Tube site for VR content, ViarLive is great for tech enthusiasts with the right equipment to be able to record their travels and experiences and have others really immerse themselves into them. Hike to the summit of a mountain, for example, then create a VR space that allows people all around the world to enjoy the view as if they were there.
Naturally, the main commercial application here is in tourism. By using the app below and any kind of VR headset, even the humble Cardboard, you can see how it works by looking around a beautiful Moldovan monastery.
Since ViarLive also offers the potential to access various interactive information points planted in the scenery, you'll be able to look at statue and bring up information about who it represents, or interact with a table at a restaurant to make a reservation. All-in-all, great potential for tourists that really want to check out a place in detail when planning their next trip.
Multi-screen AR makes TV interesting again
I'll admit that in the midst of all the exciting interactive entertainment technology available today, good old-fashioned television rarely excites me, no matter how smart TVs get. But German startup eyecandylab GmbH did manage to, uh, catch my eye. The particular kind of candy they offer is the prospect of using AR apps on your mobile device to enhanced your TV watching experience.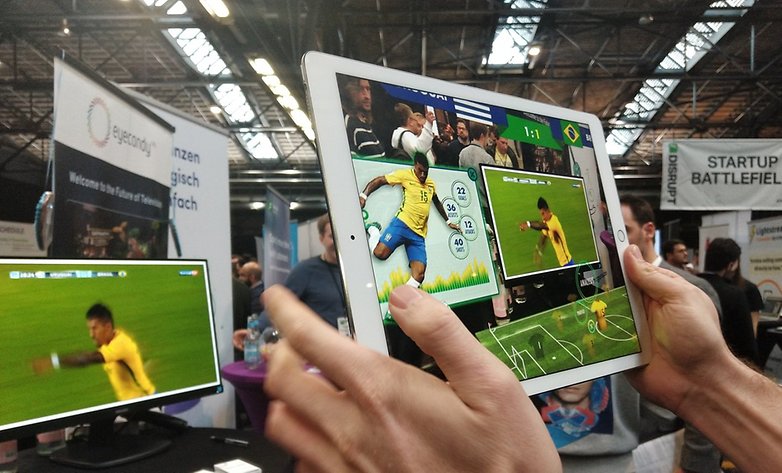 I had a chat with founder Tom Orzikowski, who gave me a demo of how it works. Basically, they aim to bring the "two screens", namely the television and your mobile device, together for the first time. In the above picture, the tablet can see the football game on the TV screen and then surround it with additional interactive and visual information about the team and players.
Additional examples included having the fish from a nature documentary pop out of the TV and follow you around on the tablet screen, and being able to pull out the car from a car commercial and see its stats and price.
Something I always found irritating about interactive television was that, when you activated it, everyone else watching on the couch with you had to see the same thing on screen, even if they didn't want to. Eyecandylab's tech could be used without disturbing anyone else watching, who may well be using different AR enhancements on their own devices at the same time.
2018 - A year of disruption?
These were just a few of the exciting startups that grabbed my attention during our short time at TechCrunch Disrupt 2017, but there were plenty more pushing for innovation over a range of different fields. Are you excited to see any of the above products next year? Or are you looking forward to something else entirely? Let us know in the comments!