Video: Tasteless Tablet Commercial Taunts Steve Jobs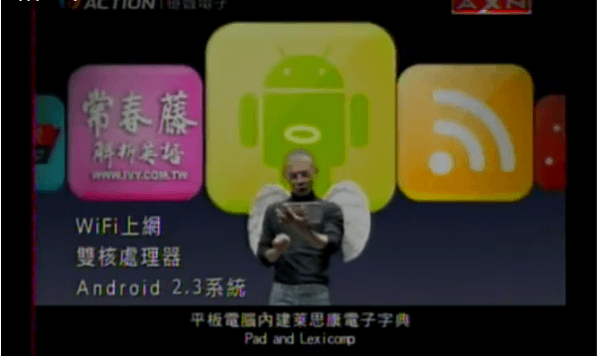 (still shot from the TV ad)
"WOW" That's pretty much what I was thinking when I just saw a new Taiwan TV ad showing Steve Jobs as an angel saying how happy he is to finally be able to "play with another pad". Regardless of how hard I am on Apple, and how I won't ever agree with a lot of things that Steve Jobs said and did, for me personally this commercial is way too much, way too soon.
In case you haven't seen the video yet (below), impersonator Ah-ken is dressed up in the late Jobs trademark turtleneck and blue jeans, but this time with a halo and angel's wings. He introduces a new pad in the commercial, and then pulls out the Action Pad....and to add insult to injury, it's an Action Pad running on Android 2.3.
When the company was asked about the commercial, the spokeswoman Chelsea Chen gave an insanely intelligent answer:
"It's just an impersonator, not Jobs".
Oh really? **Whew** Thank you for clarifying that. I had really believed for a moment that it was Steve Jobs back from the grave. But with your new and breaking information revealing that its just an impersonator, I can finally relax again.
She continues:
"We have no choice but to use Android, we can't use iOS,".
….......
My answer to her at this point would have been..."umm...nobody is allowed to use IOS except for Apple? You do know that Steve Jobs just passed away 3 months ago and literally referred to Android as "shit" right (true fact. Read the book!)? Maaaaaaaybe clowning him only months after his death AND putting an Android tablet in his hands while doing it is a bit much"?
I mean coome on...the world just lost Steve Jobs in October. Despite Taiwan culture being known for having a different type of humor than we might have in the States, this really wasn't the time to start joking about the guy. His family is far from over what happened, and so is the rest of the world. Hell, I still can't believe he's gone, and everytime I hear or see the word Apple, it's a sad reminder that we lost one of the greatest innovators of our time just a few short months ago.
Don't get me wrong...I'm all about humor, and there are a lot of times that humor can be used to turn a horrible and sad situation into a smile. But pick your spots, and manage your timing. Yeah, this commercial will probably get this tasteless company lots of PR and media attention, will make them a bit controversial, and might even get them some laughs. But to me personally, the timing and the tastelessness of this commercial makes it...well....just plain stupid.
For anyone interested in seeing the ad, here it is: