Samsung Galaxy Z Flip 5 vs Flip 4: Is It Worth Upgrading?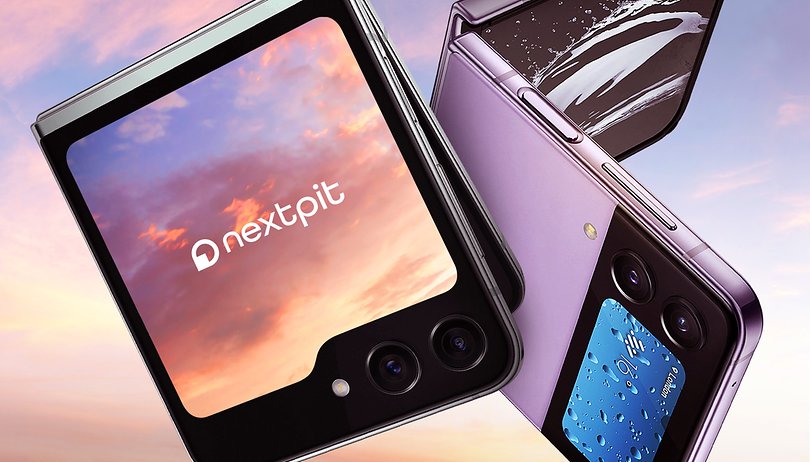 Samsung updated its clamshell foldable smartphone for 2023 with a very important change. After testing the Galaxy Z Flip 5, we put it face-to-face with its predecessor, the Galaxy Z Flip 4 in a direct comparison of features, price, design, performance, camera, battery life, and more. Let's check how big were the changes!
On July 26, Samsung unsurprisingly presented new hardware as part of its Galaxy Unpacked event. There was the new Galaxy Watch 6 (hands-on) and the new Galaxy Tab S9 lineup of premium tablets to marvel at. However, the main focus was on the foldables, including the new flagship foldable Galaxy Z Fold 5 (review) as well as the Galaxy Galaxy Z Flip 5 (review). We will focus on the flip phone and compare it with its predecessor in this article. As usual, we start with the technical specs:
Samsung Galaxy Z Flip 5 and Z Flip 4: Technical data comparison
Samsung's new flip phone
Samsung's 2022 model
Product
Image

Inner display
6.67" OLED
2640 x 1080 pixels
120 Hz refresh rate
Outer display
3.4" OLED
1.9" OLED
720 x 748 px
260 x 512 px
SoC
Snapdragon 8 Gen 2 for Galaxy
Snapdragon 8+ Gen 1
RAM
8 GB
Storage
256 / 512 GB
128 / 256 / 512 GB
Expandable memory
❌
OS
One UI 5.1 based on Android 13
One UI 4 based on Android 12
Four years of Android upgrades
Five years of security updates
Camera
Main: 12 MP, f/1.8, OIS
Ultra-wide-angle: 12 MP, f/2.2
Selfie camera
10 MP, f/2.2
10 MP, f/2.4
Battery
3,700 mAh
25 W wired charging
15 W wireless charging
Connectivity
5G / LTE / Wi-Fi 6E / Wi-Fi Direct / Bluetooth 5.3 / NFC
5G / LTE / Wi-Fi 6E / Wi-Fi Direct / Bluetooth 5.2 / NFC
eSIM
✔️
IP Certification
IPX8
Dimensions and weight
Folded: 85.1 x 71.9 x 15.1 mm
Unfolded: 165.1 x 71.9 x 6.9 mm
Folded: 84.9 x 71.9 x 17.1 mm
Unfolded: 165.2 x 71.9 x 6.9 mm
187 g
Rating

Read the Galaxy Z Flip 5 review

Read the Galaxy Z Flip 4 review
To the offer*
A look at the table shows you quite a few similarities between both devices. This makes it sound like a rather incremental update, but don't let that fool you. The larger cover display alone promises significant added value and the new SoC more performance.
We put both devices to the test in real-world scenarios, evaluating their capabilities in daily use. Additionally, we ran synthetic benchmarks for battery and performance to check the influence of the hardware changes applied by Samsung. We will tackle the differences in the following categories:
Table of contents:
Display and design
"Hmm, looks a bit like before". Yes, somehow it's always a bit manageable how Samsung's foldables change from year to year. In this case, things are a wee bit different, even if the dimensions—84.9 x 71.9 x 17.1 mm for 2022, and 85.1 x 71.9 x 15.1 mm in the 2023 model—don't reflect that.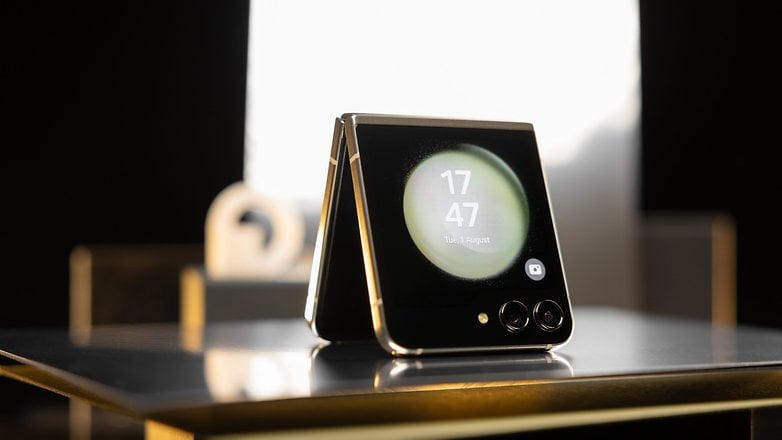 But it is: it has become two millimeters thinner, which is related to the new, improved "Flex Hinge". Thanks to the new technology, the display now closes completely flat when folded. If this does not lead to problems with the display in terms of the crease, this would definitely be a fine achievement for the Galaxy Z Flip 5.
More noticeable is the significantly larger outer display, which grows from 1.9" to 3.4" and is thus more than three times larger than the predecessor. This should bring huge advantages not only visually, but especially functionally. You can therefore use the Galaxy Z Flip 5 much more often when it is folded.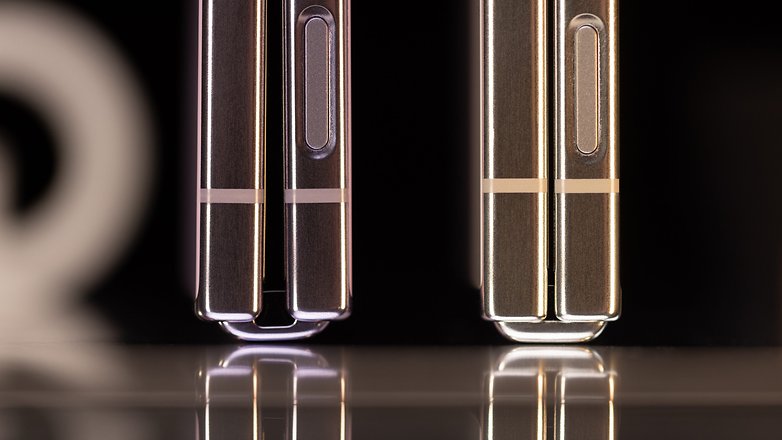 Apart from that, Samsung actually stays true to itself in terms of design again, which is clear. The inner display also seems identical to that of last year's model. Adaptive 120 Hz again for the identically sized AMOLED panel with identically high resolution. Did the displays become brighter? We will have to wait for the final review for that answer, unfortunately.
Performance and connectivity
Samsung remains loyal to the Snapdragon (for now): While it used the Snapdragon 8+ Gen 1 in 2022, the second generation of the Snapdragon 8 is now available—and even with the addition "for Galaxy". This is Samsung's way of signaling that Qualcomm's SoC is specifically tailored for Samsung's phones, but we are basically only dealing with an overclocked version of the Snapdragon 8 Gen 2.
In games, buyers will be hard-pressed to notice differences in performance, as the phones tend to throttle down performance after a couple of minutes to avoid overheating, despite the faster GPU and prime CPU core on the Galaxy Z Flip 5's processor. In daily tasks, the Flip 5 should provide slightly higher performance, especially in heavy but short tasks like applying video filters.
Galaxy Z Flip 5
(Snapdragon 8 Gen 2)
Galaxy Z Flip 4
(Snapdragon 8 Gen 1)
3D Mark Wild Life
Maxed out
3D Mark Wild Life Extreme
3,342
2,815
3D Mark Wild Life stress test
Best loop: 11,069
Worst loop: 5,068
Best loop: 10,586
Worst loop: 4,145
Geekbench 6
Single: 1,988
Multi: 5,086
Single: 1,309
Multi: 4,213
Samsung still relies on 8 GB of RAM, but the Galaxy Z Flip 5 starts with a minimum size of 256 GB of internal, again non-expandable storage. Thus, there is no longer an entry-level version with 128 GB. Alternatively, you can again go for the 512 GB storage this year.
You will also look for improvements in connectivity with a magnifying glass, but they are there: Bluetooth 5.2 has been improved to 5.3.
Cameras
This category is the biggest disappointment for me—at least on paper. Comparing the specs, only one thing stands out to me: The selfie cam retains the 10 MP, but now relies on an f/2.2 aperture (previously f/2.4). Is everything else exactly the same in terms of hardware? It seems so.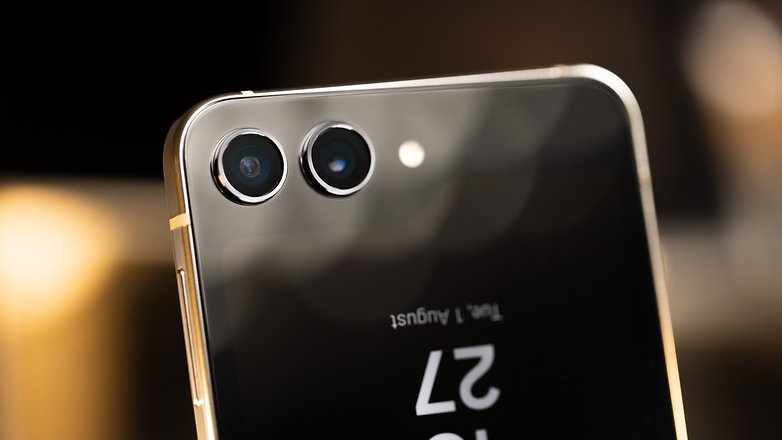 In her review of the phone, Camila Rinaldi notes that the Galaxy Z Flip 5 features better post-processing and light capturing. Even though the new phone renders shots with the same usual saturated look, the resulting images were more pleasing to her, with better dynamic range—the difference between dark and light parts of the scene.
Check some pictures taken with both devices under a variety of scenarios, using the different cameras:
Galaxy Z Flip 5 test photos
Galaxy Z Flip 4 test photos
Software
Boredom is deadly—unless we are in the software section of a comparison of two Samsung smartphones. In that case, it means that nothing has changed in terms of software support. That means: Yep, the Korean tech giant again relies on four years of Android updates and five years of security updates for the Galaxy Z Flip 5 and thus remains the industry leader.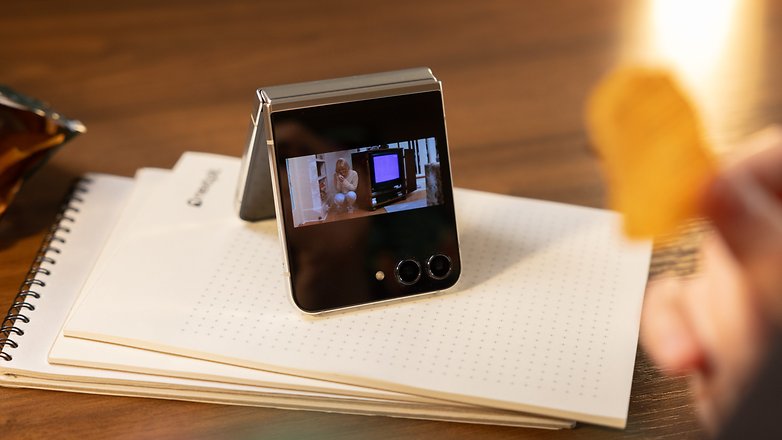 Everything else is expected: Of course, the Z Flip 5 now comes with Android 13 preinstalled, and of course, the brand-new foldable also presents itself in the "One UI" look. Do you want more information about Samsung's popular Android overlay? Then read our article with tips and tricks for One UI and definitely take a look at our review of One UI 5.
As expected, the bigger external display opens up more usage possibilities, even though Samsung doesn't let users run any app on it by default as its Razr rival does—but there is a workaround we will mention later. The Flip 5 comes with a series of widgets for the cover display, not unlike the Flip 4, but with way more information and features.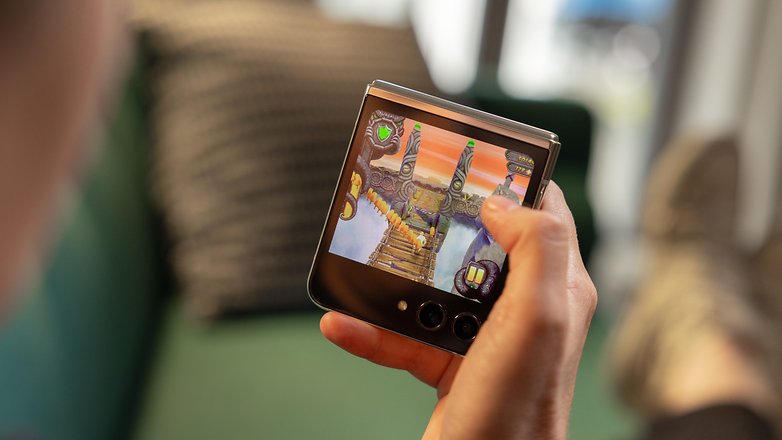 A curated set of apps—as of the review, Google Maps, Messages, WhatsApp, and YouTube—can be set to run on the cover display, any other app requires a workaround using the first-party Good Lock app. Using the MultiStar app on Good Lock also unlocks other advanced features perfect for tinkerers, some of which may come to the standard system, or at least that is our hope.
Battery and charging
I could copy and paste the introduction of the camera section above. Here, too, there is a bad innovation standstill.
Charger? Still not included.
Capacity? Still 3,700 mAh.
Charging speed? Still 25 W.
In practice, both phones charged their battery at the same rate in our reviews, regardless of if you have only 5 minutes or need a full charge. Expect to reach around 80% after an hour of charging, and waiting approximately 1h30min for a full charge.
As for battery life, the upgraded processor with an overclock processing frequency resulted in a shorter autonomy, as seen in PC Mark's battery test, where the Flip 5 got 10h10min of a simulated runtime versus 13h6min from the Flip 4. In real usage, Camila didn't notice a difference between both phones, which lasted a full day with moderate use.
Price and availability
Let's move on to the price. It has increased—at least when we look at the entry-level price. It is $999 and that is even a hundred dollars more than the 2022 model. However, you have to consider there is not a 128 GB model anymore. This means that you pay more, but you also have twice as much storage. You can see that clearly in the table here:
| | | |
| --- | --- | --- |
| | Samsung Galaxy Z Flip 4 | Samsung Galaxy Z Flip 5 |
| 8+128 GB | | |
| 8+256 GB | | |
| 8+512 GB | | |
As always, phone carriers are already offering discounts on the Flip 5 when signing up for a new contract, so make sure to check if your plan is up for renewal. Additionally, some may offer good bonuses when trading an older model.
Is it also worth looking at the Galaxy Z Flip 4 from last year? Of course! After the Flip 5 launch, it is worth keeping an eye on discounts for the Flip 4—after all, you get a foldable that was originally launched for $900 and that you can easily have fun with for another three years.
Conclusion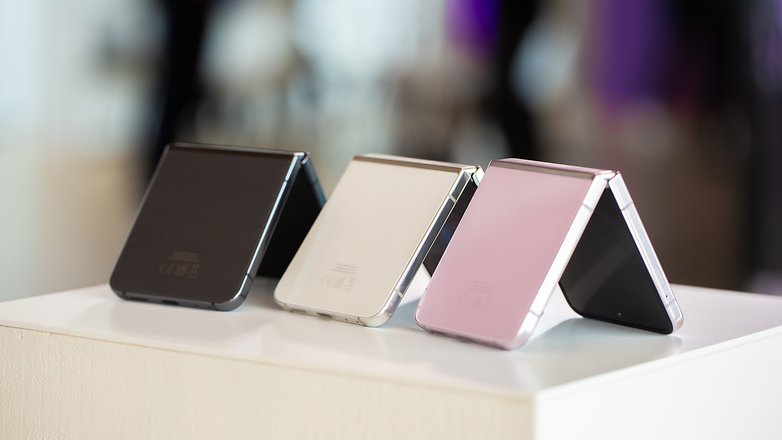 The Galaxy Z Flip 5 is clearly superior to its predecessor when it comes to usability, with a more functional external screen that can be almost used on its own, reducing the need to open the phone. When it comes to build quality, the new hinge and the resulting gapless design are a big improvement, but one that may feel basic to some.
Other sections presented disappointing results, with a decrease in energy efficiency, and a small upgrade in photography. Both with worse results than regular smartphones in the same price range.
Having said that, if you want to get into the foldable game for the first time, it is worth taking a look at the offers for the 2022 model. Yes, Samsung has improved and optimized some parts in a sensible way—but users who do not want to shell out at least 1000 bucks will undoubtedly be happy with the Galaxy Z Flip 4.
---
Article updated on August 22nd with full review impressions. Comments prior to the update were kept and may seem out of context.