Motorola Razr 2022 review: Love at 2nd sight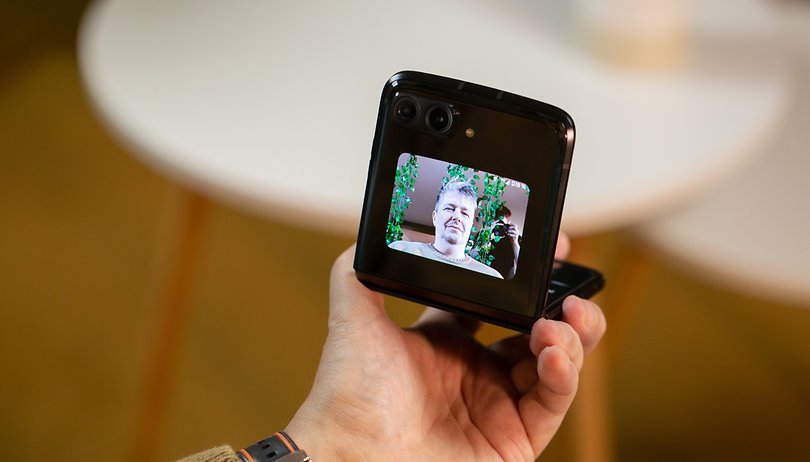 The Motorola Razr 2022 is no stranger to us. The Lenovo subsidiary already unveiled a powerful trio in its home country China in mid-August, where the foldable was introduced alongside the Moto X30 ProThe Moto RAZR 3, as it is often called, was only released in the west in October. Now we had enough time to take a closer look at the foldable device, which has proven itself to be the closest competitor to Samsung's Galaxy Z Flip 4. Check out what we have to say in this detailed NextPit review.
Good
Powerful processor

Ingenious form factor

Full-sized display (when fully opened)

Good exterior display
Bad
Fingerprint sensor is poorly positioned

No choice of memory capacity

No microSD card support

Poor update policy

No wireless charging support

Only IP52 certified
Motorola Razr (2022): All deals
The Motorola Razr 2022 in a nutshell
Some of you still remember: The Motorola Razr 2022 did not score particularly well in my first hands-on. The main reason was a hinge that did not seem to be well-refined in my eyes and, to put it harshly, made a rather poor first impression.
In the meantime, I have received a new device, which is no longer under the prototype status. Thus, my former concerns about the hinge are a thing of the past. And in the last few weeks, I have discovered many exciting functions. Thus, I now really have to look with a magnifying glass to find any criticism of the Razr 2022.
With 3,500 mAh, the battery looks really small—and probably cannot be much bigger due to the construction. But in the end, it will certainly get me through the day. That leaves only the main camera, which undoubtedly takes nice daytime pictures, but is not worthy of a flagship. In the end, is the outstanding foldable display enough for the Razr 2022 to deserve the "flagship" title and justify the steep price? Speaking of its price...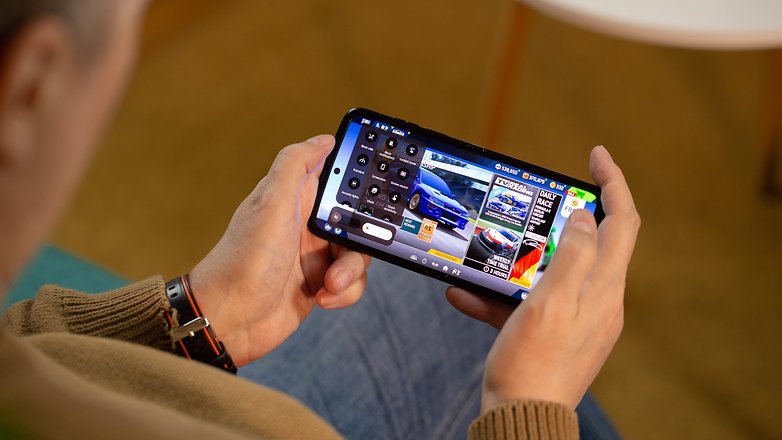 To our regret, the Motorola Razr 2022 arrives on our shelves in only one storage configuration. While the foldable is available with 8/128, 8/256 and 12/512 GB of storage in its home country China, the global distributor has opted for a single option. The 8 GB of LPDDR5 RAM along with 256 GB of internal UFS 3.1 program memory may be enough for most people in general, but it does lack microSD card support. I can already see how the lack of storage options can be a drawback for those who are interested.
The Lenovo subsidiary could be said to have performed the Razr 2022's global launch with less than the expected amount of love. There was no live event, no major announcement, nothing! We were expected to make do with just an inconspicuous tweet before the weekend and a press release. It almost seems as if the foldable smartphone was meant to remain hidden from the rest of the world. And if we look at the recommended retail price (RRP) of 1,199 euros (there is no word on a US release), we also have an idea why.
In China, the 8/256 GB variant was priced at 6,499 yuan which is roughly 910 euros after conversion when it was introduced in mid-August. A price of 999 euros would have been good and could have easily undercut the price of the Samsung Galaxy Z Flip 4 that carries a MSRP of 1,159 euros (for those in the US, it would be just $999).
The Motorola Razr 2022 is only available in Satin Black. Availability is immediate, although the foldable in clamshell design was sold out quite quickly and still is (as of 8 November 22). Amazon currently indicates delivery times of one to two months.
Display & Design
Fans of the "Star Trek" communicator or generally known as a pocket make-up mirror will probably fall in love with the clamshell design of the Motorola Razr 2022 right from the beginning. Even Samsung was surprised that the Galaxy Z Flip sold much better than the bulky Galaxy Z Fold. It could be due to the square, practical design of the device. When opened, the new Razr measures 16.7 x 8.0 x 0.76 centimeters. When folded, it is only 8.7 x 8.0 x 1.7 centimeters. In both cases, it weighs 200 grams—crazy!
What I liked:
Folded edge hardly visible.
Outstanding form factor.
Very good build quality.
Great stereo sound.
What I disliked:
"Only" IP52 certification.
Position of the fingerprint sensor.
Outer display is a fingerprint magnet.
Bottom side is pointed, which can get annoying.
In general, the build quality of the Razr 2022 is very good, although the outer panel is a real fingerprint magnet. I also feel an unpleasant pressure on the underside when holding it for a longer period of time, which results from the "sharp" edges at the top and bottom. The bevels are probably supposed to be a homage to the old RAZR shape. Also somewhat unfortunate are the two protruding "humps" of the hinge, which clearly go over the general edge (see photo), although they rarely become annoying in daily use.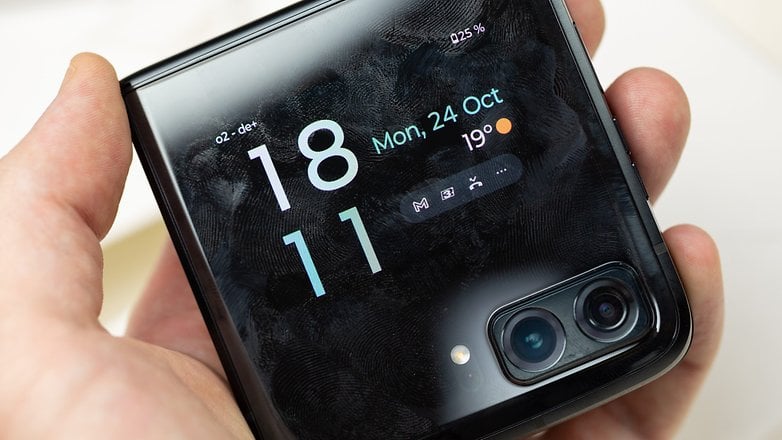 The built-in "Dolby Atmos"-capable stereo speakers really surprised us with their sound volume, especially in landscape mode. Motorola has omitted an analog jack on the IP52-certified Razr 2022, as well as wireless charging. For reasons of space, the company said. The Samsung Galaxy Z Flip 4 has an IPX8 certification, which means the foldable will still function after falling inside a water depth of up to 2 meters. The Razr 2022, on the other hand, can barely withstand direct sprays of water with no more than an angle of 15 degrees.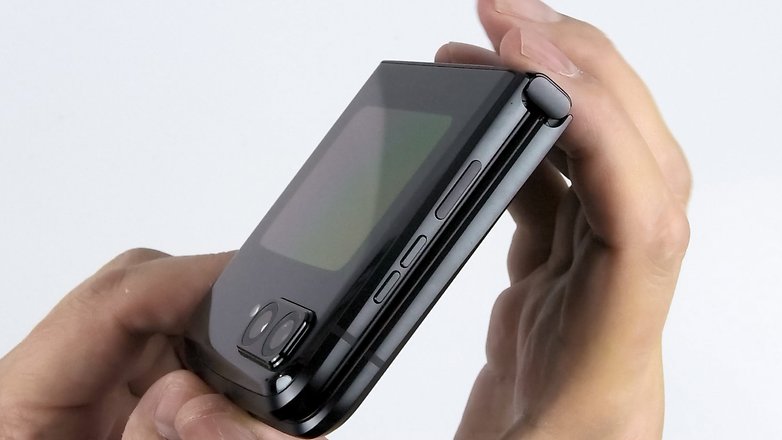 The position of the two volume keys and the power and standby buttons on the right side are also unfavorable. This is because the fingerprint sensor for unlocking the outer and inner display is also located in the power button. Unfortunately, it is not accessible in an intuitive manner, so I have to look around every time to find out exactly where it is located. Placing the keys a bit lower (towards the hinge) and making the power button with the fingerprint scanner haptically or visually recognizable would have solved this problem.
Another note for those who are awash with nostalgia: The typical "RAZR design" with its big chin has been lost in the 2022 model. I think it's a good thing, as it benefits the overall feel, even though I complained about the tapered bottom.
Motorola Razr (2022) display
Motorola installed a full 6.7-inch pOLED display with a resolution of 2400 x 1080 pixels (FHD+) inside the Razr 2022 . What is unusual for a foldable is the high refresh rate of 144 hertz, which we already know from the Motorola Edge 30 Ultra which we reviewed. However, this is only used for gaming purposes, otherwise 120 frames per second is the limit. When the Razr 2022 is opened completely, you can neither really feel nor see the folded edge. This probably has to do with the once again revised hinge.
What I liked:
Full-fledged internal display.
Strong color dynamics and contrast.
144-hertz refresh rate.
Full-fledged outdoor display.
Flex-View.
What I disliked:
However, I have to talk about this matter again. In my hands-on, I complained about an "unfinished" hinge. And that's exactly what it was. We received one of the five prototypes because I pushed extra hard. But at a 90-degree angle, the top and bottom seemed somehow unstable. Motorola was kind enough to immediately send us a model from the production batch. And lo and behold, everything is as it should be for the variable Flex View. The display stays in any desired position from 45 degrees, and the hinge is much more stable.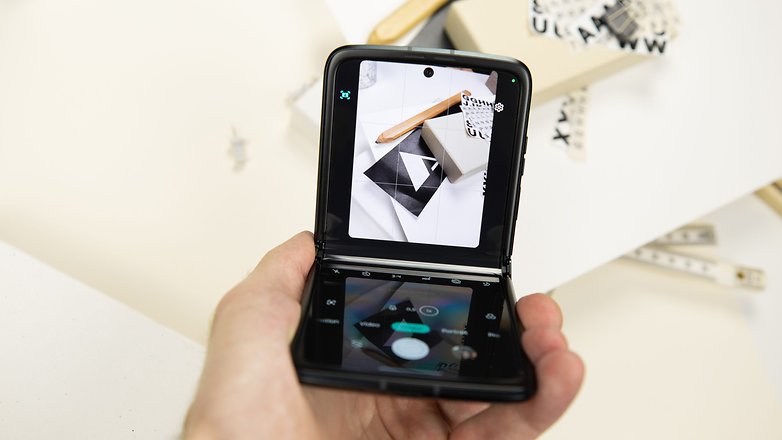 The outdoor display has a diagonal of 2.7 inches and a resolution of 800 x 573 pixels (HD+). Motorola affectionately calls it "Quick View Display"—but it is so much more. It can also be unlocked, offers the typical always-on display view (not permanent), the familiar pull-down quick settings from the home screen, and up to five panels that can be slid sideways. Here, the weather, notifications, and calendar appointments can be displayed according to the user's wishes, and all possible installed apps can be launched and even executed on the mini-screen—a real added value!
You will probably have already seen the advertised feature where you can take selfies with the main cameras via the outer display (see cover picture). This even works completely hands-free since you can take a picture of yourself via a gesture. Thus, a fully usable panel with touch and keyboard input that is far superior to that of the Galaxy Z Flip 4.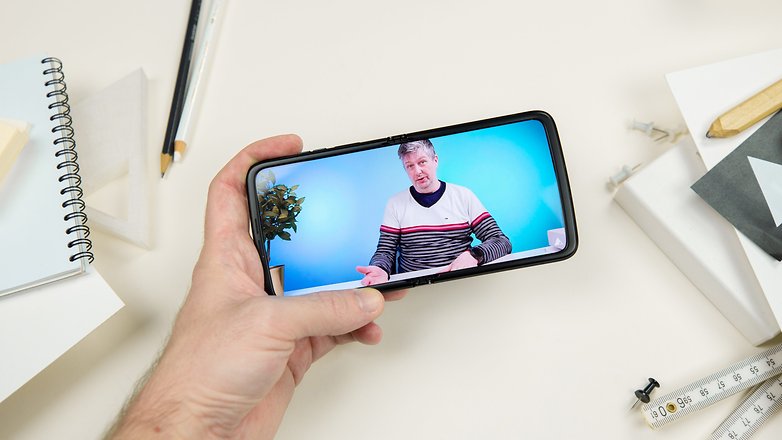 And I also sing the same praises for the OLED panel inside. My personal suspicion is that this is the identical display of the Motorola Edge 30 Ultra. Contrast, color dynamics, viewing angle stability—everything is top-notch. Even under direct sunlight, as far as it was available in November, looking at the screen was mouth-watering.
Motorola Razr (2022) software
The Motorola Razr 2022 will arrive with the custom My UX skin that is based on Android 12 . The last Google security patch is August 1, 2022, and the internal protection "ThinkShield for mobile" runs at version 12.03.000. During our preliminary talk with a Motorola representative from Chicago, it came to light that the Lenovo subsidiary grants an update guarantee for two system updates and three years of security updates. That is simply unworthy for a former Google subsidiary, taking into light the strides other smartphone manufacturers have made in this department.
What I liked:
No bloatware.
Useful features like "swipe to split".
What I disliked:
Considering that the smartphone is still shipped with Android 12 instead of Android 13 at the end of October/beginning of November, this means your Razr 2022 will tap out at Android 14 for the 1,200 euro Android smartphone. Guys, it is 2022 already. I think the final say has not been carved in stone just yet (fingers crossed!).
Apart from that, there is hardly any bloatware on the smartphone at first glance. It is still very Google-oriented. Basically, you will find more Google applications on the Razr 2022 than on a Pixel 7 smartphone. Whether the preinstalled "Astro Odyssey" game and TikTok can be considered bloatware, I leave that up to you. At least they can both be uninstalled without any problems.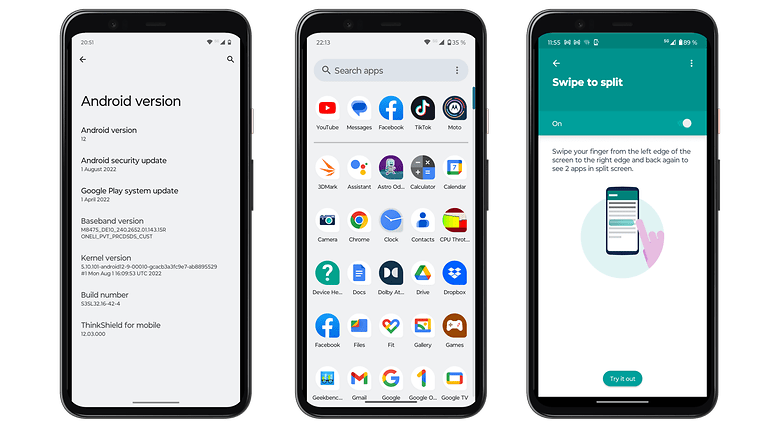 The quite practical "swipe to split" gesture is also worth mentioning. This allows splitting the display comfortably, for example, to show two applications simultaneously: simple, easy, and ingenious.
Motorola Razr (2022) performance
The Motorola Razr 2022 is powered by a Snapdragon 8+ Gen 1 SoC. That is currently the fastest offering from Qualcomm—at least for now. This is until the Californian chip manufacturer presents the Snapdragon 8 Gen 2 at the Snapdragon Summit that is happening in Hawaii from November 15 to 17.
What I liked:
Flagship processor.
No unusual heat development.
What I disliked:
Apparent early throttling when under load.
Until then, the installed octa-core processor is still the top benchmark that all Android-powered smartphones should aspire to. Four Cortex-A55 cores with a maximum clock of 1.8 GHz are set for particularly energy-efficient work. If a lot more power is required, the performance core ARM Cortex-X2 with a maximum of 3.2 GHz and the three Cortex-A78 cores with a maximum of 2.5 GHz will be called upon. Graphics tasks are handled by the Adreno-730 GPU. In terms of storage, we already mentioned the installed 8 GB LPDDR5 RAM together with 256 GB UFS-3.1 NAND flash.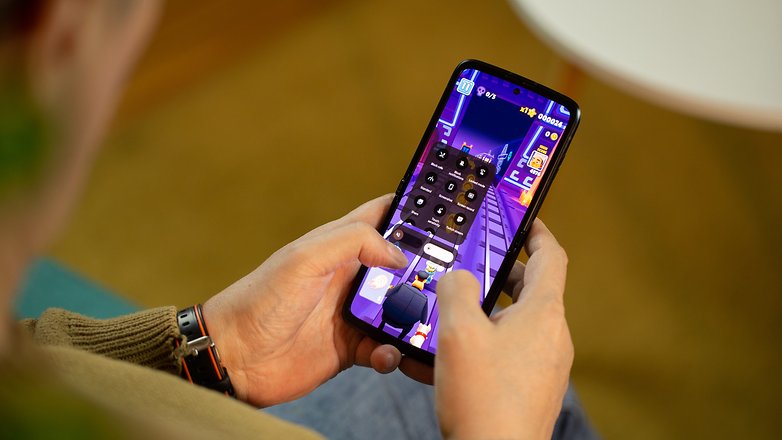 It should not come across as a big surprise: There was no scenario in our review period where the SoC did not deliver. Of course, I have already played a game or two. In this context, I should also briefly mention the dedicated game menu which offers some useful settings. It is noticeable that the upper half (the camera side) of the smartphone gets warm during graphically complex games. Thus, the Snapdragon 8+ Gen 1 seems t have been installed here.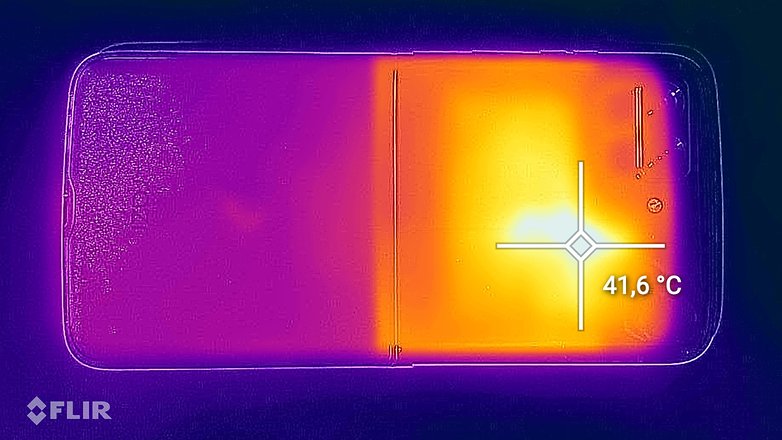 In fact, however, we are talking about heat development that is not a cause for concern despite the compact dimensions. In fact, the values are almost identical to those of Motorola's Edge 30 Ultra, which has much more room to redistribute the warm air. Of course, we also ran the typical benchmark tests like Geekbench 5 and 3DMark Wild Life, and the results were rather surprising.
Actually, you should assume that the same manufacturer and the same CPU (Central Processing Unit) would produce the same results. But surprise: The Razr 2020 is clearly worse in all results. Even more so in the 3DMark test than in Geekbench.
Motorola Razr 2022
Motorola Edge 30 Ultra
Samsung Galaxy S22 Ultra
Samsung Galaxy Z Fold 3
Huawei Mate XS 2
3D Mark Wild Life
6838
8108
5682
5683
5793
3D Mark Wild Life Stress Test

Best Loop: 7306
Worst Loop: 4107

Best Loop: 10250
Worst Loop: 6101

Best Loop: 5741
Worst Loop: 3351
Best Loop: 5579
Worst Loop: 3435
Best Loop: 5782
Worst Loop: 3267
Geekbench 5
Single: 1310
Multiple: 3957
Simple: 1325
Multiple: 4310
Single: 1155
Multiple: 3356
Single: 1095
Multiple: 3239
Single: 840
Multiple: 2759
The explanation is provided by another tool, which performs a CPU stress test. This proves that the processor is throttled quite quickly on the software side after only a few minutes of permanent load. We assume that Motorola has taken this path in order to keep the already-mentioned heat development in check.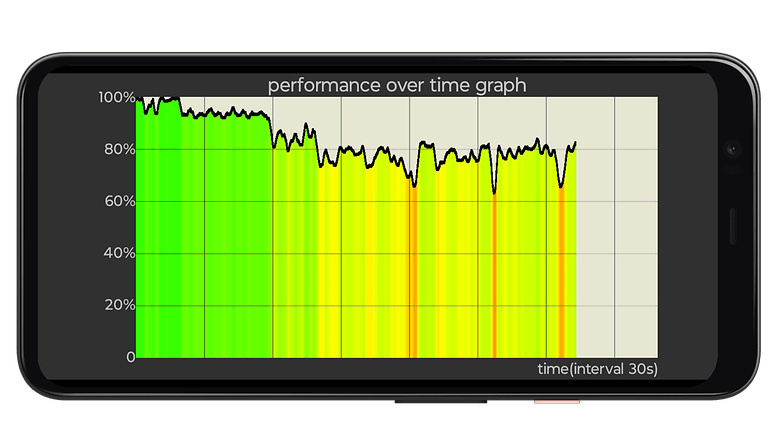 But rest assured: This throttling is not noticeable in daily use or when playing performance-hungry games. The Motorola Razr 2022 worked perfectly well in all situations.
Motorola Razr (2022) camera
Does a small smartphone equal a small camera? Not necessarily : It did not become the 200 MP monster that is found in the Edge 30 Ultra, but it seems that the Motorola Razr 2022 does not need to shy away from the competition. Inside, there is a 32 MP punch-hole camera that is located at the top center with an aperture of F2.45. It offers quad-pixel binning, which reduces the resolution to 8 MP but optimizes the pixel size to 1.4 microns in return.
What I liked:
Great daytime shots.
Great selfies with the main camera (even without help).
Wide-angle and night shots are decent.
What I liked:
Front camera is reserved only for video calls.
Wide-angle and night shots could be better.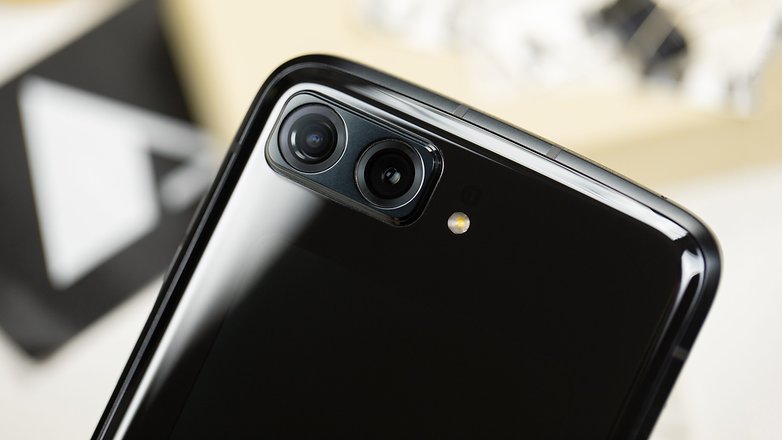 Just right below the outer display is a dual camera with a 1/1.55-inch 50 MP and a 13 MP image sensor. The primary camera has optical image stabilization, an F1.8 aperture, and a pixel size of 1.0 microns. Quad-pixel binning is also at work here by default, which pumps up the pixel size to 2.0 microns. The 13 MP resolution camera is used optionally as a 121-degree ultra-wide-angle camera or as a macro shooting tool from a distance of 2.8 centimeters. Now some will probably be sad that there is no dedicated 2 MP shooter as a third lens here...not!
As with almost all smartphones, the Motorola foldable also excels in daytime shots. Even shots against the sun have a certain charm. Wide-angle shots seem to be subject to the random principle. The problem is not lateral blur or distortion, but color stability. In the shot of the Humbold Forum (palace), everything is spiffy. In the photos of the Hackische Höfe S-Bahn station, the differences could hardly be more drastic.
In my opinion, portraits only make sense if the subject is large enough. In the example of the statue, the depth of field went completely astray and I had no idea what was going on there. Furthermore, I took some cheeky photos by pointing directly at the sun at 12 MP and 50 MP glory. In my opinion, the pixel binning makes sense.
The "Night Vision" mode makes discernible sense. When shooting, the difference quickly becomes apparent as you have to hold the Razr steady for longer to capture more light throughout the time period.
Selfie shots couldn't be more different: I looked completely anemic when peering through the punch-hole camera. In contrast, the pictures taken with the outer camera are a real blessing thanks to the external display. It also works great for people like me who don't have anyone around to take pictures as the hand gesture feature will automatically take photos on its own after a countdown. By the way, it works for both the front and main cameras. Here is a small, final tip for you: Selfies at night? Forget it very quickly. Unless you use the main camera. But there is another way to be ingenious.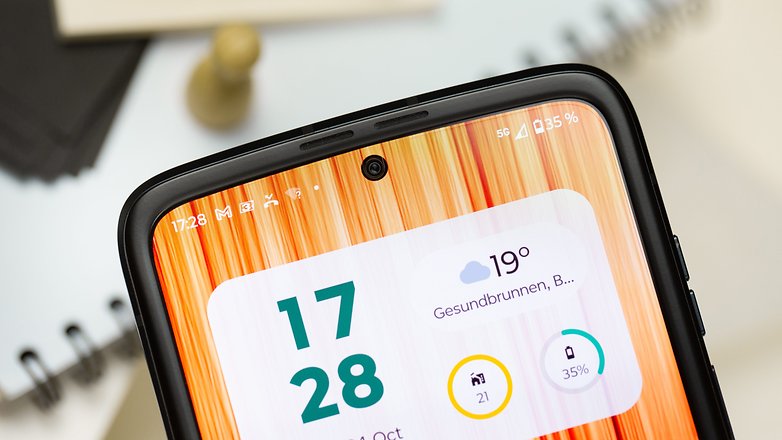 Motorola Razr (2022) battery
The Razr 2022 from Lenovo's subsidiary Motorola has a battery with a charging capacity of 3,500 mAh. Unfortunately, they were left behind by Samsung, which eliminated the faux pas of its predecessor by including a 3,700 mAh battery in the Flip 4 this year. You will read about whether they succeeded in Camila's detailed review
What I liked:
30-watt power supply included.
Battery capacity is enough for one day.
What I liked:
No wireless charging.
Charging should be faster.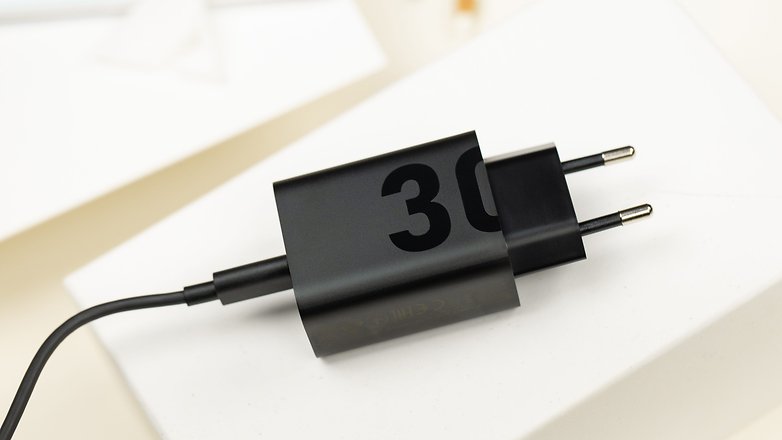 Motorola included a 30-watt "TurboCharge" power supply in the box. That is already a plus point in itself. However, charging was anything but fast. After 5 minutes, there was 8 percent of juice, after 20 minutes, 28 percent and after 30 minutes, 39 percent battery capacity. If you want the cells to be fully charged, you'll have to plan a proud 82 minutes. I would be interested to know where the problem lies. My guess: The battery was split and a faster technology could not be installed due to a lack of space. But that's just purely a guess for now.
The "PC Mark Work 3.0" battery test delivered a value of 8 hours and 37 minutes with a display brightness of 200 nits and an automatic refresh rate of up to 120 hertz. That is anything but a record value. For classification: The Samsung Galaxy Z Flip 4 (3,700 mAh) came to 13 hours and 6 minutes. Wow! Motorola still has some work to do.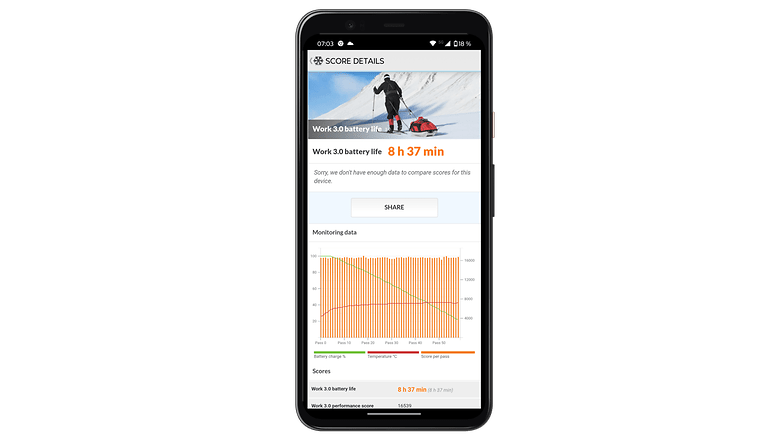 Nevertheless—even the Motorola Razr 2022 gets through the day safely with average use. Just like the Galaxy Z Flip 4. Does OneUI eat up that much more energy in practice? Or is the battery benchmark unreliable here? We are very surprised about the different benchmark rates compared to "real" use.
I think the NextPit editorial team will soon conduct a direct comparison test of the two candidates. What do you think?
Motorola Razr (2022) technical specifications
Specifications
Device
Image

Inside screen
6.7-inch POLED, resolution 2,400 x 1,080 pixels (FHD+), 144 hertz refresh rate
Outside screen
2.7-inch gOLED, resolution 8,000 x 573 pixels (HD+), 60 hertz refresh rate
Dimensions
Opened: 167 x 79.8 x 7.62 mm (H x W x D)
Closed: 86.5 x 79.8 x 17 mm (H x W x D)
Weight
199 g (incl. battery)
SoC
Qualcomm Snapdragon 8+ Gen1
Memory
(market-dependent)
8 GB LPDDR5 RAM
256 GB UFS 3.1 ROM
Software
Android 12 | Moto My UX
Expandable memory
None
Main camera
50 MP | f1.8 aperture | 1/1.55 inch image sensor | 1.0 µm pixel size | OIS
(quad pixel binning 12.5 MP/2.0 µm)
Ultra Wide Angle Camera
13 MP | f/2.2 aperture | 121° viewing angle | Macro
Selfie
32 MP | f/2.45 | 0.7 µm pixel size (quad pixel binning 8 MP/1.4 µm)
Video
4K at 30/60 fps | 8K at 30 fps EIS
Audio
Stereo Speaker | Dolby Atmos
Battery
3,500 mAh
Charging via cable
Max. 33 W
Wireless charging (Qi)
No
UWB
No
Final verdict
I have now been on the road with the Motorola Razer 2022 for just under a month. My first impression has been confirmed: It is compact and almost unobtrusive to stow in your pocket. Nevertheless, it is wider than a Samsung Galaxy Z Flip 4, which does not necessarily speak for the foldable at first. However, this width also brings the advantages of the inner display, which no longer cuts YouTube videos in landscape mode. In general, the 6.7-inch pOLED display with a maximum of 144 frames per second is a real hit when gaming. So, it is better to be wider.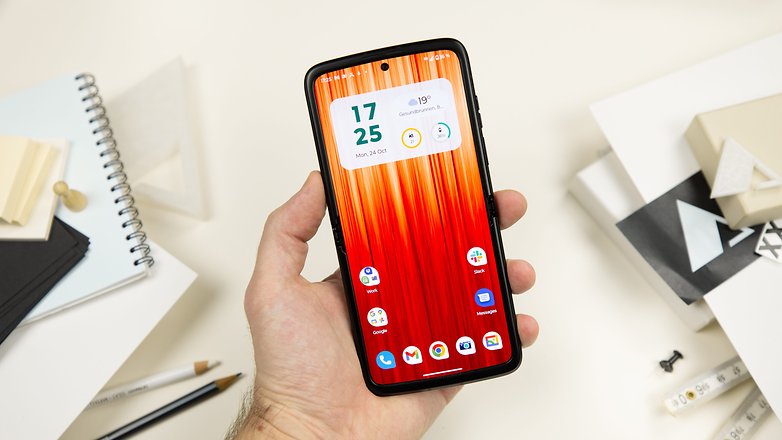 The 2.7-inch outer display is also convincing, as long as you get to know it a bit. In principle, it is actually fully usable. Questions about the performance are superfluous in view of the installed Snapdragon 8+ Gen 1, even though the powerhouse has to be slowed down a bit sooner than the in-house competition due to its form factor. The 3,500 mAh battery is also impressive: Although a full day of use is possible without problems, a complete recharge takes 82 minutes—despite the included 30-watt "TurboCharger". The "only" IP52-certified flip-top cannot be charged wirelessly either.
Motorola obviously made a compromise with the camera. I would avoid taking selfies with the internal front-facing camera since the pictures are simply better taken with the main camera. The daytime shots can definitely be called pleasant, zoom shots not so much. However, opinions differ about night pictures.
The price has increased by almost $300 (after conversion) compared to the Chinese model. At $1,199 (again, after conversion), it is definitely not a bargain, but also not a notable exception in the foldable segment. The Samsung Galaxy Flip 4 costs approximately $40 less after conversion but offers a far superior update policy. As already mentioned in my headline, I only discovered my love for the Motorola Razr 2022 at a second glance. Do take note that this smartphone is not released in the US yet, and we are still in the dark as to whether that will happen.
The external Quick Display is a real added value, as long as you do not block it with the fingerprint sensor. In my opinion, it is poorly placed and cannot be reached intuitively. The bottom line for those who are willing to invest this amount for a foldable is a clear purchase recommendation.