Motorola Edge (2023) Review: The Right Compromises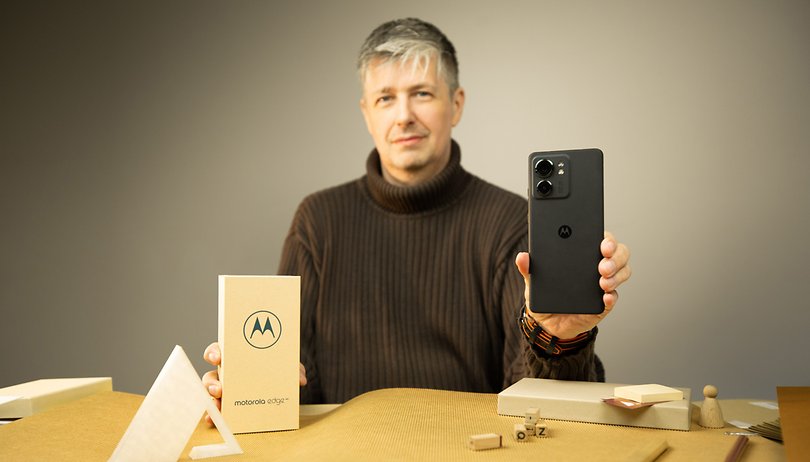 Good
Very good haptics (grip & weight)

Good display

Sufficiently fast processor

IP68 certification

Bloatware is kept within limits

Moto My UX and Ready For

68 W power adapter included
Bad
Update policy not up to the category leaders

Only one memory configuration (in Europe, at least)

No analog headphone jack

No microSD support
Motorola Edge (2023) release date and price
The Motorola Edge (2023) was launched exactly one month after the Plus model in Europe. It can be purchased for €599.99 (approximately 665 US dollars) and is thus 300 Euros ($332) cheaper than the flagship. The differences are mainly noticeable in the CPU, which is not a Snapdragon 8 Gen 2, but a MediaTek Dimensity 8020. This is an SoC (System on a Chip) that has only been used in the Honor Pad V8 so far and is positioned in the upper mid-range with a maximum clock rate of 2.6 GHz.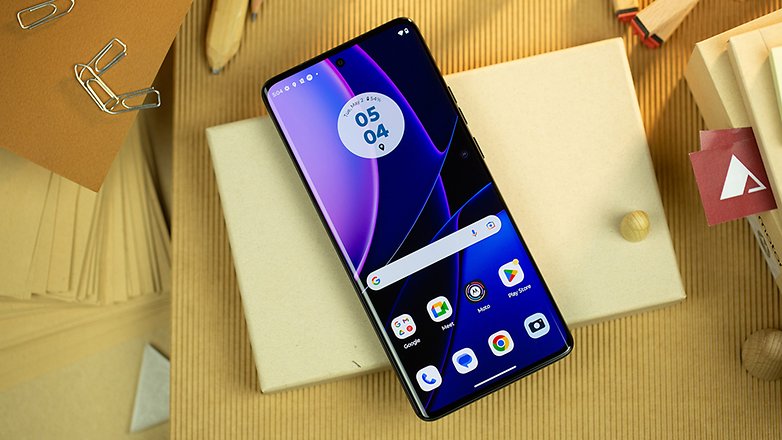 US buyers will have to wait a bit longer, as the North American Motorola still hasn't confirmed when the Edge (2023) will be available on American shelves. Keep in mind that some specifications—especially related to battery charging—may change for the US release.
When it comes to memory options, Motorola does not give you a choice: At least in Europe, only one model with 8 GB of RAM and 256 GB of UFS 3.1 storage is available. Storage expansion—for example via a microSD card—is not supported. However, you can choose between Lunar Blue, Eclipse Black, and Nebula Green as colors. The last two are described by Motorola as "vegan leather". However, since we received the "Eclipse Black" model for testing, I could not confirm this.
It rather resembles a slightly roughened and rubberized coating. However, there is something very special about the feel, which brings us directly to the next test category.
Design
The Motorola Edge (2023) gave me a very special feel right after unboxing it. My colleague Rubens Eishima, to whom I handled the phone after taking it out of the box, was also thrilled by the extraordinarily interesting and good grip. In general, the Motorola mid-ranger feels very good in the hand.
---
Pros:
Good grip, light, and flat.
High-quality materials and great build quality.
Waterproof and dust resistant according to IP68.
Cons:
No headphone jack.
Missing microSD support.
---
The device looks very light and thin, which it actually is with dimensions of 158.43 x 71.99 x 7.49 mm and a weight of 171 grams. The rounded back and the curved panel probably add to the feel-good factor.
Motorola Edge (2023) display
Speaking of the display: Motorola installed a 6.55-inch OLED display with a resolution of 2,400 x 1,080 pixels, at an average of 402 PPI. That is basically standard. The maximum brightness of 1,200 nits in direct sunlight isn't headline-material either. However, the maximum refresh rate of 144 Hz deserves mention. It won't attract attention in everyday use, but it will very much when gaming.
---
Pros:
Very good display for its category.
High refresh rate.
Cons:
Some people don't like curved displays.
---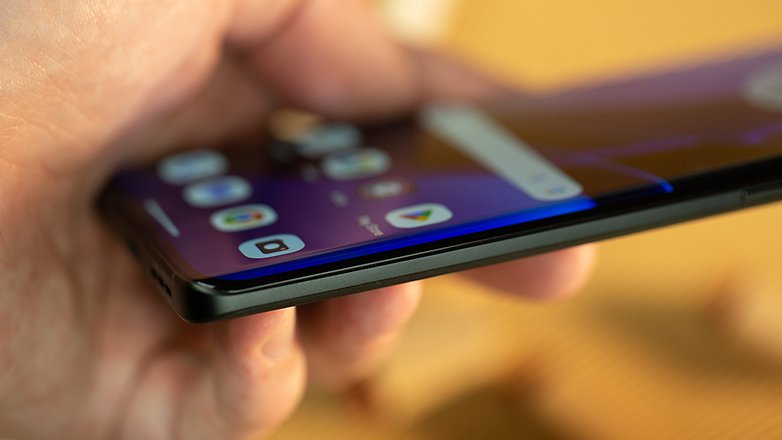 No matter if Real Racing 3, first-person shooters like Dead Trigger, Modern Combat 5, or fantasy role-playing games like Genshin Impact are no problem for the display. More about that later in the software category.
The brightness is sufficient even in direct sunlight, and the viewing angle stability, contrast, and dynamics were convincing. The power and standby buttons as well as the two speakers are on the right side in the perfect position. Only the two volume buttons could have been placed a bit more towards the center. The HDR10+, HiD, and Max Vision capable panel is surrounded by two speakers at the top and bottom, which also offer stereo sound in addition to Dolby Atmos. I would describe this as sufficiently loud and balanced in terms of the balance between bass and trebles.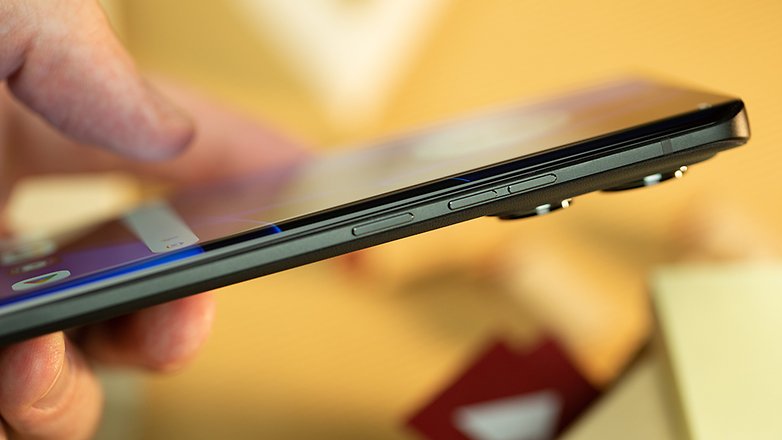 Motorola Edge (2023) software
Motorola as a former Google subsidiary was always known for an almost pure Android. However, the Motorola Edge (2023) seems to have strayed a bit from the path. A look at the installed applications reveals 81 apps, 9 of which were installed for our test.
---
Pros:
Acceptable update policy.
Manageable amount of bloatware.
The "My UX" user interface.
Cons:
Update policy below Samsung's.
---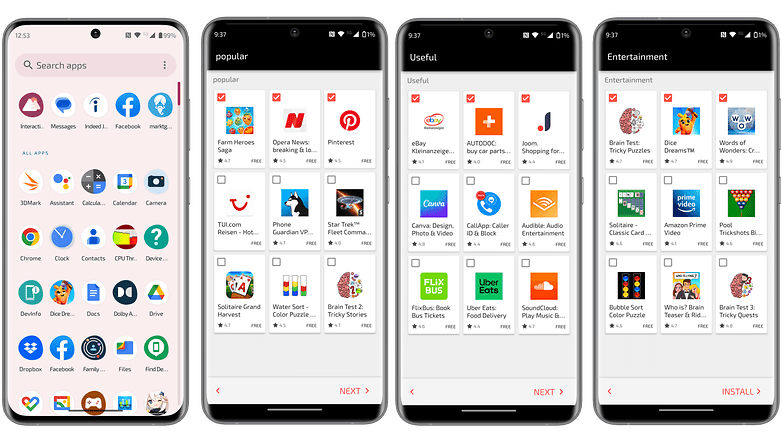 Okay, let's be fair: These are mostly Google apps. Yes, there are quite a few of them! Strictly speaking, Facebook, Indeed, and Market Guru would also rather be called bloatware. So, in principle, it preinstalls three unwanted applications. However, Motorola has come up with a different trick for the apps, which are usually preinstalled by other manufacturers. A portfolio of apps is offered in three categories during the initial setup, of which the first three are already checked for installation.
Apart from that, it remains to be mentioned that Motorola delivered the Edge (2023) with Android 13 preinstalled and its in-house user interface "My UX", whose last security update is from April 1, 2023, so it is not up-to-date, but still within limits. On the other hand, the Lenovo subsidiary moves at a snail's pace in terms of its update policy. The Edge (2023) only gets 3 years of Google security and 2 system updates. Thus, Android 15 is guaranteed. However, I hope that Motorola's management will have a change of heart by then. Other manufacturers are setting a much better example here.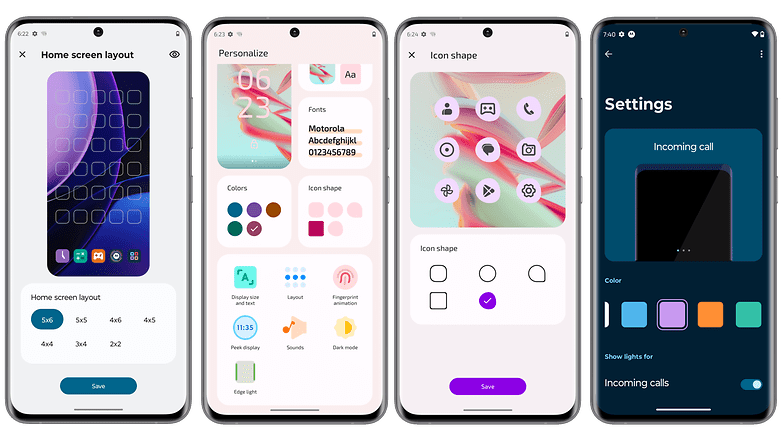 CPU & Memory
The Motorola Edge (2023) has a relatively unknown MediaTek Dimensity 8020 installed. So far, I am only familiar with its usage on the Chinese-only Honor Pad V8. The octa-core SoC is manufactured in a 6 nm process and is not a new chip design in my opinion, but a new edition of the MediaTek Dimensity 1100.
---
Pros:
MediaTek is not that bad.
No noticeable heat issues.
Cons:
---
At least that would explain the four identical ARM Cortex-A78 (max. 2.6 GHz) and four Cortex-A55 cores (max. 2.0 GHz). The GPU (Graphics Processing Unit) is also identical, with an ARM Mali-G77 MC9. Whatever name MediaTek gives it doesn't change the fact that it is a solid mid-range processor that is more than sufficient for typical work.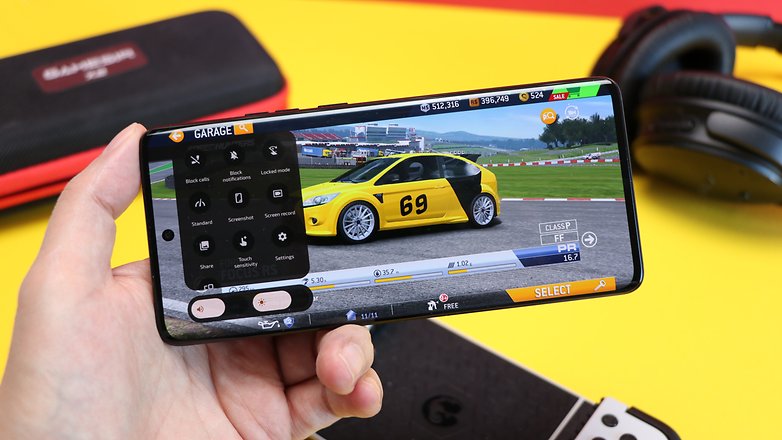 No, more than that: not only did I put the processor through our typical benchmark tests, but I also spent some demanding gaming sessions with it. Among them my favorite racing sim Real Racing 3, the emotional balance of Dead Trigger 2, and the quite graphically demanding role-playing game Genshin Impact. All posed no issue for the MediaTek processor.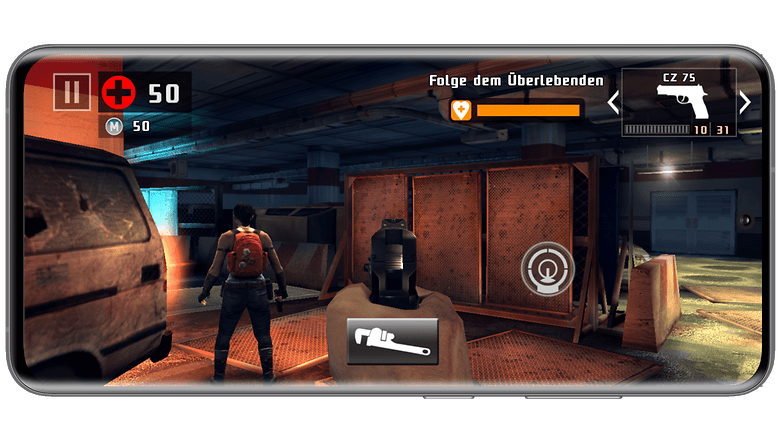 There are also no complaints about heat management: The Motorola Edge (2023) stays in a comfortable temperature range in even the most demanding applications. The undisclosed external insulation could of course contribute to the fact that the sensation never becomes unpleasant, and that is what matters.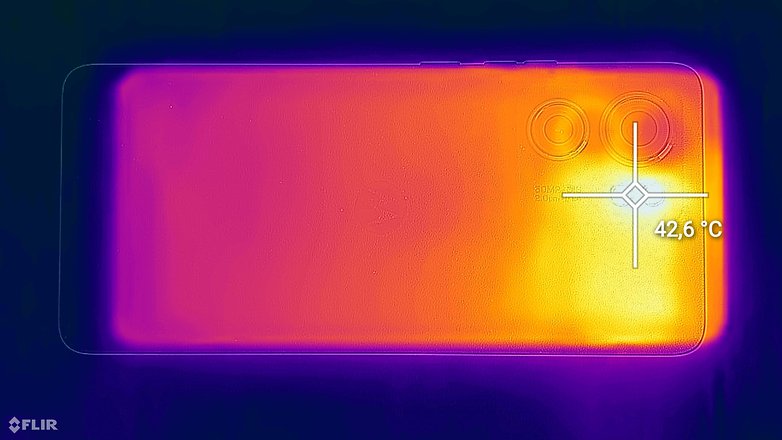 If you like the hard facts, you can of course get the benchmark evaluations from the 3D Mark, Work 3.0, and Geekbench 5 in comparison with the Nothing Phone (1), the Redmi Note 11 Pro+, and for in-house comparison, the Motorola Edge+ (2023), with its Snapdragon 8 Gen 2.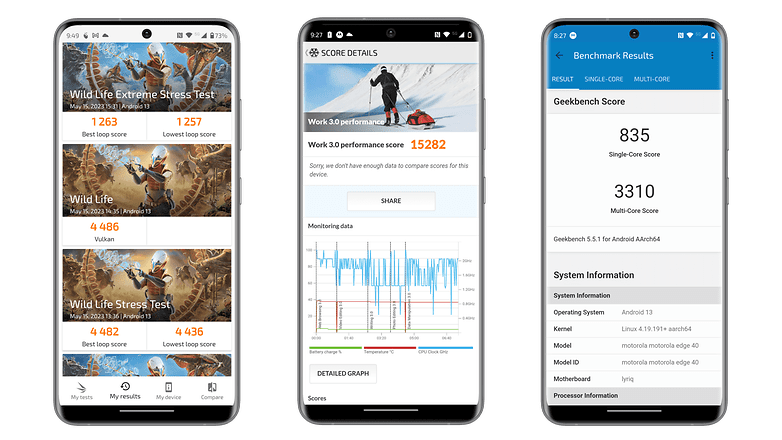 And lo and behold, the "unknown" MediaTek processor does quite well. The Motorola Edge (2023) can almost double the results of the Nothing Phone (1) and the Redmi Note 11 Pro+. In the end, this also coincides with our daily use of the Moto smartphone.
Motorola Edge (2023)
Nothing Phone
Redmi Note 11 Pro+ 5G
Motorola Edge+ (2023)
MediaTek Dimensity 8020
Snapdragon 778G+
MediaTek Dimensity 920
Snapdragon 8 Gen 2
3D Mark Wild Life
4.486
2.809
2.077
8.062
3D Mark Wild Life Stress Test
Best loop: 4,482
Worst loop: 4,436
Best loop: 2,832
Worst loop: 2,816
Best loop: 2,092
Worst loop: 2,080
Best loop: 12,125
Worst loop: 6,099
Geekbench 5
Single: 835
Multi: 3,310
Single: 796
Multi: 2,889
Single: 741
Multi: 2,224
Single: 1476
Multi: 4765
Memory
I already mentioned it in the "price and availability" category: While there are more memory options in other markets, Motorola doesn't offer European customers alternatives. Whether you like it or not, for the Euro-spec Motorola Edge 40, you can only get it with 8 GB of LPDDR4X RAM and 256 GB of UFS-3.1 non-expandable storage. The US Edge (2023), however, could offer different options.
In detail, this means just under 13 GB for the system and just under 4 GB for preinstalled applications. Thus, you still have 256 GB for your personal needs. Thus, if you do not want to buy Motorola's Edge (2023) primarily for filming 4K videos—which also works incidentally—you should be able to cope with the provided storage space.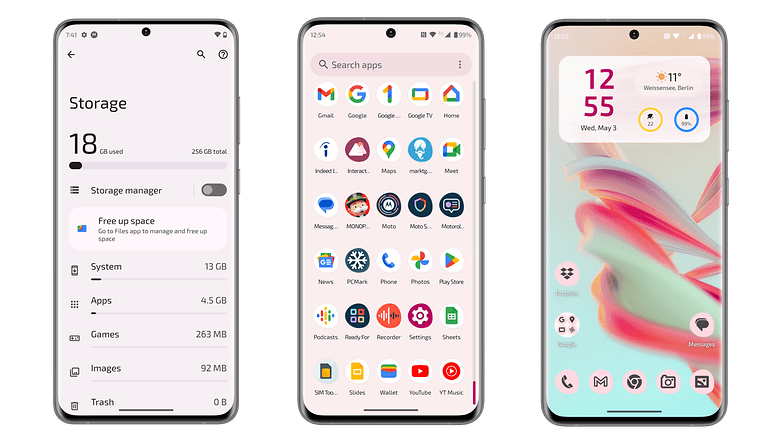 Motorola Edge (2023) camera
Besides the installed processor, another difference between Motorola's Edge+ (2023) and the base model can be found in the camera department. Instead of the gigantic 60 MP, the selfie camera has a resolution of 32 MP with a maximum aperture of f/2.4 and is installed in the display's top center as a punch-hole camera. On the back, you will find a dual-camera module instead of the triple one found in the 2023 Edge+.
---
Pros:
Those who like saturated colors.
Good overall package.
Cons:
8x zoom is too little and poor.
---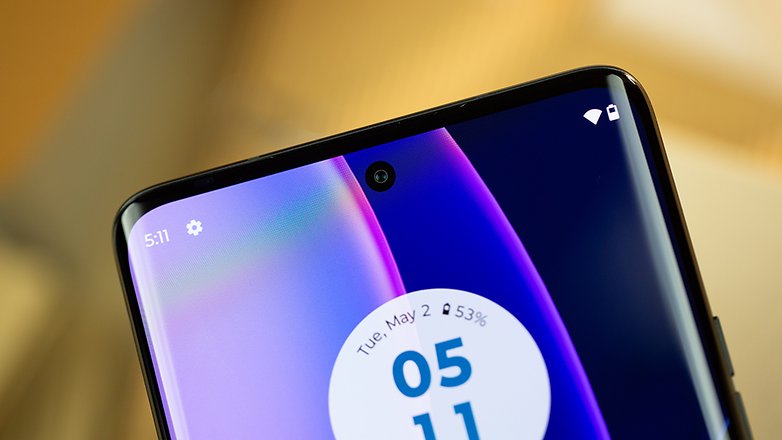 The mid-range does not have a telephoto lens and thus offers a 50 MP main camera, which with a better aperture of f/1.4 can possibly even take better night pictures than the Pro model managed and was basically the Achilles heel of Motorola's flagship in our detailed review of the Motorola Edge+ (2023).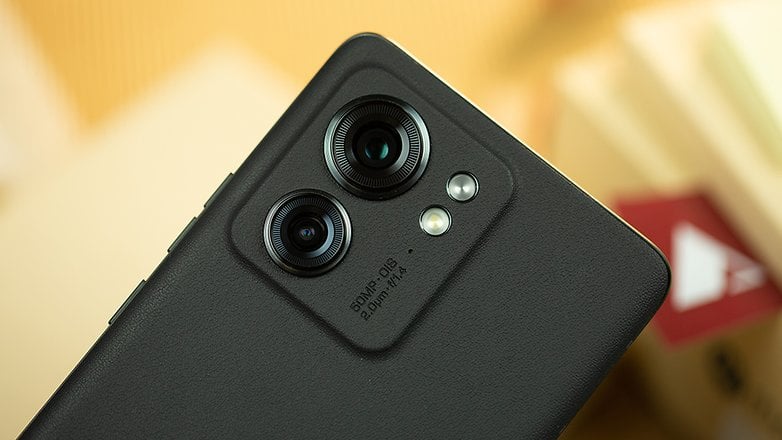 The Motorola Edge (2023) offers a combined ultra-wide-angle and macro lens with a 13 MP sensor and an aperture of f/2.2 and a field of view of 120 degrees. If I want to summarize my camera test in two sentences, I would say that the results will suit you according to our blind test of the best flagship camera smartphones: Crisp, popping colors in the daytime shots, as you can see wonderfully in the shot from the Berlin Zoo and the Chinese red cottage. The red practically just pops out of the photo, whereas the same building looks much more realistic in the background of the selfie shot.
You can probably see the sky as it really was in the first shot of the enlargement series. In the photo of the fountain, the sky already becomes a little bluer, to drift completely in a rich blue in the shot of the modern corner building. Looks fancy—but had nothing to do with reality. On a positive note, though, no matter whether the shot was taken with the main or wide-angle camera, the colors match quite well. At least one is consistent in the allocation of the AI colors.
Regarding the mentioned zoom shots, it should still be said that they not only already end at an 8x magnification, but are not particularly nice to look at in the maximum magnification. The Edge 40 magnifies losslessly up to 2x. It is then not far to the 8x zoom, so the quality also decreases quickly. The photo with the king vulture is just about the limit of what is possible, as long as you look at the pictures on the smartphone display.
Selfie shots at night or in low light only bring something with the indirect display illumination. The main camera also indulges in artificial intelligence during night photo sessions. Whether you like the effects created by artificial light sources in the background is ultimately up to the eye of the beholder.
In summary, I would rate the camera results of the Motorola Edge (2023) as less disappointing than those of the Pro model. The zoom is negligible. Although I would of course like to talk about God's holy glow when taking a photo of my girlfriend, there are of course problems with lens flares in the price range due to inferior plastic lenses. However, if you know the weaknesses of the camera, you can capture quite decent picture documents, which can already provide lasting impressions on the smartphone screen.
Motorola Edge (2023) battery
The Motorola Edge (2023) has a 4,400 mAh battery installed. This is appropriate when you consider the overall weight and size, although more is always better. And although our first battery test revealed shocking rates, the battery runtime surprisingly developed positively in this final review.
---
Pros:
68W TurboPower power supply included.
Fast charging included (46 min).
15 W wireless charging.
Very good battery runtime.
Cons:
4,400 mAh is average for the category.
---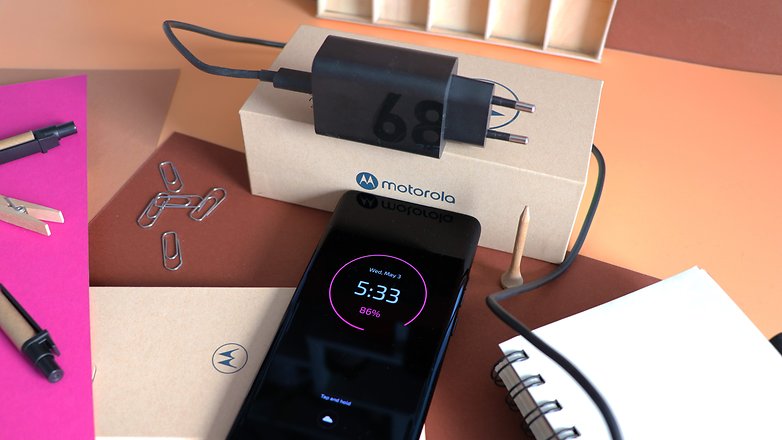 Can I criticize the 4,400 mAh "strong" battery of the Motorola Edge (2023)? Not really—even though competitors like to use 5,000 mAh and more. The battery, which can rather be rated as mid-range in terms of capacity, runs and runs and runs. Charging is relatively quick thanks to the included 68-Watt power supply.
It only takes 46 minutes to fill up the battery in the Motorola Edge 40 (and not the 39 minutes advertised by Motorola). In the meantime, 21 percent of the maximum battery capacity is poured in after five minutes, 58 percent after 20 minutes, and 80 percent after half an hour. Wireless charging with a power of up to 15 W is also possible.
After the charging process, I still had 100 percent on the speedometer for another four hours when looking at the always-on display! Two days of average use is not an issue at all. I think the software developers from Motorola and MediaTek have found a good solution for the battery not sucking energy unnecessarily.
And of course, after the disastrous result of 8 hours and 55 minutes during the hands-on, we ran the standardized "PC Mark Work 3.0" battery test again. This is started in flight mode and a display brightness of 200 nits with a full battery (100%) and stressed to 20% overnight under permanent load.
And there they are: After the second run, the result looked much better with 10 hours and 24 minutes. Okay, these aren't the best rates either and the question arises whether another test will reveal even better rates. Is it a self-learning battery in the end? Will it take over the world one day? Oh, I'm drifting a bit.
Joking aside—I will of course run the test a third time and report any further discrepancies. In the end, the battery runtime already convinced us in real-life use, so the battery hereby gets our blessing.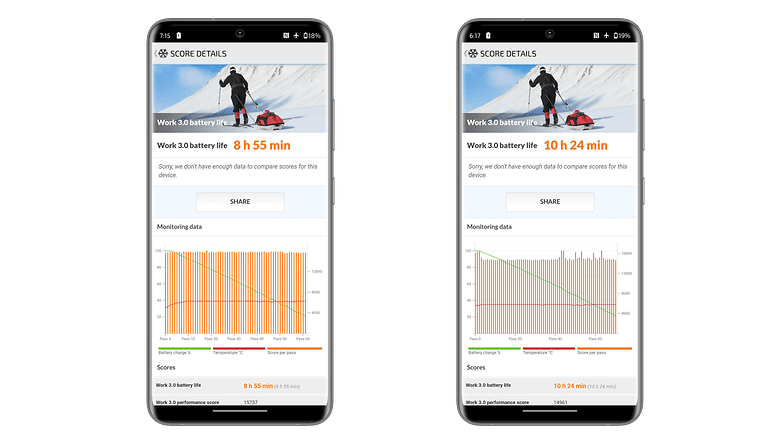 Motorola Edge (2023) technical specifications
Technical data
Product
Image

Display
6.55" OLED
2,400 x 1,080 px
144 Hz refresh rate
SoC
MediaTek Dimensity 8020
(MT6891)
Working memory
8 GB RAM
Memory
256 GB
Expandable memory?
❌
OS
Android 13
Camera
Main: 50 MP, f/1.4 aperture, OIS
Ultra wide-angle/macro: 13 MP, f/2.2 aperture
Selfie
32 MP, f/2.45 aperture
Battery
4,400 mAh
68 W wired charging, charger included
15 W wireless charging
Connectivity
5G / LTE (16 DL/13 UL), WiFi 6e /WiFi Direct / Bluetooth 5.2 / NFC
IP certification
IP68
Colors
Eclipse Black, Nebula Green, Lunar Blue
Dimensions and weight
158.43 x 71.99 x 7.49 mm, 171/167 g
Final verdict
The Motorola Edge (2023) is probably the better alternative for many in the brand's 2023 lineup, although the Edge+ (2023) is also a good deal at just under 800 dollars. However, the base model costs quite a bit less in Europe, offering a good compromise compared to the concessions. However, it remains to be seen how the US model will be priced...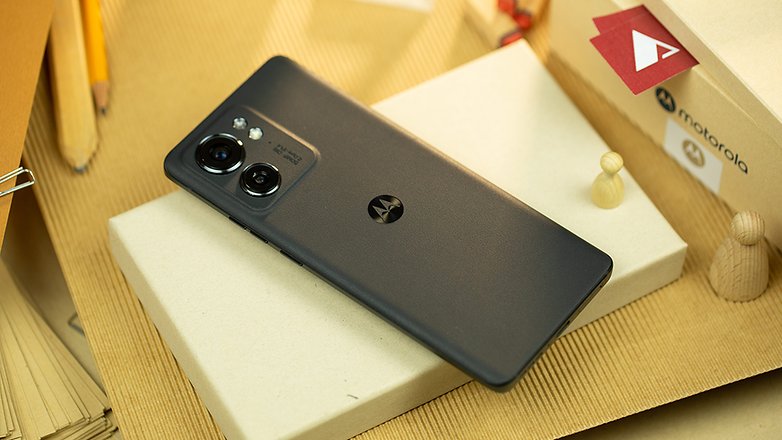 Motorola offers a solid MediaTek Dimensity 8020 in the Edge (2023), which is probably a souped-up Dimensity 1100 processor, but still sufficient for daily applications. In addition, there is a 6.55-inch display with a very good resolution and a dual camera that digitally stores pictures that are appropriate for the times. The 4,400 mAh battery will certainly get you through the day—rather, over two days. Haptically, the lightweight is pleasing all along the line.
Those who are looking for the double hair in the soup - and we are known for that - will criticize the dreamy update policy with "only" two system updates. All in all, it is a solid Android smartphone for 600 dollars. But other Chinese manufacturers also have nice smartphones. A look at our best lists can never hurt when buying a new device!