Huawei Watch GT 4 Review: More Than Just Looks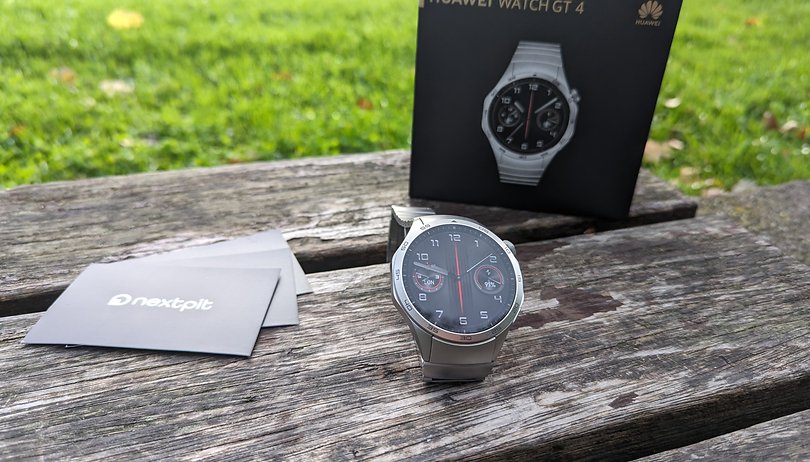 In September 2023, Huawei unveiled its newest smartwatch: The Huawei GT 4 aims to combine design, health, and fitness aspects in a single device. In my review, I will find out whether the Huawei GT 4 is simply a fashionable accessory or really a good smartwatch. Here is what you need to know: Starting at €249, you will get an extremely nice, well-made watch that offers even more features, measures even more precisely, and also shines with a long battery life. This timepiece is not available in the US due to the sanctions against Huawei, so there is no official pricing in US dollars.
Good
Very beautiful and eye-catching design

Very good battery life

High-quality workmanship

Excellent AMOLED display

Many functions and sports modes

Extensive app functions

Precise GPS location
Bad
Few apps to choose from

No payment function despite NFC connectivity

No LTE support
Huawei Watch GT 4: All deals
The Huawei Watch 4 in a nutshell
The Huawei Watch 4 is a nice, well-made smartwatch that offers a whole cornucopia of features, especially in terms of health and fitness metrics. As we know, Huawei "borrowed" the activity rings from Apple, but I like them very much and they are also used here. In addition, there are more sports modes, more precise heart rate measurements, improved menstrual cycle tracking, and also new features like respiration analysis for sleep tracking or "Stay Fit" for calorie counting.
The Huawei Watch GT 4 is already available in stores in different sizes (41 mm and 46 mm), as well as in different designs. Prices start from €249 a pop, with the most expensive variant costing €399. The following variants are available:
| | | |
| --- | --- | --- |
| Model | Size | MSRP |
| Gold stainless steel case with white leather strap | 41 mm | €249 |
| Gold stainless steel case with golden milanese bracelet | 41 mm | €299 |
| Stainless steel case with stainless steel bracelet | 41 mm | €399 |
| Black stainless steel case with black fluoroelastomer strap | 46 mm | €249 |
| Stainless steel case with brown leather strap | 46 mm | €269 |
| Stainless steel case with green woven bracelet | 46 mm | €269 |
| Titanium-coated stainless steel case with stainless steel bracelet | 46 mm | €349 |
Design and display
Huawei offers its watch in two sizes: with diameters of 46 and 41 mm and a total of seven variations. All of them are well manufactured, look sophisticated, and feature an impressive AMOLED screen.
---
Pros:
Bright, high-contrast AMOLED display.
Excellent workmanship.
Very appealing design.
IP68 certified + ATM 5.
Cons:
---
When Huawei unveiled the Huawei Watch GT 4 to the global public in Barcelona, the Chinese company also announced their new wearables strategy with the "Fashion Forward" motto and made it clear the aim is to raise the smartwatch to a new level.
Design, health, and fitness are pillars of this strategy. Needless to say, they invited some dazzling personalities to the event: fitness icons Pamela Reif (fitness influencer), Sir Mo Farah (long-distance runner, multiple Olympic and World Championship gold medalist), and well, me.
This made me convince myself that I am in esteemed company with the new octagonal shape of the 46-mm version, or in general, the absolutely best designed among all unveiled watches. The three 41-mm and four 46-mm models listed above already cover just about every type of preference. Personally, I liked the green version with the woven composite strap the best. However, I can also live very well with the titanium-coated stainless steel version with a link bracelet, which I use here as a review unit.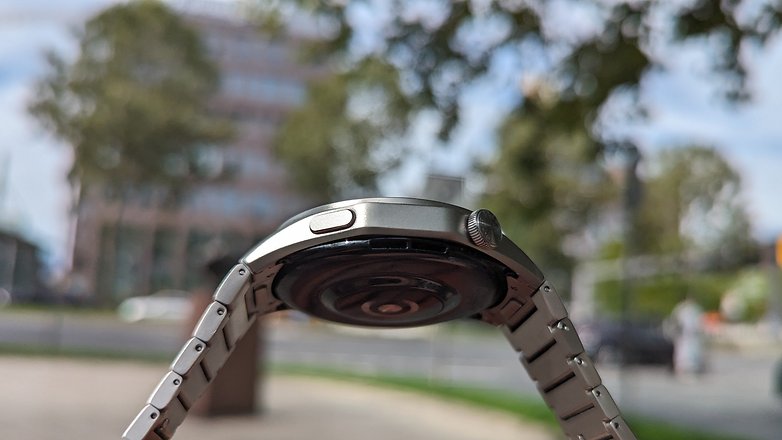 The first shock that hits you after unpacking: The link bracelet is too short for my fat, very muscular arms. Fortunately, a few links are included in the packaging for the bracelet, which, by the way, fits very well and can be easily attached with a little bit of fiddling. The clasp is also very convenient and uncomplicated to open and close.
The display is a real revelation for me as a user of tiny fitness trackers. In contrast to the 1.32-inch display on the smaller model, the display on my review unit measures 1.43 inches, and the 466 x 466 px resolution is identical to its predecessor. Everything is pleasantly large and easy to read, and the content is displayed in very high contrast.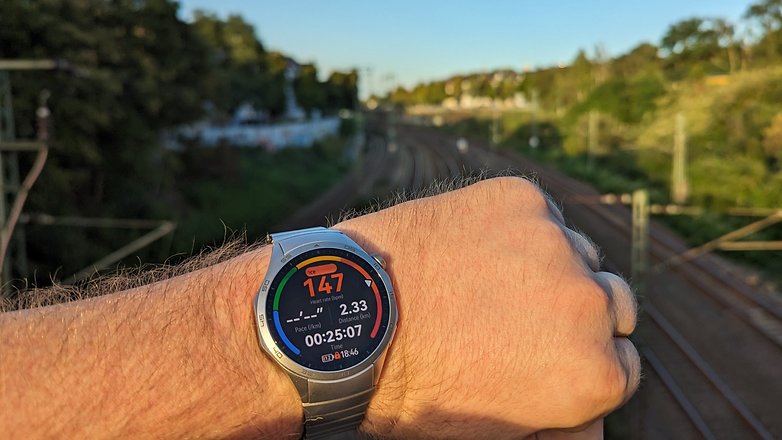 By the way, I, fortunately, managed to catch a really sunny day in late September during the review duration, so the crisp AMOLED display immediately demonstrated how legible it is even when under bright sunlight. By the way, Huawei did not reveal the exact degree of brightness the display has, nor did it reveal the material of the protective glass over the panel.
On the right side of the watch, you will find two controls: The crown and another button underneath, which you can freely assign to an app or function. By the way, I would like to praise the vibration motor of the smartwatch: The motor is so powerful that I did not miss any notification, but it behaves pleasantly enough when I turn the crown and scroll.
Even though the watch is not as robust as models in the premium segment, it is at least IP68 certified and is protected against dust and water. You can also theoretically go swimming with the watch thanks to its ATM 5 rating.
Software and operation
As expected, the Huawei Watch GT 4 is powered by its very own Harmony OS 4.0. The operating system is pleasantly lightweight and runs very smoothly, but app support is still very limited. Thanks to the touchscreen and crown, the smartwatch is very easy to use. However, we still miss LTE support and the option to pay via the watch.
---
Pros:
Fast, functional OS.
Perfect usability.
Customizable watch faces.
Cons:
No payment function.
No LTE support.
Still far too few apps available.
---
If you want to use the smartwatch, you will need the Huawei Health app on your smartphone. iPhone users can find it in the App Store, while Android users can install it via QR code on the packaging or by downloading Huawei's AppGallery to do so. The setup is very straightforward and the watch with Harmony OS 4.0 is ready for use in no time.

You'll find a nice selection of pre-installed watch faces, but you can choose from many more if that's not enough for you. I found some of them to be sensationally beautiful, while others are rather functional albeit just as convincing.
I already mentioned the crown, and in combination with the touch display and the "speed dial" button, I am as happy as can be when it comes to the usability of the smartwatch. I do not miss having a rotating bezel at all. You can launch the home screen with a single press on the crown or the app overview with another press. If you were to press twice in quick succession, the most recently used apps appear. You can scroll through the screen by turning the crown.
The bottom button is preassigned with the workout option, but as mentioned, you can freely decide what you want to launch here. I have basically made my peace with Harmony OS. Yes, I know: I mentioned that there are very few available apps as one of the weaknesses of the Huawei Watch GT 4. That is indeed the case, but at least in my use-case scenario, it does not really play a negative role since most notifications are mirrored from the smartphone anyway. As always, Huawei supports both Android smartphones and the iPhone, but the interaction naturally works best with Huawei smartphones.
You can create up to seven widgets, which you can access by scrolling sideways. If you were to hold them down, you can even personalize them in the settings. If the preset data on the home screen does not suit you, you can simply replace it and display your heart rate instead of steps, for instance.
Swiping up from the bottom takes you to the notifications, and swiping down from the top takes you to the quick settings. I noticed that notifications sometimes find their way from the smartphone to the watch with a slight. By the way, you can respond to messages with pre-written messages and also emojis.
Since a microphone and speaker are present, you can also accept and initiate calls. However, I think this is relatively unnecessary since you have your smartphone on you anyway. I, at least, prefer to pull my smartphone out of my pocket instead of talking into my watch (at least as long as I can't say cool things like "K.I.T.T., get me out of here" into the watch). That's probably a matter of preference as the call voice quality is decent at least.
To sum Harmony OS up, I'd say it's a very snappy, streamlined system that anyone can find their way around very quickly. More apps would be great, which is especially important if you already rely on other fitness apps that are not supported. As mentioned earlier, you will have to connect the smartwatch with the Huawei Health app on your phone. We will talk about the possibilities of the extensive app in the next section.
Finally, there are two negative points that I want to talk about: No, the Huawei Watch GT 4 does not offer us an LTE option either, and secondly, while NFC is on board, we were unable to find any payment options on the watch due to the trade sanctions that make life difficult for Huawei.
Sensors and tracking
Having more than 100 sports modes, this has been expanded once again. The menstrual cycle tracking feature has been optimized, and other tracking features that affect our sleep and heartbeat, among other things, have been expanded or tweaked to provide even more precise measurements. The activity rings have also been optimized and the Stay Fit app is totally brand new.
---
Pros:
Many sports modes.
More precise health parameters thanks to TrueSeen 5.5+.
Very comprehensive Huawei Health app.
Cons:
Sleep tracking is too imprecise.
Some features of the Health app are only available with a paid subscription.
---
The Huawei Watch GT 4 has sensors that you can expect from a smartwatch in this price range these days: You can monitor your heart rate continuously, as well as your blood oxygen level and your skin temperature. However, there is no ECG feature. Thanks to the TruSeen 5.5 sensor, the recorded data is supposed to be even more precise than before. However, I could not verify this due to a lack of other hardware for comparison.
Furthermore, a stress value can be determined, while menstrual cycle and sleep tracking are now more extensive. I was surprised I could not test the menstrual cycle tracking accuracy for you, but I can relay information that not only does the calendar play a role, but also other body values such as temperature, pulse during sleep, or even your breathing. The result should be even more precise predictions regarding ovulation and the menstrual cycle in general.
Are you interested to know more? If so, be sure to read Camila's article:
When it comes to sleeping, I sure have some choice words to share with you. Just like when I reviewed the Huawei Band 8, I noticed my sleep quality and what the Huawei software reported do not really match up. According to Huawei Health, I slept an average of only 4-5 hours over the last few nights and exactly zero (!) minutes of deep sleep. This is definitely unsatisfying because I'm not at peace with myself. Am I just really poor at sleeping well, or did the watch fail to perform its sleep tracking duty in a reasonable manner, or both?

Ideally, the sleep tracking feature distinguishes the REM phase from light sleep. As a new feature, you can now also monitor your sleep breathing. It worked for me but perhaps the result might be a bit skewed, so maybe there should be no radio playing in the background or podcast running through the whole night for a more accurate result. But hey, there is also positive news: My wake phases aka pee breaks were confidently recognized and even noted in my activity rings.
It is a nice move to include the activity rings, right? These activity rings, which are minimally based on Apple, have also been improved. The outer orange ring shows the number of calories burned, the middle yellow points to the number of my active minutes, while the inner blue one (the one with my pee breaks) recognizes how many hours a day I get up from my chair/bed/sofa, and move as directed by the watch.

You can now not only populate the activity rings at the end of the day according to your activity, but also collect medals and accept challenges.
The other stuff we've known about Huawei for many years now: A countless number of sports are recognized (soccer is a new addition), while others like walking and running are automatically detected. The Huawei Health app also shines when it concerns data about your body and what you have done. Your workouts, sleep, heart rate, and much more are displayed in detail and provide insights into the quality of your workout, the degree of exhaustion, recovery level, and so on. Always bear in mind that even this comprehensive app is no substitute for your fitness coach or doctor.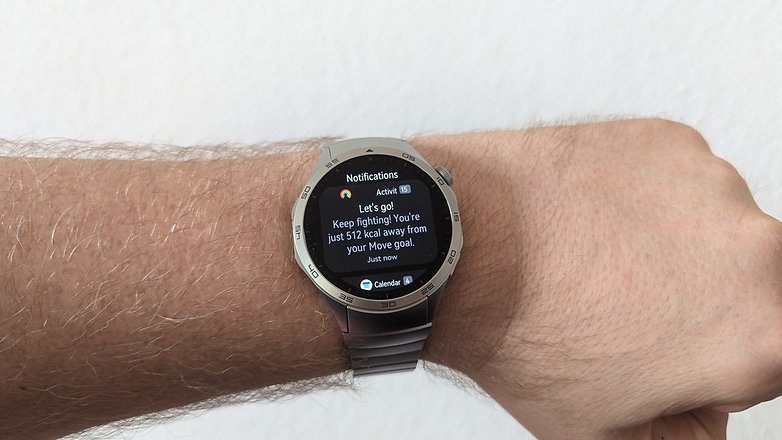 Oh, I almost forgot this bit: The "Stay Fit" app is also new. It is here you can track the number of calories consumed by entering your meals. This way, you can tell what you can eat during the day at a glance. You can enter your food manually or scan the code. My Singapore noodles, however, were recognized as "no food". I don't know if I blame the app for that, or if I should have a serious talk with the discount grocer whom I trust.
It is here that I recognize the added value, but I also struggle a bit with the implementation. Not because it's poorly done, but because I already use Yazio here to count the number of calories and would rather pair this app with the Huawei Watch GT 4. I pay for Yazio, the app works really great and is very comprehensive, but unfortunately, Huawei does not quite keep up with its pace. This is because I cannot exhaust the full scope of Stay Fit: As is often the case, Huawei requires a subscription to the Health+ app, which costs almost €8 per month.
Battery life
The battery of the 46 mm watch is supposed to last 14 days, while the smaller version lasts a week. That is even possible with normal use!
---
Pros:
Long battery life.
Wireless charging supported.
Cons:
---
I think we can keep it nice and short when it comes to the battery. The capacity of the battery in the large model is 524 mAh, and in the 41-mm device, it is 323 mAh. The watch lasted a bit more than seven days in the review. Apart from the always-on display, I activated everything that Huawei's feature list offers. Thus, if you were to use the watch less intensively, you can definitely achieve the promised 14-day battery life.
If you constantly monitor your temperature, heart rate, and blood sugar, and enable the Always On display, the battery life will, of course, be affected. However, even the most dedicated athlete should easily coax 5-6 days of battery life out of the smartwatch. The charging pad is included (but not the power adapter) and it takes about 100 minutes until the device is fully charged. The charging pad finds its position via magnet and charges the watch wirelessly.
As in the predecessor, reverse wireless charging is also supported here, so you can also recharge your smartwatch with any Qi-compatible smartphone.
The long battery life really excites me and is definitely a point for the Huawei Watch GT 4.
Conclusion
Huawei really does a lot right with the Huawei Watch GT 4. If you are looking for an elegant smartwatch that is visually closer to classic watches than their smart counterparts, but does not cost €600 or more, you should take a look at this device. The device has a great build, is a real eye-catcher, and has a bright, crisp OLED display that is very easy to read even in the sun.
The number of sport modes is amazing, there is a very extensive Health app on the smartphone. You can also keep an eye on your sleep, blood sugar, pulse, and much more apart from the pure fitness features. The operation is also exemplary and uncomplicated thanks to the precise crown. I really like the Harmony OS 4.0, although we also suffer from the fact that the app selection is simply poorer than that of the competition. Those who already track their health, calorie consumption, or fitness with another application will unfortunately not be able to use that here in most scenarios.
GPS is more precise than in the predecessor and NFC is also on board. However, the latter does not make me cheer because we are unfortunately still unable to perform cashless payments using the Huawei Watch GT 4. There is also no LTE support available. Apart from that, I cannot find any other weaknesses in this otherwise great watch.
Starting at €249, you get a great smartwatch that supports Android and iOS and works great as a tech gadget as well as a wrist ornament. So, I give it a big thumbs up here and four stars in our review.
Looking at how Huawei managed to marry high-quality materials, technology, and software features and present them in an appealing design, I can only hope that the company will be allowed to play a leading role in smartphones again in the future.