Huawei P60 Pro Hands-on: The High Price to Pay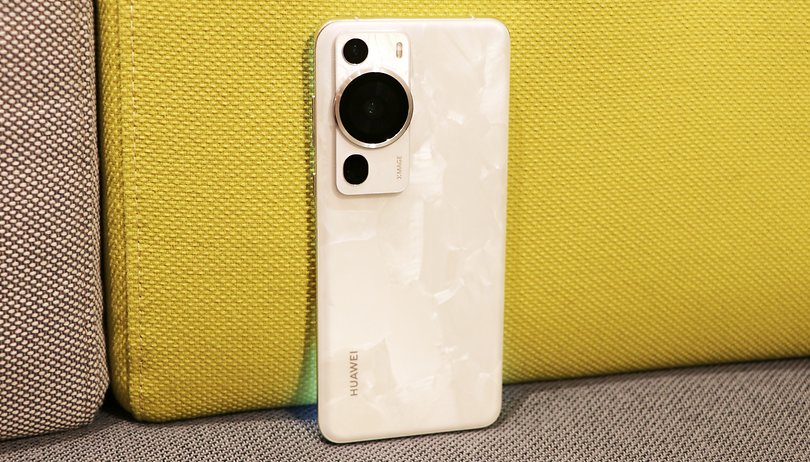 Huawei presented three smartphones from the P60 series in its home country China, but "only" the top model, the Huawei P60 Pro, makes it to Europe. We were able to take a closer look at the flagship smartphone with a focus on outstanding photography at the launch event in Germany and "test" it for you. Here is our first impression of the Huawei P60 Pro!
Good
Snapdragon 8+ Gen 1 is still fast enough

High end display

Very good camera quality

Variable aperture
Bad
No 5G support

No Google Play Store

No Google Mobile Services

No analog audio jack

No microSD card support (only NM card)
Huawei Mate 50 Pro release date and price
I can't exactly say how to describe Huawei's attitude in terms of pricing policy: Proud? Self-confident? Or perhaps arrogant? No matter how we turn it, Huawei wants at least 1,199 Euros for its P60 Pro (approximately 1,320 US Dollars).
In return, the potential customer gets a flagship smartphone that does not offer the fastest Snapdragon processor and has to forgo 5G support and access to the Google Play Store and the corresponding services from the search giant.
Those who prefer 12 GB of RAM and 512 GB of storage instead of the base model's 8 + 256 GB will have to pay 1,399 Euros (~ $1550). The Huawei P60 Pro is available for pre-order now (May 9, 2023)—but will start shipping on May 22, 2023.
And to answer the detailed question, which I naturally also asked Huawei employees at the event: It's a healthy dose of self-confidence: because Huawei assumes that the lack of Google Mobile Services is not a shortcoming. They believe that their "own" Huawei Mobile Services including Huawei AppGallery are sufficient for everything in life.
My colleague Antoine Engels had a different opinion in his review of the Huawei Mate 50 Pro. But perhaps the very ambitious Huawei has made decisive changes in the meantime. We are talking about "GBox", which has just been launched and is supposed to fix many known problems—our detailed test will find out.
Design & Display
Huawei's P60 Pro comes with an eye-catching "Ultra Lighting" camera design, at least on the back. It is primarily characterized by the rectangular camera array positioned on the top left, which is a special feature in the camera crowd due to a seemingly larger, centrally positioned main camera.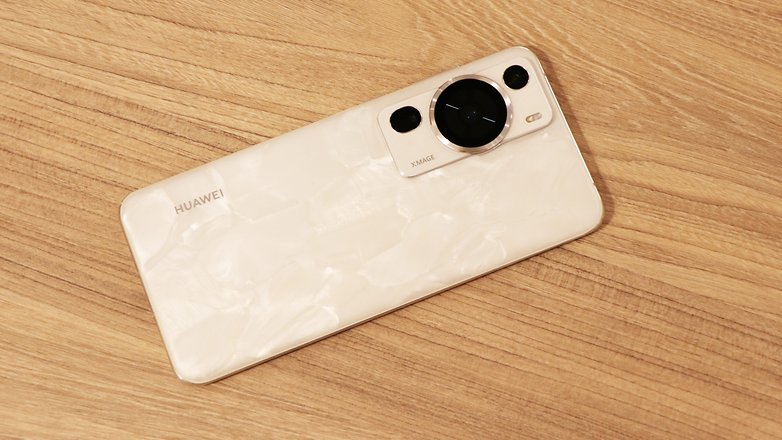 Color-wise, the Chinese company offers a fingerprint-resistant black, as well as a nature-inspired "Rococo Pearl". A kind of white pearl texture, which Huawei says uses natural mineral pearl powder to create a shimmering effect and a unique, natural texture. It's not my cup of tea, but there's no accounting for taste, as we all know.
The IP68-certified, 161 x 74.5 x 8.3 mm thin and 200 g light Android smartphone feels very good in the hand with its OLED display rounded on all four sides. The red power and standby buttons on the right side are easy to reach, but the volume key above them is not so easy.
The display
The 6.67-inch quad-curve display is equipped with Huawei's own Kunlun protective glass, which is supposed to survive drops from 1 to 1.50 meters onto a wooden floor several times without any damage. The Chinese company even invited the press to try it out in our tests.
As soon as the smartphone arrives in the NextPit office, I will immediately follow up on this order—I promise. The resolution is an outstanding 2,700 x 1,220 px (444 PPI) with an adaptive refresh rate of 1 to 120 Hz, thanks to LTPO technology. The touch sampling rate is 300 Hz and PWM dimming is specified at 1,440 Hz.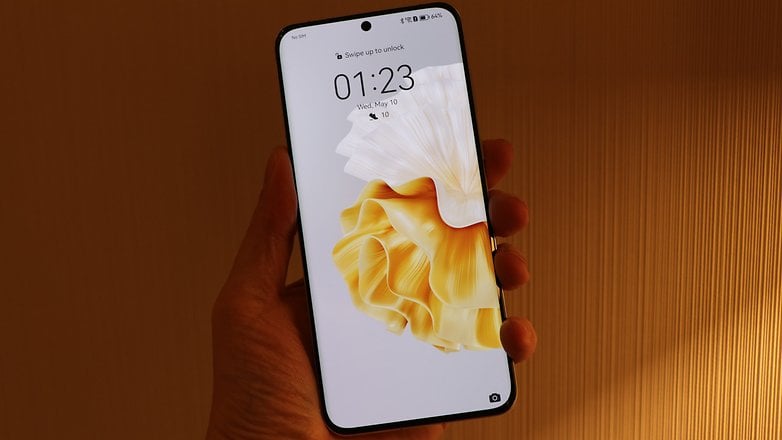 The screen is very easy to read, as is the case with all of Huawei's flagship smartphones. The panel is rich in contrast and offers high viewing angle stability. The company still wanted to provide us with the maximum brightness of the OLED display. We could not yet perform a test under direct sunlight. But we will provide it later!
Of course, there is also a fingerprint sensor in the lower area of the screen, which worked quickly and reliably in our short hands-on. The Huawei P60 Pro also offers an always-on display with optional time limits and 3D weather effects. Thus, there is no reason for criticism on the display side for now.
Huawei Mate 50 Pro software
The software category is probably the Achilles' heel of the otherwise almost perfect Huawei P60 Pro. Even if the company would never openly admit it, its rapid decline began with the US restrictions, at least in the European regions.
Whether we want to admit it or not, we are already absorbed by Google's data octopus and downright dependent on it. And Huawei proves again and again with its rapidly developed ecosystem that users prefer to take the path of least resistance in the end.
If that were not the case, Antoine would not have such a hard time with the HMS. But at the event, I was informed to try the brand-new app "GBox". Even though our first encounter with the Huawei P60 Pro was very limited in time (a review unit is on its way to the NextPit office), I immediately complied with this request.
Many Google applications are recommended to the user here, but you are also confronted with Microsoft and third-party applications. Among them is Dropbox, which was just what I needed for my first test. But what can I say: My smartphone seems "still" incompatible with the application. Well, the P60 Pro is not yet final, so this is understandable.
At least until our review unit is available, further research doesn't make sense. Let's get to the general things, such as the preinstalled operating system: Huawei only states EMUI 13.1.0 here.
The Android base remains a mystery, which I only discovered with the corresponding applications. It is still Android 12 (Snow Cone) with a security Google security patch from August 2022. The last Huawei security update is from March 1, 2023.
In general, I would at least like to express my impression that Huawei has put a lot of thought into the software and provides many useful things like the sidebar for quick app access and also display settings for resolution, color mode, and refresh rate. The company could have put a bit more effort into its update promise, though: It only offers updates for the operating system for two years and for the in-house security for three years.
Huawei Mate 50 Pro performance
Huawei installs a Snapdragon 8+ Gen 1 from Qualcomm for its P60 Pro. Huawei also gets a modified version of an SoC (System on a Chip), but not with higher clocked cores like in the tested Samsung Galaxy S23, but with a 4G instead of a 5G modem.
There is no question that this is last year's flagship processor. That is a bit incomprehensible in view of the estimated price but does not detract from the daily experience.
The processor, manufactured on a 4 nm process, offers a prime core with up to 3.2 GHz, three performance cores with up to 2.5 GHz, and four efficiency cores clocked to 1.8 GHz. That—together with an Adreno 730 GPU (Graphics Processing Unit) is enough for even the most resource-hungry game from the Google Play...Oops—the P60 Pro does not have access to that.
I quickly ran Geekbench 5.0 for you, which achieved 1,327 points in the single-core and 4,212 points in the multicore test. In comparison: The same processor (only with a 5G modem) achieved 1,325 and 4,310 points in the Motorola Edge 30 Ultra review.
Huawei Mate 50 Pro camera
According to our colleagues from DXoMark, the Huawei P60 Pro might be the ultimate camera smartphone - even above our five flagship smartphones tested in the camera blind test, which admittedly also revealed an unexpected result for us. But let's perhaps start from the beginning first.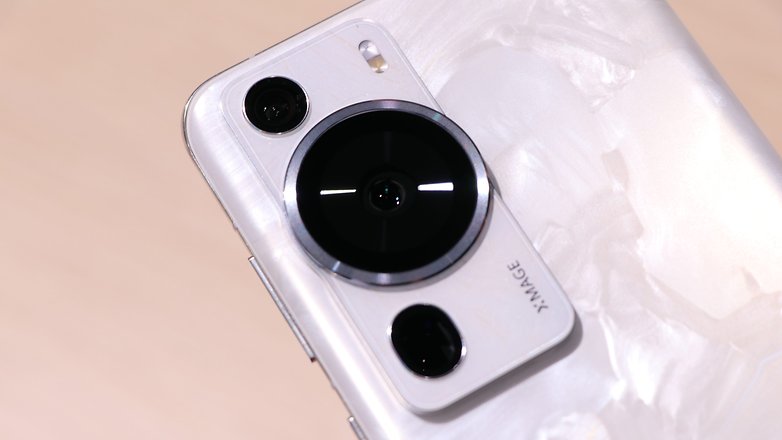 The Huawei P60 Pro has a 13 MP front-facing camera built into the top center of its display, which is rounded on all four sides. The aperture here is f/2.4. The triple main camera on the back is a bit intimidating due to the centrally positioned 48 MP main camera.
However, that is all for show, as the optics end up being no bigger than the 13 MP ultra-wide-angle camera above it, or the 48 MP telephoto camera below it.
The main and "lighting" telephoto cameras are equipped with optical image stabilization, and the main camera also has a variable aperture ranging from f/1.4 to f/4.0. With such a large aperture, Huawei can naturally take top shots in the low-light range under the in-house brand "XMage". And the first quick test photos seem to confirm that.
Huawei Mate 50 Pro battery
Huawei's P60 Pro has a 4,815 mAh battery, but we cannot say much about its endurance after our brief event hands-on. However, the included 88-W Super Charge power supply is a special feature.
Not the power with which it pumps electricity into the Huawei battery, but a small, simple detail, which, however, earns extra points at the end of the day.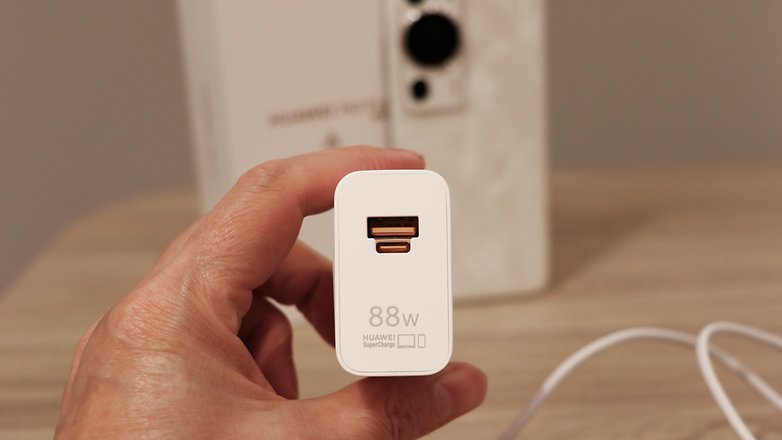 The charger does indeed have two USB ports: one Class-A and one Type-C. Actually completely simple, but ingenious! Why hasn't Apple thought of this yet? Oh, they have this "MagSafe" port, which is even sharper. Well, the Huawei P60 Pro can be charged wirelessly with up to 50 W and other wireless devices can be charged as well.
We do not offer a "PC Mark Work 3.0" battery test today due to the lack of time to test the P60 Pro. However, with the battery at 50%, we plugged it to the 88 W power supply for a quick charging test. The result was 67% after 5 minutes, 80% after 10 minutes, and the half-full battery was completely charged after 20 minutes. Considering that the charging speed slows down towards the end, those are convincing numbers.
Early Verdict
Of course, our verdict, which is based on the test devices on display at the Munich launch event, is only a first impression that we will immediately complete after the test arrives in the NextPit editorial office.
The Huawei P60 Pro carries the same burden that the US has imposed on all of the company's smartphones with corresponding sanctions since 2019: no 5G and no Google Mobile Services, or apps.
There are said to be a handful of people who consciously refuse to go without Google and its services. These might clap their hands at the Huawei P60 Pro and the corresponding trust in Chinese secrecy.
For everyone else, the enthusiasm is limited despite a sufficiently fast processor, expandable memory, a great display, a large battery, and, above all, an outstanding triple main camera with variable aperture. Every Huawei fan will just shake their head after looking at the price tag. I do not see much buying potential for the Huawei P60 Pro in the West at this price—and without a final review. And you?