Govee Outdoor Spot Lights Review: Smart Garden Lights with Wi-Fi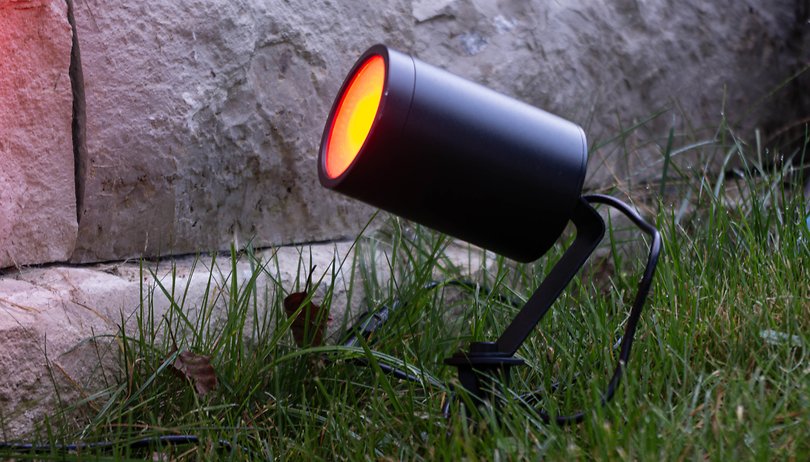 Looking for smart garden lights with an almost infinite number of configuration options and RGB color effects? Then you should take a look at the Govee Outdoor Spot Lights, which are IP65 waterproof and suitable for smart home beginners as well as home automation professionals. nextpit has tested the smart garden lights with Wi-Fi.
Good
Uncomplicated setup thanks to good app and long cables

Lamps certified to IP65 and plugs to IP44

Broad smart home support from Alexa to IFTTT to API

Strong luminosity and low energy consumption
Bad
No extension cords available for lamps

No support for Homekit and Matter
Govee Outdoor Spot Lights: All deals
Govee Outdoor Spot Lights release date and price
Sure: Depending on the wiring, the Govee Outdoor Spot Lights are more or less complicated to install. But the manufacturer gives you enough flexibility thanks to the well thought-out mount, and the cables are generously long. Once the garden lights are in position, everything goes very quickly: The setup in the app works within seconds in WI-Fi range.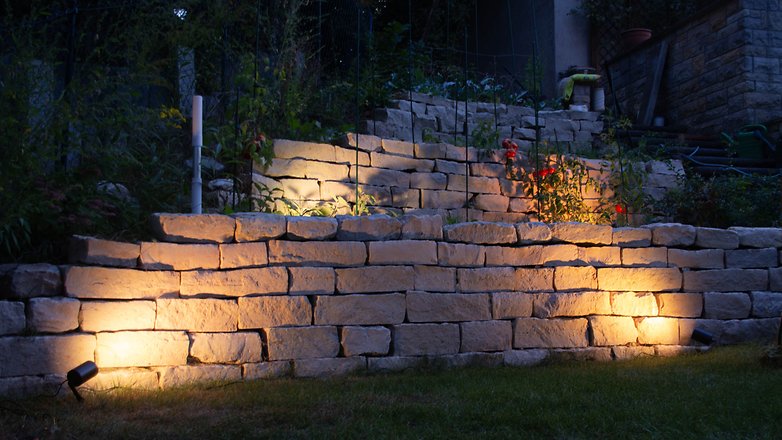 There is also a lot of flexibility in the control options for the lamps: This starts with the countless different animated color programs, extends to schedules for automatically switching on the lights at certain times or events (sunset) and finally ends with full API access. Of course, with so many options, the app isn't always very clear, but there are trade-offs to consider.
The Govee Outdoor Spot Lights regularly cost $89.99 in a two-pack, for four lamps you normally pay $169.99. Currently, the manufacturer offers its smart garden lighting with a discount, and you pay only $74.99 and $149.99 respectively.
---
This article is part of a cooperation between Govee and nextpit. This cooperation has no influence on the editorial opinion of nextpit.
Installation and setup
The Govee Outdoor Spot Lights can be set up in minutes—both in terms of hardware and the manufacturer's app. The mounting options are diverse. At one point, however, we would have liked more flexibility.
---
Pros:
Simple and quick hardware setup.
IP65 for lamps and plugs as well as IP44 for power supply unit.
Neatly long cables in the scope of delivery.
Cons:
Maximum of two lamps per power supply.
No extension cables available.
---
The Govee Outdoor Spot Lights come in a choice of pairs or fours in a box. In addition to the garden lights, the scope of delivery includes a common power cord per two lamps, which, together with the cables of the lamps, comes to a total length of just under eight meters. 1.8 meters behind the power adapter sits the control unit with Wi-Fi module. There is also a button on this for manually switching the lamps on and off.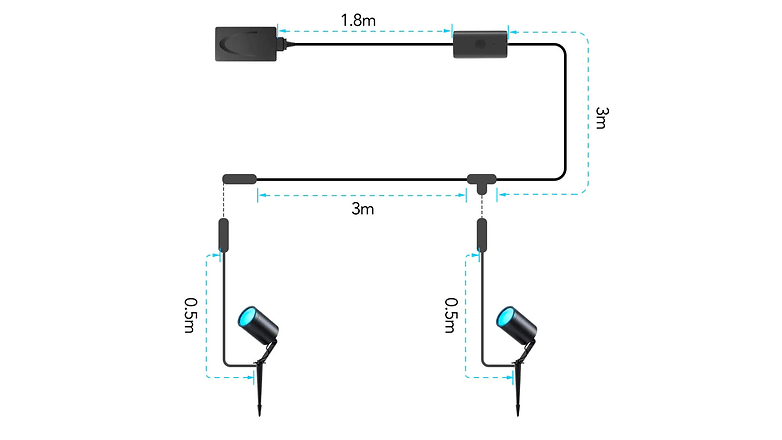 The remaining cable length behind the Wi-Fi module is divided in half between the two lamps: After three meters, there is a junction to the first lamp, the second follows after another three meters. The lamps themselves are attached to the cable harness with 50 cm long cables.
TThe connection is made in each case by water-protected plug-in screw connections—just like the lamps themselves, they meet the IP65 standard. There is no option to connect more than two lamps per power supply.
The hardware setup is very simple: Lay the cables, connect the lamps, plug them in, and you're done. There are two different mounting options. You can either stick the Spot Lights somewhere in the garden with the help of the included ground spikes.
Or you can screw them to a wall or fence of your choice using the included screws and dowels. For higher wall mounting, however, we would have liked to see longer cables on the lights themselves—unfortunately, Govee doesn't offer any extension cables.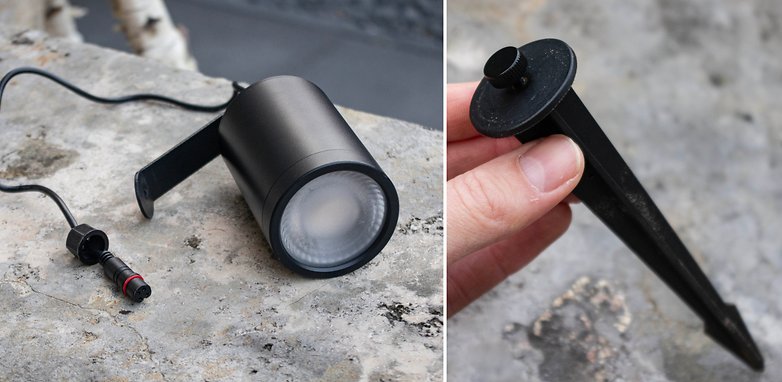 You have made it? Then start the Govee app, which is available for Android and iOS, and your Wi-Fi garden light will be automatically detected. As soon as you tell the app your Wi-Fi password, the lamp is set up. In our test, this worked absolutely smoothly—and even easier with additional lamps, since you don't have to type in your password again. Unfortunately, Govee currently only supports 2.4 GHz networks.
App and smart features
The Govee Outdoor Spot Lights offer an incredible number of possibilities with the manufacturer's app. If you like it even more complex, there are no limits to the configuration thanks to the open API.
---
Pros:
Extremely powerful app including API access.
Support for Google Assistant, Alexa, IFTTT & Co.
Cons:
App is really overwhelming at first.
No support for Homekit and Matter.
---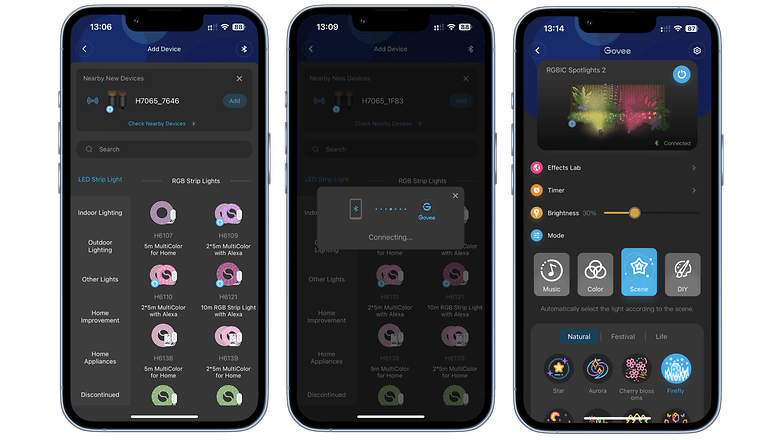 Now for the app: at the bottom of the screen, you'll see five logos that divide the Govee Home app into the Home, Explore, Discover, Shop, and Profile sections.
In the Home tab, you'll find three more tabs. First, there's a "Home-Home-Tab" with various widgets for different scenarios. Another tab shows your own devices and groups, and in the third tab you can see existing automations or create new ones.
The Explore tab shows you suggestions for automations for your devices. This ranges from different color temperatures for different moods to "good morning" and homecoming routines.
In the Discover tab, you'll find promotions from the manufacturer, such as sweepstakes, an active community, or projects where you can even register as a beta tester for new products. There is really a lot going on here.
The store needs little explanation: Here you can stock up on new Govee products. At the start, there's a 5-euro voucher, and there are also various discount promotions - at the moment, smart Christmas lighting is on offer.
Finally, the profile tab offers features such as firmware updates, chats for advice, support and warranty cases, sharing devices with family members or setting up NFC tags. Here you'll also find instructions on how to connect your Govee lights to Alexa, Google Assistant, and Razer Chroma—and unlock the API. Then you can use your Outdoor Spot Lights with Home Assistant, for example.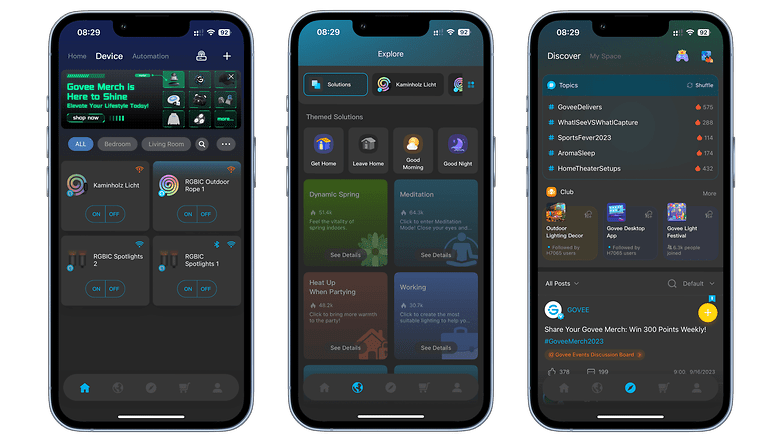 To be honest: At first, the app with its countless functions is really overwhelming. But in return, you have an enormous number of control options. And once you have set up your routines, you will ideally rarely use the app anyway, but either fall back on a voice assistant or on automation.
For example, it's possible to always turn the lights on automatically from sunset and turn them off at 11:00 p.m.—provided you tell the app your location.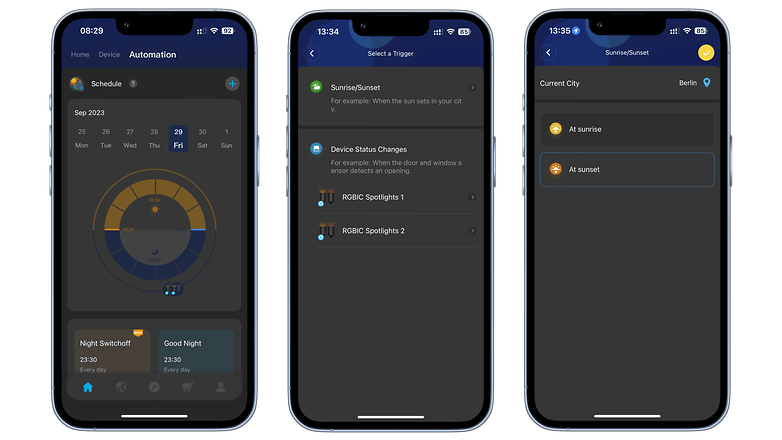 You also have countless options when it comes to colors. You can simply let the lights shine in any warm or cold color—or animate them freely. In addition, the app also offers ready-made animated programs; the spectrum ranges from a gentle campfire sparkle to a lightning storm. At your garden party, the lights can even flash in time to the music.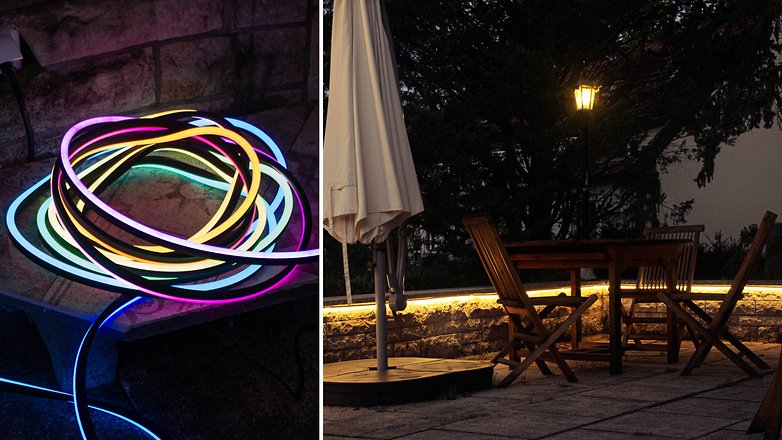 By the way, Govee also offers numerous other light sources, all of which you can control via the app. For example, the 10 m long light strips called Govee Outdoor Neon Rope Lights, which you can admire in the photo above, are very chic.
The scope of delivery also includes ground spikes, but also small clips for mounting on the wall—this works either with screws or adhesive pads, both of which are included in the scope of delivery.
Luminosity and power
The Govee Outdoor Spot Lights convince with reliable routines and a strong luminosity in the test. There's also a positive surprise here in terms of power consumption—despite energy class "G", by the way.
---
Pros:
Very strong luminosity.
Low energy consumption.
Cons:
---
In about two weeks of testing at nextpit, the Outdoor Spot Lights performed flawlessly. Our automation via the app to switch on at sunset worked reliably. We did not experience any Wi-Fi problems or other connection interruptions during the test period.
We were also pleasantly surprised by the brightness of the Spot Lights. The lamps are really extraordinarily bright at maximum setting and generously illuminate even larger house entrances or trees.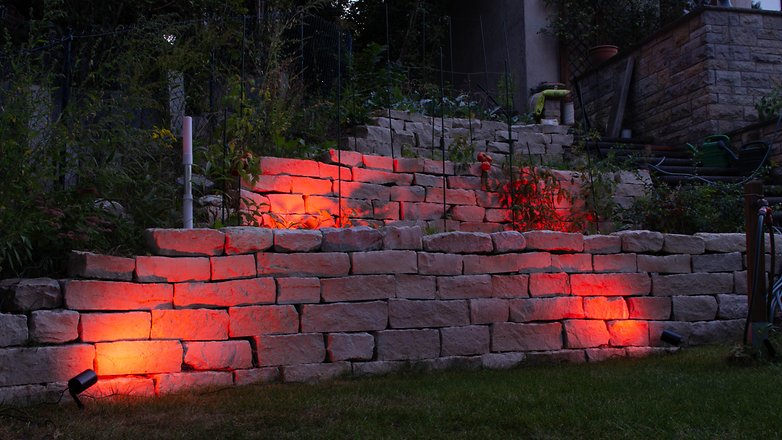 What does this mean for energy consumption? It's clear to see in the store: The Govee garden lights have the energy class "G". In numbers, the energy consumption for four Outdoor Spot Lights in the test is just 25 W when we run the lamps warm white at full brightness. If the lamps are switched off and only the Wi-Fi is active, the energy consumption is around 1 W.
So you don't have to do the math yourself: If you run two lamps at maximum brightness for three hours every day, you will consume about 35 kWh per year. At 18 cents per kWh, that's about $6 in electricity costs per year—or just 50 cents per month.
Another very practical feature is that the lamps remember the last setting. If, for example, you have installed the Govee lights on an outdoor socket with a switch and turn on the power here, the Outdoor Spot Lights will start with the last selected color program, brightness and so on.
Final verdict
The Govee Outdoor Spot Lights convinced us with their extremely versatile and flexible hardware and software, even if the app was a bit overwhelming at first. Thanks to support for Google Assistant, Alexa, IFTTT & Co. and full API access, there are almost unlimited possibilities. We only miss two things here: HomeKit and Matter support. At least the former can be established via a solution like Homebridge.
The Wi-Fi garden lights are also convincing in terms of performance. In everyday use, the Outdoor Spot Lights run reliably and ensure with the beautiful and diverse color effects that you can actually look forward to the earlier sunset.