Google Pixel Fold Review: Pocket-Heavy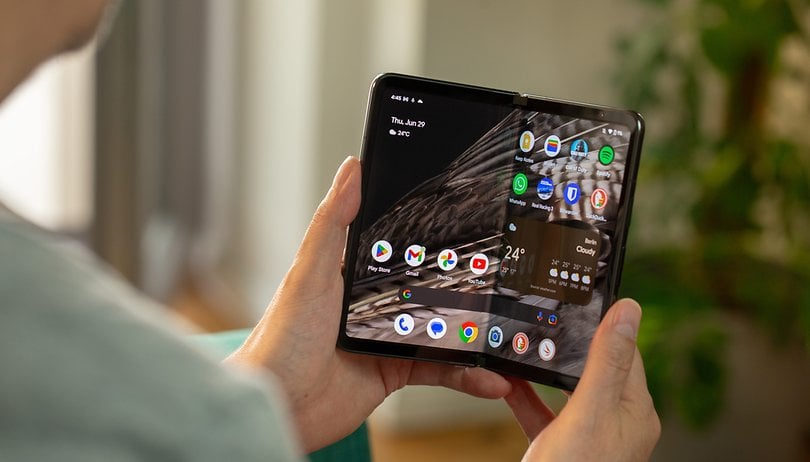 After years of rumors and the usual Pixel-leaks, the Google Pixel Fold can now be ordered from the company's online store in a limited number of countries. Keep reading to find out if the $1800 flagship foldable Android phone is a worthy first-generation effort in NextPit's full review.
Good
Bright internal and external screens

Great camera performance

Default apps adapt well to the display
Bad
Battery life anxiety

Performance lags behind the competition

Many third-party apps still not "fold-aware"

Very visible crease
Google Pixel Fold: All deals
Google Pixel Fold in a nutshell
The Pixel Fold brings yet another form factor to the foldable phone market, with a different proportion to the existing models from Samsung, Huawei, Xiaomi, and Oppo. While the market doesn't pick a preferred form factor, Google came with a phone that is wider and thinner when it is closed, while the Pixel Fold's 5.5 inches height (139.7 mm) is almost in between the Oppo Find N2's 5.2 inches (132.2 mm) and the Galaxy Z Fold 4's 6.1 inches (155.1 cm).
In terms of availability, the Pixel Fold is, at least initially, sold in a very limited number of countries: Germany, Japan, the United Kingdom, and the United States. In the US, it will be available in two different colors: Porcelain and Obsidian—aka beige and black, respectively—with two storage options: 256 GB and 512 GB, the bigger option available only in Obsidian.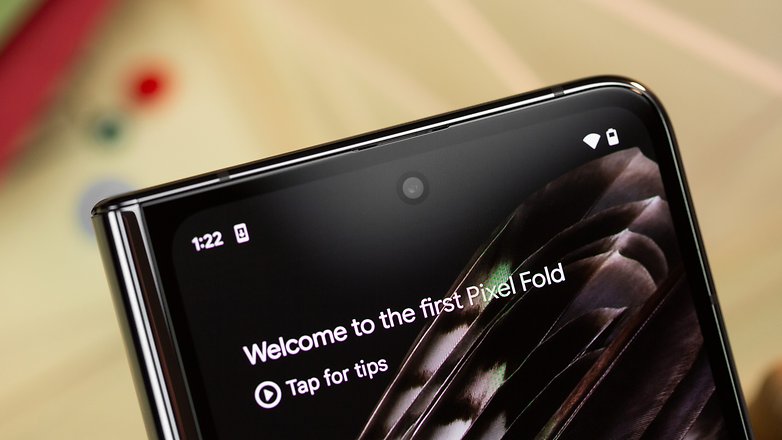 The Pixel Fold is already available for pre-order on the US Google Store, with shipments starting at the end of July, depending on the selected configuration. Prices start at a steep $1,799 for the base model and reach $1,919 for the 256 GB model.
Design and display
As we mentioned above, the Google Pixel Fold offers a different proportion to the one used by its rivals. Instead of the long, tall proportions of the Samsung Galaxy Z Fold phones when closed, the Pixel foldable has a passport-like form factor similar to the Oppo Find N2, but bigger in both width and height.
---
Pros:
Bright and smooth displays.
Nice ergonomics when folded.
Thin build.
No notch on the internal display.
Cons:
Heavy.
Visible crease.
Thick bezels on the internal display.
---
Google's first foldable has the advantage of being the thinnest foldable screen phone at 0.5 inches when closed (12.1 mm) while being the heaviest when compared to the Find N2 and Galaxy Z Fold 4, at 10 oz (283 g).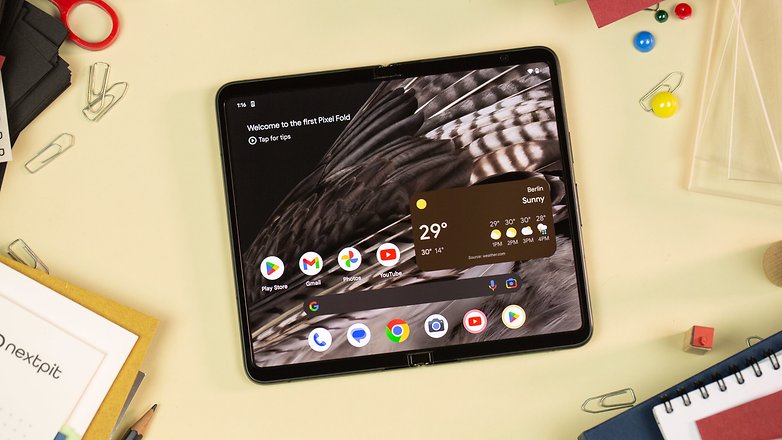 The dimensions when closed make the Pixel Fold easy to use for medium-sized hands, especially when compared to the thin and tall external display on Samsung's foldables. The external AMOLED display features a 5.8-inch diagonal, with a FullHD+ resolution (2092 x 1080 pixels), and smooth animations thanks to its 120 Hz refresh rate.
When closed, the Google Pixel Fold doesn't show a significant gap between the two sides with a surprisingly thin profile for a foldable phone. However, the extra weight is noticeable, especially if you are used to a regular candybar phone.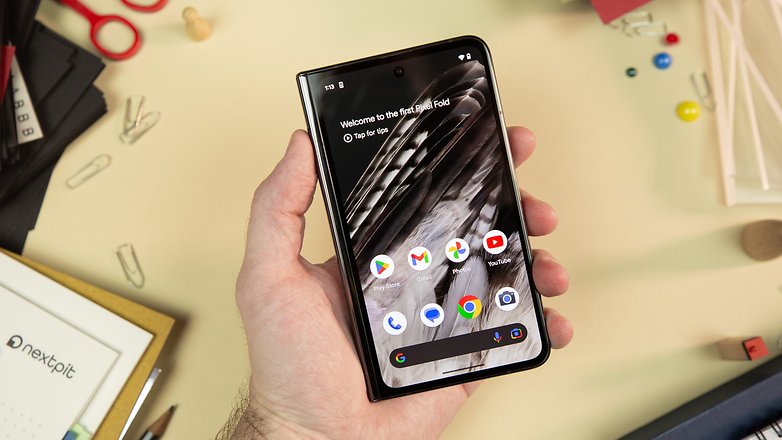 Opened, the 7.6-inch AMOLED screen uses a curious 6:5 aspect ratio, which makes it very similar whether in portrait or landscape orientations. This makes the screen more practical for split-screen usage—e.g. taking notes or following a tutorial—than for media consumption, which will invariably lead to thick bars around videos.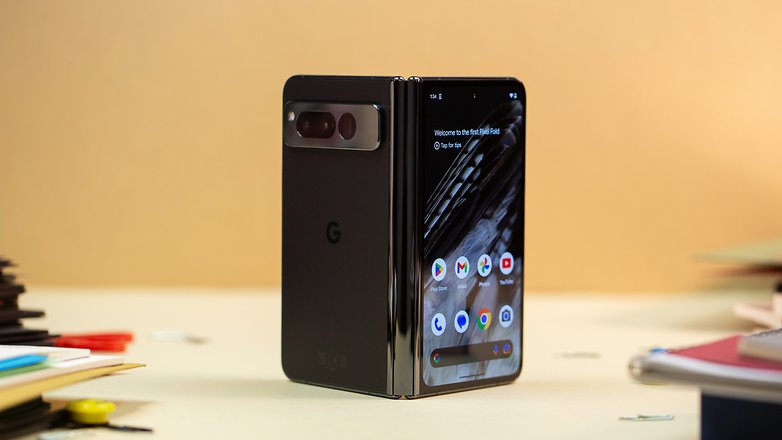 Speaking about thick things on the internal display, the bezels are very noticeable and bigger than those found on the Oppo Find N2 and Galaxy Z Fold 4. That can be attributed to the in-bezel internal selfie camera and the folding mechanism—which Google says is "the most durable hinge on a foldable phone. Speaking about durability, the Pixel Fold is IPX8 certified, with no protection against dust or solid particles, but able to withstand immersion in shallow waters.
In general, the Pixel Fold build quality is quite good, despite the impressively thin halves. However, the central crease is very noticeable, both when swiping a finger on the screen or simply looking at a web page or video content.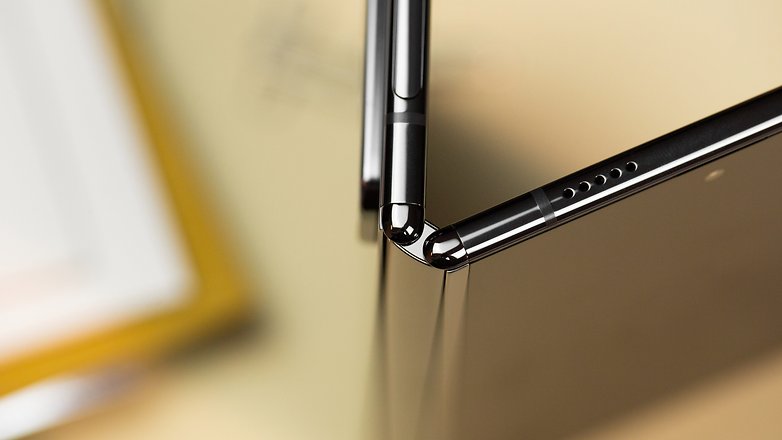 Although we didn't notice any problems with the phone using it for around a week, we should note that some reviewers and buyers already reported issues with the screen. ArsTechnica's Ron Amadeo had his review unit brake the screen, presumably due to debris between the bezel and protective layer, and some Redditors shared pictures of units with nasty breakage at the display crease or even worse issues.
Software: Early adopter blues
Although the Pixel Fold is the first foldable from Google, the Android ecosystem for foldables is already five years old. Even so, the Pixel Fold still displays some "first-generation" issues when it comes to user experience.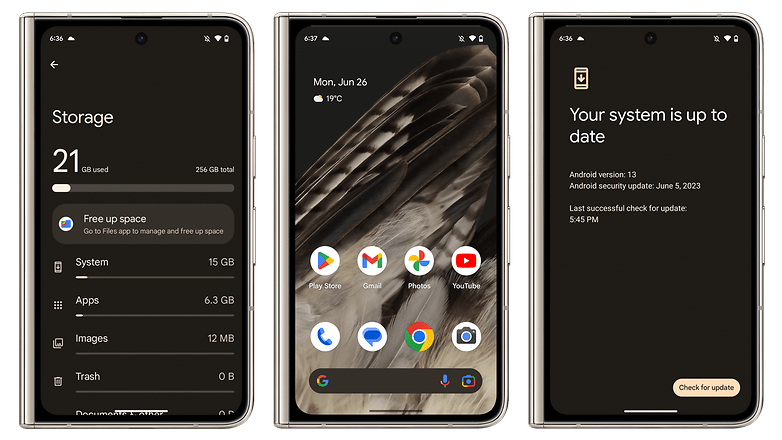 Google's own apps perfectly work with the different available aspect ratios, adapting not only to the orientation but flowing relatively seamlessly between open and closed states. Opened, Android even moves the bottom app shortcuts into a dock-like element, making accessing your apps slightly easier.
The Camera app even adapts to a partial fold, displaying manual controls and the shutter button on the lower part of the screen, with the viewfinder in the "upper" display. For the future, Google promises a similar adapted layout for the YouTube app, which wasn't available in time for testing.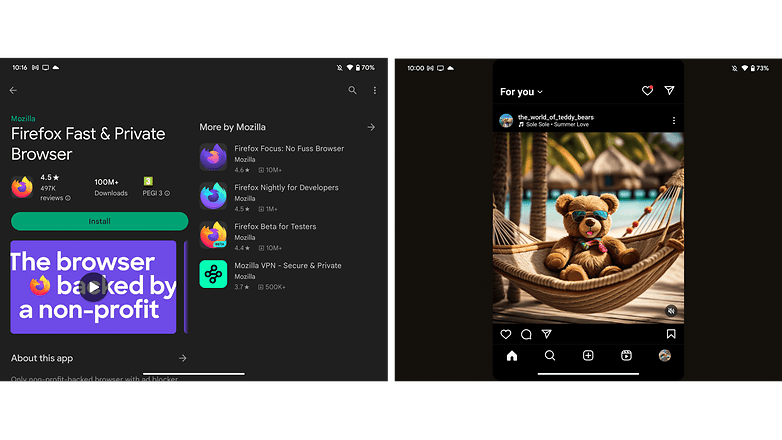 Other apps, however, do not make use of the bigger screen real estate, and one of the worst offenders is Instagram. Regardless of being in the 6:5 or 5:6 aspect ratios on the internal display, the app is displayed with thick black bars on the sides of the screen. Other apps, mainly games, require a restart when switching between the internal and external displays. The situation is far better than that encountered during the original Galaxy Fold launch but be prepared to find "fold-unaware" apps every now and again.
Google Pixel Fold performance
Powered by the in-house Tensor G2 processor, the Google Pixel Fold packs the same SoC used in the Pixel 7 family of phones .
---
Pros:
Clean Android experience.
Cons:
Lower performance than the (cheaper) competition.
Thermal throttling in heavy tasks.
---
Despite being a flagship-class processor, the Tensor G2 already shows its age, with two high-performance Cortex-X1 CPUs at 2.85 GHz, while 2023's flagships with the Snapdragon 8 Gen 2 chip have a two-generation newer Cortex-X3 core at 3.2 GHz. Google argues that its exclusive AI smarts make up for that, while also equipping the Pixel Fold with fast 12 GB of RAM.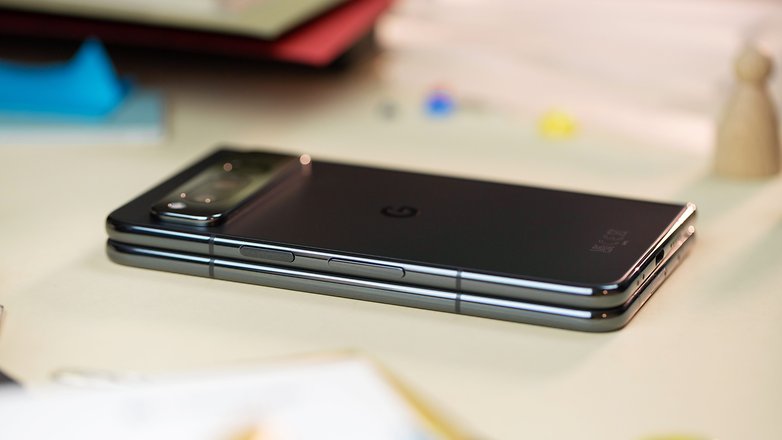 In daily use, whether with internal or external displays, the Pixel Fold performs as well as any other Pixel 7 phone with the same processor—with the added bonus that the side-mounted fingerprint reader is noticeably faster than the in-display ones—switching between apps is fast thanks to the vast RAM, and browsing the web and social media works just as well as on any other flagship phone, even while multitasking.
On synthetic benchmarks, however, we can notice the Tensor G2's age. With roughly the same performance numbers as its candybar siblings, the Google Pixel Fold cannot compete on sheer horsepower when compared to phones with the newer Snapdragon 8+ Gen 1 or 8 Gen 2.
Google Pixel Fold
(Tensor G2)
Samsung Galaxy Z Fold 4
(Snapdragon 8+ Gen 1)
Oppo Find N2
(Snapdragon 8+ Gen 1)
Oppo Find N2 Flip
(Dimensity 9000+)
Google Pixel 7
(Tensor G2)
3DMark Wild Life
3DMark Wild Life Stress Test

Best loop: 6650
Worst loop: 3508

Best loop: 10332
Worst loop: 5606

Best loop: 10389
Worst loop: 6459

Best loop: 8244
Worst loop: 4673

Best loop: 6651
Worst loop: 4902

Geekbench

Geekbench 6 Single: 1479
Multi: 3784

Geekbench 5
Single: 1332
Multi: 3947

Geekbench 5
Single: 1046
Multi: 3556

Geekbench 6
Single: 1130
Multi: 3364

Geekbench 6
Single: 1466
Multi: 3722
While the Tensor G2 chip still performs well in the Geekbench single and multi-threaded tests compared to 2022's Snapdragon 8+ Gen 1, we have already seen phones with the newer 8 Gen 2 overtaking it in both scores.
The weakest point for the Pixel Fold is, however, gaming performance, as highlighted by the 3DMark scores, losing not only to Snapdragon phones but also to the Dimensity 9000+ chip on the compact Oppo Find N2 Flip that Antoine Engels tested earlier this year.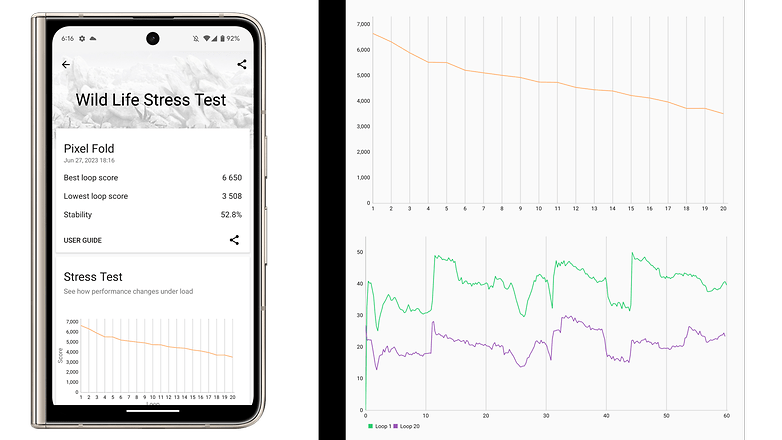 3DMark shows another issue with the Google Pixel Fold's Tensor G2 chip: Thermal throttling. On either longer benchmark or online gaming sessions, the phone gets noticeably warm to the touch, which in turn makes the CPU run at lower speeds. That can be seen in the stress test results, which show lower worse scores than the Pixel 7, probably a result of the very thin profile achieved by Google's engineers leaving less surface area to dissipate heat.
Google Pixel Fold camera
The "Visor" design on the Google Pixel Fold suggests it is powered by the same camera setup used in the Google Pixel 7 Pro which was called "the best Pixel ever" in Camila Rinaldi's review. However, not only the resolutions of the three different sensors are different from the Pixel 7 phones, the sensor sizes are slightly smaller on the foldable, which should prove a small disadvantage in low-light situations.
---
Pros:
Flagship-level setup with ultra-wide and 5x telephoto cameras.
Excellent image quality.
The AI-wizardry Pixel phones are famous for.
Lots of creative options with the form factor.
Cons:
The weight makes shots a bit tricky with the phone opened.
---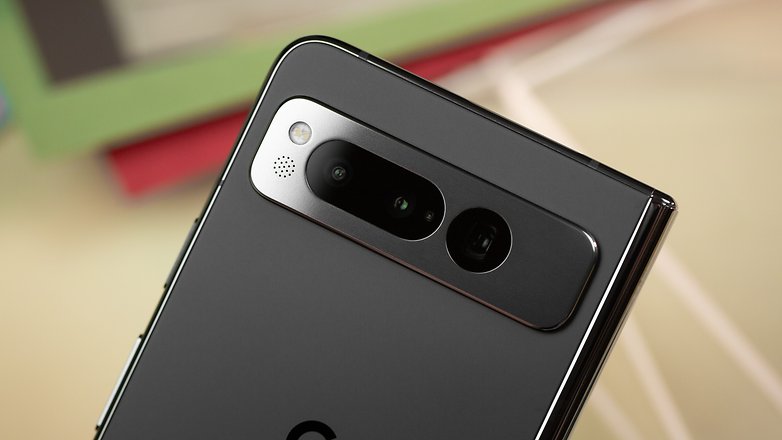 In the table below we compare the specifications for each of the cameras available on the Pixel Fold against its equivalents on the Pixel 7 and 7 Pro phones, notice the smaller sensors used throughout the different cameras:
Pixel Fold
Pixel 7 Pro
Pixel 7
Main camera

48 megapixels
Sensor size: 1/2''
Aperture: f/1.7
Field of view: 82°

50 MP
1/1.31''
f/1.85
82°

50 MP
1/1.31''
f/1.85
82°

Ultra-wide

10.8 megapixels
Sensor size: 1/3''
Aperture: f/2.2
Field of view: 121.1°

12 MP
1/2.9''
f/2.2
125.8°

12 MP
1/2.9''
f/2.2
125.8°

Telephoto

10.8 megapixels
Sensor size: 1/3.1''
Aperture: f/3.05
Field of view: 21.9°
5x zoom

48 MP
1/2.55''
f/3.5
20.6°
5x zoom

Selfie

9.5 MP | f/2.2 (outer)
8 MP | f/2.0 (inner)
Field of view: 84°
The triple camera on the "back" is housed on a thick island that protrudes quite a bit from the phone's surface. Besides the camera trio—of which the 5x zoom telephoto uses a periscopic lens—the island is home to the LDAF (laser detect autofocus) sensor, an LED flashlight, and a microphone.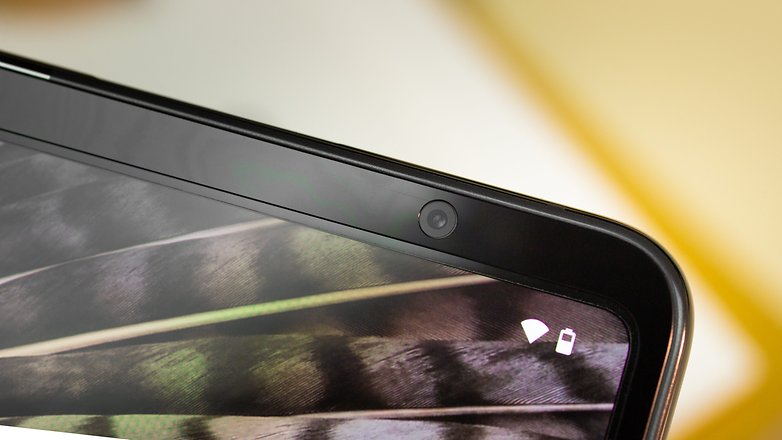 In practice, the Pixel Fold returned shots worthy of the product range's heritage, with excellent pictures including Google's traditional punchy colors on all three back cameras. Colors are saturated to the point that sometimes the resulting files look noticeably better than reality—which will surely please those addicted to sharing photos on social media and messaging apps.
With automatic settings during daylight shots, color reproduction can vary a little bit between the three cameras but nothing worth complaining about.
One of the Pixel Fold's strong points in the camera department is its complete camera package, covering a wide focal range, something that was until recently a weak spot for foldable smartphones. Not only it offers the three cameras we expect from traditional flagship phones—ultra-wide (0.6x), wide, and telephoto—it bests the year-old Galaxy Z Fold 4 in the latter one with a 5x optical zoom instead of a 3x one in Samsung's foldable.
Although the advertised digital 20x "Super-Resolution-Zoom" failed to impress us, 10x zoomed pictures shot from the 5x telephoto camera and 2x photos from the main camera were fine for sharing online.
Night shots on the standard mode can get a bit noisy on the 2x digital zoom and ultra-wide-angle camera, but 5x and 1x shots can be pretty good, depending on lighting conditions. Night mode can improve image quality quite a bit just like in previous Google Pixel phones, without requiring super steady hands.
Selfie lovers are spoiled for choice with the Pixel Fold. Not only you can use the selfie cameras on the external and internal displays, but also the "main" sensors in the back camera module. In daylight, selfie results were good all around, including nice subject separation in portrait mode. With the Pixel Fold opened, the camera app offers a button to use the external display to frame shots, which opens up the possibility to use not only the main camera's bigger sensor but also the wider field of view of the ultra-wide-angle camera.
In terms of ergonomics, the foldable nature of the Google Pixel Fold is a double-edged knife: While it allows interesting options for propping up the phone opened in either landscape (tent mode or laptop mode) or portrait orientations, the 10 oz (283 g) weight make the phone a bit awkward to hold when opened for handheld photos.
Google Pixel Fold battery
On the battery department, the Google Pixel Fold has a 4821 mAh component, capable of being charged at up to 30 W while using a compatible USB-PD 3.0 charger, which is not included in the box .
---
Pros:
Cons:
Battery life doesn't inspire confidence.
Low charging speeds.
No reverse wireless charging.
---
Additionally, the foldable can be charged using a Qi-compatible wireless charger at up to 7.5 W. The main feature missing on the Pixel Fold is reverse wireless charging to lend power to other phones or accessories. Even so, you can reverse charge using a cable.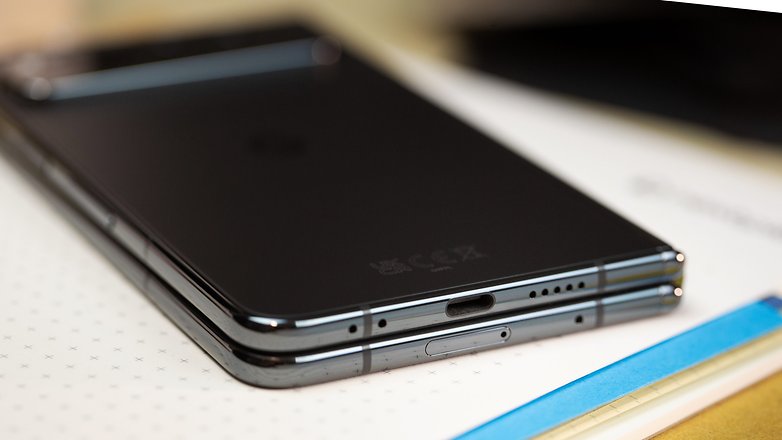 Charging times hovered around 1h30min, with an UGreen 45W adapter getting a little bit lower charging times than that, while an Anker one took slightly longer. 10 minutes of charging was enough for 18%, while half an hour gave us 48% of battery capacity.
PC Mark's battery test scores were 10h21 for the Pixel Fold using the big internal display, while it reached 14h30 while closed. At first glance, it seemed like fairly competitive results, but in practice, things were not so optimistic, with the battery percentage going down rather quickly with standard web browsing while listening to locally-stored music.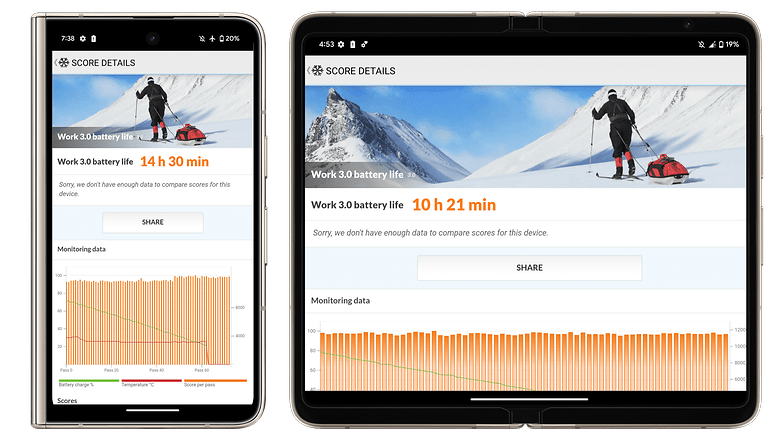 If you are a heavy user, don't expect to see a full day's worth of battery life. With moderate use or mainly using the external display, however, you can reach the end of the day on a full charge. Either way, Google offers two Battery Saver modes and also the option to lower the display refresh rate to 60 Hz to fight battery anxiety.
Google Pixel Fold technical specifications
Google Pixel Fold
External display
5.8-inch AMOLED
2092 x 1080 pixels
120 Hz refresh rate
Internal display
7.6-inch AMOLED
2298 x 1840 pixels
120 Hz refresh rate
Dimensions (folded)
5.5 x 3.1 x 0.5 inches
139.7 x 79.5 x 12.1 mm
Dimensions (opened)
5.5 x 6.2 x 0.2 inches
139.7 x 158.7 x 5.8 mm
Weight
10 oz | 283 g
Processor
Google Tensor G2
Memory
12 GB LPDDR5 RAM
256 / 512 GB UFS 3.1 ROM
Software
Android 13
microSD
❌
Dual-SIM
✔️ (nano SIM + eSIM)
eSIM
✔️
Camera
Main: 48 MP | 1/2'' | f/1.7 | 82° FoV | OIS
Ultra-Wide: 10.8 MP | 1/3'' | f/2.2 | 121.1° FoV
5x telephoto: 10.8 MP | 1/3.1'' | f/3.05 | 21.9° FoV
Selfie
External: 9.5 MP | f/2.2 | 84° FoV
Internal: 8 MP | f/2.0 | 84° FoV
Audio
Stereo speakers
No headphone jack
Battery
4821 mAh
Charging
Wired charging: 21 W
Wireless charging: 7.5 W
IP certification
IPx8
Connectivity
5G | LTE | Wi-Fi 6E | Bluetooth 5.2 | UWB | NFC
Final verdict
The Pixel Fold is a curious first try at the foldable smartphone arena. Google opted to try a slightly different form factor than the established models from Huawei, Oppo, Samsung, and Xiaomi, some of them in their second or fourth iteration. However, at this time, it doesn't really bring many differences when it comes to usage modes to justify that choice, just presenting another take on the foldable's pocketability.
Google, however, promised a bunch of new features that better make use of the foldable form factor, including an improved UI for the YouTube app in August, and an intriguing dual-screen interpreter mode for translating between two spoken languages in real-time coming with Android 14, with the external and internal displays showing each translation. And more novel features are expected to come with the quarterly Pixel feature drops.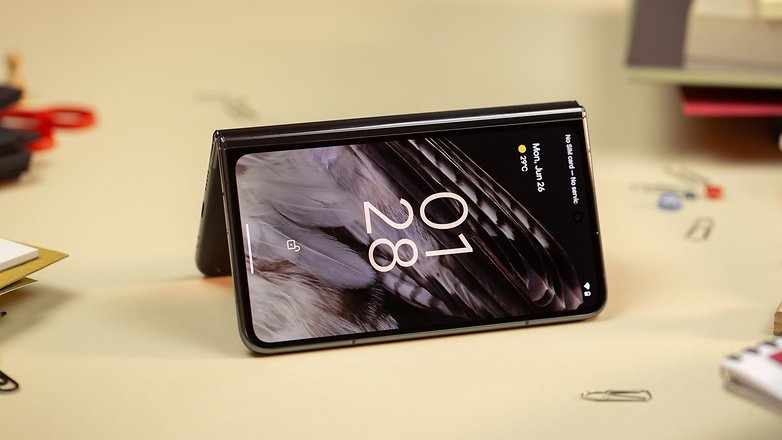 The elephant in the room is pricing: With an MSRP starting at $1799, it is really difficult for us to recommend purchasing what essentially is a first-generation product. You would need to be really involved in the Pixel ecosystem to risk buying a device on an untested form factor, with no knowledge of possible bugs and, of course, an app ecosystem that is still in the making. Future discounts may change that, as is always the case with Pixels devices.
Google offers Fold shoppers its usual package of a clean Android experience, monthly security updates, AI-powered software features, and best-in-class camera performance, with the same weak spots we have seen in other Pixel phones such as lower performance than its direct rivals.
The Pixel Fold, however, cannot hide the fact that it is a first-generation product. Not only some apps do not adapt well to the internal display's 6:5 aspect ratio, but a few early reports about issues with the screen's durability may remind some people of Samsung's early difficulties with its Fold series and how the South Koreans improved the line's reliability while at the same time adding features to better make use of its form factors.
In the end, the Pixel Fold is undeniably fun to play around with but a very difficult purchase recommendation. Personally, I would rather wait for a second generation and a bigger ecosystem of apps, but for Pixel-diehards with deep pockets, it may be worth paying the early-adopter tax.
What is your opinion on Google's first foldable phone? Did you like the form factor, or prefer the dimensions offered by Oppo or Samsung foldable or flip phones? Share your thoughts in the comments below!
---
Review updated in July 3rd with full impressions of the Google Pixel Fold. Earlier comments were not deleted and may appear out of context.