Google Pixel 7 Pro review: The best Pixel ever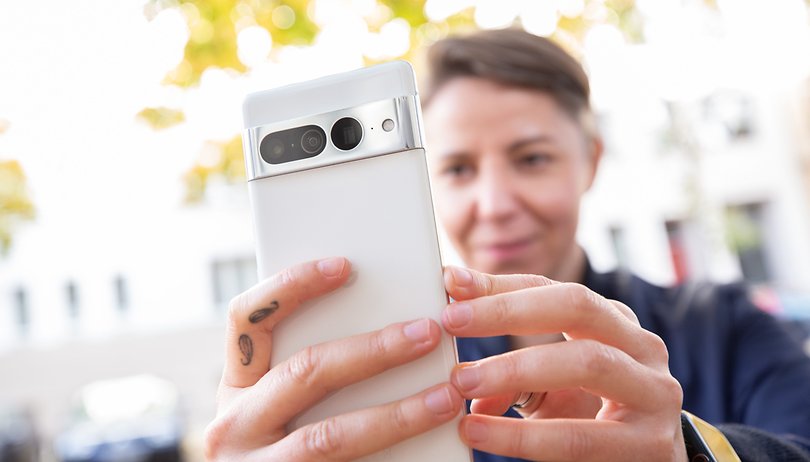 Repeating last year's saga, the new Pixel 7 Pro hits the market at a fairly reasonable price point. Google's biggest flagship smartphone for the year features an excellent quality display, an extremely versatile camera, and a processor with pretty solid performance. However, is it enough to compete with other major smartphone manufacturers like Apple and Samsung? Find out in this Pixel 7 Pro review!
Good
Flawless display

Solid performance

Excellent and versatile camera

Great battery life

Excellent value for money
Bad
Slippery chassis

Slow charging speed

Power adapter is not included in the box
Google Pixel 7 Pro: Price and availability
After being officially announced in August, the new Google Pixel 7 and Google Pixel 7 Pro hit the market on October 6. While the vanilla variant has a starting price of $599, the Pro variant can be purchased from $899 a pop. Both models are already available for purchase on Google's official store and on partner e-commerce like Amazon.
| | | |
| --- | --- | --- |
| | Google Pixel 7 | Google Pixel 7 Pro |
| 128 GB | $599 | $899 |
| 256 GB | $699 | $999 |
| 512 GB | Not available | $1,099 |
| 1 TB | Not available | Not available |
If you purchase the Pixel 7 Pro by October 17, Google and Amazon will provide credit amounting to $200 for the Pixel 7 Pro. Get to know more on how to buy the unlocked version of the Pixel 7 Pro in our new Pixel buying guide.
A very familiar design
With a sexy, curved 6.7-inch display, the new Pixel 7 Pro is a large smartphone. Sporting an aluminum case made of 100% recycled material, the Pixel 7 Pro has undergone some changes from the previous generation's design.
The Pro variant now features prominent spaces for the different camera module lenses on the horizontal rear bar. This unifies the design of the camera module bar and the chassis, which seems to make it more durable in my eyes.
---
What I liked:
Good quality materials used.
Camera modules are seamlessly integrated into the chassis.
IP68 certification.
What I disliked:
Glossy metal is a fingerprint magnet.
Super slippery when held.
---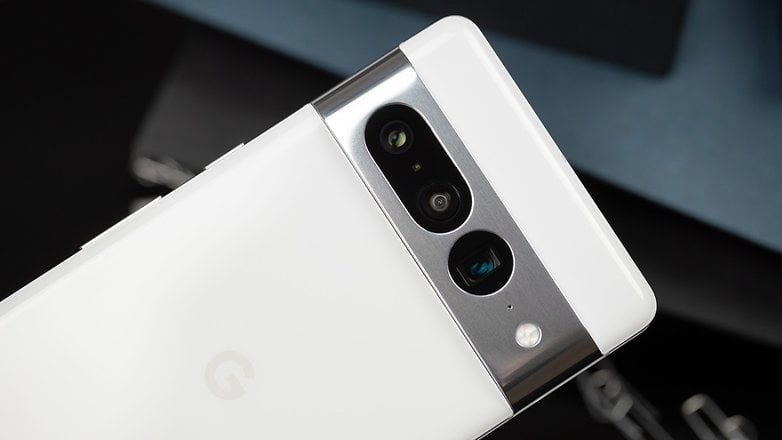 The new Pixel 7 Pro can be found in three colors: Snow, Obsidian, and the new shade of Hazel. However, just like last year, it seems to me that the prettiest color was once again exclusive to the vanilla model, which has a Lemongrass variant.
Overall, the Pixel 7 Pro received a revision in the materials used: we have more aluminum in this new generation. The fact that we see a continuation of the Pixel 6 Pro's visual language is a positive point in my opinion, given that it is an easily distinguishable design in a world of very similar smartphones.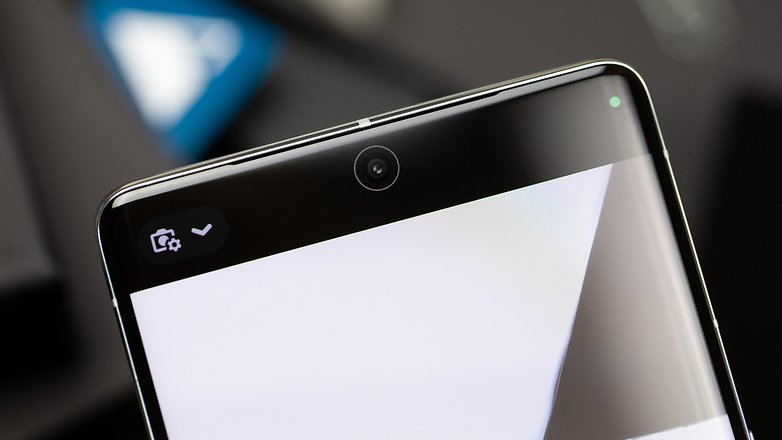 Another plus point is how the series has retained its IP68 certification for water and dust resistance. When coupled with five years of security updates, it makes the long-term use of this model an even more attractive proposition.
On the other hand, if you use a smartphone without a protective case, do be forewarned that the Pixel 7 Pro is really slippery.
A bright and smooth screen
Another component in which we haven't seen much change is the display - which isn't a problem given that the display present in the Pixel 6 Pro is excellent. The screen is still 6.7-inches in size and maintains a 19.5:9 aspect ratio, with QHD+ resolution and a refresh rate of up to 120 Hz. With an LTPO OLED panel, the refresh rate ranges from 10 to 120 Hz, which saves battery life.
---
What I liked:
Impeccable screen quality.
Less sharp side curves.
Adaptable refresh rate.
What I disliked:
---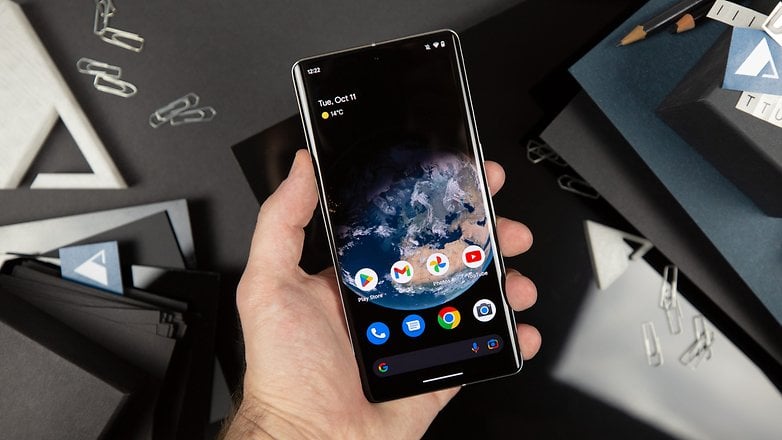 Once again, Google has chosen to use Gorilla Glass Victus and rely on the durability guaranteed by the Corning brand. Regarding brightness, the Pixel 7 Pro's display reaches up to 1,000 nits (HDR) and up to 1,500 nits (peak).
Personally, I really liked the colorimetry and brightness of this display, and consuming content on this device is simply a treat. Despite my current preference for flat screens, the less sharply curved screen edges on the Pixel 7 Pro are a real plus point in the changes from the previous generation.
Android 13 powered by AI
Software-wise, the Pixel 7 Pro leaves the factory running Android 13 right out of the box. The most current version of Google's software offers a range of user interface customization options as well as advanced security features, offering even more control over the smartphone's hardware components.
Furthermore, with Private Computer Core the processing of personal information takes place locally, i.e. on the smartphone itself. Added to this is the long-term software support that is more than welcome.
---
What I liked:
Customizable user interface.
Advanced security features.
Long-term software support.
What I disliked:
Smart features are not available yet.
---
The Pixel series has some unique features, such as the audio transcription application. This feature is really relevant in the daily life of a journalist or a student, for example, but may not have as much appeal among other users. However, this voice input technology works in conjunction with Google's natural language learning models that continue to be applied in other areas of the mobile operating system.
With the announcement of the new Pixel 7 and 7 Pro, the audio transcription function was incorporated into the Messages app. Theoretically speaking, it should offer a transcription of voice messages sent between users of the series. However, we tried to use the new feature here at NextPit, but even though we met the prerequisites, we couldn't find it, which was really frustrating.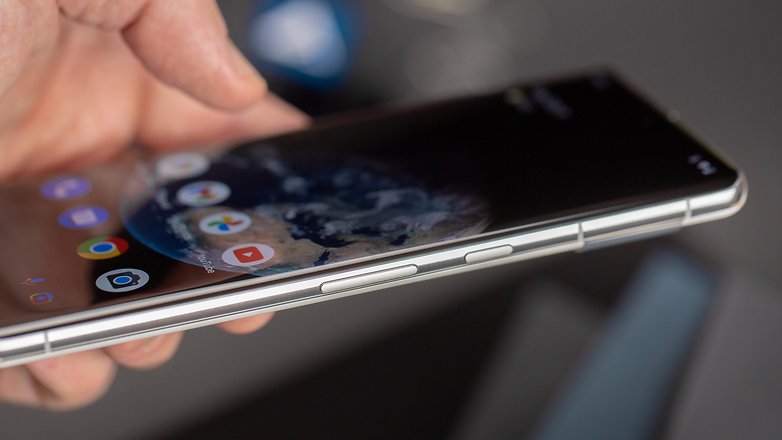 Another voice input feature in Google Assistant that recommends emojis didn't work for us. However, the smart functions of instant translation or image recognition via Google Lens continue to deliver top-notch performance. To learn more about the key software functions present in Android 13, check out our guide to the latest version of Google's software.
Finally, the new models will receive up to three years of major Android updates and five years of security updates. This means having launched with Android 13, it should receive Android 16 which is tipped to arrive in 2025.
Tensor G2: A solid performer
One of the main differences between generations of the Pixel line is in the processor. The Tensor G2 brings improvements to the main subsystems of the SoC and, of course, optimizations of Machine Learning (ML) functions, such as natural language . The best news is that the second time around, its performance proved to be quite solid.
---
What I liked:
Smooth, fluid experience.
Great stability at high performance.
Fast image and video processing.
Fingerprint sensor and facial recognition work flawlessly.
What I disliked:
---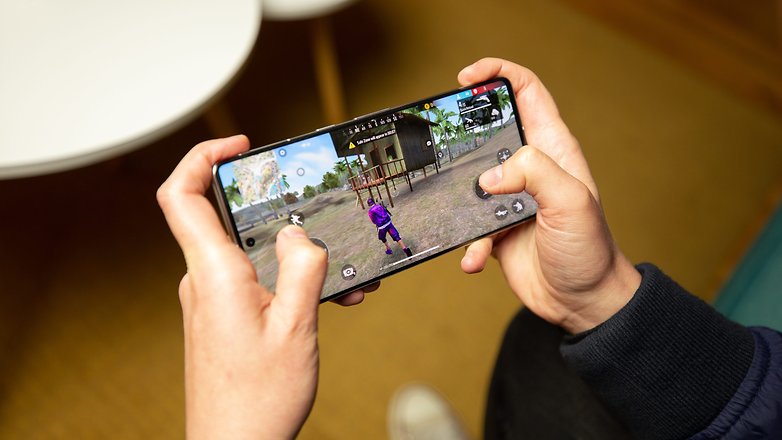 Among the Tensor G2 configurations we have 2x super-big ARM Cortex-X1, 2x big A76, 4x small Cortex-A55. The Pixel 7 Pro hits the market in128, 256 and 512 GB UFS 3.1 storage variants and 12 GB of LPDDR5 RAM, all mated to the Mali-G710 GPU. Except for the latter, the cluster configuration is very similar to that of the first-generation Tensor SoC, as the benchmark results show below:
Google Pixel 7 Pro
(Tensor G2)
Google Pixel 6 Pro
(Tensor G1)
Apple iPhone 14 Pro Max
(Apple Bionic 16)
Samsung Galaxy Z Fold 4
(Snapdragon 8+ Gen 1)
3D Mark Wild Life
6,527
6,446
Too powerful
8,611
3D Mark Wild Life Stress Test
Best loop: 6,492
Worst loop: 5,876
Best loop: 6,367
Worst loop: -
Best loop: 9,599
Worst loop: 8,121
Best loop: 10,332
Worst loop: 5,606
Geekbench 5
Single: 1,050
Multi: 3,239
Single: 1,043
Multi: 2.876
Single: 1,885
Multi: 5,406
Single: 1,332
Multi: 3,947
In the above context, the Tensor G2 lags behind recent models from Apple and Samsung, whose chips described above are manufactured by TSMC. In comparison, Google's chip is manufactured by Samsung using a 4 nm process.
However, despite the benchmartk results being quite different, the day-to-day experience with the Pixel 7 Pro proved to be very solid. The device did not overheat at any point, even with 60+ minute gaming sessions or nearly two hours of camera testing with heavy image post-processing enabled.
When it comes to data security, the Tensor G2 processor works together with the Titan M2 security chip, offering an extra layer of protection against complex attacks.
Still on the subject of security, one of my biggest criticisms of the Pixel 6 Pro last year concerned the most basic security feature: biometrics for screen unlocking. In this regard, the Pixel 7 Pro uses a combination of facial recognition and fingerprint authentication to unlock the device. I am happy to say that it works well this time around.
The thing here is that unlike what is found in Apple's Face ID, the Pixel 7 Pro's facial recognition does not rely on a 3D authentication system, but rather on research-based machine learning models for facial recognition, meaning it is a function of the front camera.
An excellent camera at software level
On paper, the camera modules of the Pixel 7 Pro do not differ much from the previous generation. We have a set of three lenses, most notably the 48 MP telephoto camera, which is now capable of capturing images with 5x optical zoom. The 50 MP main lens, meanwhile, is capable of capturing 12 MP images via the pixel binning technique. Google retained the previous generation's 1/1.31-inch, 1.2µm sensor with f/1.85 aperture and optical stabilization (OIS).
Finally, the ultra-wide angle camera is now at 12MP, featuring a f/2.2 aperture and 1.25µm pixel size, with a 125.8-degree field of view. This component has been slightly updated from one generation to the next, where it features autofocus and captures macro images at a higher quality.
In front, we have a 10.8 MP sensor, with the option of an ultra-wide angle field of view image capture. This same camera is used for the screen unlock function via facial recognition.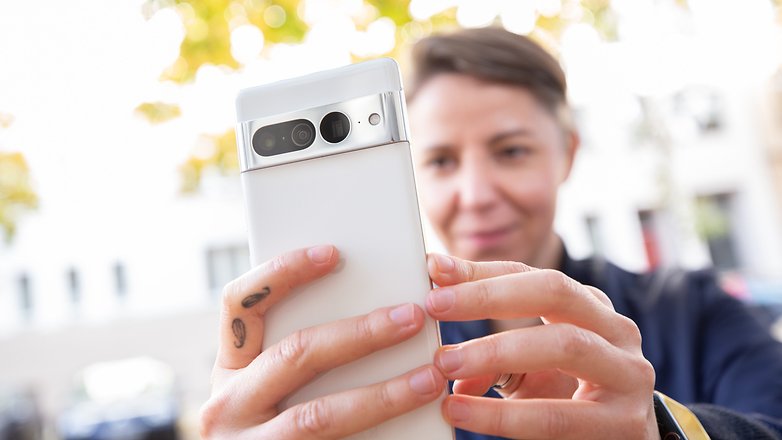 ---
What I liked:
The Super Res Zoom feature continues to impress.
Night Sight mode is pretty solid.
Portrait mode continues to excel.
On-screen brightness and color controls are really useful.
Consistent computational photography.
What I disliked:
Smart functions are still inconsistent.
Cinematic Blur doesn't work as expected.
---
In well-lit environments, images taken with the Pixel 7 Pro's camera are sharp, with balanced brightness and colorimetry, and even with heavy background image processing, they remain natural. The fact that we have the exposure, contrast, and white balance controls on the screen, allows us to be more creative when composing the photo.
At night, features such as the dedicated Night Sight mode are eye-catching, I liked it because instead of creating just a brighter picture, the Google solution increases the contrast in the images via computer processing and creates really beautiful shots.
Just like in the previous generation, the Pixel 7 Pro's set of lenses allows it to be very versatile when capturing images, offering everything from macro shots to the absurd 30x zoom resolution. And this is one of the great highlights of the Pixel series, to rely on software to minimize the hardware disadvantage.
Since the Pixel 6 Pro, we have had a rather distinctive camera module in the series. This is because Google claims that this design makes it possible to better rearrange the telephoto camera components and allow for wider optical zoom. In the case of the Pixel 7 Pro, the optical zoom is 5x. More than that, using the software Google is able to offer zoom over a wide range of distances: up to 30x precisely.
This feature is called Super Res Zoom and is assisted by new Machine Learning (ML) models in Tensor G2. Starting at 2x zoom, the Super Res feature cuts a 50 MP main camera image to offer a 12.5 MP image, offering higher resolution. To minimize the noise caused by the smaller pixels, however, it re-mosaics the image into a traditional bayer format in order to reduce the noise in it. The result is a full 12.5 MP photo at 2x zoom.
For the other distance ranges, this process basically scales up to offer even more image sharpness and detail. From 15x zoom on, zoom stabilization comes into play to identify objects and stabilize the camera. This can be seen from the left corner of the camera app screen.
When we trigger the 20x zoom, the Super Res technology produces a photo using data from all three cameras in conjunction with the Tensor G2 ML models.
In everyday life, the results vary greatly. What I notice is that the greater the actual distance to the object, the more astonishing the result. And of course, the quality goes down considerably. However, even at 30x zoom, the results can sometimes be impressive.
Google also offers new editing features like "Unblur," which promises to reconstruct the sharpness of images from Google Photos. However, the improvements turned out to be rather subtle or almost inconsistent-just like the already well-known Magic Eraser feature.
When it comes to the video feature, Google has added the Cinematic Blur function to the camera software to record videos with blurred backgrounds. Unlike Apple's solution, which offers Cinematic Mode on both front and rear cameras due to hardware limitations, Google allows you to use Cinematic Blur only with the main camera module. Furthermore, it is not possible to edit the focus in the post-editing process.
In the examples below you can see how unstable the focus is, especially when objects are moving in front of the lens. When my colleague Antoine Engels and I are moving, the focus clearly blurs. In the studio, however, when placing an object directly in front of the camera, the recognition of objects in focus was more fluid:
As I had said earlier, it seemed that Google was very confident in the quality of the previous generation camera and has chosen to change very little in the hardware of the camera suite this year. However, the new Machine Learning models of the Tensor G2 are the highlight of the upgrade between generations-even though the Pixel 6 Pro model also features changes in the Super Res Zoom feature.
Overall, the Pixel line's camera remains an excellent proposition!
A battery that lasts the whole day
With a typical 5,000 mAh capacity, the Pixel 7 Pro offers battery life that can last all day without you having to worry about charging the device overnight.
---
What I liked:
What I disliked:
Slow charging speed.
Power adapter is not included.
---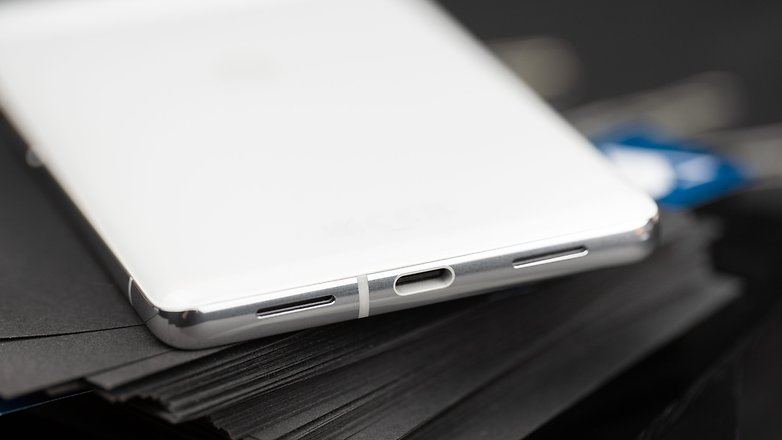 Last year, the Pixel 6 Pro's battery consumption proved to be really high, especially after a series of problems with the software update. However, thankfully the Pixel 7 Pro didn't show any of the previous problems here. Using PCMark's battery test as a reference, the Pixel 7 Pro recorded 14h 35m of battery life.
Despite the good battery life, however, the so-called "fast charging" takes up to 40 minutes to offer 53% of the charge. For a full charge, it took 100 minutes. While we are on the topic of charging, Google claims the device supports a 30W charger, but the Pixel 7 Pro's battery allows a maximum charging power of 23W.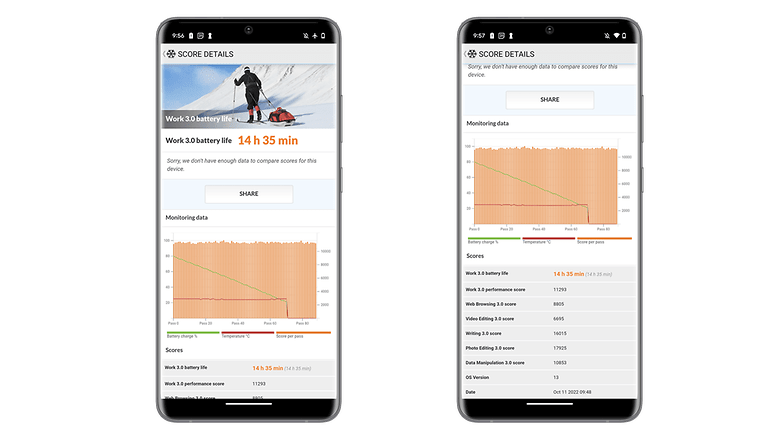 The Pixel 7 Pro also offers Qi wireless charging and reverse wireless charging.
Google Pixel 7 Pro technical specifications
Technical Specifications
Device
Photo
Screen
6.7-inch LTPO-OLED
1,440 x 3,120 pixels (512 ppi) at 120 hertz
Up to 1,000 nits (HDR) and up to 1,500 nits (peak)
Dimensions
162.9 x 76.6 x 8.9 mm
212 g
SoC
Google Tensor G2 | Titan M2
Memory
(varies by region)
12 GB LPDDR5
128 GB or 256 GB UFS 3.1
Micro SD
n/a
Main camera
50 MP with Octa PD and Quad Bayer | f1.85 | 1.2 µm | 82° FoV | OIS
(Sensor size: 1/1.31'')
Ultra Wide-angle
12 MP with Autofocus | f/2.2 | 1.25 µm | 125.8° FoV
Telephoto lens
48 MP with Quad Bayer PD | f/3.5 | 0.7 µm | 20.6° FoV | 5x optical zoom | 30x SuperRes
Video
4K at 30 and 60 fps (rear) | 1080p at 30 and 60 fps (rear)
4K at 30 and 60 fps (front)
Selfies
10.8 MP with Fixed Focus | f/2.2 | 1.22 µm | 92.8° FoV
Audio
Stereo Speakers
Battery
5,000 mAh
Wired Charging
Max. 30 watts
Wireless charging (Qi)
Max. 23 watts
UWB
Yes
IP Certification
IP68
Price
From US$ 899
Final verdict
In 2021, the Google Pixel 6 Pro was marked by inconsistency: if the device you have did not fail, there were many issues between system updates. Unfortunately, our Pixel 6 Pro review unit was among the models that featured several problems: slow screen unlocking via biometrics, high power consumption, occasional problems in camera quality, and constant stuttering and system slowdowns.
However, even though it is a flagship, the model released last year had the advantage of being the first smartphone to be powered by Google's custom processor. In other words, if it performed smoothly and with excellent integration between hardware and software. That's great, and allowed its problems to be excused since it was Google's first attempt at building hardware for a software-focused company.
However, in 2022, Sundar Pichai and his team no longer have the luxury of error... and perhaps that's why they got it right this time!
On paper, the biggest highlight of the Pixel 7 Pro is the Tensor G2 SoC. As we showed in this review, the performance looks very similar to the previous generation, but is more solid and stable. Using new ML models, the new SoC also offers a range of new features in computational photography, where the Pixel 7 Pro once again proved to excel.
However, many of the software new features we were either unable to test because they were not immediately available, or proved to be below expectations, such as the Cinematic Blur feature. With this, Google reinforces the idea of a company that delivers software still in the development phase. To give you an idea, the Pixel's Motion mode camera was announced as a beta last year, which has not yet been updated.
Whether it's the intense marketing on top of the series or quality-to-price ratio, I believe that from last year until now, Pixel smartphones have become more popular. However, I still find it hard to see Google breaking through the Apple and Samsung duopoly in the smartphone market. This does not detract from the fact that the Pixel 7 Pro is indeed the best Pixel ever!
Now I want to know your opinion: what did you think of the new Google Pixel 7 Pro? Looking forward to reading your comment!
---
This article was updated on October 12, and comments prior to that date have been retained.