Google I/O highlights: three new Pixels, AI hammer, new Google search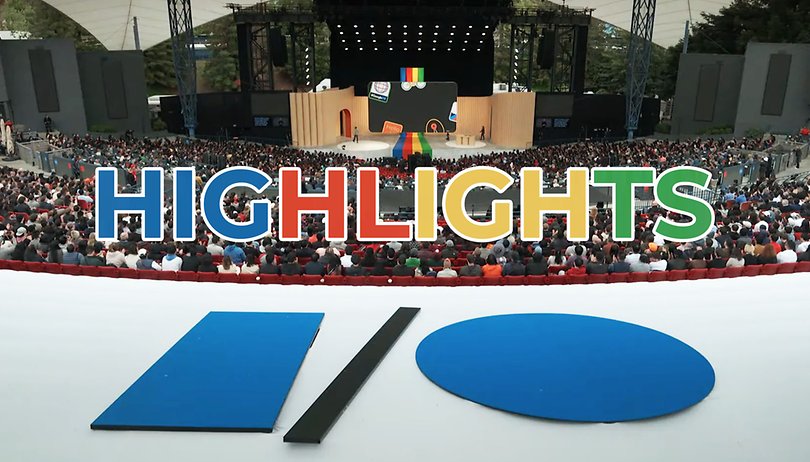 ChatGPT, in particular, has made great strides in AI this year—the pressure was correspondingly high at the opening keynote of Google I/O. And Google is rolling out a full AI repertoire here that will overturn all its services in the coming month—from Google Docs to Android smartphones to Google Maps and good old search. And yes, there's also a new Assistant and three new Pixel devices.
Here you can go directly to the individual topic blocks around the most important news from Google I/O: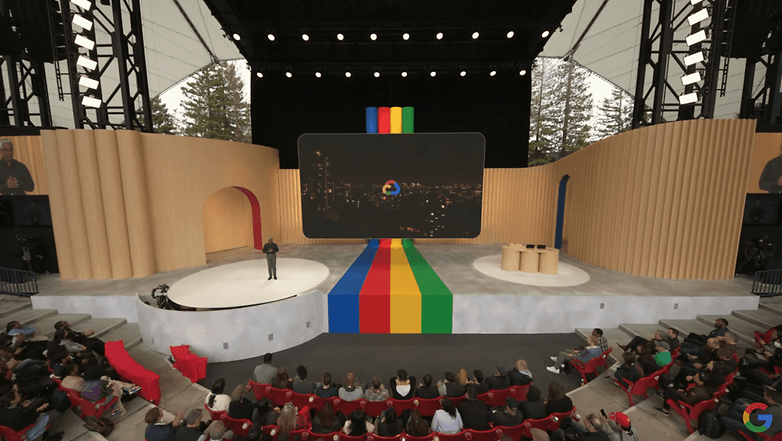 New Pixel devices: 7a, Fold and tablet.
It wasn't much of a surprise when Rick Osterloh pulled three new Pixel devices out of his hat at Google I/O: the Pixel 7a, Pixel Tablet and Pixel Fold. NextPit already had the opportunity to test the Pixel 7a in detail. Read why the smartphone is the new reference in the mid-range in our review of the Pixel 7a.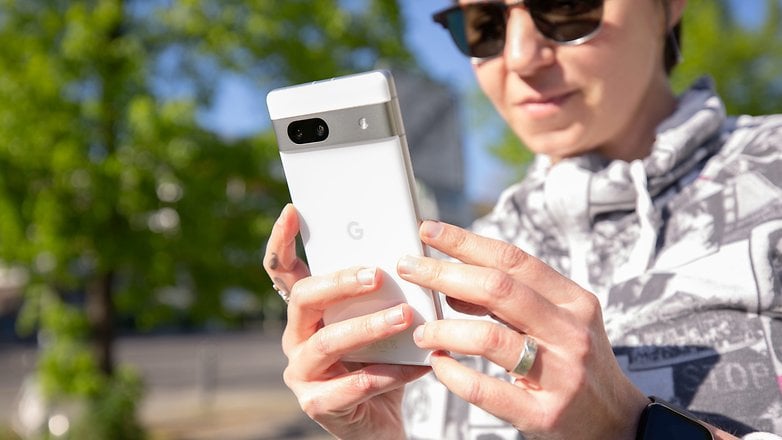 In addition, there were also two larger Pixel devices on display that have also been looming for a long time: the first Google foldable called Pixel Fold and the first Google tablet called Pixel Tablet. We have already reported about the two devices in more detail elsewhere: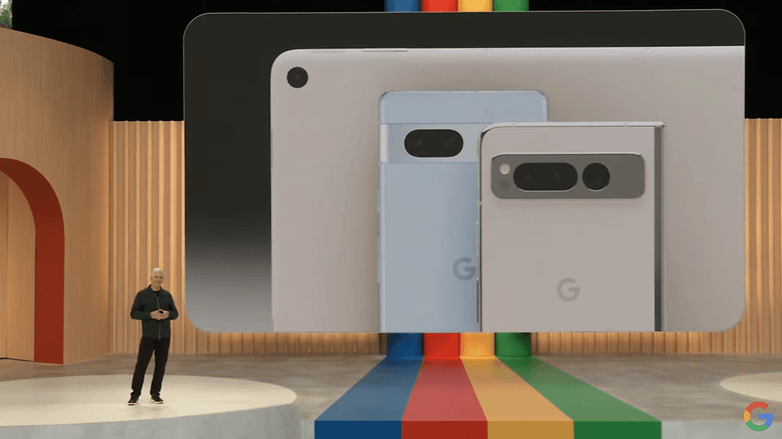 Tablets, watches and more: What's new in Android?
Of course, Google I/O was also about the Android ecosystem—including Android 14 and Wear OS. There was no particular common thread here, but more of a colorful potpourri of new features.
A particular focus of Android 14 is customizability—as was the case with Android 13 or Android 12. There are new, automatically generated styles and color schemes, "Cinematic Wallpapers" with a 3D parallax effect, AI-generated wallpapers and—brace yourselves—emoji wallpapers. Who hasn't always wanted a tapable turd emoji on their home screen?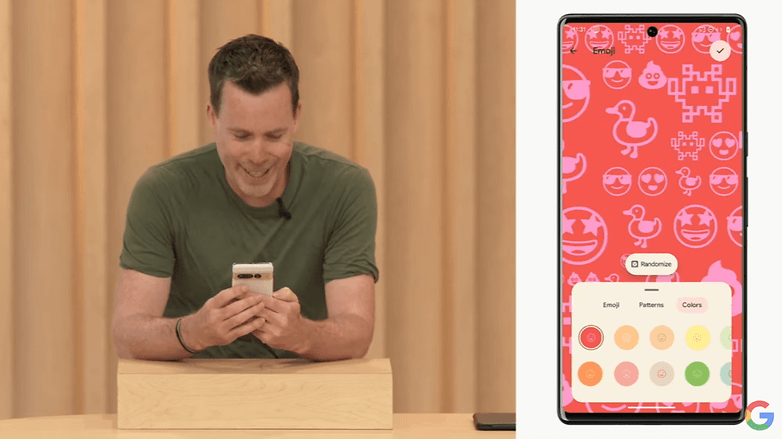 Your communications on smartphones also get an AI touch. You can have "Magic Compose" rewrite your ordinary conversations into different styles—and then either write like Shakespeare or like a boomer who learned how to insert emojis into text messages 17 minutes ago.
Speaking of messaging: Wear OS users can soon look forward to a native WhatsApp application for their smartwatch. Starting this summer, you will be able to receive and reply to messages directly on your wrist, for example, conveniently via voice message.
"Find My" alternative from Google
Google now also has a direct competitor to Apple's "Find My" with the imaginative name "Find my Device". With a side blow to Apple, Google excuses its late appearance of the service with the explanation that it wanted to make sure that any potential for abuse was excluded. But hey, they're working with Apple to detect surreptitiously smuggled-in trackers.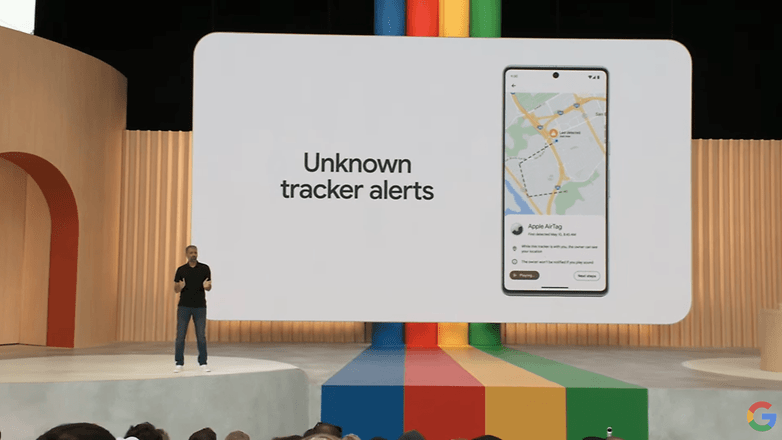 Another side blow to Apple was the SMS successor RCS, which devices from Cupertino still do not support. On a side note, Google announced that it is working on an immersive XR project together with Samsung. Is an AR/VR/MR/XR hit coming soon, jointly developed by Google and Samsung?
New AI models at Google I/O
The basis of all these services is the PaLM 2 AI model, which comes in four differently hungry versions—from lightweight for local mobile applications to heavyweight for huge models. What can be done with it? According to Google, just about anything: from correcting code to making medical diagnoses. And third-party vendors can also use PaLM 2 in their services—Wendy's, for example, to take orders.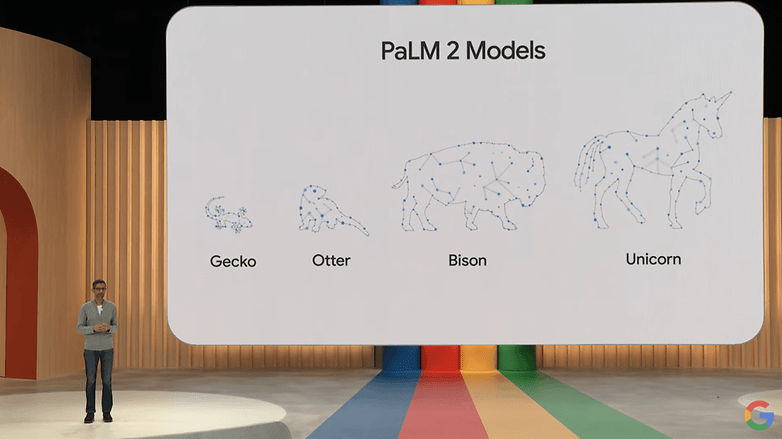 Google is also introducing its Gemini AI model, which, like PaLM 2, comes in different models. Unlike PaLM 2, however, Gemini focuses on generating content. A special feature here is that all AI-generated content is clearly marked as such with invisible watermarks.
Bard, Google's conversation bot based on PaLM 2, also makes a spectacular appearance. There's a lot of applause from the developers on site for the coding features, because Bard can do more than 20 programming languages from C++ to Python to Google Sheets. And of course you can also write all kinds of texts and export them directly, for example to Google Docs and Gmail.
Bard also has plugins, especially for Google services to start with. For example, you can ask Bard about schools in California, which you can then see directly in Google Maps on request—and then sort them into a table and add columns with additional information researched by AI. Plugins to external services are also planned for the near future, such as Adobe Firefly integration to generate images via AI.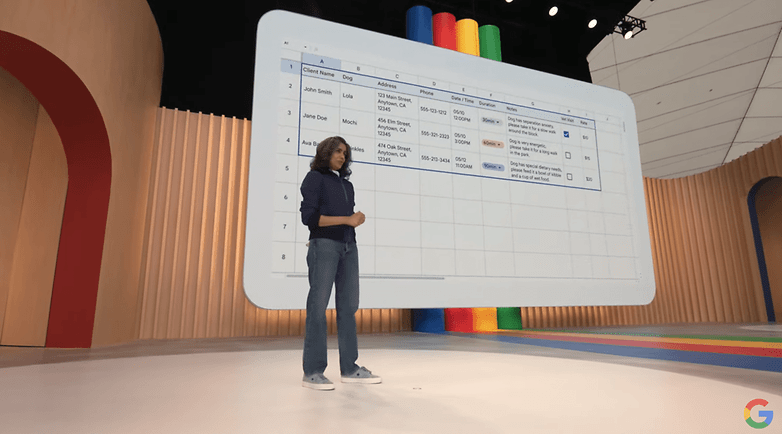 Google Bard is to be available immediately in 180 countries; in addition to English, the languages Korean and Japanese are now being added. However, Google plans to support 40 more languages with Bard in the coming months.
AI makes all services new - from Gmail to Photos
After seven years as an "AI-First Company," Google wants to reinvent all of its core services, according to Sundar Pichai. Artificial intelligence plays an important role in this, of course.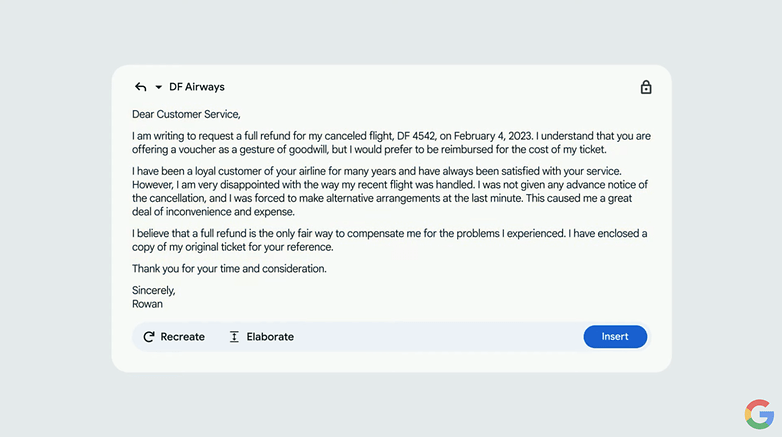 Gmail, for example, will be able to write mails for users in the future with "Help me Write." At the keynote, Google shows an example where a complaint email is pre-written, incorporating information from the email history, such as the flight number. At the push of a button, the draft is written more formally and is intended to forcefully motivate the airline to provide more generous compensation.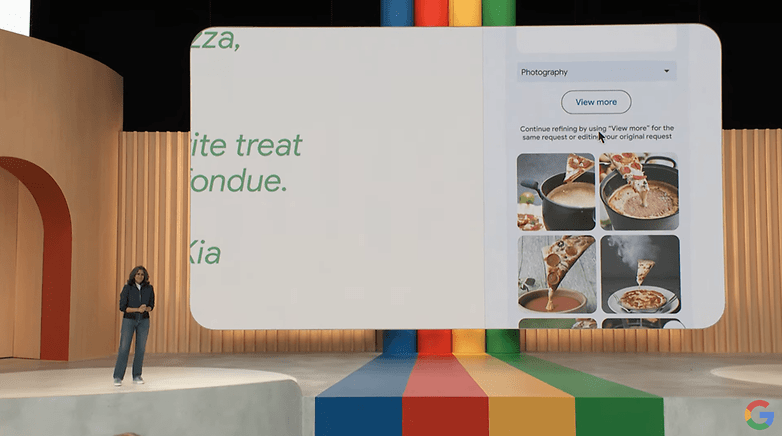 The features of "Help me Write" also come to Google Workspace, i.e. Google Docs, Sheets, Slides and more. Here you can not only have texts written, but also generate individual spreadsheet templates or even create entire presentations.
In the presentations in Slides, you can of course also have images generated by AI. Duet AI for Workspace should be available to the first testers next month - and to the general public later this year.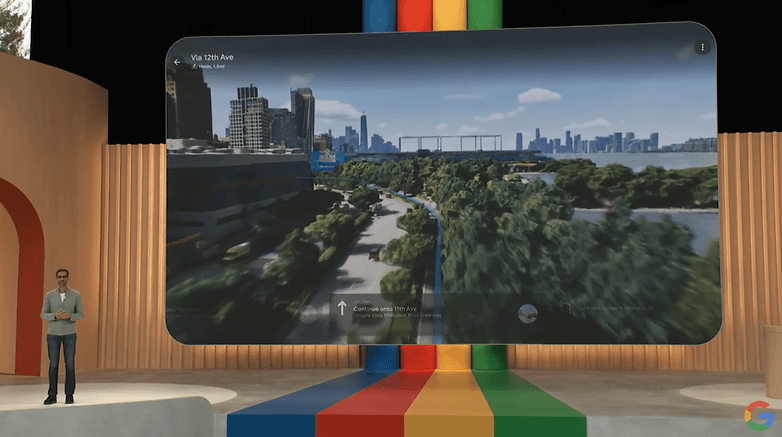 Maps are also getting an update, powered by AI. In the future, routes will be able to be flown in 3D. Even traffic density and weather will be simulated based on the planned time. The so-called "Immersive View for Routes" will be available in 15 cities this summer, including New York and London.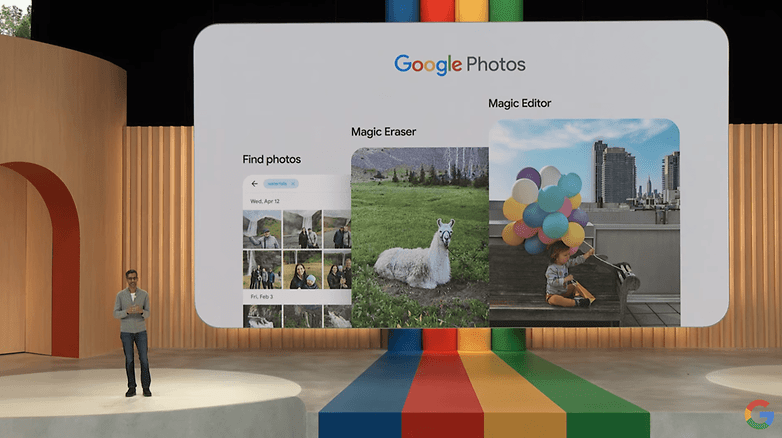 Google Photos is getting a Magic Editor after the Magic Eraser. Here you can not only change the weather in your photos, but also, for example, move a person around in the picture or reconstruct cut objects. If it works like the example shown, that's pretty impressive. Magic Editor is scheduled to launch later this year.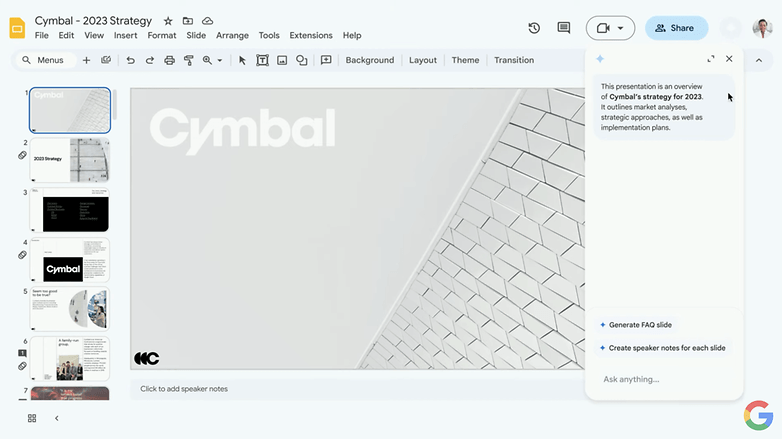 With Sidekick, Google also gives you a digital assistant that not only answers your questions, but even suggests context-based questions directly to you. In a presentation, for example, Sidekick suggests whether you would like to create notes for your presentation - and immediately suggests the appropriate "Speaker Notes" and integrates them into your slides with a click.
Google search gets an AI upgrade
Where to go when traveling with three kids and a dog? Bryce Canyon or Arches. In the future you will get an AI-generated search result with snapshots including links to the sources. The basis here is the existing Google algorithm, which evaluates and sorts sources according to their relevance.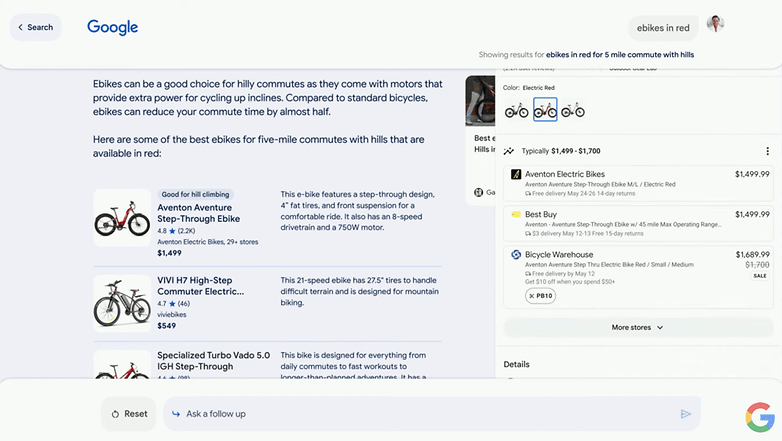 Each search result always starts a conversation mode where you can ask further questions about the result. For example, if you're looking for an e-bike for your commute to work, Google will present you with various options and tell you what features to look out for. For example, you can limit the search results to red e-bikes—and you will then be presented with links to buy certain models—without ever leaving the Google search.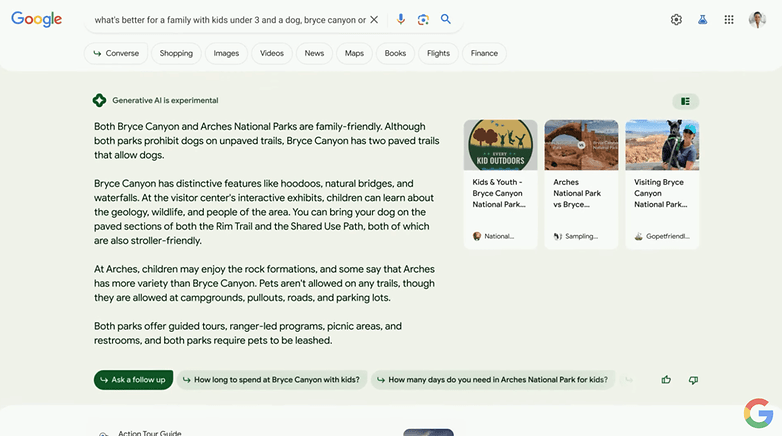 Of course, when it came to the topic of "AI," Google also addressed the ethical implications and promised that it would act "courageously" but also "responsibly" in this regard. It was emphasized again and again that AI-generated content would always be marked as such by metadata, especially with regard to images. In addition, thanks to AI, there are also new fact-checking methods, for example, regarding the authenticity or origin of photos—keyword: moon landing.
The bottom line is that today's Google I/O was a big step into the post-smartphone era. If we can converse with the web, then we just don't have to rely solely on screens in our pockets for input and output. Technology can become more and more invisible, yet more omnipresent than ever. As frightening as it is fascinating.