Galaxy A54 vs Galaxy A53: How Much Better is Samsung's New Mid-Ranger?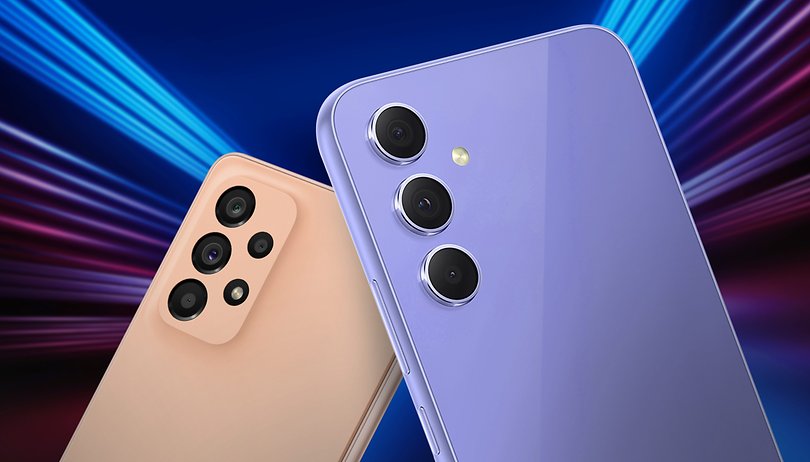 Samsung's mid-range smartphones are incredibly popular and I'm willing to go out on a limb here: That won't change in 2023 with the A34 and A54. However, the question is, what has changed since last year, and should Galaxy A53 owners rush to pick up the Galaxy A54? Since we are still waiting for our review, we will first compare both smartphones based on their technical specifications.
Samsung Galaxy A53 vs. Galaxy A54
Product
Image

MSRP
from $449.99
from $449.99
Display
6.5", Super AMOLED
6.4", Super AMOLED
2,400 x 1,080 px
2,340 x 1,080 px
120 Hz refresh rate
SoC
Samsung Exynos 1280
2x Cortex-A78 @ 2.4 GHz
6x Cortex-A55 @ 2.0 GHz
Samsung Exynos 1380
4x Cortex-A78 @ 2.4 GHz
4x Cortex-A55 @ 2.0 GHz
Working memory
6 / 8 GB RAM
Memory
128 / 256 GB
Expandable memory
Yes, expandable up to 1 TB
OS
OneUI 4.1 based on Android 12
OneUI 5.1 based on Android 13
Camera
Main camera: 64 MP, f/1.8 aperture, OIS
Ultra wide-angle: 12 MP, f/2.2 aperture
Macro: 5 MP, aperture f/2.4
Depth of field: 5 MP, aperture f/2.4
Main camera: 50 MP, f/1.8 aperture, OIS
Ultra wide-angle: 12 MP, f/2.2 aperture
Macro: 5 MP, f/2.4 aperture
Selfie camera
32 MP, f/2.2 aperture
Battery
5,000 mAh
Wired charging at 25 W
Connectivity
5G / LTE / Wi-Fi 5 / Wi-Fi Direct / Bluetooth 5.1 / NFC
5G / LTE / Wi-Fi 6 / Wi-Fi Direct / Bluetooth 5.3 / NFC
IP Certification
IP67
Colors
Awesome Blue, Awesome Black, Awesome Peach, Awesome White
Awesome Lime, Awesome Graphite, Awesome Violet, Awesome White
Dimensions and weight
159.6 x 74.8 x 8.1 mm, 189 g
6.3 x 2.9 x 0.3 in, 0.42 lb
158.2 x 76.7 x 8.2 mm, approx. 202 g
6.2 x 3.0 x 0.3 in, 0.44 lb
Advantages

Good AMOLED display
Good performance
Decent battery life
The best software support in the category

Cons

Slow charging
No headphone jack
Non-competitive price

Rating

Samsung Galaxy A53 review

Not yet rated

Check offer*
-
We were able to review the Galaxy A53 for you and could award the device four stars. The Galaxy A54 should also arrive in the editorial office soon, so we can then update this article for you based on our experiences.
Jump to:
Display and design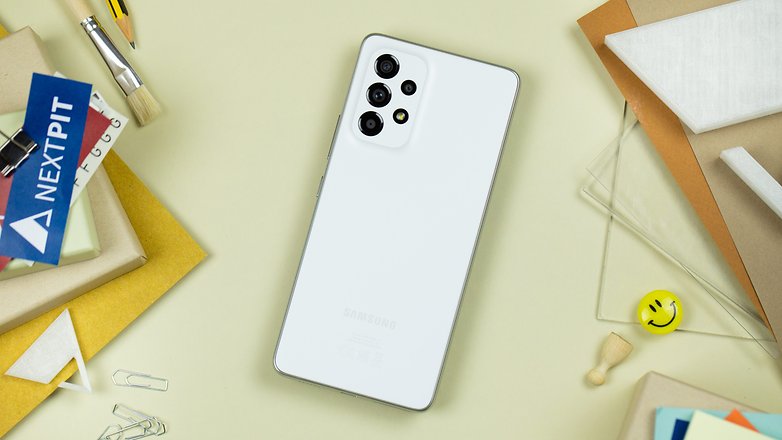 If we were to look at the two mid-range devices from 2022 and 2023, changes at the back are immediately noticeable. The camera island from last year has completely disappeared and the fourth sensor for depth of field has also gone. This means that the Galaxy A54 is visually closer to the Galaxy S23 series.
Measuring 6.4" instead of 6.5", it has also become minimally smaller, which should actually hardly have an impact when held in the hand. The slightly lower resolution of the display—2,340 x 1,080 px instead of 2,400 x 1,080 px—should also remain rather unnoticeable to the human eye. Otherwise, the front retains the same look with a punch-hole camera at the top center of the panel. Similar to last year, there is also IP67 certification which still cannot be taken for granted in 2023 when talking about mid-range smartphones.
The display itself is almost the same, at least on paper, apart from the slightly different resolution. Of course, Samsung treats us to a Super AMOLED screen that has a refresh rate of up to 120 Hertz this year. I doubt that the new panel is brighter than the one in the A53, but at least Samsung promised us that the Galaxy A54's display will adapt faster to changing light conditions thanks to its "Vision Booster".
By the way, for a possible Galaxy A55 next year, Samsung should reduce the bezel edges for my sake.
Performance and connectivity
Looking back, the Exynos 1280 SoC left me a bit ambivalent: The SoC did not really blow me out of the water, but the performance was smooth enough. This year, the successor, named Exynos 1380, is in action and we are curious to see how much this affects the performance. According to rumors, the multi-core performance in particular should make a leap forward, but we will find that out for you in the review.
Last year, there were two ARM Cortex-A78 cores (up to 2.4 GHz) and six Cortex-A55 cores. The core types remain the same, but Samsung has now installed four cores each in the Exynos 1380. In terms of RAM, Samsung offers us 8 GB like last year, but the entry-level configuration with 6 GB of RAM was dropped in some markets. The internal storage once again arrives in 128 GB or 256 GB configurations. Storage in the A54 can also be expanded via a microSD card.
There are a few minor changes in terms of connectivity: Bluetooth has now been upgraded to version 5.3 and Wi-Fi 6 is supported this time after Wi-Fi 5 last year.
Cameras
This section is probably the one that has the most potential to offer changes compared to last year's model. Unfortunately, we cannot tell you anything meaningful about the A54's new main camera until we have tested it.
Samsung has fortunately bid goodbye to the fourth camera sensor—the 5 MP depth of field sensor—so we are now dealing with a triple camera configuration. The main camera had a resolution of 64 MP last year, but now a 50 MP shooter sits there instead, sporting optical stabilization. The other two cameras—a 12 MP ultra-wide and a 5 MP macro sound very similar to those of the A53 on paper.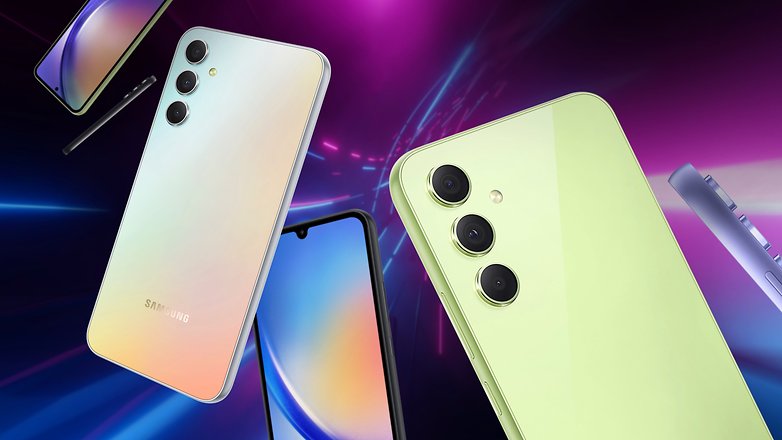 Finally, in the front, we also have a camera that is identical as before with a 32 MP shooter and f/2.2 aperture. So, if you want to know whether such a less spectacular change in the camera system can still provide significantly better photos, our review is on the way for sure!
Software
The software has been updated as expected: While the Galaxy A53 was equipped with Android 12 and OneUI 4.1, we now see One UI 5.1 in play here on the Galaxy A54, which is based on Android 13. You can read more about what Android 13/One UI has to offer in the linked articles. However, I can already reveal this much before the review: The update is rather marginal here as well.
Read more:
Support for the devices also remains identical, of course. This means that you can expect four major Android updates each, and five years of support for security updates.
Battery and Quick-Charging
If only I wasn't so professional. This is because I would have then posted some Tumbleweed GIF in this section and save myself some time from writing. As I'm serious about it, I'll write this down for you:
The battery of the A54 charges at 25 W just like the Galaxy A53. Capacity stands at 5,000 mAh, also like the Galaxy A53. You get exactly zero chargers included, just like in the Galaxy A53. However, it is possible that the battery will last longer anyway. After all, the display has to display a few pixels less, and we do not yet know how efficiently the Exynos 1380 works.
Price and availability
The fun starts at $449 for the Galaxy A54 when it is released, which is the same price as the A53 at its release.
| | | | |
| --- | --- | --- | --- |
| Model | RAM | Memory | MSRP |
| Galaxy A53 | 6 GB | 128 GB | $449 |
| Galaxy A54 | 6 GB | 128 GB | $449 |
We don't want to hide the fact that the Galaxy A53 has been on the market for a year now, so you can find it for a more affordable price now. You can currently get the smartphone for cheaper on sites like Amazon without a contract.
The Galaxy A54 will be available for $449 when it is released.
Conclusion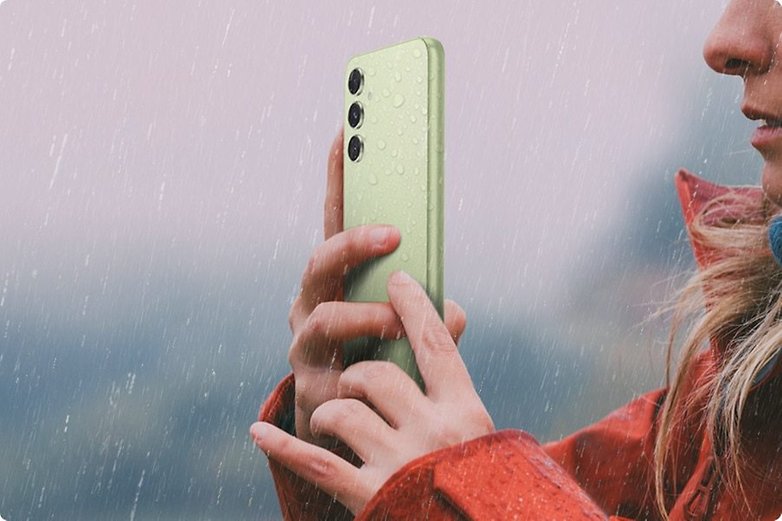 When comparing spec sheets, we naturally always try to imagine the performance of the SoC, the display quality, or the camera performance. Still, it remains a theoretical story that is at best indicative of the quality of the devices. So do bear that in mind when I tell you now that no one needs to switch from the Galaxy A53 to the Galaxy A54.
If you don't want to be exposed as the person in the subway who still uses a smartphone from 2022, you will have to invest in the A54. This has the advantage that the design not only looks better due to the missing camera island but could also be mistaken for a much more expensive Galaxy S23 flagship.
I could also imagine that we will receive a performance boost thanks to the Exynos 1380. Furthermore, I could imagine that the improved AI and the modified sensor will provide better photo results. But the way both smartphones are presented, I don't think that someone who treated himself to the A53 last year will have any must-have points to buy the A54.
Regardless, I think the A54 is Samsung's best mid-range smartphone on paper right now. So, if your current phone is a Galaxy A52, possibly even without 5G, then the upgrade is definitely worth it. However, if you want to be on the safe side, you better check back here soon when we have reviewed the device in depth.
Until then, you can tell me what you think of the Galaxy A54: Are the improvements over the predecessor good enough? Or do you wish Samsung would change its models more from year to year?