Foldable Smartphones Are Still Too Expensive, and for Good Reason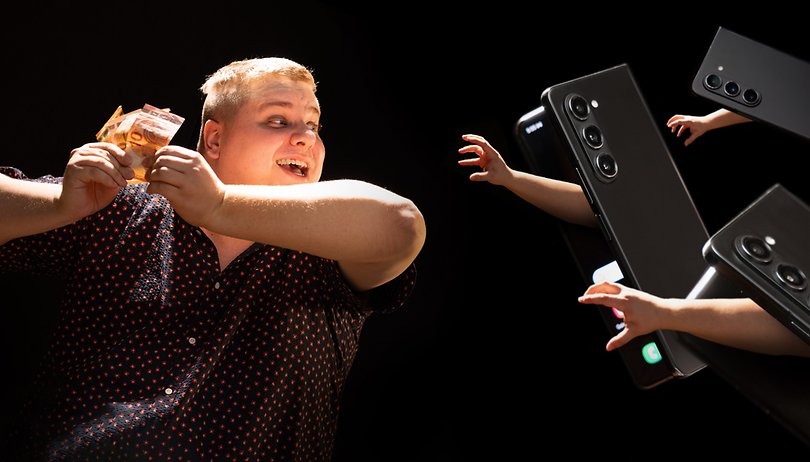 Why is there still no affordable foldable smartphone in the market? Perhaps we can phrase the question another way: why do foldable smartphones cost more than $1,000 at the bare minimum? The trickle-down effect, in technology as in real life, doesn't apply here and that's no coincidence.
$1,799 for the Samsung Galaxy Z Fold 5 (review). $999 for the Samsung Galaxy Z Flip 5 (review). Over $1,200 for the Oppo Find N2 Flip (review). Fancy forking out over $1,200 for the Motorola Razr 40+ (review) when it is finally available in the US?
More than four years after the release of the first Samsung Galaxy Fold, we're still waiting for foldable smartphones that do not cost nearly 1.5 times the minimum wage. However, that's not about to happen anytime soon and I will explain why in this post.
It seems the market isn't ready yet
During MWC 2023 which happened in February, Billy Zhang, Oppo's president of overseas sales and marketing, explained why affordable foldable smartphones will not be a reality for a long time.
"When we talk about a product like [a mid-range foldable product], we have to ask ourselves whether it can really offer a good experience, because to try to reach the mid-range, if we sacrifice things like the SoC or the photo, it wouldn't be a good thing. Indeed, if we cut back on the SoC, we won't be able to maximize the computing power of the imaging."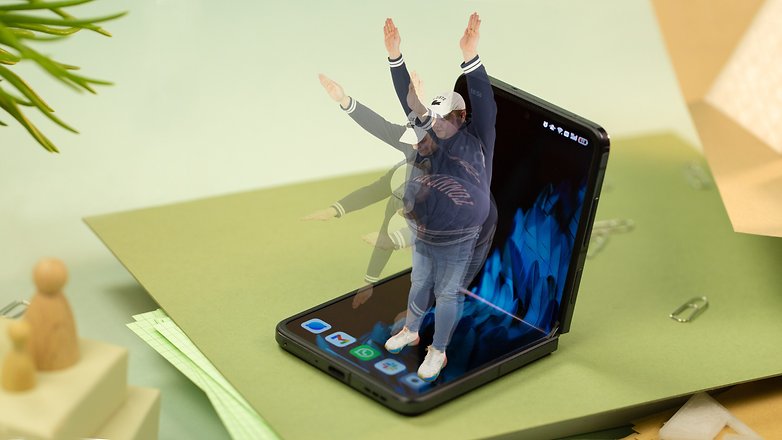 Okay, so far, this argument could apply to any smartphone. It is also a rather contradictory statement when you consider that the first foldable smartphones from Samsung or Motorola made huge compromises in their technical specifications. This is still the case today, even if the gap with non-folding flagships is gradually getting narrower.
The Oppo representative went on to suggest a number of ways in which foldable smartphones could be more affordable. He mentioned the famous trickle-down argument. The more such technology is democratized, the cheaper it will be to produce, and the easier it will be to amortize production costs. However, we all know that, whether in the realm of technology or elsewhere, it rarely happens.
Billy Zhang also mentioned the possibility of using less premium materials, such as plastic for the frame and hinges. Or perhaps having to live without certain components, such as the cover screen for foldable clamshell smartphones. Oppo was quick to explain that it had no plans to go down this route, because it would not provide a user experience worthy of the name.
Perhaps other competitors will. Would you be willing to buy a foldable clamshell smartphone without a cover screen and with a mid-range SoC if it was sold for less than $1,000?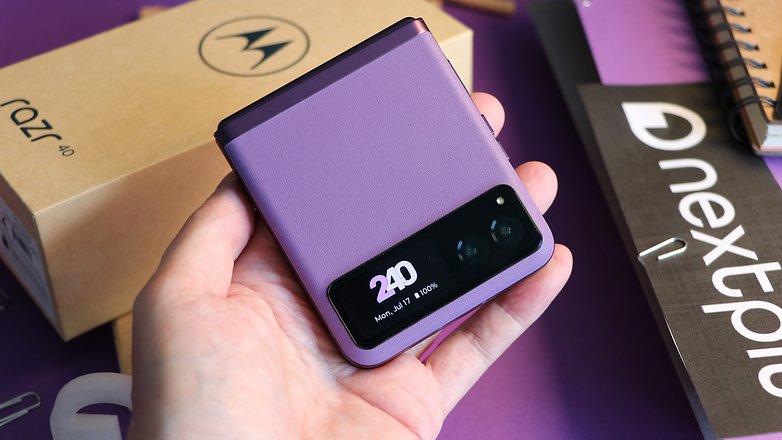 Is a foldable smartphone really that expensive to produce?
Yes, even in 2023 and more than four years after the idea emerged as a reality, foldable smartphones are still very expensive to produce. But is the manufacturing cost really so disproportionate to a non-foldable flagship to justify this price differential?
At the end of 2022, Japan's leading tech media, Nikkei, published a teardown of the Samsung Galaxy Z Fold 4 with a Japanese company specializing in "teardowns" called Fomalhaut Techno Solutions.
Based on the prices of the various components, the media estimated that the cost of manufacturing Samsung's foldable amounted to $670. Taking inflation into account, we are looking at $700 in 2023. This represents approximately $39% of the launch price of $1,799 for the Galaxy Z Fold 4.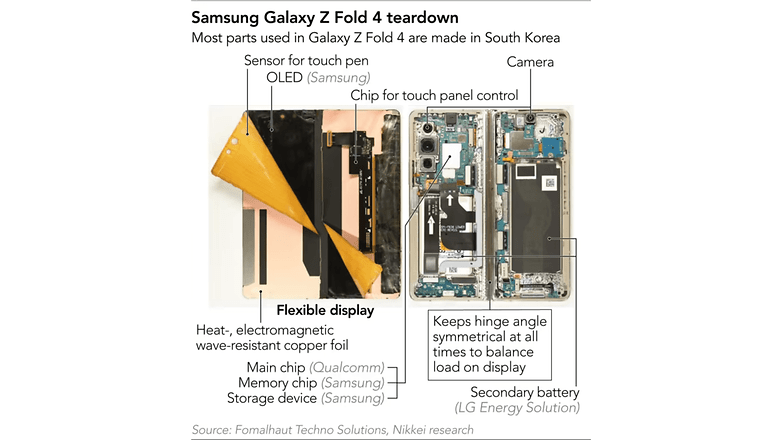 Last March, the research institute Counterpoint, known for its market analyses, published a bill of materials (BoM ) for the Galaxy S23 Ultra (review). The aim of that report was to evaluate the cumulative price of a product's raw components, not taking R&D, marketing, and other expenses into account.
It was discovered that Samsung's non-folding flagship would have cost $469 to manufacture. Compared with the Samsung Galaxy S23 Ultra's launch price of $1,199, this represents 30% of the manufacturing cost.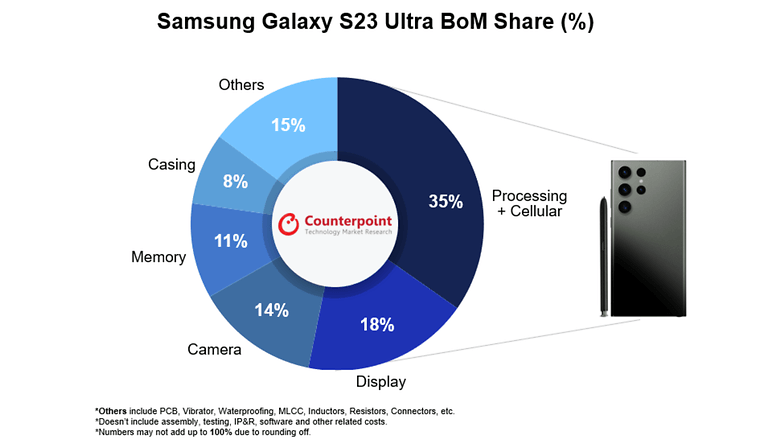 Can this minuscule difference in gross production costs justify Samsung selling its foldable flagship for a few Benjamins more than its "regular" flagship? I do not have the answer to that. I'm not a specialist in logistics or manufacturing, but I must admit that I was expecting a much bigger margin.
I'm sure that R&D for a technology that's still in its infancy requires a greater expense. Marketing campaigns, to familiarize the public with this new product category, must also involve greater investment. But in terms of raw materials, we're talking about similar costs.
Manufacturers have no reason to sell affordable foldable smartphones
It's no surprise that smartphone manufacturers are maximizing their margins. Samsung, Xiaomi, Oppo, and the rest of the players are profit-driven companies. It's all about making money.
Apparently, a lot of technophiles have money. Definitely not me and maybe not you, but a lot of people are quite prepared to spend 1.5 times the minimum wage, and almost double that on a foldable smartphone.
According to Counterpoint, once again reported by the Associated Press last July, worldwide sales of foldable smartphones will approach 19 million units in 2023.
This would represent a 45% increase over 2022, mainly fueled by growing consumer demand in China.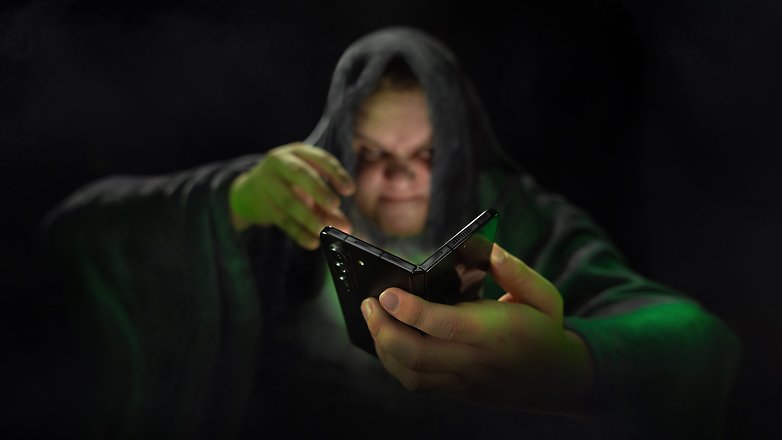 As long as there are suckers, there's no reason to give away more incentives. Why would a manufacturer like Samsung sacrifice the goose that lays the golden eggs when demand is constantly growing, despite ever-increasing prices?
Personally, I think that in the eyes of manufacturers, the foldable form factor alone justifies the exorbitant prices of foldable smartphones. Samsung, Oppo, Xiaomi, and Google are all banking on this "cool factor" to justify their exorbitant prices.
And as long as sales continue to rise in a market that is in crisis and a slowing economy marked by ever-weaker purchasing power, I can't see manufacturers offering more attractive prices.
Is there any hope for an affordable foldable smartphone in the future?
I've already debated this question at length. In my view, if you sell a smartphone by targeting "everyone", you cannot afford to price it insanely for 90% of users.
Either that, or you have to assume that your foldable smartphone is a luxury product, and therefore assume that you are excluding a majority of potential customers.
You can't play the "connecting people" card and ask for a month and a half's salary to access your product. It's simply bullshit and cynicism.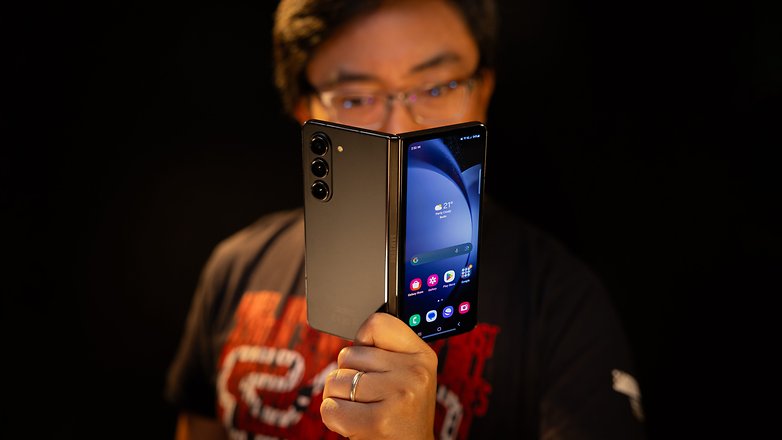 But on the other hand, it is undeniable that the foldable market is on the way out of its emergent phase. Samsung continues to strengthen its dominant position in this market, especially in China, where it has seen exponential growth this year.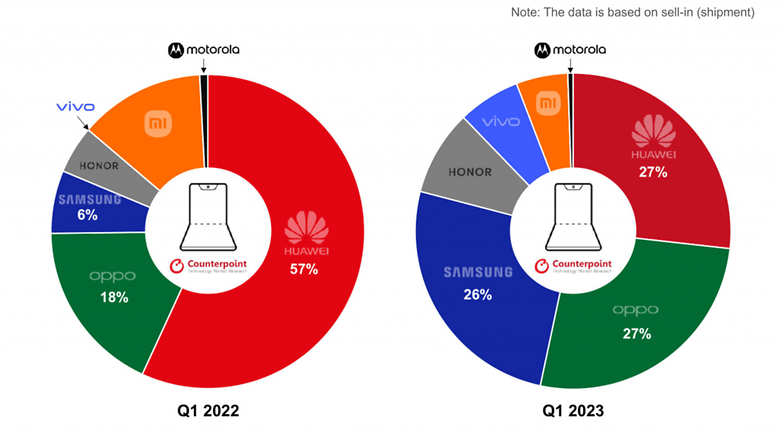 Other players are also starting to enter the market. Motorola recently proposed a very credible alternative and, above all, a less expensive one with its Razr 40 (review) and Razr 40+ Ultra (review). Well, we're still talking about a minimum of $999, but it is still $900 cheaper than the starting price of the Samsung Galaxy Z Fold 5 (review).
Xiaomi is also beginning to show its ambitions in this niche with the Xiaomi Mix Fold 3, even if it has not yet prioritized the worldwide market. One thing is certain—this new competition will lead to adjustments in the pricing strategies of various manufacturers.
Perhaps by 2030, we'll have a foldable Redmi smartphone that sells for $500, who knows? Or perhaps foldable smartphones will disappear like other design trends in the past.
Personally, I do not think it will go that way. I think foldable smartphones are here to stay but I also think they are well on their way to being priced expensively, which is unfortunate.
What do you think? Would an affordable foldable smartphone be of any interest to you? Does this form factor seem relevant in terms of user experience? At what price point would you consider a foldable smartphone affordable?
To find out more, take a look at our Samsung Galaxy Z Fold 5 and Galaxy Z Fold 4 comparison, as well as our selection of the best foldable smartphones of 2023.