Fairbuds XL Review: Will this Model Last a Lifetime?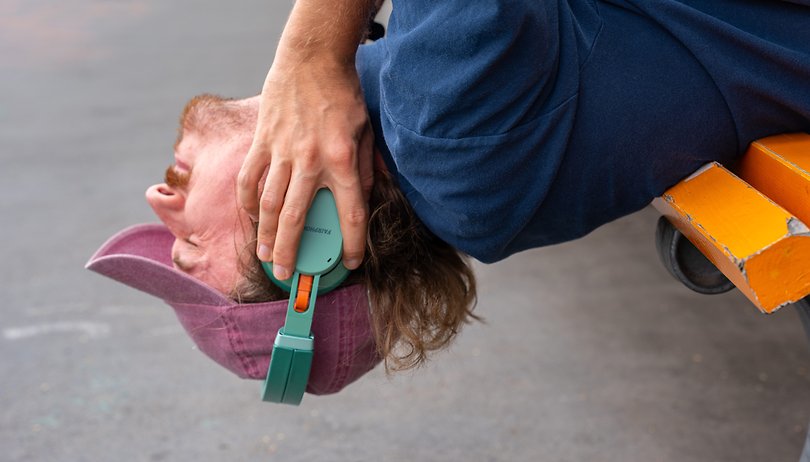 While Sony, Apple, Bose, and others competing in terms of technical specifications for their hardware, Fairphone takes a different approach with the Fairbuds XL. The over-ear headphones have a modular design, making them repairable while being manufactured under fair working conditions. However, do these headphones also impress in everyday use? In this nextpit review, we ask whether going green in the world of IT has to be a compromise in the headphone industry.
Good
Modular design ensures high repairability

Uses many recycled materials

High wearing comfort

IP54 certification

Long run times of up to 30h
Bad
Sound quality is technically far below the $300 category

Disappointing ANC performance with strong wind noise

Only a few comfort functions

No 3.5 mm jack

Only preset equalizer settings available
The Fairbuds XL in a nutshell
The main strength of the Fairbuds XL is its repairability and the use of recycled materials as well as being manufactured in an ethical working environment. Thus, you buy headphones that, theoretically, can be repaired throughout your lifetime thanks to their spare part availability.
Technically, however, the fair headphones lag behind the competition from Sony, Bose, and others. However, if that doesn't bother you, you'll own a pair of unique and, in my eyes, gorgeous headphones!
If you want to buy one, you have to fork out approximately $400 for one of these bad boys. It retails for €249 in Europe, so the higher price Stateside is most probably due to a supplier making some profit on the side.
However, you should take note that neither a charging cable nor a USB-C to 3.5 mm jack cable is included. The only choice you would make then is to choose between a green or black color.
Design & Modularity
Fairphone sells its Fairbuds XL in green and black colors, with sprinkles of color on the earcups just like the back of the Fairphone 4. As a pair of over-ear headphones, the ear cups will seal your ears using vegan leather. Many of the headphones' materials are also made from 100% recycled material. The biggest advantage to the headphones' design, however, is their modularity and as a result, their repairability.
---
Pros:
Modular design with high reparability.
High percentage of recycled materials used.
High wearing comfort and nice design.
IP54 certification.
Cons:
Ear cups cannot be rotated.
Review unit already shows signs of wear.
---
Let's first consider the Fairbuds XL as "normal" over-ear headphones. Here we see headphones that come in a chic design with comparatively bold color accents. I personally really like the look of the green color variant, and the exposed connection cable exudes a charm all its own. When you wear the Fairbuds XL, your ears will be covered by soft cushion all around.
Together with the easily adjustable headband, this results in a high level of wearing comfort. Tipping the scales at 330 grams, they are also not too heavy for long periods of use.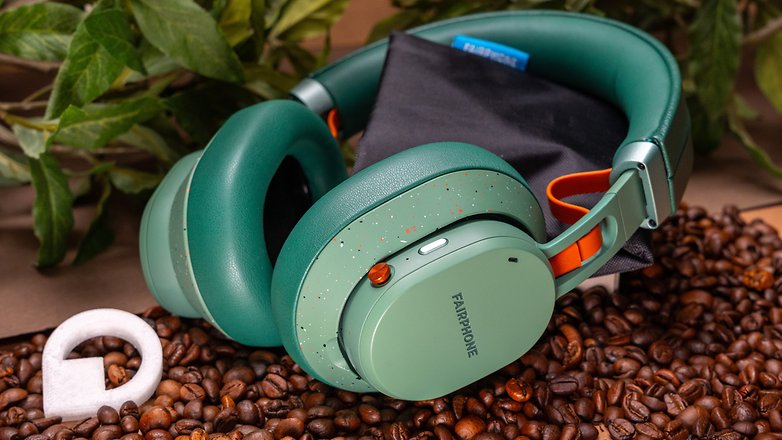 In terms of design and wearing comfort, I think the Fairbuds XL is on par with the Sony WH-1000XM5 (review) or the Bose NC 700 (review). There is one caveat, of course: it is an entirely different target group who are addressed here. Green tech is allowed to look sustainable, so I'll move on to the exciting design aspect of the Fairbuds—its modularity and sustainability.
As Fairphone's over-ear headphones contain 80% recycled plastics, 100% recycled aluminum, and 100% recycled tin in the solder paste, you will also find it has certification for 100% Fairtrade gold in the supply chain as another feather in its cap.
After all, the gold industry is repeatedly criticized for being linked to massive human rights abuses. Fairphone also supports workers throughout the supply chain with living wage bonuses and worker representation programs.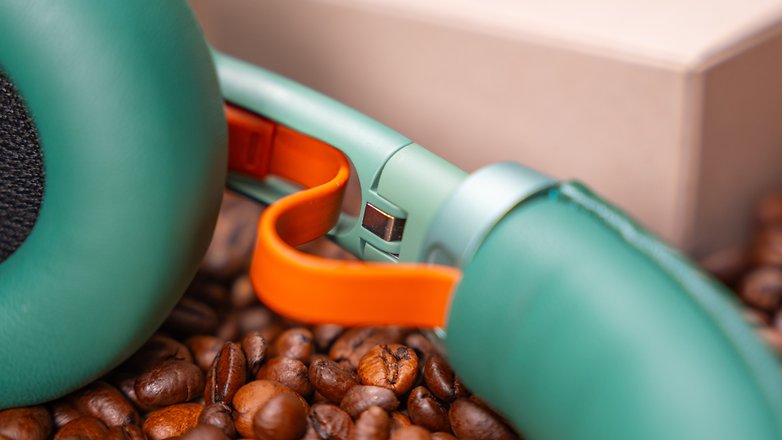 The most sustainable product, however, is one that doesn't need to be constantly produced in the first place. This is why Fairphone's Fairbuds XL are repairable and modular. As long as Fairphone provides the spare parts, you can therefore use these headphones for a lifetime in theory, because virtually all the individual parts of the headphones can be replaced.
The spare parts are offered in Fairphone's online store. However, the prices of certain parts tend to be rather expensive. The USB-C connection cable costs €14.95, a new cover for the headband costs €19.95, the right speaker is going for €79.95, while the left one is half the price at €39.95. A new battery is available for €19.95 a pop.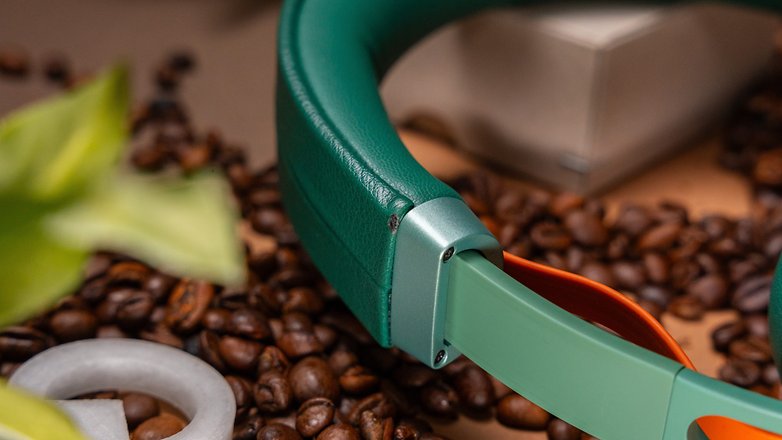 As a drawback in terms of design, I noticed signs of wear on the padding of the headband in our review unit, which has probably already passed through one or more editorial offices. In addition, the ear cups cannot be rotated, which I personally like to see in over-ear headphones. Let's end on a positive note with a mention of the included carrying case as well as IP54 certification. The latter is really impressive considering the modularity!
Comfort functions & app
Fairphone offers a free companion app for its headphones, which you can use to control the equalizers. You can also see how the headphones are assembled in the app. These include links to the manufacturer's online store for replacement parts. The idea works in theory, but the app is less convincing in terms of functionality. Also available are multi-device capability with up to two devices and control of voice base stations.
---
Pros:
Pretty looking companion app.
Spare parts can be ordered directly via the app.
Video instructions for repairs.
Multi-device connecvitiy.
Cons:
Few smart functions.
App offers hardly any settings.
No wear recognition.
---
While the usual suspects from "high-end over-ear" models that continue to introduce new gimmicks with each release, Fairphone stuck to the essentials here. Although there is no 3D audio, spatial functions, or adaptive ANC, the Fairbuds XL offer multipoint Bluetooth connectivity for up to two devices. However, the headphones do not offer wear recognition, which is a minus point. The companion app also triggered mixed feelings in the review.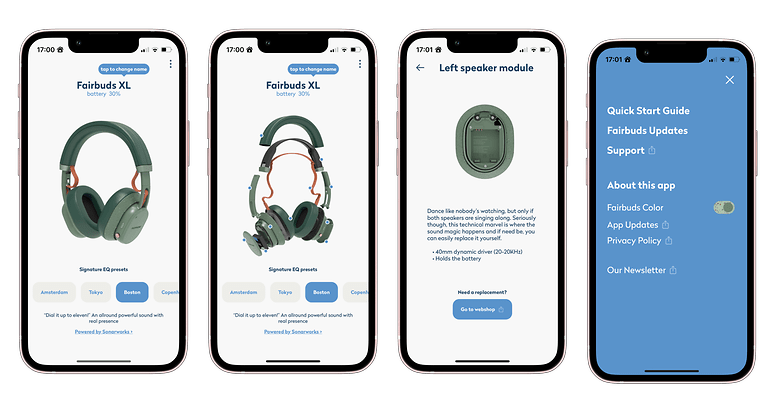 This is because the focus here is also on the reparability of the headphones. With a swipe of the finger, the Fairbuds XL that is shown in the app will open as an exploded view, where you can then select the individual components by tapping then.
Doing so will reveal additional information so that you know which spare part you can order directly in the app if necessary. If you were to visit Fairphone's YouTube channel, you can find detailed instructions with a certain degree of entertainment thrown in.
However, the app falls short of expectations in terms of functionality. For example, you cannot customize the operation of the headphones; instead, you can just set the color of the displayed Fairbuds. There are only four presets available as equalizers, which were developed in cooperation with Sonarworks and feedback from the Fairphone community.
Allegedly, 150,000 opinions were collected to create the most common presets. You cannot control the ANC level or the connection to different devices via the app, either.
Sound & ANC
Fairphone uses dynamic, 40 mm drivers in its Fairbuds XL, which you can easily replace with a screwdriver. According to the manufacturer, the frequency response is between 20 Hz and 20 KHz. You can choose from five different equalizer presets in the app. The Fairbuds also offer active noise cancellation including transparency mode, but more on that later.
---
Pros:
Good connectivity thanks to Bluetooth 5.1 and AptX codec support.
Solid call quality for phone calls.
"Okay" sound quality via AptX HD.
Cons:
Overall sound quality falls short of expectations.
Equalizers cannot be individualized.
No 3.5 mm jack, only has a USB-C port.
Disappointing ANC with extreme wind noise.
---
Okay, up until this section of the review, I would recommend the Fairbuds XL almost without any reservation. However, this pair of Fair headphones behave a bit like the Fairphone 4, which I also reviewed upon its release. While the sustainability and modularity are convincing, the Fairbuds XL technically falls short of the expectations for headphones at this price point.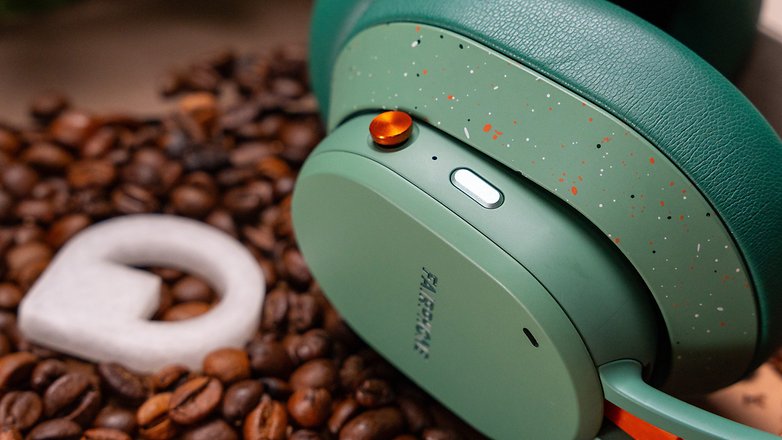 At the same time, the dynamic 40 mm drivers with their frequency response are not bad per se. Having support for AptX HD also surprised me when I looked at the specifications. When working with an Android smartphone, the resolution of individual instruments in complex pieces of music, such as Devin Townsend's "Singularity", was also really good.
I could clearly perceive the location of the instrument the performer placed in the stereo mix. When connected to my iPhone 13 mini, both clarity and resolution decreased. Apple just cooks its own soup here and does not let anyone drink it, which is something I cannot criticize Fairphone for.
However, I am less kind about the driver tuning. The frequency response is still okay, but the headphones sounded too muffled in every equalizer preset and do not manage to reproduce the highs clearly enough. This effect cannot be reduced even when switching through the presets, and I would really have liked an equalizer with more individualization options.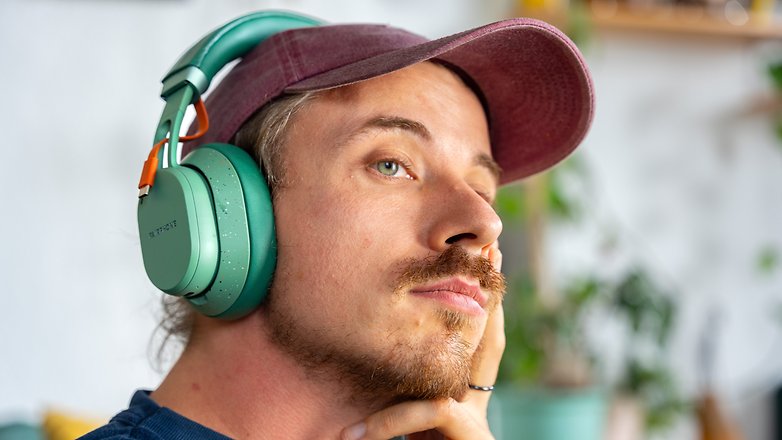 Unfortunately, the Fairbuds XL does not come with a built-in 3.5 mm jack. Instead, you should use a USB-C to 3.5 mm converter. This is an acceptable workaround, but it might require the purchase of such a converter or an equivalent cable. Fairphone's sustainability concept is contradictory here. At the same time, the headphones have to convert the analog signal into a digital one and thus cannot be used as is. Still, two things still caught my eye technically:
First, the voice quality of the built-in microphones was surprisingly good in a video call via my MacBook Air and Google Meet. Stefan told me that he couldn't tell the difference between the headphones and the microphone in my notebook most of the time, and very few headphones manage that.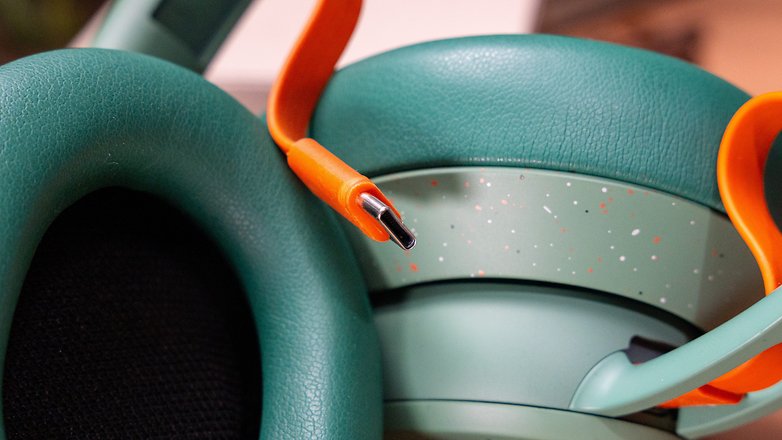 What disappointed me in every situation, however, was the integrated noise cancellation. On the one hand, the integrated ANC is not particularly effective and at most managed to suppress permanent noise. On the other hand, we already hear strong noise from slight gusts of wind.
This problem becomes even more annoying when we switch to transparency mode. Even when walking with a bit of headwind, the noise level is annoying. I turned off both the ANC and the transparency mode when riding a bike.
Battery and charging
According to the manufacturer, the Fairbuds XL offers a battery life of up to 30 hours. A full recharge takes almost three hours, and the replaceable battery is supposed to last for more than 500 charging cycles. The headphones do not support quick-charging, but you can continue to use them while charging. What Fairphone missed out on is the integration of a 3.5 mm jack for "battery-independent" music listening.
---
Pros:
Good battery life, which easily lasts for a day.
Replaceable battery without the need for tools.
Headphones can also be used while charging.
Cons:
No quick charging.
No wired music playback without battery (see "Sound & ANC").
---
With 30 hours, the Fairbuds XL offers very good battery life that even most non-modular headphones cannot match. Since Fairphone makes replacing the batteries a completely tool-free experience, you could even purchase a second battery for long trips and replace it when needed. This is an advantage that hardly any other headphones on the market offer.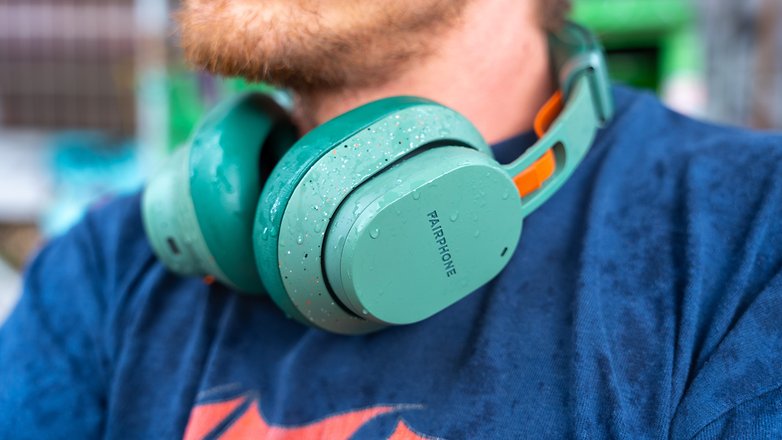 Quick-charging is basically possible but the headphones do not offer such a charging function. A complete charging cycle, on the other hand, takes about three hours. Fairphone seems to want to charge the battery gently to avoid heat buildup. Thus, a battery is supposed to last for over 500 charging cycles. Charging is done via USB-C and there is not much more to report in this regard.
Final conclusion
In my opinion, Fairphone launched a really exciting pair of headphones in the market with the Fairbuds XL. They showed how high-quality and well-designed modular headphones can be.
If we really wanted to make electronics more sustainable, we come across exactly the right approach here: All components are replaceable, you only need a screwdriver for repairs, and yet the Fairbuds are robust and protected against water and dust according to IP54. Since, unlike the Fairphone 4 (review), there are no Android updates that stand in our way here, the Fairbuds offer a particularly long lifespan.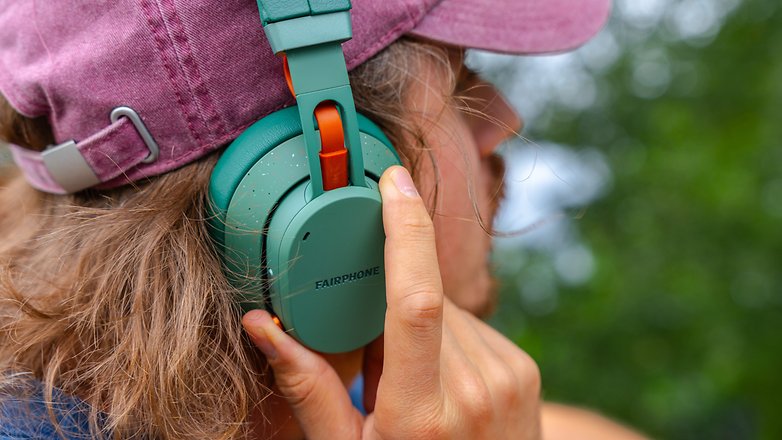 For this advantage where you theoretically never have to buy another pair of headphones, some compromises have to be made. For over-ear headphones that cost €249 (it is not available officially Stateside), the Fairbuds disappoint in terms of sound. The integrated ANC can only just be regarded as noise cancellation, and smart features like wear detection or 3D audio are missing.
However, I found it more annoying that Fairphone restricted the headphones so much via its app. What good are "lifetime headphones" if I can only adjust their sound with four presets, and I cannot even customize the controls to my preferences? This is paradoxical and is not compensated for by nice animations in the app.
What does this mean? The Fairbuds XL is a strong product for a target group that places a lot of importance on sustainability. With regard to this, Fairphone simply knows what customers and our environment needs. However, from the perspective of a music fan who has already gone through several headphones, its performance is disappointing. Unfortunately, sustainability still requires some compromises.
Nevertheless, Fairphone consistently implemented the idea of sustainable and modular over-ear headphones. Thus, the drawbacks in terms of sound and ANC are less significant in my eyes—4 stars for this bad boy!