ClanHQ: A social hub for superheroes still learning to fly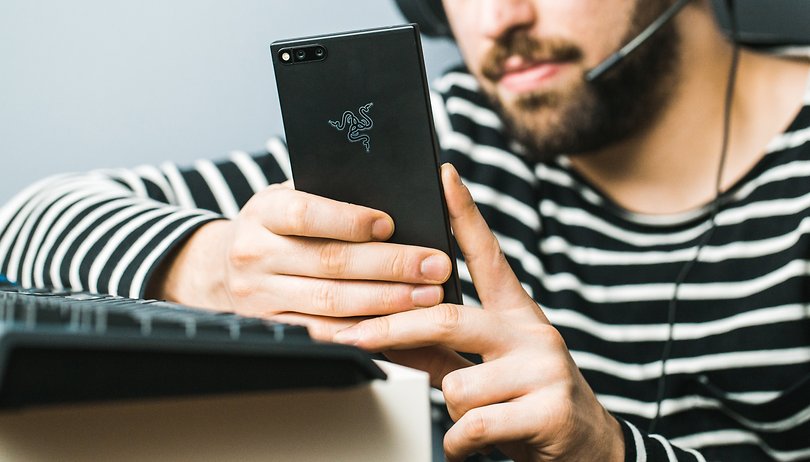 A social element has long been important to gaming, but as anyone who's ever had to co-ordinate their WoW raiding party or Counter-Strike team knows, it can take some effort and organization to make it work. ClanHQ purports to be the solution for mobile gamers, but how useful is it really?
Mobile gaming is increasingly asserting itself as a 'serious' gaming platform, and a big sector of the market is massively multiplayer formats, in which potentially thousands of different players form clans, guilds, alliances and other groups in competition with each other.
Many of the slickest, most heavily promoted 'free' games on Android encourage this multiplayer model. After all, the peer pressure to both beat your rivals and not let down your allies is a strong incentive to get in-app purchases for game advantages.
Economics drive game developers to create pretty complex systems of leagues, events and co-operative quests with different play modes and rewards. Often players also 'pay in' to alliance/clan events with some kind of in-game currency, adding yet another level trading to the multiplayer element.
A community/clan management app for mobile gaming makes a lot of sense, but the competition is heating up
Effective participation in these systems requires some serious communication and organization, and that requires a messaging service with more advanced features for large groups than popular stalwarts such as Facebook messenger and WhatsApp.
Discord and Line chat are popular apps for gaming groups, but one company has an ambitious plan to go much further and offer a service that leverages years of social gaming experience into a bespoke chat services specifically for the needs of mobile gamers—ClanHQ.
From farm to carnivore
ClanHQ purports to be a social network for gamers, enabling them to manage their clans and alliances. It has some big-name social and gaming pedigree, being founded by Zynga alumni John Osvald and Eric Schiermeyer. Remember Zynga, the team behind Farmville and all those spam Facebook invitations that made you die a little inside whenever you saw them?
ClanHQ is the child of the Zynga veterans' new venture, Carnivore, which did remind me of the somewhat predatory mechanics we know from Zynga games. But wait, don't run away yet. We're dealing with a different beast now.
But the state of the mobile games market isn't ClanHQ's fault. To see what the app has to offer, I decided to go in without prejudice and try out its features with Marvel: Contest of Champions (MCOC), a fighting game featuring the comic colossus' roster of super-heroes and -villains with a focus on player alliances and questing.
MCOC happens to be the first game that ClanHQ was compatible with, and as of the time of writing, still the only one. Check out the trailer below for an impression of the game:
ClanHQ has a short list of games it hopes to support in the future, including other popular multiplayer titles such as Lords Mobile and Summoner's War, so we can expect future games supported to be similarly heavy on the grinding/IAP. Still, the ladder to the top in these titles requires considerable time and attention as well as money, so anything that facilitates communication and coordination between players is welcome.
ClanHQ supports games without being part of them
Given that ClanHQ launched with Contest of Champions in mind, I was surprised to find just how inconvenient some of the content related to the game was. Most egregiously, I had to add my roster of champions and their stats manually, one at a time, a process that was not only tedious but required switching out from the app into the games to check the different ratings of each hero.
This alone made me groan at the thought of having to use ClanHQ as my roster of champions grows ever and ever larger. Kabam, MCOC's developer, isn't sharing their data with ClanHQ so for the moment this kind of irritating bookkeeping is inevitable.
For some players who prefer to put their trust in ClanHQ rather than the admins of the game service, this lack of data sharing might be an additional bonus. For now though, it's still an extra layer of busywork that makes entry that little bit more difficult.
The good news is, once you're invested, it has the right tools to make all the admin/management part of multiplayer MCOC much easier.
ClanHQ offers a home for the hardcore
So there are some hurdles from the get-go, but as a messenger/social app, ClanHQ is a marked improvement over the native communications tools in Contest of Champions.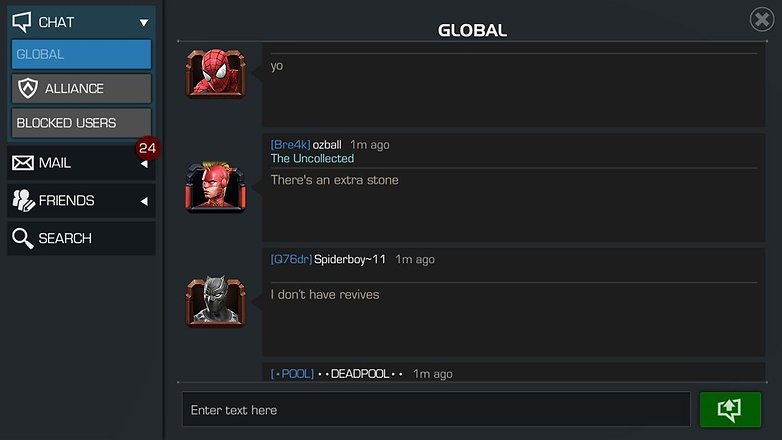 Carnivore's app offers a social space far above and beyond what MCOC comes with, and Carnivore's attention allows a real living community to flourish in their app. In this you can see the team's real expertise with social gaming shine through.
The truly dedicated who are spending 6+ hours a day playing and participating in the community will find a lot to love here. ClanHQ buzzes with lively chat discussing all aspects of the game, looking for groups to join, sharing tips and tricks, joking around, bragging about prizes and coordinating strategy.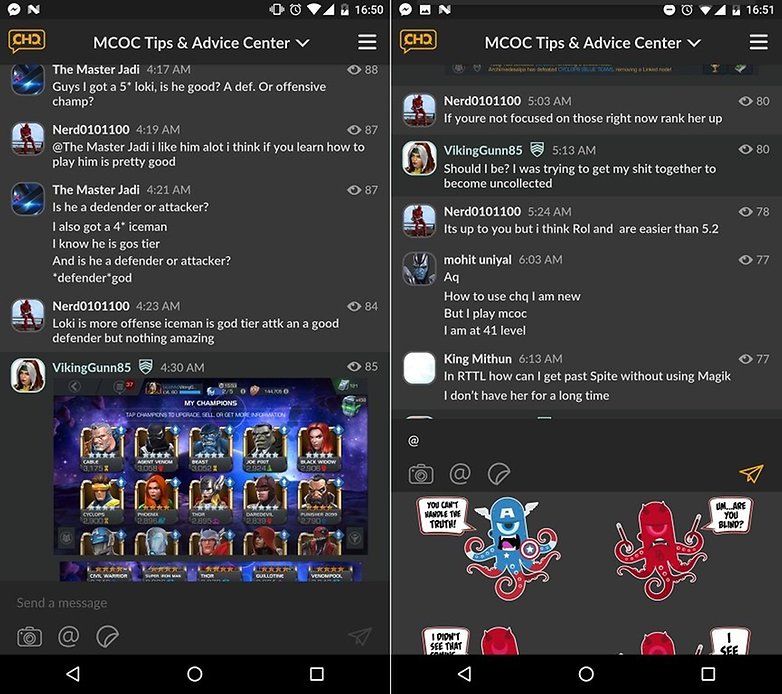 Then there are various convenience features that will quickly assign the rank and file players in an alliance to quests and lets them quickly inform the leadership about their achievements. For busy clan leaders and alliance commanders, this kind of help with the often baroque mechanics of massively multiplayer games can be a godsend and a serious time-saver.
Once it supports multiple games, ClanHQ sounds like it would a great one-stop-shop to manage your involvement across the different titles. If Carnivore remains dedicated to their mission to create specific features and services tailored to each particular title, that would be a lot of work on their side, but seriously impressive if they could pull it off.
Carnivore may have bitten off more than it can chew
Savvy readers may also be looking for the bottom line here. How is ClanHQ going to make money? At some point, ads will be shown on the platform, no doubt to the resentment of many. In order to sweeten that pill, Carnivore are going to have to build up a lot of goodwill by refining their product so that player's think it's indispensable.
Could this be the future of mobile gaming?
So, are we going to see Carnivore all over social media like we did with Zynga? Hardly. It's still too niche, and too early. But the hungry startup could be on the trail of something juicy.
As it stands, ClanHQ is a decent app for Contest of Champions, most useful above all to the leaders of alliances who need to coordinate their soldiers. But it aims to be more than that. To do so, it will have to knit together support for various features from different games.
Currently, its edge on the competition are the game-specific features that elevate ClanHQ over something like Line, and that only works for MCOC. And for many, even that isn't sufficient. It's not a great look for your app when Alliances advertise for players in ClanHQ explicitly mentioning that they will be requiring Line for further communication.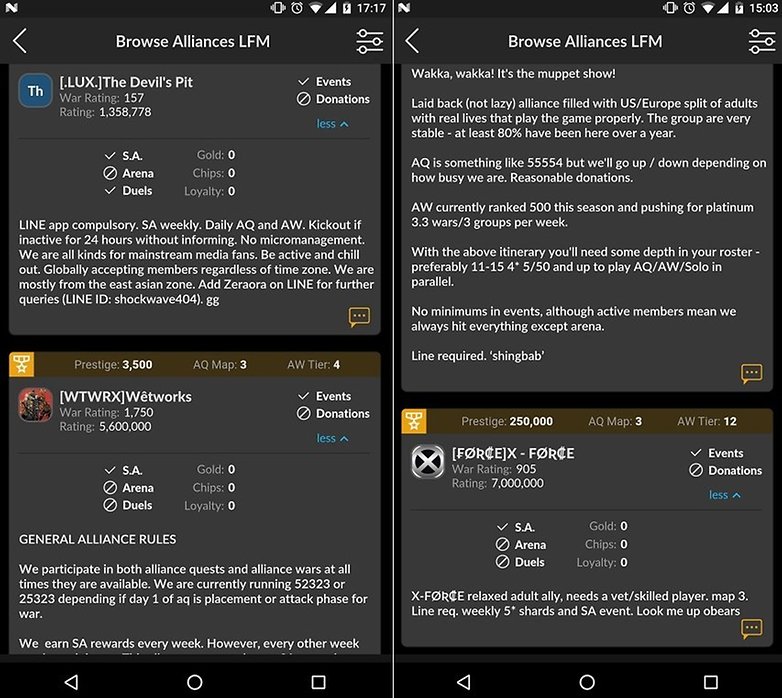 At the end of the day, it's all about convenience. An app, whether it's for gaming or chat or ordering food or photo editing, wins when it streamlines a process and makes it more convenient for those times when we're busy or out in public, with a short amount of time to focus on the small screen.
A community/clan management app for mobile gaming makes a lot of sense, but the competition is heating up and the winner is going to have to provide the following:
Be compatible with a lot of games (not so easy when you consider the second point)
Also provide game-specific convenience features (and kudos to ClanHQ for trying this)
Unite players by being stable across a range of devices. My own test devices (Samsung Galaxy S7 and the Razer Phone) had no problems with the app, but recent reviews in the Play Store suggest it's still an issue for many.
Right now, ClanHQ provides a good hub for MCOC players willing to make an effort to get invested, but it's a far cry from being the obvious choice. It's hard not to admire the ambition, but I'm left with the impression that Carnivore may have bitten off more than it can chew.
Do you use a separate app to chat with other players of your favorite games? Which ones are your favorite?