Best scanning apps for Android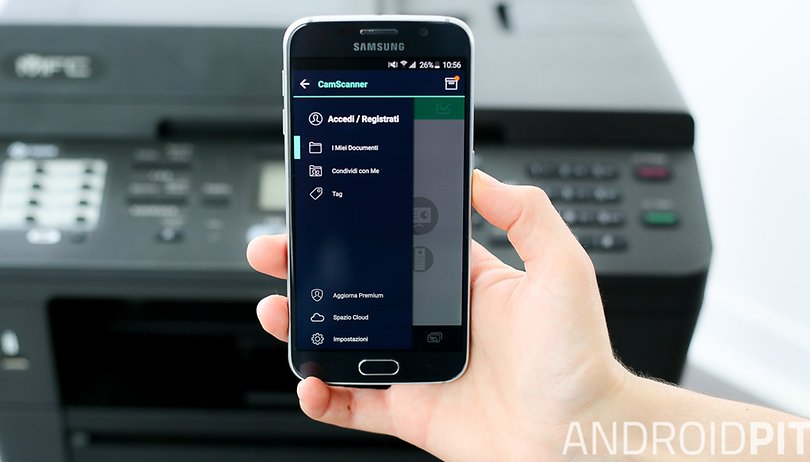 One of the less obvious but brilliant things about having a smartphone is that you can use it as a scanner, transforming unruly piles of documents, receipts, business cards and anything else into shiny digital data. All you need is the right app, and these are the best scanning apps for Android right now.
Best for work: Camscanner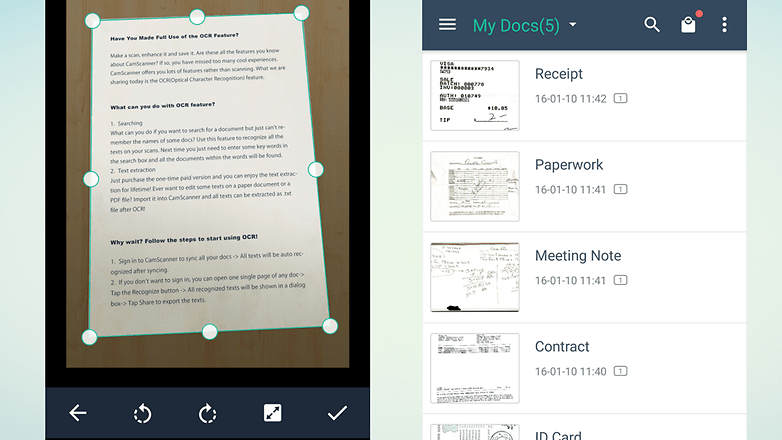 Camscanner is one of the most popular scanning apps for Android, and there are several good reasons for that. It's fast and easy to use, it includes features to automatically improve the quality of your scans by cropping and enhancing the image and, if you shell out a buck for the licensed version, you get optical character recognition that can turn images into usable text.
That last one is particularly useful if you're using a phone for work and end up with endless business cards, and another useful feature for work users comes in the form of passcode protection of scanned documents.
In addition to the free and licensed version, there's also a subscription version for US$4.99 per month or US$49 per year; this gives you cloud storage, auto upload to various cloud services and support for more collaborators.
Best for convenience: Genius Scan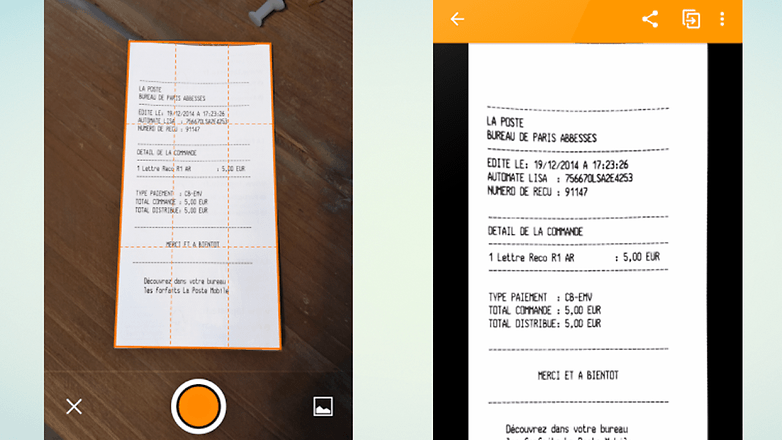 Like Camscanner, Genius Scan comes in two flavors: a free version and a paid-for version that unlocks extra features. The paid-for version is US$4.99 and integrates with any cloud apps on your smartphone such as Box, Dropbox, Evernote and so on.
There's lots of clever stuff going on in this app. It automatically detects pages, corrects perspective and performs post-processing to make your scans as clear as possible, and you can turn multiple scans into a single PDF. There's no optical character recognition, but if you're looking for an easy to capture, archive and share scanned documents, Genius Scan is well worth a look.
Best for Google users: Google Drive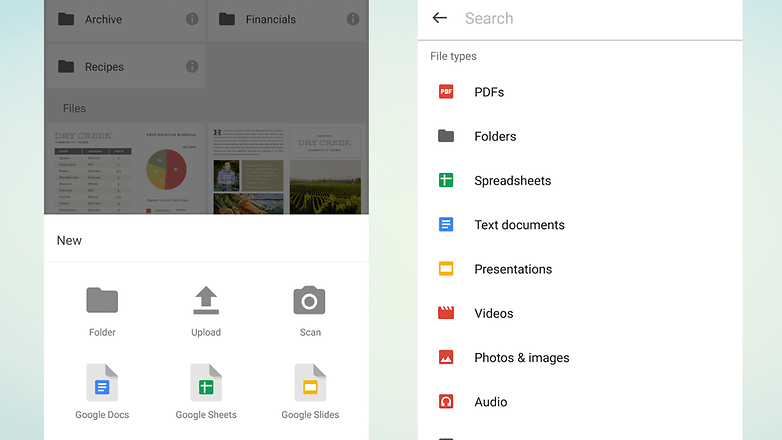 Not everybody knows about Google Drive's scanning capabilities, so if you have the app they may come as a pleasant surprise. All you need to do is tap Add New and you should see the option to scan.
As you'd expect, your scans are automatically stored on your Drive (in PDF format), but what you might not expect from a free app is Drive's built-in optical character recognition. That means your scans are searchable for specific words or phrases, which can be an enormous time saver.
Best for Microsoft users: Office Lens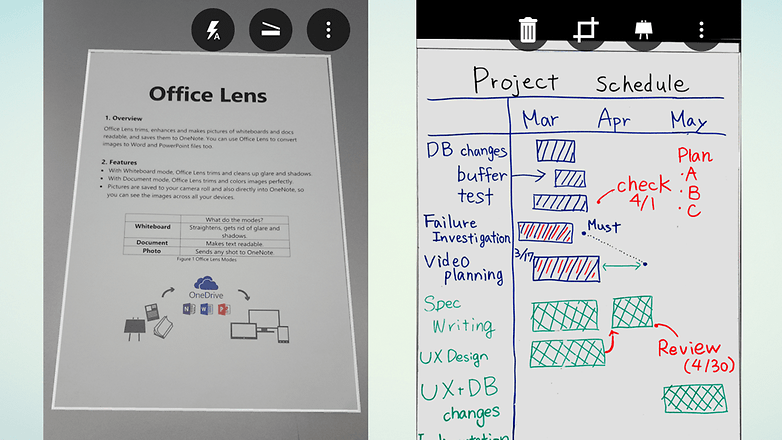 Anything Google can do, Microsoft can do better, right? Maybe, if Office Lens is any indication: not only does it do all the scan-fixing and post-processing you need, but it can convert your images to Word and PowerPoint files as well as the ubiquitous PDF.
It's also designed to share images of whiteboards and blackboards so that you can share the fun of meetings with people who were lucky enough to avoid them in the first place. We're being cheeky, of course, but it is a pretty clever feature and when you're in whiteboard mode the app automatically compensates for glare and shadows.
There's also a business card mode that can automatically extract key data from business cards, and although it's happiest in English, German and Spanish for now, support for more languages is coming.
Best for speed: Scanbot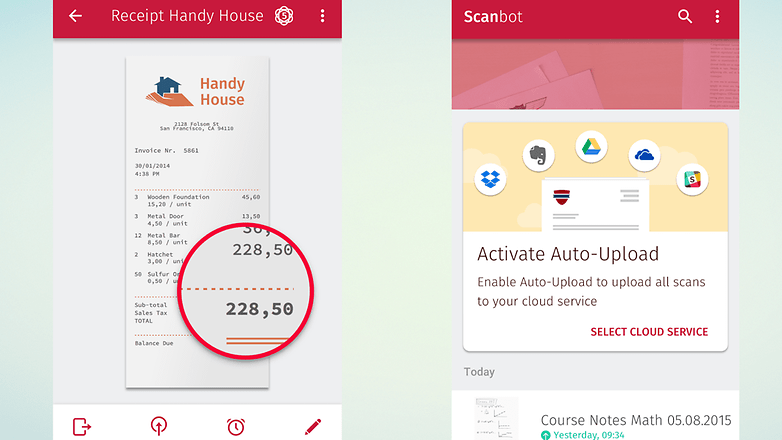 Scanbot is another scanning app with two options: upgrade from the free version for US$4.99 and you get a stack of goodies including optical character recognition, smart file renaming, document signing and Quick Actions, which enable you to set triggers such as calling a number or navigating to a place.
Even without the Pro features, Scanbot is an impressive app: it's very fast, works with your favorite cloud services and doubles as a QR code scanner too. If you want to scan at desktop speeds with a smartphone app, this is the app you should try first.
Best for simplicity: Scan to PDF Mobile Free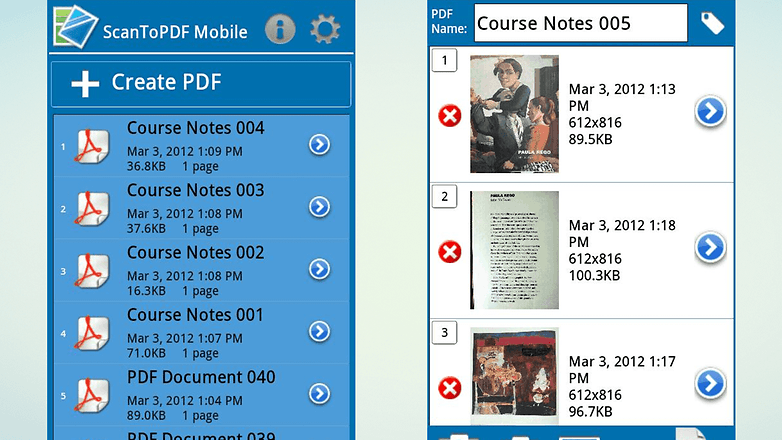 If you only need to scan a few documents for a project, Scan to PDF Mobile Free might be worth considering: unlike many free apps it doesn't apply a watermark until you've created 10 documents, and it offers a range of features including multi-page PDF creation, automatic image compression, automatic file naming, support for different page sizes in your PDFs, tags for easy document classification and if you're feeling geeky, FTP support to upload to a server.
It doesn't have optical character recognition or the automatic image correction and processing of some other apps, but if you just need a quick and effective PDF maker then Scan to PDF Mobile Free does a decent job. It's really easy to use too.
Do you have a favorite mobile scanning app or any useful tips for making the most from it? Let us know in the comments below.