The 6 best Google Play Store alternatives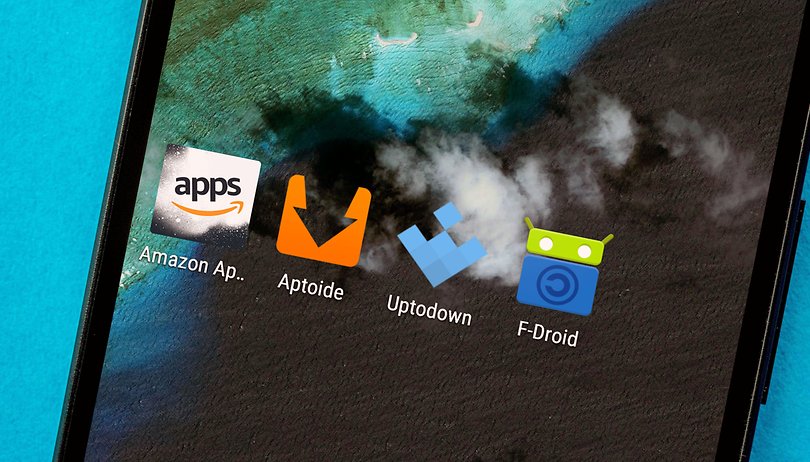 The Google Play Store is usually the go-to place for Android Apps, but it's not the only place. Though Google doesn't allow other apps stores to be downloaded from within Google Play itself, that doesn't mean you can't get them. Here are the 6 best app store alternatives to the Play Store.
To enable your device to install these apps you must first follow these steps:
This will now let you install apps (or APKs) from outside of Google Play.
Go here for a full explanation of what an APK file is and how to install them.
As a word of warning, enabling unknown settings means that the apps installed do not have Google's seal of approval. And it also means that the apps you download through these stores may not have Google's in-house security either.
Jump to:
We've done what we can to verify the apps stores recommended here, but be careful when downloading updates or any other apps, especially something that offers a normally paid app for free.
When looking beyond Google Play, the Amazon App Store is the place to start. Here you can get thousands of free and paid apps, as well as paid apps for free.
Amazon gives away a paid app for free every day and using Amazon's dedicated app store is the only way to access them. Amazon also regularly offers free bundles of paid apps (good ones, too).
Aside from great free titles, the Amazon App Store has a huge selection of books, movies and songs – often at lower prices than on Google Play. Download the Amazon app at the link, but be aware that you must have an Amazon account to use the service.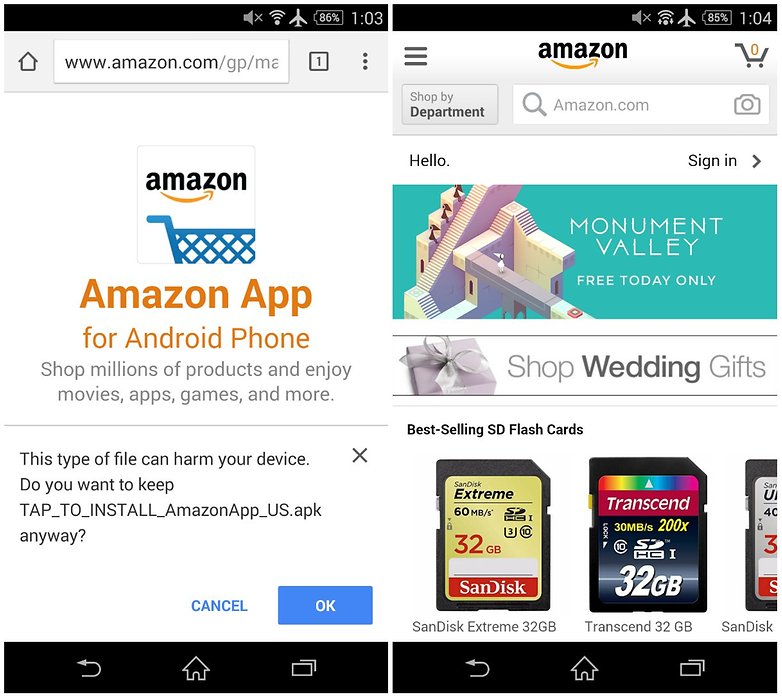 GetJar is an alternate app store app with a vast array of free apps to download. These can be filtered with the categories (and subcategories), which are mostly the same as in the Google Play Store, such as Productivity, Finance, Photos, among others.
GetJar isn't just for Android phones either, it has cross-platform support (iOS, BlackBerry, Windows Mobile, etc.), and also employs user comments (likes and dislikes, and Facebook support).
You can use the GetJar website to download and access apps or you can download the dedicated GetJar app store APK.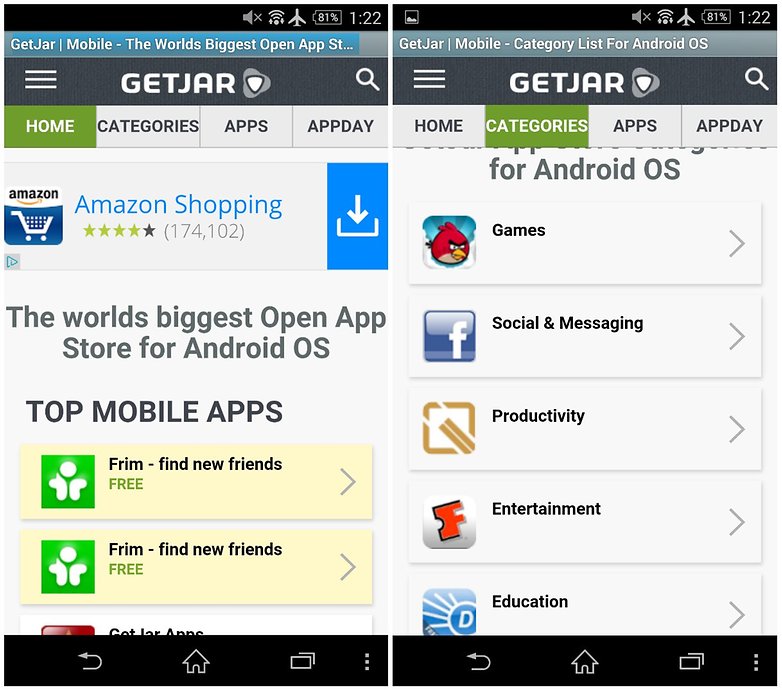 F-Droid can be installed from the official website, and it certainly presents a refreshing idea. Unlike other app stores, F-Droid is funded by donations, and the apps themselves don't have reviews or ratings. But all of the apps contained within there are FOSS (Free and Open Source Software).
It's an excellent app store for developers because anyone can access the code of these apps for free. You might find a particular app feature or functionality which you like and would want to use for your own app, and you can, just access the code and copy it.
The downside is that the apps are not always as "professional" as can be found in stores like Google Play and the Amazon app store. Still, for developers, it's highly recommended.
One of the most sophisticated app sources is Aptoide. It works with a distributed network of different store providers and unifies them under the Aptoide platform. However, this poses considerable security risks.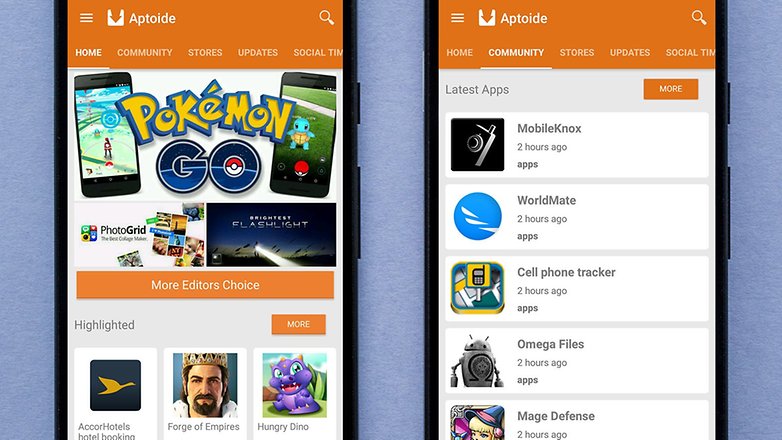 App updates come through Aptoide faster than with the Play Store. Beta versions of WhatsApp or Nova Launcher are also available. Some of the apps offered for free in Aptoide cost money in the Play Store, which casts doubt on their origin. If you also use one of the many third-party stores, you'll see more and more pirated software.
Given the potentially hazardous situation, Aptoide should only be used by experienced users who can spot pirated or suspicious software.
With 2.5 million malware-tested apps available, Uptodown seems to be a reliable Play Store alternative. The number of specific Android apps is significantly lower with an official count of "30,000", but it proves to be sufficient. The installation packages are available to download on the website but it is advisable to install the uptodown app first. This will inform you about available updates in the future.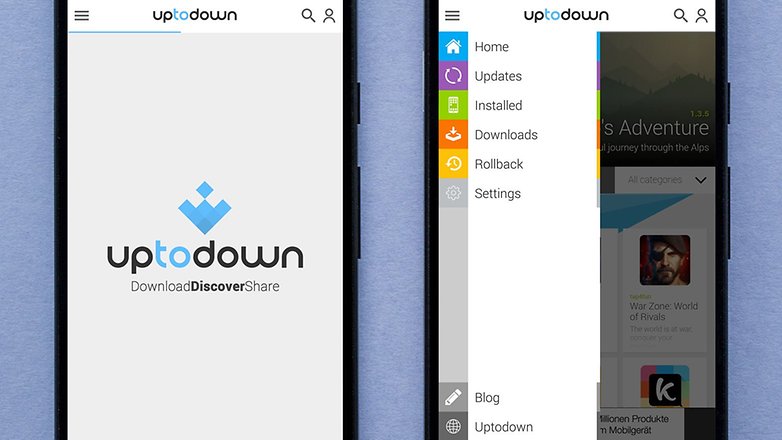 In the short, anonymous setup you can decide if you want to be informed about new app versions or if you would rather be left alone. Then you can browse the store. You'll soon notice something missing: There is no paid content. Uptodown has no payment system. This means that no apps or in-app purchases can be paid for. So paid apps are either not found at all or start with an error message.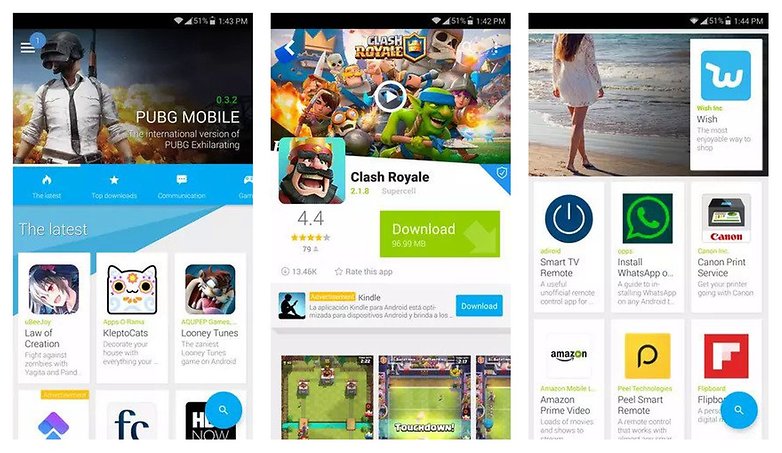 Commenting on the sensitive issue of app quality, Tomás Ratia, Advisor Strategy and Growth, explains that Uptodown initially uses Virus Total to automatically check the 2.5 million APKs with 50 anti-malware engines. In addition, a local editorial team takes care of manual quality control and creates neutral tests in text and video formats.
Indeed, Uptodown seems tidy. During several test searches, we did not notice any counterfeits or pirated software that is often seen in the other Play Store alternatives from Aptoide or Amazon. For free apps, we can certainly recommend Uptodown. Unfortunately, the apps versions tend to be older compared to those from Aptoide or APKUpdater.
Unlike the play-store alternatives shown previously, APKUpdater pursues a simpler goal: it delivers updates earlier than others. You want to use the new WhatsApp features sooner than your friends? Facebook drains your battery too much? Then you need the APKUpdater, because it informs you about available updates earlier than any other Android App Market.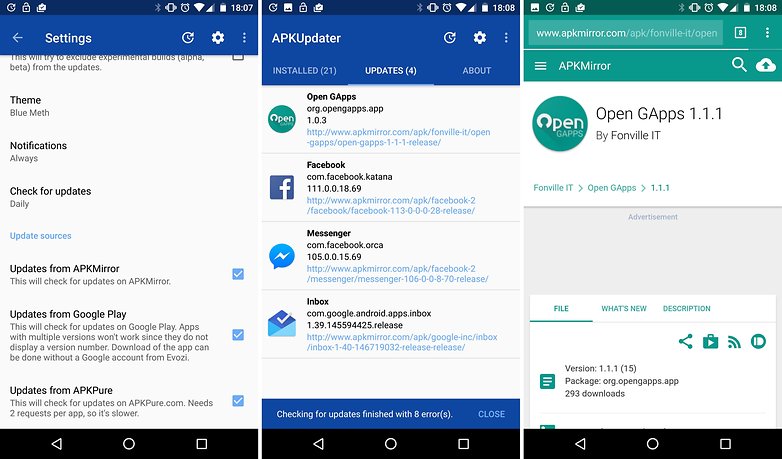 The new versions are either downloaded from APKMirror, APKPure or via Evozi from the Play Store. They all have a good reputation, but are not as safe as F-Droid or the Play Store. In addition, you have to download each time to the respective website, which can mean exposure to dodgy ads.
Unlike the other app stores mentioned, APKUpdater does not offer a search function, and only updates apps you already have.
What do you think is the best alternative to the Google Play Store? Let us know in the comments below.