Top 5 Android and iOS apps of the week: Outdoor apps and games just for you!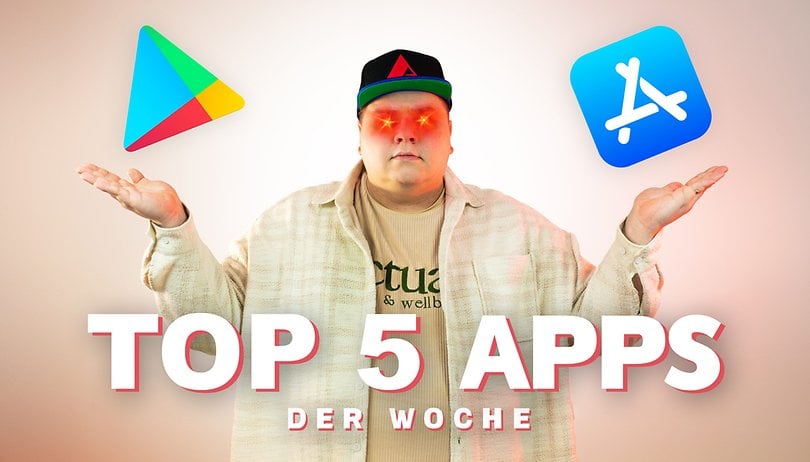 Every Saturday, NextPit has five hot app recommendations for both Android and iOS platforms. This time, we hope to be able to help you with self-organization, photography, alleviating boredom, and making sure you can play more than just a couple of songs on your guitar around a campfire. Plus, there is also a smartphone remote control just for you!
As usual, we have tried each of these apps out for you to ensure that nothing is amiss here. If you're looking to dip into the app bargain bin, be sure to check out our free apps of the week edition which has plenty of apps and games.
Structured (iOS)
This week's first candidate is Structured. Whether for everyday use or when you are on vacation, this highly-rated app will help you organize your day. For each individual task, you can specify the exact time period and also key in notes. In this context, this app serves as a reminder of your plans. You also have the option to assign emoticons for each activity, which are then displayed under each day. This way, you can take a look at what outstanding tasks still need to be completed on the respective day.
To make it even more organized, you can assign a different color for each individual activity. Speaking of organized: Just like its activities, you are also free to assign the color of the entire menu based on your preference. For a little motivation boost, you can check completed tasks for that added sense of satisfaction.
Price: Free / Ads: None / In-app purchases: Yes / Account required: None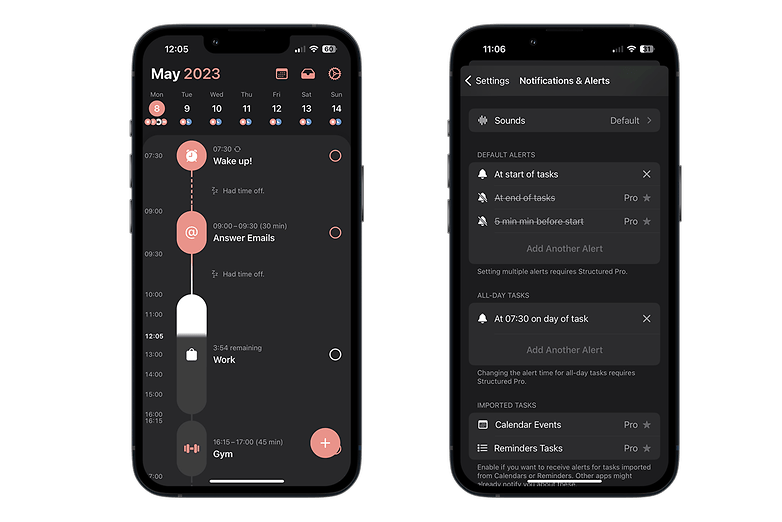 To access the functions in the full version, you will need a subscription, which costs $2.99 per month or $9.99 per year. Optionally, you can buy the Pro version with a one-time payment of $29.99. Doing so will allow you to import your calendar and reminders app, schedule repetitive tasks, and set reminders from your scheduled tasks in greater detail. All in all, Structured is a great help if you currently struggle with scheduling your daily tasks.
Super Meat Boy Forever (Android & iOS)
This week, we have another exciting game that Dustin has selected and tested out for you. Vegetarians and vegans in particular should probably skip this part of the article. It's Super Meat Boy Forever, which some of you might have already seen on your computer. In this jump & run title, your task is to sprint as a small lump of meat through different levels to save your meat baby.
Price: $0.99 / Advertising: None / In-app purchases: None / Account required: None
The controls are quite simple to figure out. Press the right edge of your screen to jump and left to make your lump of meat slide. Running at a faster speed can be done by the character itself, and your only task is to dodge traps and enemies to remain alive. However, this is easier said than done and thus the game has quite a challenging difficulty level.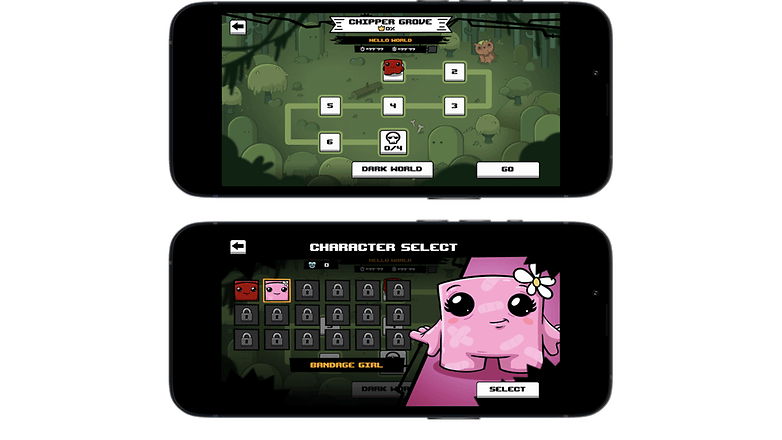 In Super Meat Boy Forever, you have an extremely large number of challenging levels to play, and you can unlock all kinds of characters if you don't want to chase a lump of meat through the world. Since the individual stages are relatively entertaining that require a certain amount of skill, this game is perfect to play for short bursts of time. The game is currently available in the Apple App Store as well as in the Google Play Store for $0.99 and neither requires an account to play nor are there any in-app purchases.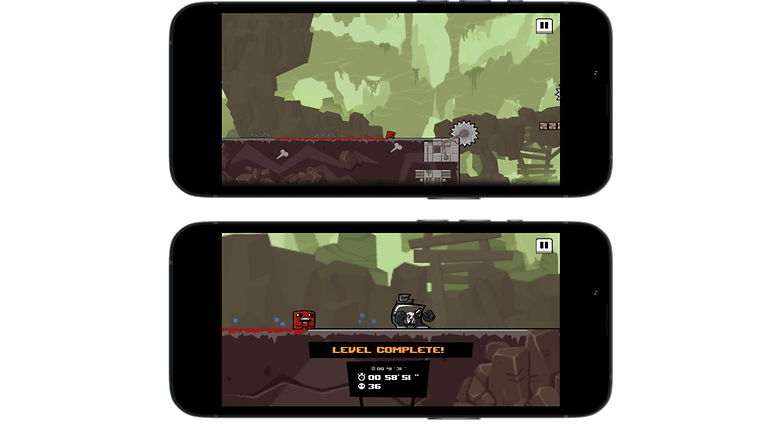 Chordify (Android & iOS)
The next app recommendation comes just in time for the outdoors. If you don't want to listen to the same five songs around the campfire with your guitar over and over again this year, Chordify is here to help. With this app, you can search YouTube for songs and find videos that contain an accompanying track with guitar chords.
Price: Free / Ads: None / In-App Purchases: Yes (€5.99/month, €34.99/year) / Account: Optional
To practice your guitar playing, you can first play alongside the song in the YouTube video and sing around the campfire. Of course, you will need to mute your smartphone for the best effect. What's good for beginners as well is how you can set it based on the chords you know, and the app will then recommend suitable songs.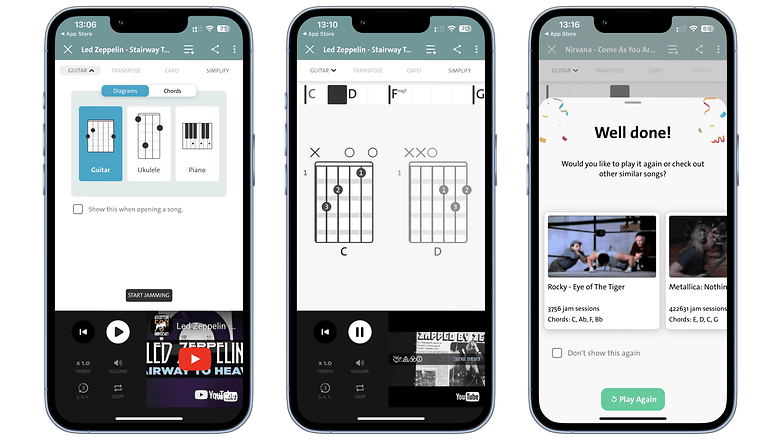 You can always play through the Top 50 songs from the charts for free, although there are quite a few songs among them that are not suitable for the guitar. In the free version, you can try out a new song every day without an account, while those with an account can access up to three songs.
If you pay $7.99 per month or $47.90 per year, you can play unlimited songs. Subscribers will also receive additional features such as the ability to transpose to other keys or to create their own music libraries.
Pictier (Android & iOS)
Casi has unearthed a social media photo app for today. It's not about networking, liking, commenting, and staying in touch with your personal contacts though. Instead, you're on the go in an anonymous manner, preloading photos from your current surroundings. You can't access your gallery and share the latest photos, but only what you captured using the Pictier camera app.
You will decide whether you are the only one to see the photo or everyone else. How can you view photos? You can choose from different filters (newest, most popular, favorites, discover, history), or you can call up the world map. Casi was allowed to discover that there was actually only one picture so far from the Ruhr area: And that actually showed the arena of the Schalkers. With his photo of the U-Tower in Dortmund, he now has double the number of that particular region.
Price: Free / Advertising: Yes / In-app purchases: None / Account required: Yes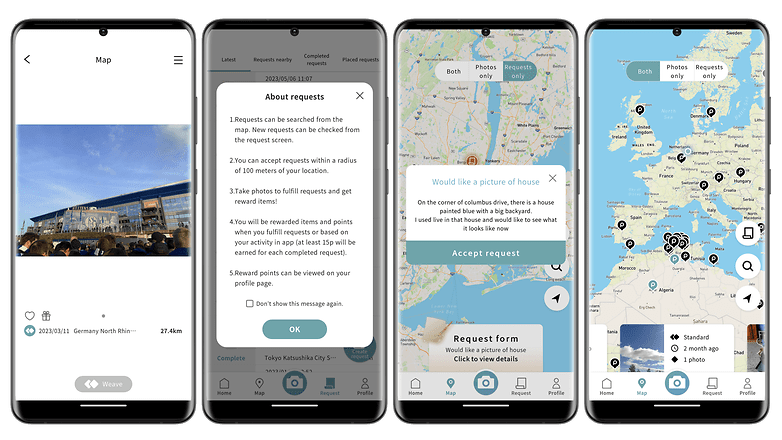 In the picture above, you can also see "Requests". You can request photos of a certain sight and of course, you can also answer such requests by others. This is done provided the requested scene is within a 100-meter radius of your current location. If you prefer, you can also "stack" photos by photographing a scene several times at different times. This way, a history of your scene is created. By the way, you decide whether only you or other photos can be added to this stack.
Why go through all this trouble? It is simply an approach to be more chill on social media. It's all about photos, and not about fame or virtual dick comparisons. In any case, it's a very relaxing app to feast your eyes on your favorite memories or to look at beautiful shots captured by others.
You also do not have to fork out a single cent for the app, but ads are displayed at the top and you will also need an account.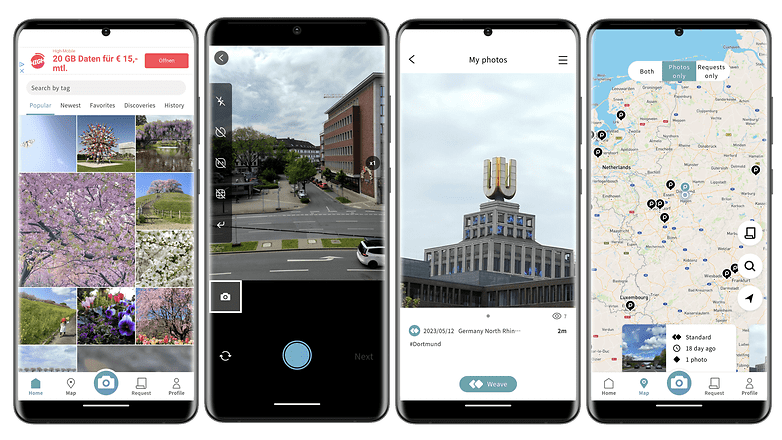 PlainApp: File & Web Access (Android)
MaTT is once again the last to share his recommendation, but as we all know by now, the last will be the first. And so I have something very special for you with "PlainApp". Okay, this is only for Android smartphone owners. Who doesn't know that many activities on the smartphone can be better managed via a larger display and a full-fledged physical keyboard? No matter how agile your fingers are with the touchscreen, there's nothing like letting your fingers fly across an actual keyboard when hammering out words. This open-source application is known as "PlainApp" from iSmartCoding — and it comes with a programmer whom you can reach out to on Github. Now how about that!
Price: Free / Advertising: None / In-App Purchases: None / Account required: None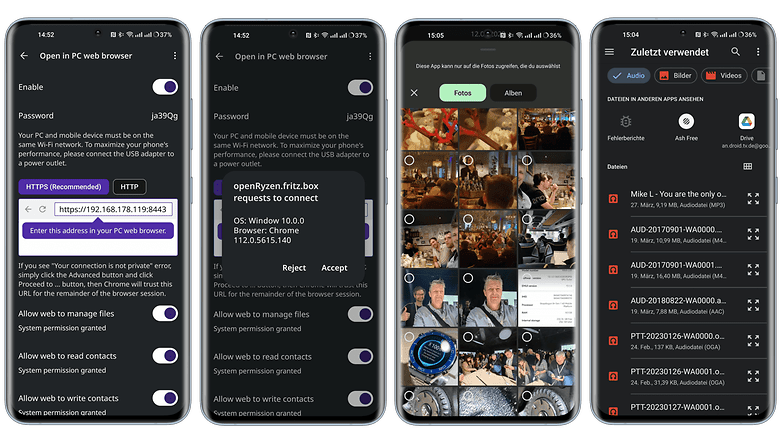 You can control your Android smartphone from your desktop PC via a wireless and self-hosted website. A simple and easy-to-understand user interface guides you through your smartphone's memory on your web browser. Once the initial connection is firmly established, do take note that the browser naturally does not want to open an "insecure website" right away. There is TLS + AES-GCM-256 encryption with your own password to key in as an added security measure.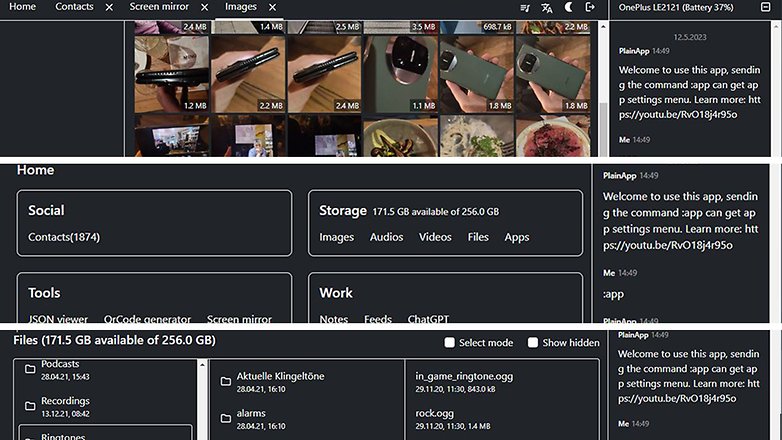 Through the browser, you can basically do the most important tasks like searching, locating, and editing files, pictures, videos, and contacts. You can backup and export app data. Do you happen to have a ChatGPT API (Application Programming Interface)? Perfect then — because you can also operate the nifty AI bot via the "PlainApp" browser. Of course, SMS can also be read and replied here. The programmer already announced that he is not done with the project yet, so there is a whole lot more to look forward to! Hence, it's worth keeping an eye on the free application known as "PlainApp". BTW: You are welcome to support the developer financially!
Which recommended app is your favorite this week? Do you have any other app recommendations for the NextPit community? Drop them in the comments!