All about speed: Apple intros MacBook Pros with M2 Pro and M2 Max chips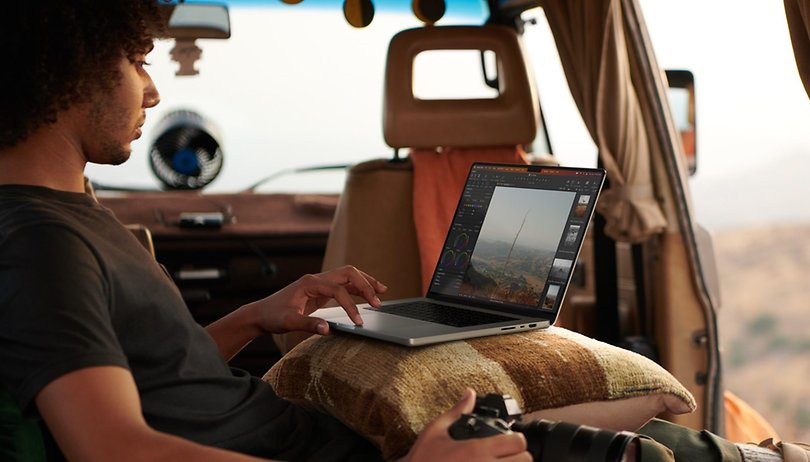 Apple is announcing the new 14-inch and 16-inch MacBook Pro laptops alongside the new Mac Mini today. And as always, the Cupertino firm is focusing on speed for this year's Mac lineup. That is thanks to the M2 Pro and M2 Max processors.
The early 2023 MacBooks revealed are keeping the design of the 2021 models. What's new is mostly found under the hood. Powering either size are Apple's custom M2 Pro and M2 Max system-on-chips that promise longer battery lives on two devices.
How fast are the M2 Pro and M2 Max on MacBook Pro (2023)
Depending on the variant, the M2 Pro gets a 10 or 12-core CPU and a 19-core GPU. Apple says the M2 Pro is relatively 20 percent faster in processing performance while the graphics side is about 30 percent better. Additionally, the neural engine is promised to receive a 40 percent boost compared to the M1 Pro.
The higher-end Apple M2 Max retains the 12-core CPU setup but its GPU is increased to 38-core. These changes result in a 20 percent increase in performance and 30 percent in graphical tasks over the predecessor silicon. Furthermore, the chip now supports 400GB/s memory bandwidth, which is double that of the M2 Pro.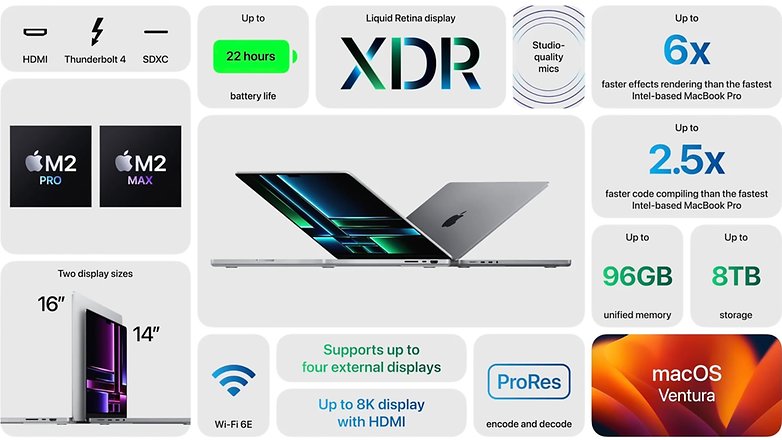 Apple 14-inch and 16-inch MacBook Pro (2023) pricing and features
In terms of configuration, up to 96 GB of unified memory is offered while storage starts at 512 GB all the way to 8 TB onboard storage. In addition, Apple is throwing in Wi-Fi 6E connectivity on two models. There is also an upgraded HDMI port that is now running on version 2.1 and can output 8K video at 60Hz or 4K at 240Hz. Completing the port selection are three Thunderbolt 4.0 ports, an SD card slot, and MagSafe charging.
As regards the prices, the smaller 14-inch model is priced starting at $1,999 and the 16-inch retails from $2,499. Apple is keeping the student discounts available and it could save you $150 and $200, respectively. Both sizes can be pre-ordered today with estimated availability on January 24th.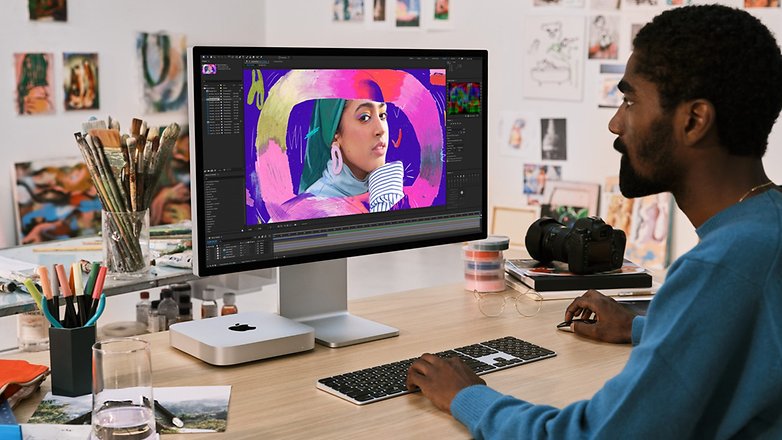 Apple Mac Mini (2023) with M2 or M2 Pro
Apple's MacMini 2023 is also introduced today. The mini-computer is offered with M2 or M2 Pro chipset. Opting for the base M2 will get an octa-core CPU coupled with 256GB of storage and 8 GB of RAM, which will cost $599. This is notably a lower starting price in contrast to the M1 Mac Mini. On the other hand, the M2 Pro-powered Mac Mini starts at $1299 and arrives with a 16/512 GB configuration.
The array of ports remains wide with four Thunderbolt 4.0 for the M2 and four on the M2 Pro. There is also a full-sized USB-A, HDMI, Gigabit Ethernet, and a 3.5mm headphone jack. Both Mac Minis ship with Wi-Fi 6E and Bluetooth 5.3.