Android Nougat latest news and features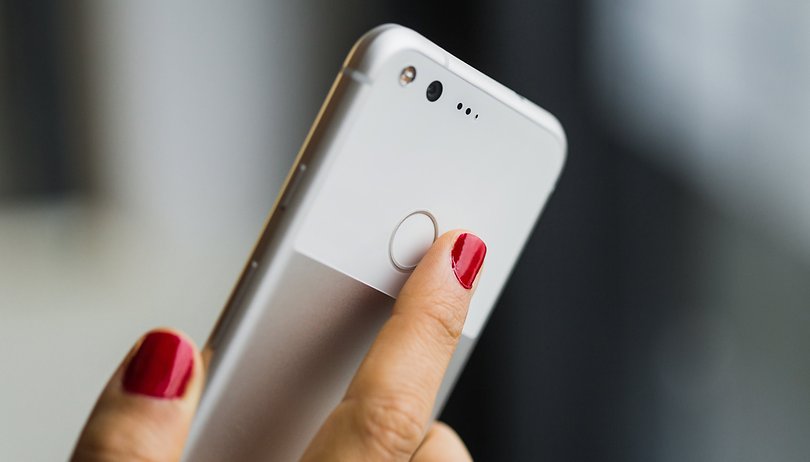 Android 7.1.2 OTA
The Android 7.1.2 Nougat update is being released for Pixel and Nexus devices, and you can expect to receive an OTA update anytime in the next few weeks. Google's announcement in the product forums states that the update will have bug fixes, new features and improvements to performance and stability.
Notably, it will include improved fingerprint swipe performance, Bluetooth connectivity and battery use alerts. Plus, it brings fixes for several big issues: the early shutdown problem, pink stripes on the camera and the notorious audio crackling issue which occurs at high volumes.
If you don't want to wait as long for updates in the future, you could try the public beta discussed below.
Android 7.1.2 known issue: fingerprint scanner
The Android 7.1.2 update has started causing issues for some Pixel and Nexus devices. Users have reported that they are unable to use their fingerprint scanners after updating via OTA, beta and sideload methods. Android Authority reports that flashing the firmware manually has fixed the issue for some users, though a factory reset won't do the trick. Do a full backup of your device before trying this method.
The Sony Xperia X users in the Xperia X Concept program are going to be able to get a Concept update with several improvements (Bluetooth, battery usage alerts, etc), but the update won't include the changes from Google that caused the fingerprint scanner issue for Pixel and Nexus devices.
Android 7.0 Nougat and 7.1.2 public beta 2 release
Android 7.0 was released into to the world on August 22 of last year with the name Nougat, and it has already seen several beta iterations and updates. To find out when your device will receive Nougat, and which version, click this link.
The latest version of Android is Android Nougat 7.1.2 beta 2, with the build number NPG47I. The rollout has already started for the Pixel, Pixel XL, Pixel C, Nexus 5X, Nexus 6P and Nexus Player devices that are enrolled in the Android Beta Program. It's unclear what changes will come with this update, but we will keep you updated as we find out.
How to get the latest version of Android Nougat (7.1.2 public beta 2):
Enroll your device in automatic OTA updates through the Android Beta Program.
Download the images for the public beta from Google when available, and flash your device manually.
Android 7.1.2 Nougat public beta known issues
Since this is a beta, there may be issues with stability, battery life or performance. Google mentioned a few known issues in their release notes.
General issues:
Quick Settings not being visible in some cases on Pixel C devices, the Pixel launcher crashing while searching apps when a physical keyboard is connected, occasional UI hangs and Wi-Fi stability issues.
Setup Wizard issues:
A black screen between the boot animation and Setup Wizard, Wi-Fi turning itself off after completing Setup and SMS messages not being transferred when transferring device-to-device. If these issues cause you too much trouble, you can uninstall the beta by following the directions from Google.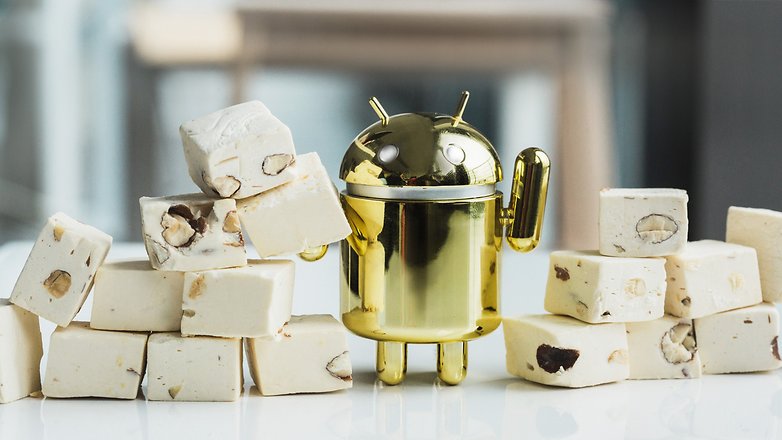 Android 7.1.2 Nougat public beta new features
There aren't too many details on new features with the 7.1.2 release. Android's VP of Engineering Dave Burke said in a blog post on January 30 that "Android 7.1.2 is an incremental maintenance release focused on refinements, so it includes a number of bugfixes and optimizations, along with a small number of enhancements for carriers and users." It is currently a public beta, but the final release is coming soon, according to the blog post it will come in a couple months for the Pixel, Pixel XL, Nexus 5X, Nexus 6P, Nexus Player, and Pixel C devices.
Android 7.0 and 7.1 distribution
Android Central has suggested that Android 7.1.2 will finally be officially rolled out on April 3 after being in beta testing since the end of January this year. The largest carrier in Canada, Rogers, has been testing out the Voice over LTE service on Google Pixel phones within its network with the 7.1.2 beta release. Recently, it's been calling for its Pixels to get an update that would enable VoLTE - and this on April 3. The previous iteration, Nougat 7.1.1 did not have this feature enabled.
The latest figures from Google in March 2017 show that Android 7.0 and Android 7.1 distribution has doubled since February, but don't be too impressed: it has now rolled out to just 2.8 percent of all Android devices. The Marshmallow version of the OS is still the most widely used at the moment, with it running on nearly a third (31.3 percent) of Android devices.
With more devices set to receive the update to Nougat and manufacturers finally getting around to rolling out their own tweaked versions, we expect that number to continue to grow pretty quickly.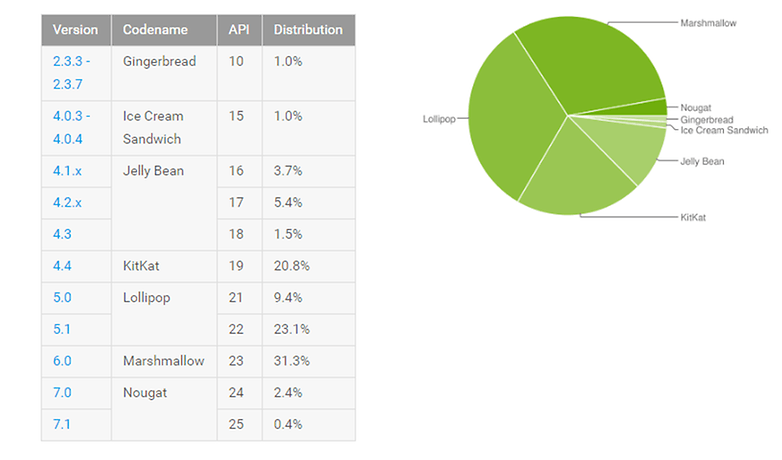 Android Nougat features (7.0 and up)
Android Nougat, starting with 7.0, offers a lot of great new features that we didn't get in Android 6.0 Marshmallow. Performance, security and productivity were all improved by adding a bunch of new features like file-based encryption and seamless updates. Notably, native VR support was added with Daydream.
Now let's take a look at some of the great features that come with updating to Nougat.
Android VR and Daydream
Native support for VR has been formally introduced. Daydream, a platform for mobile VR comes with a set of specs phones have to meet in order to be compatible. Many manufacturers are making Daydream-ready devices, including Samsung, HTC, LG, Xiaomi and Huawei.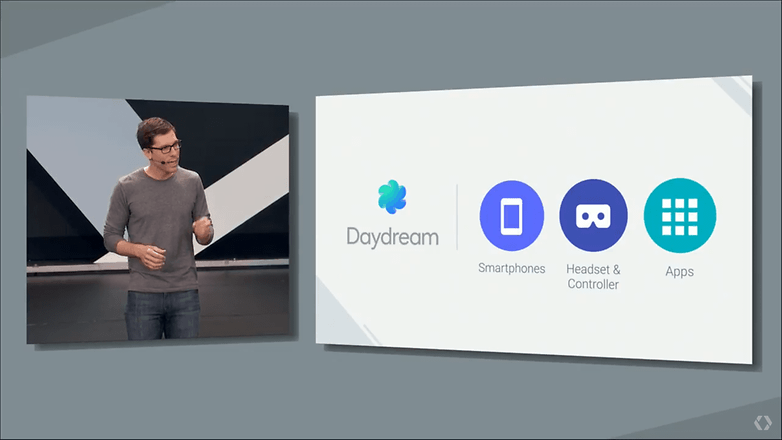 Menu between the system settings
A hamburger menu button (the icon with three lines) has now been embedded into the system settings. When a user is in the Bluetooth menu, for example, they can quickly jump to the other system options using this left side menu. This menu is already a standard in other Google applications.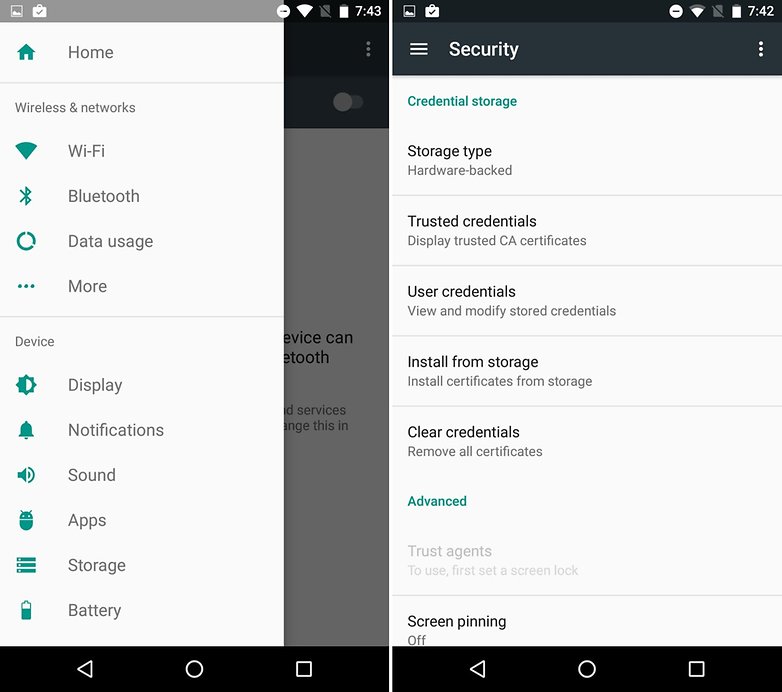 Reply to messages from the notifications bar
Of the new additions, this is possibly the feature which most resembles Apple iOS. Messages can now be answered from the notification itself. With this, the user will not need to leave an app to answer a message or even unlock their phone.
Multi-window mode
Google has been working hard to bring a native and efficient multitasking system to Android. Although the function was eventually omitted from Android 6.0 Marshmallow, with Android 7.0 Nougat, Google now seems ready to make the leap.
The image below shows the multi-window feature, which works on both tablets and phones and mirrors what you can currently get on some Samsung and LG devices.
Like most major platform changes, developers will have to opt in for the split screen mode to allow their apps to run smoothly.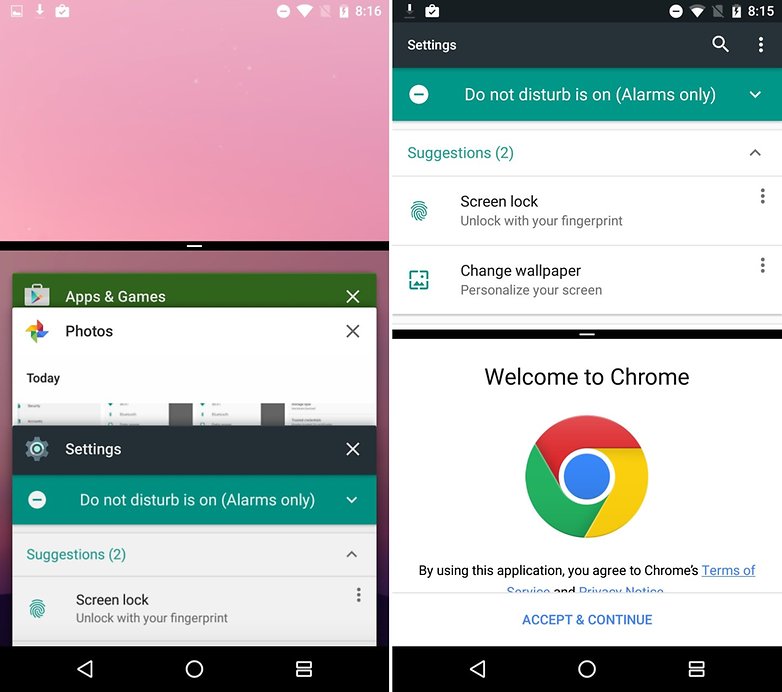 This attribute allows developers to specify the minimum size the app can be resized to and to determine whether resizing will be immediate or the application needs to restart with the required dimensions.
New Notifications panel
The notification panel has been completely redesigned, perfectly aligning with what we had seen in earlier leaks. Icons above the notification shade are now more prominent, and on the far right there is a drop-down toggle to expand the panel.
It is now possible to respond to messages directly from within a notification, a feature that uses the same RemoteInput API that Android Wear makes use of.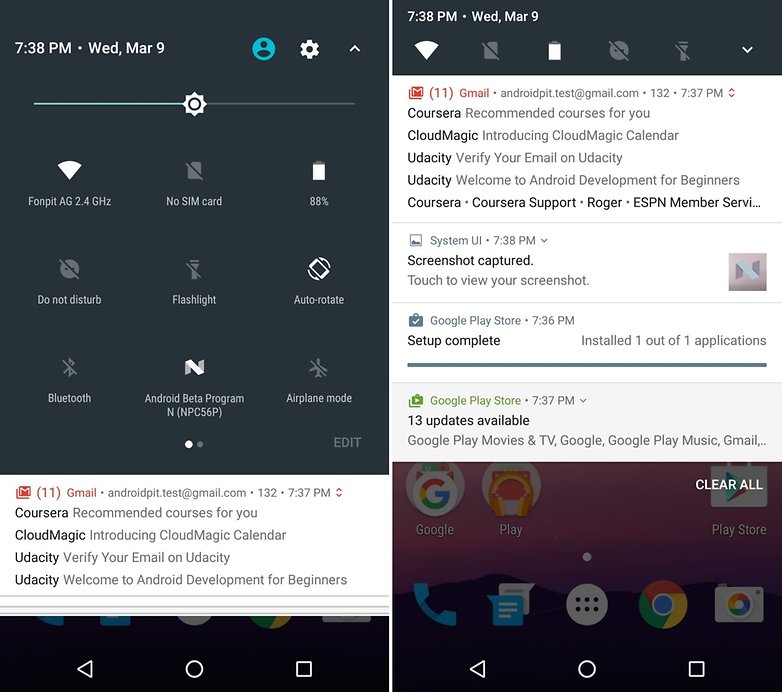 Enhanced Doze mode
The energy saving mode Doze has been improved in Android 7.0 Nougat. Previously, the feature had only worked when the phone had remained completely undisturbed for a long time, i.e. when you're sleeping, but now Google says Doze will also save battery anytime the screen is turned off.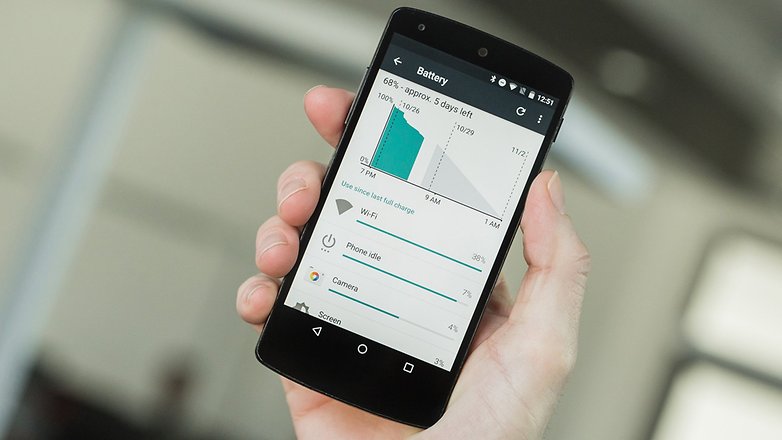 A Nougat Easter Egg shows a cat emoji
The Easter Egg is now more colorful and you can see a cat emoji or a 'no' sign (which kind of looks like a 'no parking' sign) underneath the Nougat logo. To get to it, go to the Settings and repeatedly tap on the Android version. From there you should see the 'N'. Pressing and holding this several times should produce either a cat emoji or the 'no' sign.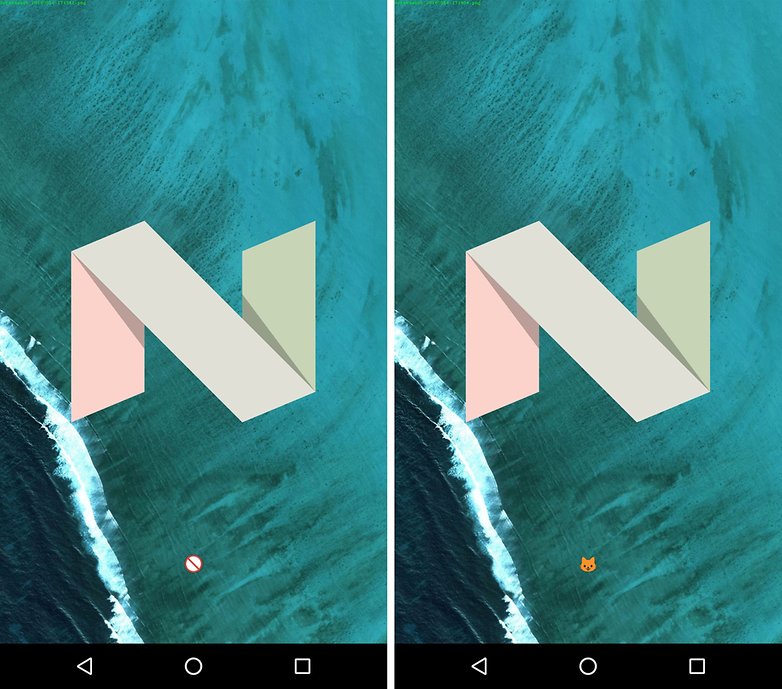 Enhancements to Google Now Launcher
In Android 7.0 Nougat, Google made two improvements to its Google Now Launcher. You can use a pinch gesture on the home screen to bring up the overview page, where, at the bottom, options for wallpapers, widgets and settings appear. And, at last, app options when dragging apps from the home screen and the app drawer are consistent. The options are now Remove / Cancel, Uninstall and App info. A minor but very welcome change.
Menu shows whether an app was installed from an APK or the Play Store
Information on the origin of an app has been made visible in the menu. So you can find out whether an app was installed via an APK or through the Play Store. This gives could be valuable information if you're looking for an app that is causing trouble.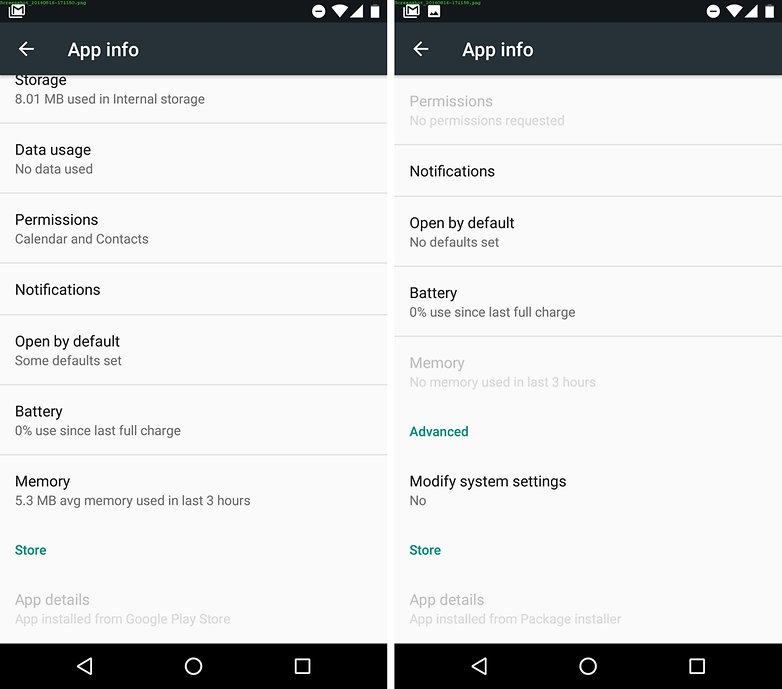 What do you think of Android Nougat? Do you have the latest version? Let us know in the comments.