Amazon Echo Spot review: An AI video assistant for your bedside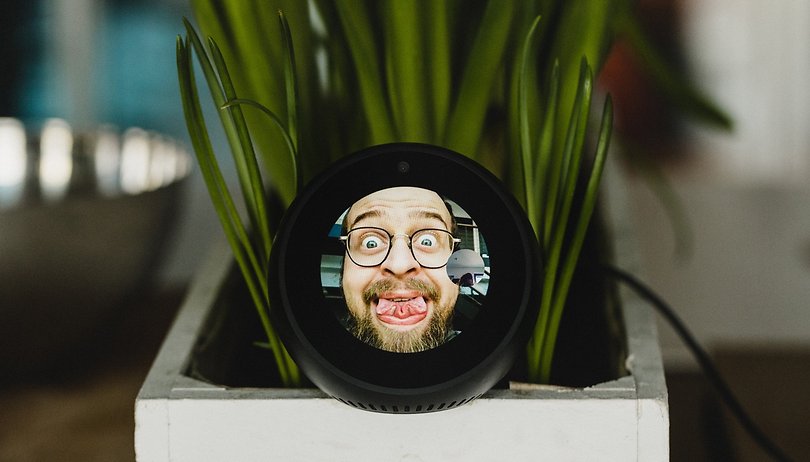 The Echo Spot is here. The newer and more chic version of the Echo Show spent a few days in my kitchen and frightened my wife every now and then. With the drop in feature I was able to virtually spring into the kitchen at any time and see what was going on. Yes, this sounds like total surveillance and a great deal of mistrust, but the device can be configured in a friendlier way, which turns this product into a real game changer.
Good
Compact format

Fair price

Easy set-up without a smartphone

Bluetooth and minijack to connect with better speakers
Release date and price
The Echo Spot is available on Amazon in black or white for $129.99, and if you buy two Echo Spots you'll receive $40 in your Amazon shopping cart. There isn't a comparable compact voice assistant with a remote video function available yet on the market. One alternative is the bigger Echo Show, which has a 16:9 display, but it's significantly more expensive at $229.99.
Design and build quality
The Echo Spot has measurements of 4.1 x 3.8 x 3.2 inches and weighs just under one pound. The circular 2.5-inch LCD display is on the front and is slightly tilted upwards. It is surrounded by an LED ring and lights up. The colors indicate whether the voice assistant is listening and whether the microphone is on mute.
Blue ring: Alexa is listening
Orange ring: Microphone is off
Moon symbol: 'Do not disturb', calls and the drop in feature are rejected.
With its format and the start screen preset to 'analog clock', the Echo Spot lets you know exactly where it wants to stay: right next to your bed. But it's up to you whether you always want a listening microphone and a webcam next to you as you sleep.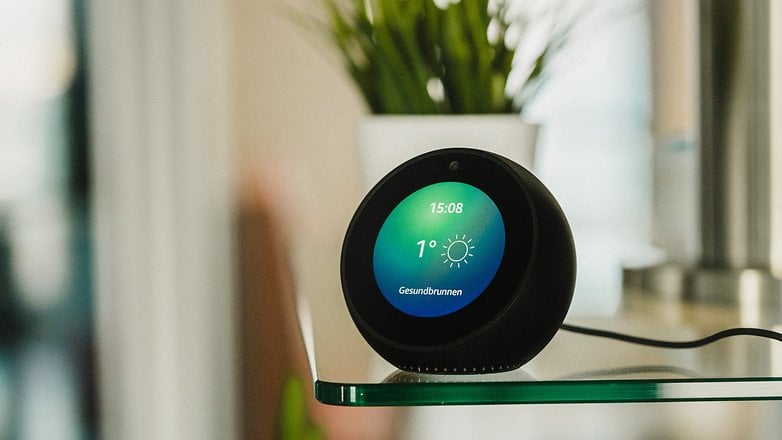 Display
The small round display distinguishes the Echo Spot from the closely related Echo Dot. It's touch-sensitive, its brightness can be adjusted and it can also be switched off completely. Best of all, the Echo Spot can be set up without a smartphone thanks to the touchscreen display. However, a smartphone or computer can be of great help for configuring music services.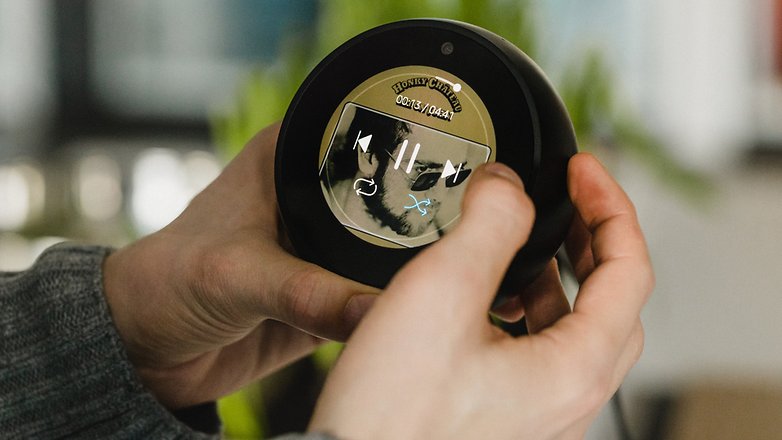 Menus, operating elements and screen fonts are always displayed in such a large format that they can be read and used easily. The round shape is also easy to hold onto, and all apps are designed with this shape in mind so that nothing disappears in the corners.
Software
In addition to the traditional Echo functions for voice control of your smart home devices, calendar entries, shopping lists and purchases on Amazon, Amazon is now extending your options for personal communication. Together with the larger Echo Show and several Echo Spots, you can set up a small network of video intercoms at home.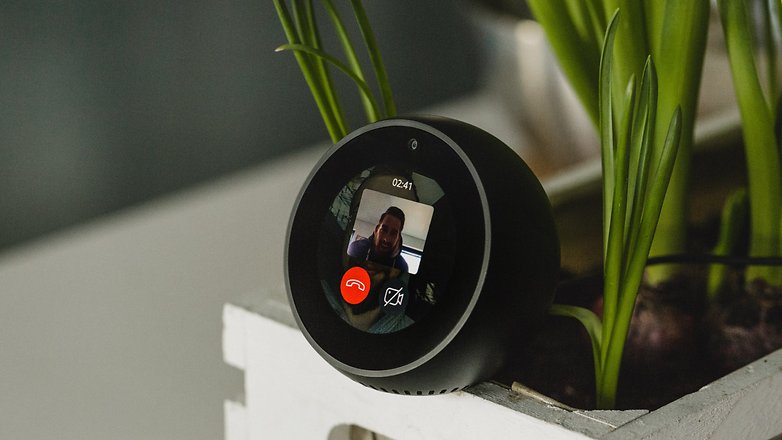 You can reach all your Echo Spots and Echo Views from other Echo devices as well as through the Alexa app, either by phone call or simply by dropping in. The drop in is the same as 'entering without knocking', because the camera, screen, microphone and speaker of the Echo Spot will turn on as you drop in from your smartphone. For better or worse, a video chat will start immediately and then you can see and hear one another.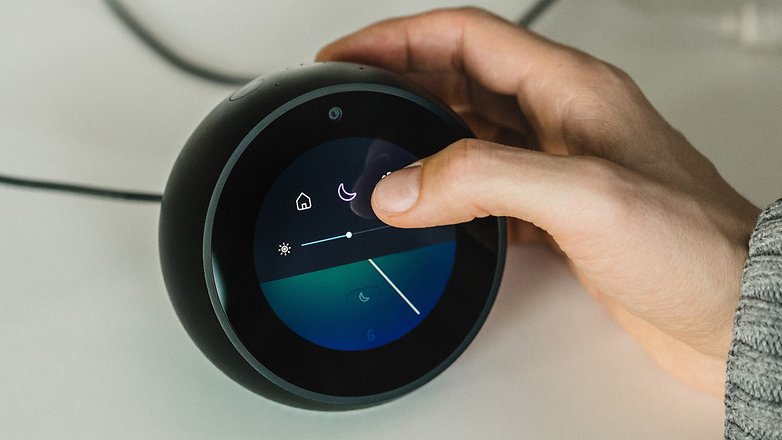 In my test at home, I called all my devices (which are in my home and in the AndroidPIT office) at the same time. My colleague Luis, who was already in the office that morning, was from there able to take the call unexpectedly and see me while I was still half-naked. That was a little embarrassing, but how you can avoid something like that? You need to configure the device. You can avoid situations like this through two methods:
Luis could've turned on the 'Do not disturb' function in the office to make the Echo View in the office unavailable. In this case Echo devices just listen for the activation word 'Alexa' (which can also be changed to 'Amazon', 'Computer' or 'Echo'). The microphones can also be muted: this works the same way as in the Echo Dot. There's a physical button on top and in the middle, with a symbol of a crossed out circle.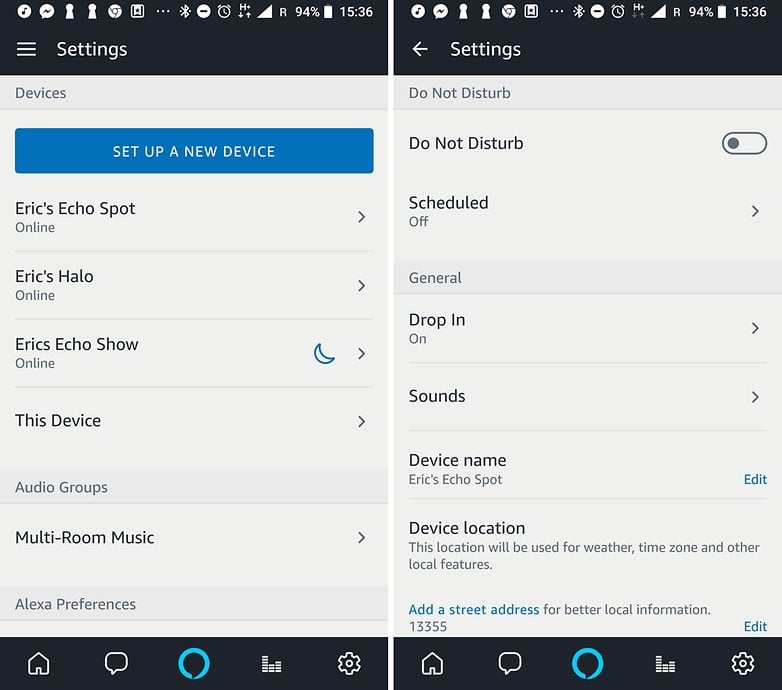 The truth is I should have checked beforehand to see that the Echo View in the office was in 'do not disturb' mode. Since when I call myself with the Alexa app or with an Alexa-capable device, all my other devices will ring that aren't in 'do not disturb' mode. Oh and by the way, you can also remotely reset your Echo devices to their factory settings.
Of course, the Echo Spot also offers the other customary Alexa features like voice commands, smart home compatibility, Skills, and all the rest. You can also link Alexa with the Philips Hue. It's a piece of cake to set up the Spot, thanks to its touchscreen display, and you don't even need a smartphone to do it. Updates will come automatically in the background so you don't need to worry about it. The software will just magically get better and better.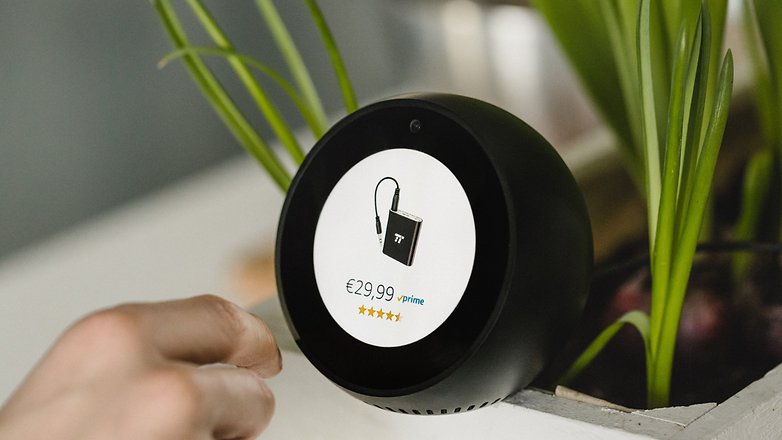 Of course, Amazon devices are inevitably linked to Amazon's store. Thankfully, they offer protection so that your kids won't be able to order any toys while you're not at home. This can be controlled through the app (there's a web app!) under the Voice Purchasing Settings.
Audio
Since the Echo Spot's sound comes from a single 36 mm high frequency driver, you shouldn't expect hi-fi sound. Amazon has focused on voice quality and above all on high quality microphones. After all, Alexa should be able to have an easy time understanding you.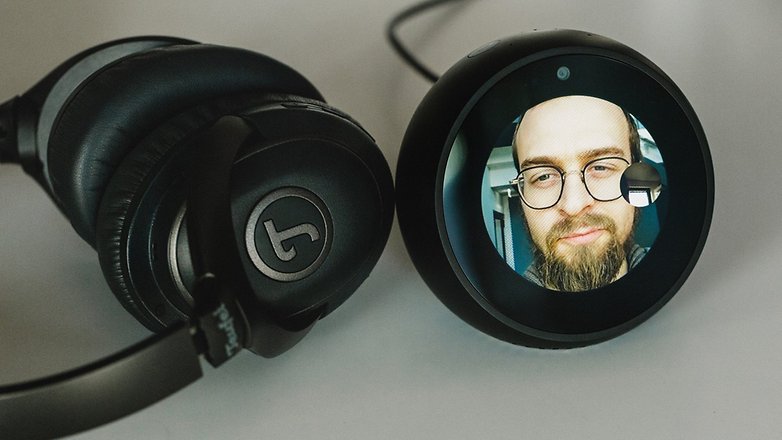 In contrast to the Echo Show, the Echo Spot offers a headphone jack for connecting external speakers. In addition, it offers the option of connecting Bluetooth devices, especially better speakers or headphones. Unfortunately, you can't use headsets connected to the Echo Spot for making phone calls.
We found a lack of volume control in the test device. Even the minimum adjustable volume was too high for video calls and the volume can also be set excessively high. Amazon needs to improve on this with a software update.
Final verdict
You can have a lot of fun with the Echo Spot, but you need to adjust the settings from the start so it doesn't lead to any problems. The standard settings are definitely not to everyone's liking, but thanks to the helpful communication features, the little assistant can open up completely new ways of interacting.
The Echo Spot offers enormous added value. It has never before been so easy to place a family camera in common rooms and then quickly see friends and family when you need them. Dropping in is a matter of mutual consent, but also a stroke of genius in digital communication. It is the first unique Echo device feature to truly add value, totally independent of Alexa, AI, Smart Home and all the other buzzword features that come with it.