Redmi Note 12 Pro+ Review: More than Enough Power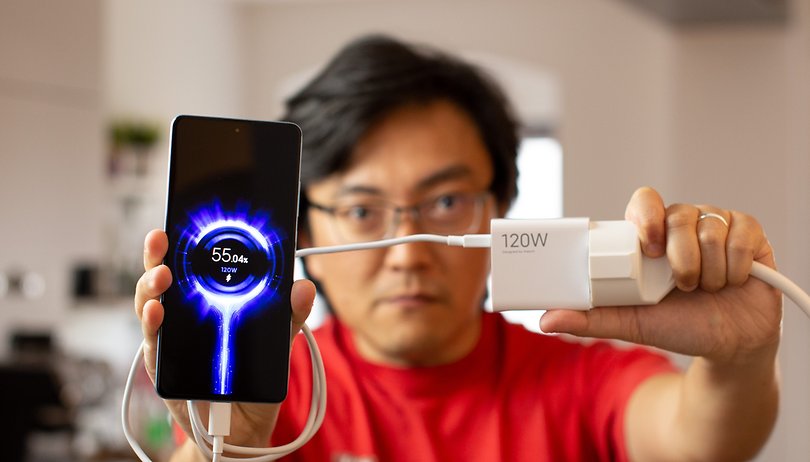 Xiaomi brought its full package of superlatives to the mid-range market with the Redmi Note 12 Pro+: an updated processor, very fast charging, and 5G support. But it is the 200-megapixel camera that steals the spotlight. Is it worth the extra bucks over the regular Note 12 Pro? Check NextPit's full review to see how the Xiaomi phone stacks up.
Good
Smooth 120 Hertz AMOLED screen

Good performance in daily tasks and games

Nice pictures overall from the camera

Truly fast charging

Headphone jack
Bad
Lots of preinstalled apps

Software support lags behind its main rival
Price and availability
The Redmi Note 12 Pro+ was globally launched on March 23, together with the other three models targeting Western audiences. Although very similar externally to the regular Redmi Note 12 Pro, the Plus model packs a superior memory configuration, faster wired charging, and a 200 megapixels camera sensor below the $500 price range.
As in past seasons, Xiaomi's mid-ranger is positioned against Samsung's Galaxy A models, namely the Galaxy A54, which has yet to be reviewed by NextPit. Both phones are slowly moving towards more premium experiences, but while Samsung emphasizes its long-term software support, Xiaomi is increasingly packing big numbers on the spec sheet.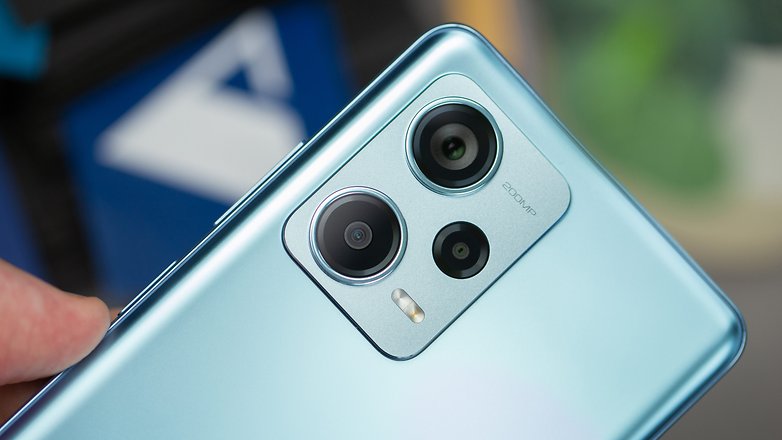 More than 100 megapixels/watts/hertz... Not so long ago those were features marketed to sell flagship phones like the Xiaomi 11T Pro reviewed in October 2011, now they are available at a lower price range. Unless of course, you live in the US, where the phone won't be officially sold...
Design and display
With a 6.67-inch screen, the Redmi Note 12 Pro+ is a large phone, yet it feels incredibly light in my hands, especially considering its 5,000mAh battery size. Featuring a flat display and a biometric sensor integrated into the side-mounted power button, it sits securely in hand, and the buttons are easily reachable. Another highlight is the AMOLED screen with FHD+ resolution with up to a 120Hz refresh rate, all in a phone that costs under $500.
---
Pros:
It feels impressively lightweight.
Up to 120Hz refresh rate.

It comes with a headphone jack.

Corning Gorilla Glass 5 resistant.
Xiaomi includes a case in the box.
Cons:
---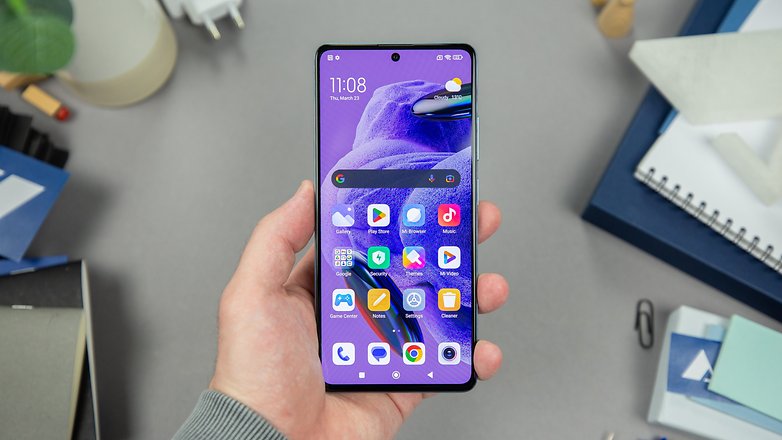 The camera module on the back of the device is discreet, and the phone features a textured surface that Redmi claims is a new material created using an advanced CMF process and polished glass. We received the Sky-Blue color variant for testing, and it strikes a good balance between looking sophisticated without being overly flashy. The Redmi Note 12 Pro+ 5G is also available in Polar White and Midnight Black.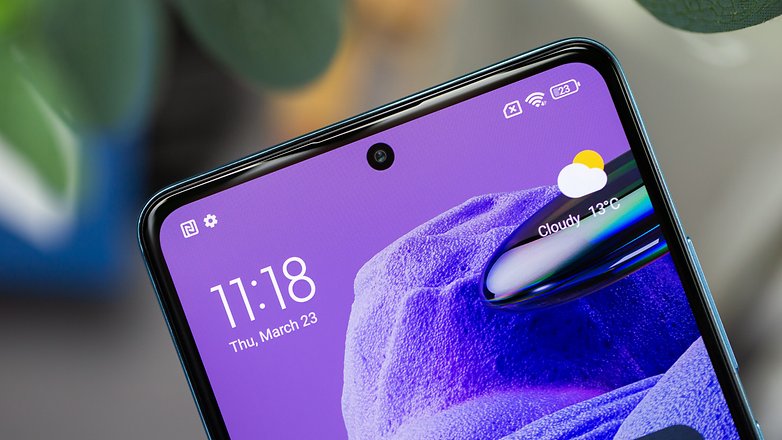 Redmi states that the display boasts a 900-nit peak brightness and delivers over 1 billion colors. It also supports Dolby Vision. Without delving too deep into the display settings, the Redmi Note 12 Pro+ is readable outdoors with its bright AMOLED panel. As expected from a 120 Hz display, animations are fluid, but as with all mid-range phones, the panel cannot freely adapt its refresh rate.
Finally, for those on the hunt for a mid-range device that supports wired headphones, guess what: the Redmi Note 12 Pro+ comes with a headphone jack port, the same cannot be said for the Samsung alternatives.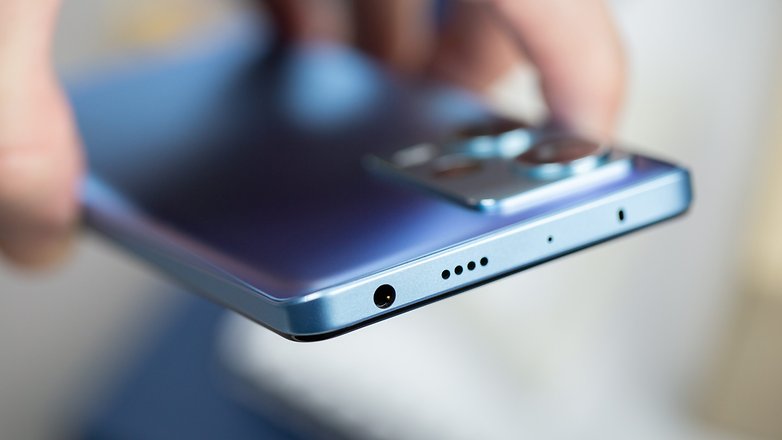 Xiaomi Redmi Note 12 Pro+ performance
The Redmi Note 12 Pro+ packs the MediaTek Dimensity 1080 processor, which besides offering a good balance between performance and efficiency cores, also includes 5G support. Similar to other phones in this price range, Xiaomi doesn't aim to break speed records, resulting in stable performance in daily tasks and games.
---
Pros:
Good, stable, performance.
Cons:
---
Benchmark results from the Redmi Note 12 Pro+ show a performance level on par with other phones in this price range, including the recently reviewed Galaxy A34, powered by the same Dimensity 1080 SoC. The Samsung mid-ranger managed to score consistently higher on the Geekbench test (out of 5 test runs), but the scores were still within the margin of error.
Redmi Note 12 Pro+
(Dimensity 1080)
Samsung Galaxy A34
(Dimensity 1080)
Redmi Note 11 Pro+ 5G
(Dimensity 920)
Nothing Phone (1)
(Snapdragon 778G+)
3D Mark Wild Life
2273
2300
2077
2809
3D Mark Wild Life Stress Test
Best loop: 2,281
Worst loop: 2,268
Best loop: 2,279
Worst loop: 2,265
Best loop: 2,092
Worst loop: 2,080
Best loop: 2,832
Worst loop: 2,816
Geekbench
(v6)
Single: 965
Multi: 2,408
(v6)
Single: 1,035
Multi: 2,505
(v5)
Single: 741
Multi: 2,224
(v5)
Single: 796
Multi: 2,889
Thankfully, the Redmi Note 12 Pro+ offers a reasonable performance uplift in relation to its predecessor, but still, nothing that makes it worth upgrading from a perfectly capable Redmi Note 11 Pro+ 5G.
Just like Camila mentioned in her hands-on with the device, the Redmi Note 12 Pro+ offers a stable performance under demanding tasks, highlighted by the results in the 3D Mark Wild Life Stress Test benchmark. Again, something we expect from a mid-range phone.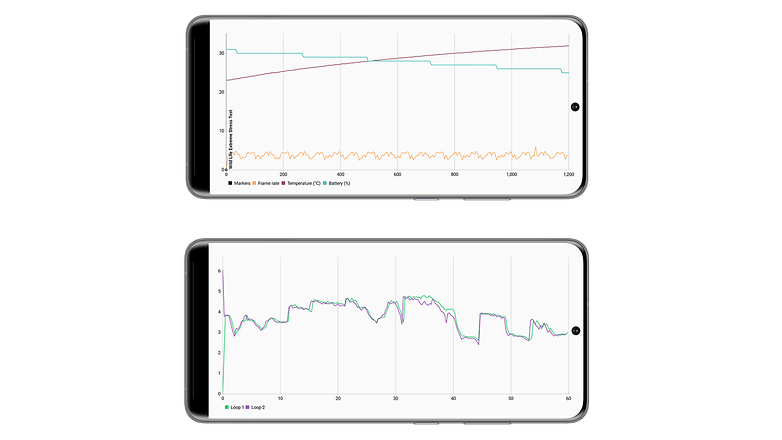 In practice, the Redmi Note 12 Pro+ doesn't disappoint, with good performance for daily tasks, thanks in part to its ample 8 GB of LPDDR4x RAM and 256 GB of UFS 2.2 storage supporting the MediaTek CPU.
Gamers will find the usual tradeoffs on the Xiaomi Redmi Note 12 Pro+: As long as you avoid max graphical settings, you should have pretty reasonable performance, without the overheating issues associated with flagship devices.
Xiaomi Redmi Note 12 Pro+ camera
Xiaomi's main selling point for the Redmi Note 12 Pro+ is clearly the main camera, with its 200 megapixels Samsung Isocell sensor, the Chinese brand is once again firing the first shots in another megapixel battle, not unlike it did a couple of years with its Mi Note 10 Steffan reviewed at the end of 2019. After being beaten to the first cameraphone with 200 megapixels (with questionable results from the Moto Edge 30 Pro), Xiaomi can now claim to have the first mid-range phone with a 200 MP camera.
---
Pros:
Good performance in daylight.
Ultra-wide pictures are not washed out like on other mid-rangers.
Cons:
2 MP macro camera is not that useful.
Selfies are over-processed.
---
And that is basically all Xiaomi has to offer in the camera department. There is an 8 megapixels ultra-wide lens, and that ever-so-popular 2 MP macro camera. Selfies are taken care of by a 16 MP sensor. Overall, a similar selection for the mid-range market.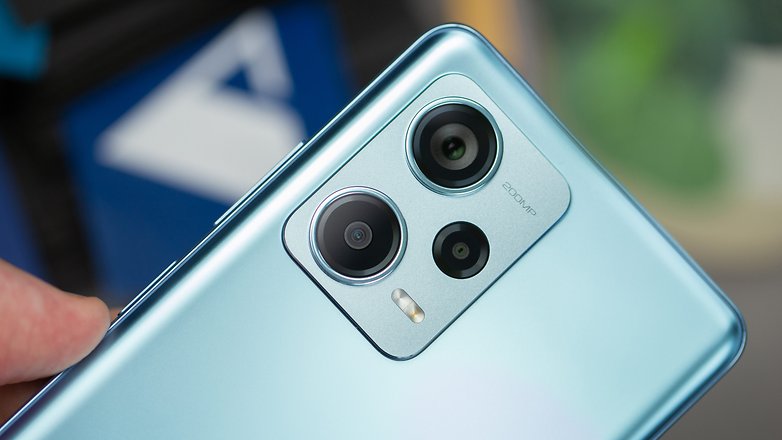 Overall, the pictures taken with the Redmi Note 12 Pro+ were good, especially during daylight, with a good level of detail and not much noise (this last point also on ultra-wide-angle shots). Night pictures (taken by my colleague Camila Rinaldi in the gallery below) were also pleasant, with decent results both with Night mode on or off.
As expected, the 200-megapixel sensor results are not superior to a similarly sized 50 or even a 12 MP component, like the one found on the Google Pixel 6a NextPit reviewed last year. By default, the Note 12 Pro+ camera saves pictures with a 12.5 MP resolution, using a 16-pixel-binning technique, but users can select a 50 MP mode in the Pro setting.
Different from what we usually see on other phones in this category, ultra-wide-angle pictures did not have a washed-out appearance, on the opposite actually: colors were slightly more saturated than on the main camera but still with good results, with only a small level of distortion in the corners.
The two-megapixel macro camera performed as expected, with a low level of detail thanks to the low resolution. And Xiaomi's camera app still treats macro as a second-class citizen, with the shortcut for the lens hidden in the app's settings, instead of being (rightfully) treated as a mode, like in other camera applications.
As for selfies, pictures were usually good, but Xiaomi's tendency to over-process images showed up once again, with slightly unrealistic skin tones in the test photos. Portrait mode for the front camera performer as expected with good separation between subjects, and only some loose hair strands not being properly detected.
Battery life and software
The other Redmi Note 12 Pro+ highlight is the charging department, with the 120 W HyperCharge tech inherited from the Xiaomi flagships. The technology works as advertised, though we couldn't replicate the brand's "under 20 minutes charging" claims. The software side, on the other hand is one of the low points for the device, specially because of the amount of bloatware.
---
Pros:
Truly fast charging.
Charging adapter is included in the box.
Good battery life.
Cons:
Lots of unnecessary preinstalled apps.
---
Besides the quick charging, the 5000 mAh battery offered enough juice for more than a day of regular usage. Frugal users could easily reach two days of battery life. But even hardcore users won't see the low battery symbol for too long because of the 120 W charger included in the box.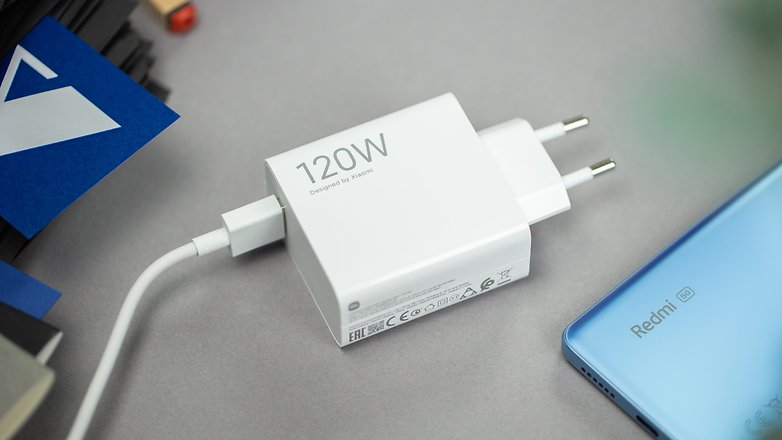 In our testing, the Redmi Note 12 Pro+ reached a full charge in just over 30 minutes. Although far from the promised charging time, it is still less than half of the waiting time necessary for the Galaxy A34—which got very similar scores on the PC Mark battery test—as the table below illustrates:
Charging
Redmi 12 Pro+
Galaxy A34
Galaxy XCover 6 Pro
Galaxy A53
5 minutes
30 minutes
1 hour
Full charge
PC Mark Battery test

10h57 (120fps)
17h05 (60fps | adaptive battery | airplane mode)
Those looking for wireless charging support will be disappointed, but as the feature is not usually found in mid-range phones, we don't use its omission to deduct points from the overall score.
Software
What took points from the Redmi Note 12 Pro+ score was the software side. Not only does the phone includes a large number of bloatware, some of the first-party apps still include ads—most of which you can thankfully disable. Who needs three web browsers installed by default?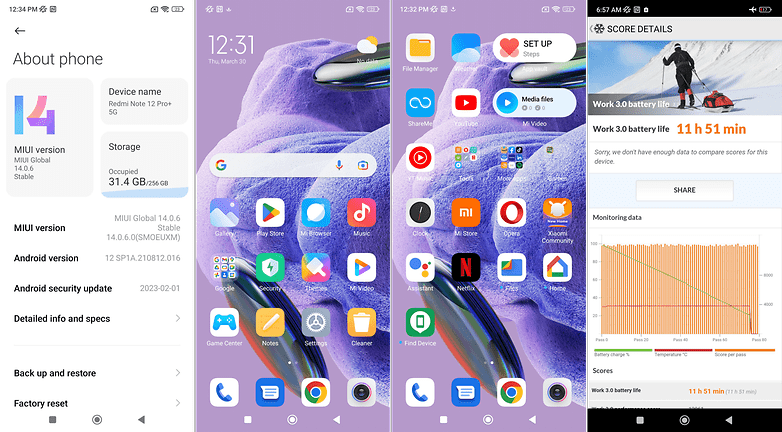 From the factory, the Xiaomi mid-ranger comes with the latest MIUI 14 based on Android 12. Although it is not the latest Google operating system, the number of changes made by Xiaomi, both on the features and visual aspects, make it almost a non-issue—a point sometimes raised by the brand's fans.
Still, Samsung offers a better update policy than Xiaomi, with more Android upgrades and security patches for more years. And on recent years, a shorter gap between the time Google launches a new Android version and its arrival on the Galaxy A line.
Xiaomi Redmi Note 12 Pro+ technical specifications
Specifications
Name of the device
Figure
Screen
6.67-inch AMOLED display
2,400 x 1,080 pixels (FHD+)
120 Hz refresh rate
900 nits peak brightness
Corning Gorilla Glass 5
Dimensions
162.9 x 76 x 8.98 mm
Weight
210.5 g
SoC
MediaTek Dimensity 1080
Memory
8 GB LPDDR4X RAM
256 GB UFS2.2 ROM
Software
MIUI 14 based on Android 12
Expandable memory
No
Main camera
200 MP | f/1.8 aperture | 1/1.4 inch | f/1.65 aperture | OIS, Portrait and Night mode
Ultrawide camera
8 MP | f/2.2 aperture | 119° field of view
Macro camera
2 MP | f/2.4 aperture
Selfie
16 MP | f/2.4 aperture
Video
Main camera: 4K@30fps, 1080p@30/60/120fps, 720p@960fps
Selfie camera: 1080p@30/60fps
Audio
Dual Speakers
Dolby Atmos
3.5 mm headphone jack
Battery
5,000 mAh
Charging via cable
120 watts HyperCharge
Wireless charging (Qi)
No
IP certification
IP53 Splash-proof tested
Connectivity
Wi-Fi 6, dual 5G,
Bluetooth 5.2 (aptX HD, aptX, LDAC, LHDC, AAC, SBC),
USB Type-C
NFC
Colors
Midnight Black, Polar White, Sky Blue

Other points that may interest the NextPit community:

The Redmi Note 12 Po+ includes NFC support and is compatible with Google Pay for contactless payments.
The review unit packaging included the 120 W charger, a USB-A to USB-C charging cable, a protective cover, and a SIM card tray tool.
The software version during the test was 14.0.6.SMOEUXM (February 2023 security patch).
After resetting the updated handset, the operating system indicated 31.4 GB of used space.
Final verdict
The Xiaomi Redmi Note 12 Pro+ is a competent mid-range phone in the middle of an apparent stagnation of its main rivals. The Chinese brand presented its usual flaws on the software side and even on the questionable inclusion of a macro camera with only two megapixels.
But if you ignore (or are used to) that, Xiaomi really tried to move the mid-range market forward with its superlative numbers on the spec sheets. We may argue about how many megapixels or watts are too much—admittedly with questionable results in the camera section—, but in the Redmi Note 12 Pro+'s case, they don't result in worse results because of that, and in the charging case even offer a real benefit for end users.
With that in mind, more than the camera, the main selling point of the Redmi Note 12 Pro+ in the mid-range market is the charging speed. It offers a measurable differentiating factor before its Samsung rivals, besides including the adapter in the box. As for the camera, similar to our conclusion on the Galaxy A34 review, if you are looking for a camera phone in this price range, I strongly recommend you look at one of the many deals on both the Pixel 6a and Pixel 7 to snatch a better photography experience.
It is getting increasingly difficult to stand out in a market segment that is going through one of its many stagnating periods but we must commend Xiaomi for keep pushing the envelope, even if the results don't necessarily align with our wishes. The Xiaomi Redmi Note 12 Pro+ (phew) may not bring the same evolution jumps brought by its predecessors, but it still stands out as a solid option in the mid-range market today.