MIUI 14: Xiaomi's timid update falls short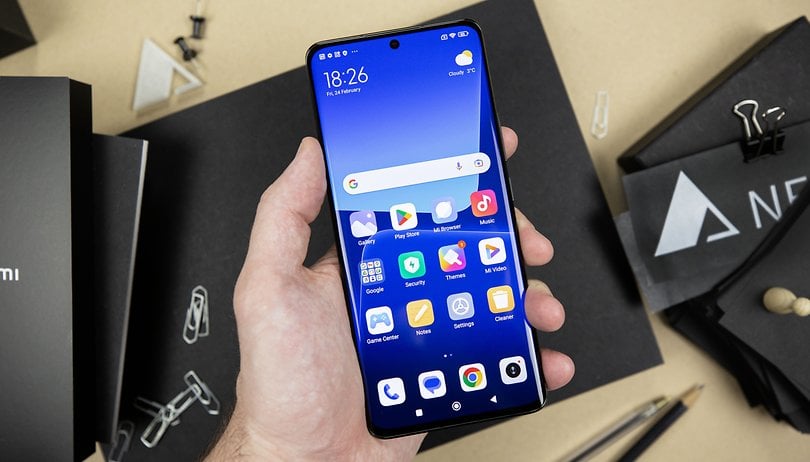 Xiaomi has just made official the global and stable version of MIUI 14 along with the Xiaomi 13 Pro (review). We were able to test the new interface of Xiaomi under Android 13. New features, new design and widgets. We take stock of what the MIUI 14 update brings.
For this review, we used MIUI 14 in global and stable version on the Xiaomi 13 Pro. MIUI 14 will be rolled out in waves to the rest of the manufacturer's smartphone fleet, as usual. You can check out our list of Xiaomi models eligible for the update to MIUI 14.
MIUI 14: Design
Visually, I don't find that MIUI 14 brings many changes. This is largely because many new features of the Chinese ROM have simply not been implemented in the European ROM.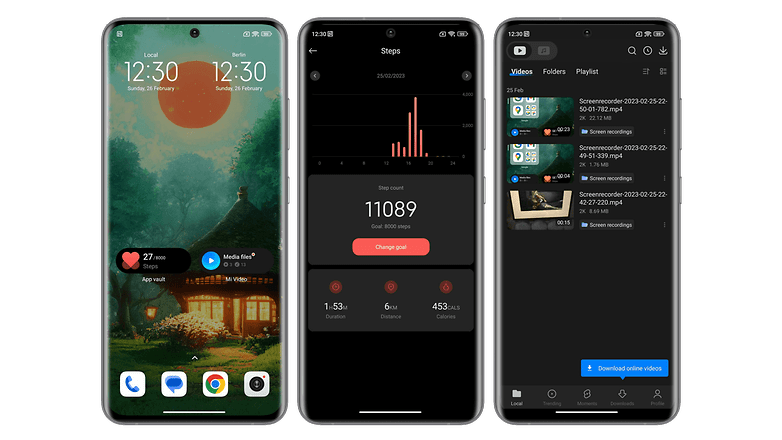 If Xiaomi updates all this after the official launch, I'll obviously talk about it in my full MIUI 14 test. But we don't have the new widgets of MIUI 14.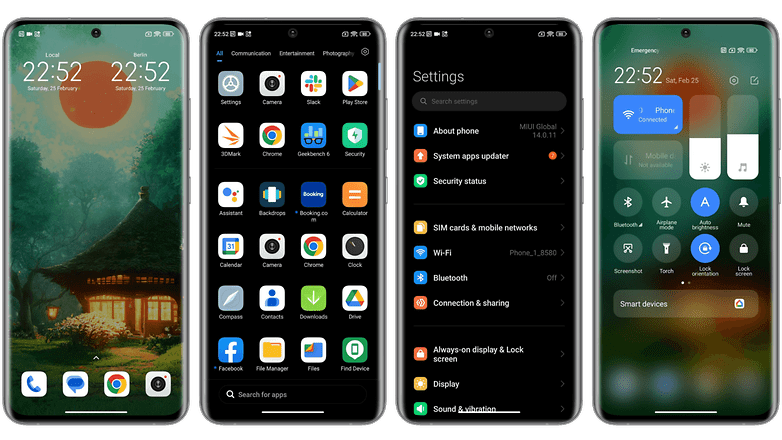 On the other hand, we have the new wallpapers. In all, Xiaomi offers four new collections with a total of 28 wallpapers. I found some of them very nice.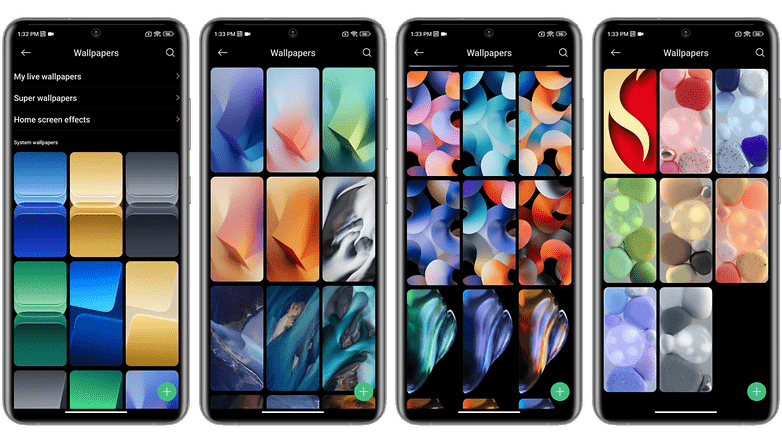 I also think it's a shame that Xiaomi didn't implement dynamic themes and themed icons to synchronize the interface color to the dominant color of your wallpaper.
At least we have the new Android 13 media player that fits very well in the notification pane or on the lock screen. The bubble is larger and more airy. It also displays the album cover of the currently playing song in a more visible way.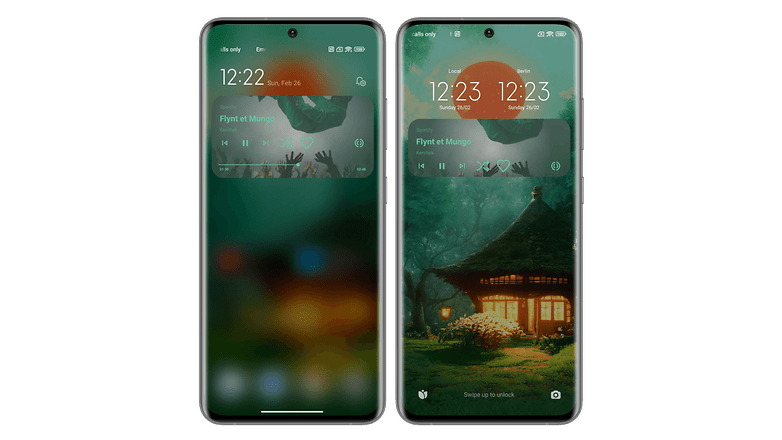 MIUI 14: Features
I'll start by mentioning the dual clock widget. It allows you to display the time in two different time zones at the same time on your home screen. If you are an expatriate or work for a foreign company, this can be very useful. Anyway, I'll think about it when I'll go into tax exile in Malta or Dubai like most of the big YouTubers (yes, I know there's no time difference in Malta, it's a joke).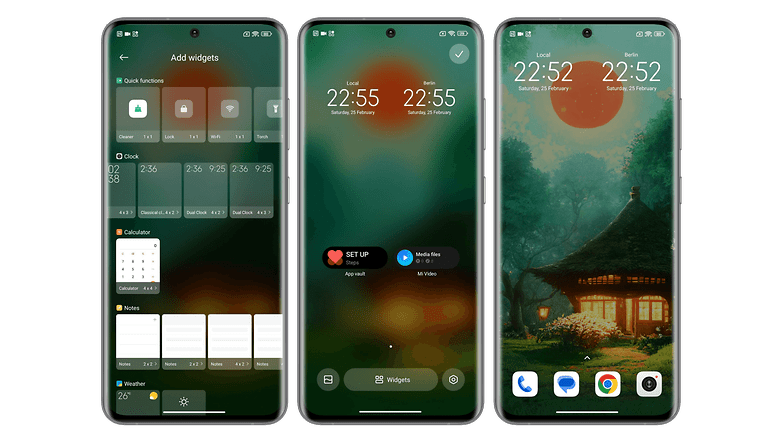 I also like the ability to enlarge the application folders, a bit like on Nothing OS. On the other hand, Xiaomi was also supposed to give the ability to enlarge individual application icons. But this option is no longer available in the stable version of MIUI 14. A real shame.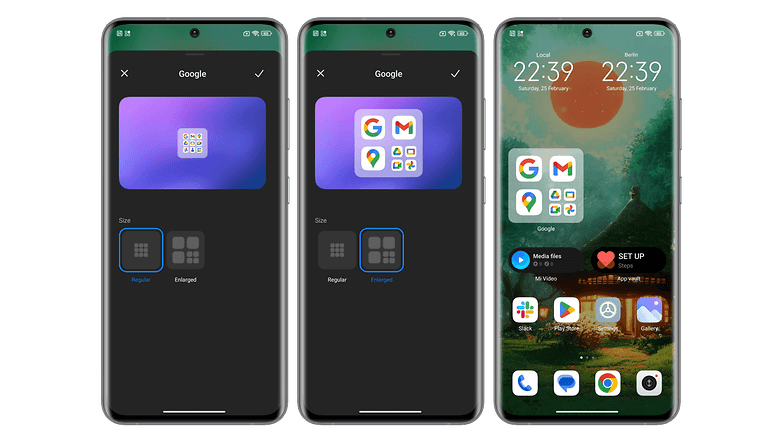 Among the other notable features brought by MIUI 14, we can mention the improvement of the windowed mode. Now you can directly switch an app into a floating window by opening it from the Side Bar (the contextual menu to swipe from the edge of the screen).
Just swipe from one of the edges of the screen (if you have activated the floating button of the Side Bar). The list of applications opens and you just have to press the application of your choice. It then opens automatically in windowed mode. There are still many gestures to pin the floating window in a corner of the screen, adjust its size and move it. It is very intuitive.
In the photo app, Xiaomi has also implemented a "voice trigger" that allows you to take a picture by saying "Cheese" out loud. It's fun, not essential at all, but it works pretty well. It's a suitable alternative to a timer for taking group photos, for example.
I'm also a big fan of a new feature in the photo gallery. It allows you to recognize the text in your photos and transcribe it. You can then copy the text, edit it or add it to a note and share it. The whole thing works quite well and the recognition seemed to me to be efficient and accurate.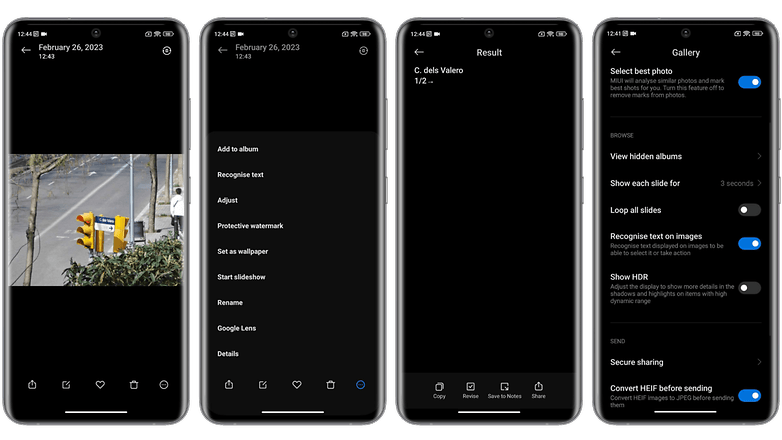 MIUI 14: Privacy
There is not much to say about the privacy of MIUI 14. Xiaomi has not made any notable changes. We find the classic range of Android features with the Privacy Dashboard, clipboard protection, etc.
Nothing new. Xiaomi boasts—and without blushing—that it has reduced the number of pre-installed applications to "only" eight. Usually, there were about fifteen of them.
It's better, but it's still intolerable to me to have bloatware and ads/micro-purchases in native applications. As usual, I redirect you to our guide to remove ads from MIUI.
Xiaomi still offers some nice features, but not new. The privacy password, for example, which allows you to protect your content every time you access a potentially sensitive application (your messages, for example).
MIUI 14: Ergonomics, fluidity and stability
Xiaomi has always focused on the fluidity of its animations. MIUI 14 ran very well on my Xiaomi 13 Pro. The animations are very fluid and you can choose from three levels of speed for opening an application (slow, balanced and fast). In fast mode and with the refresh rate of 120 Hz, it's super nice.
I haven't noticed any stability issues or experienced any bugs or crashes yet. But apart from the smoothness of animations, Xiaomi remains a rather heavy overlay.
The system occupies 14.30 GB of internal storage. And I find it still not very ergonomic to have an application for everything. Security, Music, Video, Scanner, Themes. Why have so many native apps, with different interfaces instead of integrating them as sub-menus in the setting?
I'm still not convinced by the separation of the notification pane and the control center. I keep swiping down from the left side of the screen when I should have swiped right. Yes, I know, I'm complaining, but that's my opinion. Fortunately, you can adjust this in the settings.
MIUI 14: Updates and compatibility
Xiaomi has made serious progress on its update policy. The manufacturer's high-end models now receive three major Android updates. This is particularly true of the Xiaomi 13 and Xiaomi 13 Pro. The Redmi Note, Xiaomi's mid-range flagship, receives up to three Android versions as well, while the other Redmi and Poco smartphones are two Android updates away.
On its high-end models, Xiaomi also offers up to five years of security patches. For last year's flagships, the manufacturer committed to four years of maintenance. But in general, Xiaomi offers monthly and quarterly patches over three years on its entire range.
The problem with Xiaomi is that it does not provide an official updated list for each of its models. The update policy remains essentially unofficial. So the manufacturer still has a lot of work to do.
In any case, apart from Android and security updates, almost all Xiaomi smartphones receive an average of four MIUI versions. This at least allows you to have most of the new features in each new version of the overlay.
MIUI 14: Conclusion
Like every year, MIUI remains one of my favorite Android overlay. MIUI 14 does not bring any revolutionary changes. And many of the new features—the most interesting ones like the Super Icons—are exclusive to the Chinese version.
I also find Xiaomi too slow or too reluctant to implement some of the features of Android 13 like dynamic themes and themed icons.
However, there are still many customization possibilities. The interface is excellent in terms of animations and fluidity (at least on a high-end smartphone). And Xiaomi has seriously worked to extend its update policy, which I can only welcome.
What about you, what do you think of MIUI 14? Do you think I missed something? Would you like to know more about one or more features of Xiaomi's overlay?