Xiaomi 13 Ultra vs Samsung Galaxy S23 Ultra: Flagships Compared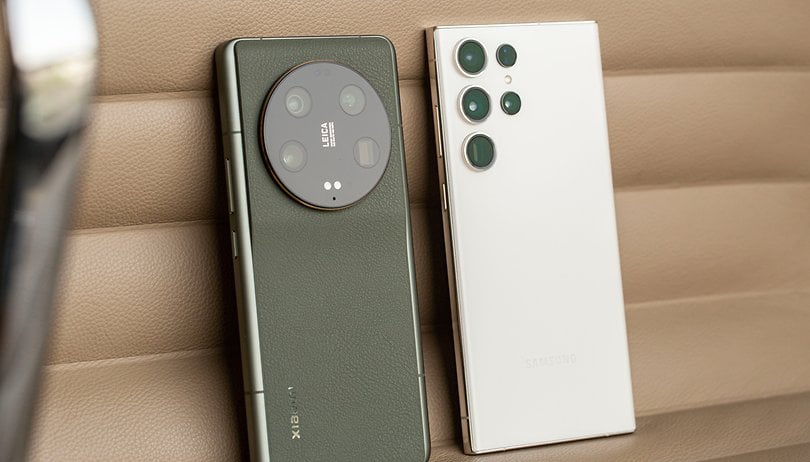 The Xiaomi 13 Ultra is finally official, and thus making it the primary challenger in the Android realm to the Samsung Galaxy S23 Ultra in the battle to wrest the title of the best smartphone of 2023. NextPit compared both models in this article, lets you know of the similarities, differences, and everything else you need to know.
Yes, the year is still relatively new and manufacturers like Apple and Google will only present their best smartphones later in the year. However, we can safely say that these two premium smartphones—the Samsung Galaxy S23 Ultra and the brand-new Xiaomi 13 Ultra—are among the best you can buy this year (for now). Let's jump right in by taking a look at the specifications:
Samsung Galaxy S23 Ultra vs Xiaomi 13 Ultra: Technical specifications compared
Samsung's flagship
Xiaomi's flagship
Device
Image

Price
from $1,199
to be confirmed
Screen
6.8" AMOLED
6.73" OLED
QHD+ 1440 × 3088 px
QHD+ 1440 × 3200 px
120 Hz LTPO refresh rate
SoC
Qualcomm Snapdragon 8 Gen 2
RAM
12 GB LPDDR5X RAM
16 GB LPDDR5X RAM
Memory
256 / 512 GB / 1 TB UFS 4.0
512 GB UFS 4.0
Expandable memory
❌
OS
One UI 5.1 based on Android 13
4 Android updates + 5 years of security updates.
MIUI 14 based on Android 13
3 Android updates + 5 years of security updates.
Camera
Main: 200 MP, f/1.7 aperture, OIS
Ultra-wide angle: 12 MP, f/2.2 aperture, FOV 120°
3x telephoto: 10 MP, f/2.4 aperture, OIS
10x telephoto: 10 MP, f/4.9 aperture, OIS
Main: 50 MP, f/1.9, 1-inch Sony IMX989, OIS
Ultra-wide angle: 50 MP, f/1.8, Sony IMX858
3x telephoto: 50 MP, f/1.8, Sony IMX858, OIS
5x telephoto: 50 MP, f/3.0, Sony IMX858, OIS
Selfie camera
12 MP, f/2.2 aperture
32 MP, f/2.0 aperture
Video
8K at 24/30 FPS
8K at 24 FPS
Battery
5,000 mAh
Wired charging 45 W
Wireless charging 15 W
Reverse wireless charging 4.5 W
Charger not included
5,000 mAh
Wired charging 90 W
Wireless charging 50 W
Reverse wireless charging 10 W
Charger included
Connectivity
5G / LTE / Wi-Fi 6 / Wi-Fi Direct / Bluetooth 5.3 / NFC
IP Certification
IP68
Colors
Black, Cream White, Green, Lavender
Black, White, Olive Green
Dimensions and weight
163.4 × 78.1 × 8.9 mm
234 g
163.18 × 74.64 × 9.06 mm
227 g
Advantages

Superb AMOLED QHD+ screen at 120 Hz refresh rate
Highly polished finish
Most versatile 200 MP camera module on the market
Snapdragon 8 Gen 2 makes all the difference
Excellent battery life which is a feat for Samsung
4 years of Android updates + 5 years of security updates
The integrated S Pen is as cool as ever

Incredibly good and flexible camera system
More grown-up with a bold design
Great performance from the Snapdragon 8 Gen 2 SoC
Finally, USB 3.2!
Arriving in other markets

Cons

Nothing much new in One UI 5.1
Same design as last year
Archaic 45-watt charging speed

Lots of bloatware in MIUI 14
Probably very expensive

Rating

Samsung Galaxy S23 Ultra review

Not yet reviewed

Xiaomi 13 Ultra hands-on
Check offer*
Unavailable
Fortunately, we were one of the first media companies to be able to have a hands-on with the Xiaomi 13 Ultra. The final review for the Chinese flagship is still pending, but we have already looked at the Galaxy S23 Ultra in detail. So check back here in the near future, because we still owe you the price and availability, apart from the overall rating.
Jump to:
Display and design
The workmanship of these two high-end smartphones already tells us that they are rightfully in the absolute top segment of the market. Both the Galaxy S23 Ultra and the Xiaomi 13 Ultra rely on very high-quality workmanship. Both are IP68 certified against water and dust ingress, feature an aluminum frame and safety glass from Corning. Xiaomi relies on Gorilla Glass Victus, while the South Koreans' Ultra model already uses Gorilla Glass Victus 2.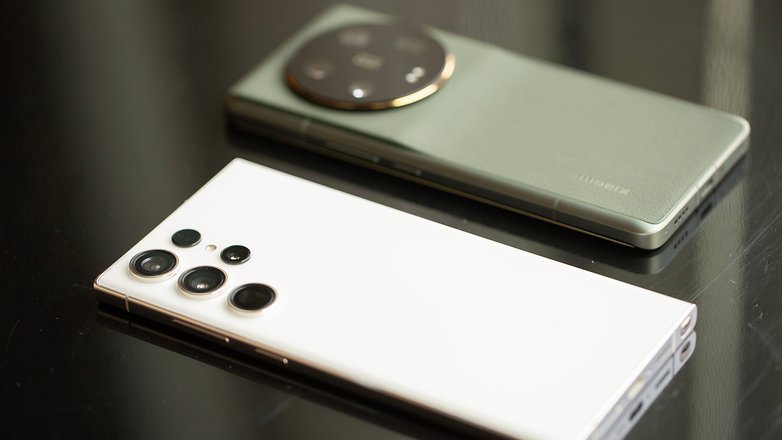 The Galaxy S23 Ultra measures 8.9 mm thin and tips the scales at 234 g, while Xiaomi sends the minimally lighter (227 g) and minimally thicker (9.06 mm) device into battle. Samsung also offers us four colors to choose from: black, creamy white, green, and lavender. Xiaomi, on the other hand, offers only three colors, of which only two - black and olive green - will make it to Germany. It remains to be seen which region will receive all three colors.
In general, I found the look of both models to be extremely attractive, but that is, of course, also a question of taste. Samsung presented its top model in a more angular and minimalistic manner, which also applies to the design of the rear-mounted cameras. Xiaomi, on the other hand, focused more on curves and offers a real eye-catcher with a massive camera system that is modeled after the lens of a camera.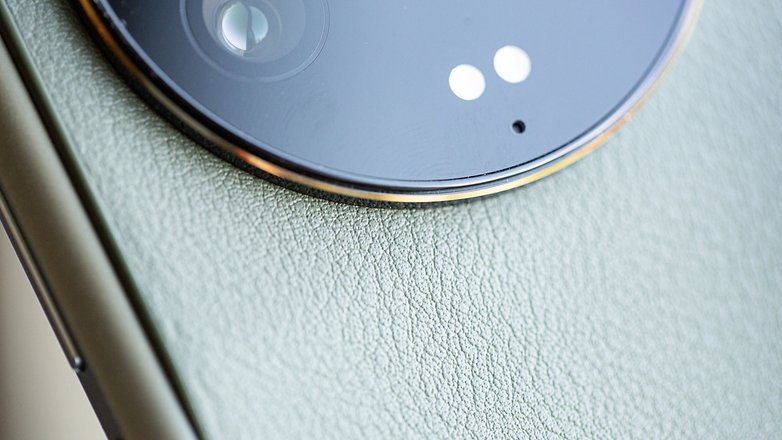 If we were to look at the devices from other angles, we will neither find room for a headphone jack nor for a microSD card on the Xiaomi 13 Ultra and the Galaxy S23 Ultra. In return, the Galaxy scores points with an integrated S Pen. This is a major plus point in Samsung's favor that Xiaomi has nothing to counter with.
The display normally falls under Samsung territory, but Xiaomi does not let itself be beaten easily in this case. Both rely on 1440p resolution for their similarly sized OLED panels (6.8-inch for Samsung and 6.73-inch for Xiaomi). Furthermore, both have LTPO technology on board, which gives us an adaptive 120 Hz refresh rate in each case.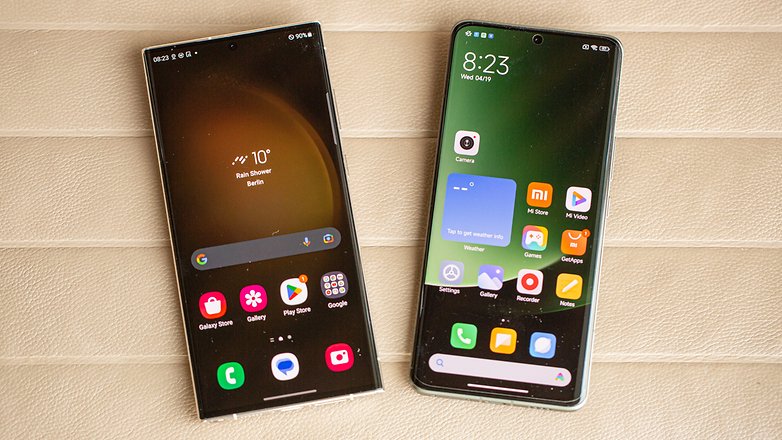 However, Xiaomi might even be a nose ahead in terms of the display panel: It has a minimally higher resolution, offers a higher pixel density, and is also brighter. While the Galaxy S23 normally achieves 1,200 nits and 1,900 nits at its peak, the Xiaomi 13 Ultra (1,300/2,600 nits) goes one up.
Performance and connectivity
Both the Galaxy S23 Ultra and the competitor from China have the best that Qualcomm's semiconductor wizards currently offer underneath the hood: the Snapdragon 8 Gen 2 SoC. Samsung relies on a special "For Galaxy" edition that overclocked the SoC (System on a Chip) slightly. However, this is not noticeable in the benchmark duel between the Xiaomi 13 Pro and the Galaxy S23 Ultra, as you can see in the table below.
Since the aforementioned Pro model also relied on the Snapdragon 8 Gen 2, the scores should be an indication of where we can expect the Ultra to be. Nevertheless, we will have to wait for our detailed review in the time being. As soon as that is done, we will add the benchmark results to the table below.
Xiaomi 13 Pro
Samsung Galaxy S23 Ultra
Xiaomi 13 Ultra
3D Mark Wild Life
Too powerful
Too powerful
-
3D Mark Wild Life Stress Test
Best Loop: 13,232
Worst Loop: 10,402

Best Loop: 12,278
Worst Loop: 7,386

Best Loop: -
Worst Loop: -
Geekbench 6
Single: 1,403
Multi: 5,106
Single: 1,170
Multi: 4,813
Single: -
Multi: -
However, the truth is, Samsung has much more control over the temperature, while Xiaomi almost does without any form of temperature regulation. Hence, it is quite possible that the Xiaomi 13 Ultra also has more raw performance to offer, but those who want to enjoy their device for longer might be better off with Samsung's device. However, before we make any hasty conclusions, let us evaluate that as soon as the review of the Xiaomi 13 Ultra is available.
Otherwise, we get LPDDR5X RAM (12 GB for Samsung, 16 GB for Xiaomi). In terms of UFS 4.0 storage, the sole 512 GB configuration will have to suffice for the Xiaomi 13 Ultra. Samsung fans can select from 1 TB or 256 GB for their Ultra of choice as an alternative to the 512 GB offering. In terms of connectivity, both devices are once again on par: Bluetooth 5.3 as well as Wi-Fi 6 and, obviously, 5G support.
Camera and picture quality
The Xiaomi 13 Ultra has a camera that looks like it was designed to bring the best of every element. Instead of somehow throwing in sensors of different sizes at random, mixing up resolutions or even manufacturers, Xiaomi relied on 50 megapixels in all four cameras, with all four from Sony. The main camera is equipped with the 1-inch IMX989, which already impressed in the Xiaomi 12s Ultra, while the ultra-wide angle and both telephoto cameras rely on the IMX868 sensors.
Samsung's picture is a bit more disjointed. The Galaxy S23 Ultra offers a 200-megapixel main camera, two telephoto lenses at 3x and 10x respectively at 10 megapixels, and an ultra-wide angle at 12 megapixels. Thus, you first have an enormous amount of megapixels on paper and finally a huge gap between 3x and 10x.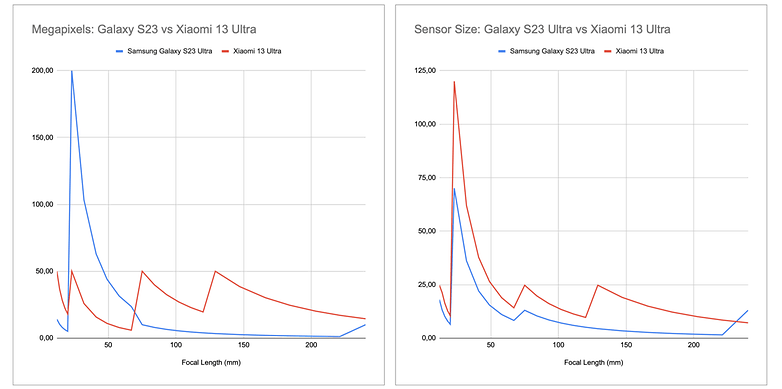 The theory can also be understood in practice in a first test, as the following series of zoom photos show. For optimal comparability, we have left the resolution on the Xiaomi 13 Ultra and the Samsung Galaxy S23 Ultra at the factory setting of 12 and 12.5 megapixels, respectively. Below you will find a series of pictures, each in bright and low-light conditions, so that you can compare the camera quality.
Before we begin, here's a note: The Xiaomi 13 Ultra is still running on a Chinese ROM. Therefore, the image quality is not necessarily representative of the EU launch that is set to happen in a few weeks' time. We will also update this section as soon as we have taken a closer look at the camera systems.
In ultra-wide angle, the duel is relatively close. The night shot shows just how much more Samsung processes its photos. It colors whole walls blue that weren't there at all. The night pictures of the S23 Ultra are much brighter. What else is noticeable? Samsung's micro-contrast is higher, which gives the pictures an artificial degree of sharpness.
Clearly, with the main camera, both the Galaxy S23 Ultra and the Xiaomi 13 Ultra do very well. An important thing to note: We did not activate the night mode on either smartphone as we will do so soon. Again, the outcome is similar: Samsung is much brighter at night, while Xiaomi is closer to the actual scene.
Things don't look much different when using the 2x zoom - both smartphones output a 12.5- and 12-megapixel photo, respectively. The Xiaomi 13 Ultra generates this from its native 12.5-megapixels in the center of the sensor, while the S23 Ultra relies on pixel binning with a 50-megapixel crop from the center of the sensor.
At the 3x zoom, both manufacturers jump to the next telephoto camera. Thus, Samsung uses the 10-megapixel telephoto lens while the Xiaomi 13 Ultra has a full 50 megapixels on the IMX868 to draw from. At first glance, the difference is not that big, but the difference in details is noticeable when you zoom in.
Similar to the 3x zoom, everything looks the same at 5x. The night picture of the Xiaomi 13 Ultra turned out to be strangely washed out in certain segments. We will find out in the coming days and weeks whether this was a random issue or an actual weakness in the camera. Otherwise, Xiaomi is clearly ahead in detailed reproduction.
There's also another dropout in the night photo when it came to 10x shooting - with Samsung this time around. Just like before, we will test if the problem lies with the hardware or software. In daylight, both smartphones are on a very similar level.
Software and updates
The pre-installed software is largely a matter of taste. That is true when it comes to Android skins like One UI 5 and MIUI 14. Both are based on Android 13 and turn the original software into something that they can claim as their own. Both interfaces have their fan base, both offer numerous customization options, so it all boils down to your preference.
MIUI makes me cringe because it is often accompanied by plenty of advertisements and bloatware. Unfortunately, this bloatware is also found on the Xiaomi 13 Ultra. Regrettably, we also keep seeing features that run on Chinese models but thankfully, are not implemented in the global MIUI version.
Samsung also scored well when it comes to implementing new Android versions. Their implementation is faster and more consistent - and Samsung is known to support its smartphones for a very long time. You can expect four Android versions and five years of support for security updates. This matter has not been officially detailed by Xiaomi, but you can at least expect five years of security updates, but only three Android versions.
Battery and quick-charging
Just like we always know that we can only expect the best from Samsung when it comes to software, we also know that the South Koreans have a bit of an aversion to adopting fast charging speeds with its battery. We have nothing against the battery capacity—the 5,000 mAh that Xiaomi offers for the Ultra is also available for the Galaxy S23 Ultra. The problem lies more in its charging speed.
Samsung still manages a relatively slow 45 W, whereas Xiaomi's offering is slower than the 120 W found in the Xiaomi 13 Pro, but still equipped the Ultra model with 90 W charging speed. Even wireless charging is faster at 50 W than Samsung's wired charging speed. Both offer wireless reverse charging, but that is also faster in Xiaomi's case. Another difference? Xiaomi packs the charger in the box. Samsung, the "sustainability professionals", do not do that, unfortunately.
The Samsung Galaxy S23 takes 20 minutes of charging to reach 50 percent. A complete charge takes almost an hour. That should be faster for Xiaomi, as more information will be available in this regard as well once we have reviewed the device.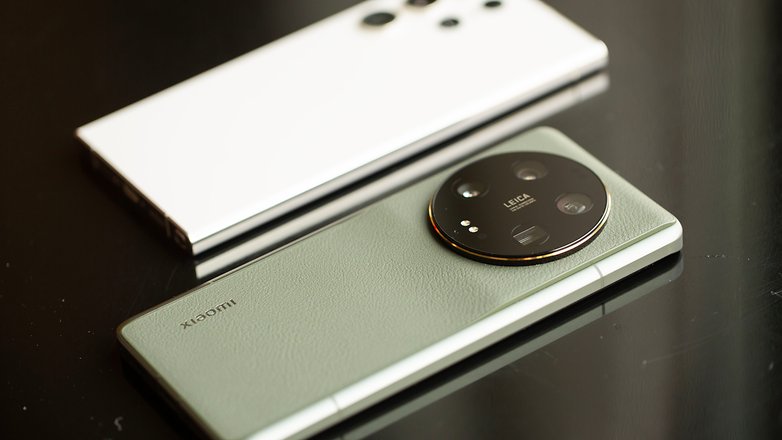 Prices and availability
This is going to be a short snippet when it comes to the price: we can only buy one model at the moment, which is the Galaxy S23 Ultra, as the Xiaomi 13 Pro remains unreleased for now. In the case of the Xiaomi 13 Ultra, we do not even know exactly when it will come to Germany and how much will it cost.
However, this much should be certain: No matter what Xiaomi tells us, it will be really expensive. You will have to pay almost €1,299 (it is unavailable in the US officially) for the Xiaomi 13 Pro, and the Ultra will come with more RAM and additional storage (512 GB). If a dollar-to-dollar conversion was made, then the Galaxy S23 Ultra from South Korea is cheaper, with a price that starts from $1,199 and an ongoing promo where the 512 GB model shares the same price as the 256 GB model.
| | | |
| --- | --- | --- |
| | Xiaomi 13 Pro | Samsung Galaxy S23 Ultra |
| 256 GB | - | $1,199 |
| 512 GB | ? | $1,199 |
| 1 TB | - | $1,619 |
If you ask me, both companies are basically selling smartphones at insane prices. But I digress, as soon as Xiaomi informs us about the availability and the recommended retail price, you will find it here - even if it hurts.
Conclusion
In the conclusion, we actually wanted to clarify which of the two models you would rather sell your kidney for - the Samsung Galaxy S23 Ultra or the Xiaomi 13 Ultra? Of course, that is difficult if you can only get one of the two in stores right now.
If we were to look at the Xiaomi 13 Pro vs Galaxy S23 Ultra comparison, Samsung has two trump cards in particular: the versatile camera system and S Pen. Unfortunately, the Xiaomi 13 Ultra does not have a stylus as well, but Xiaomi could possibly beat Samsung in terms of camera technology. Samsung once again scores with superior software support.
Xiaomi, on the other hand, offers a brighter display, much faster Quick Charging and, in view of the performance of the Xiaomi 13 Pro, probably also more power. Here, two sensationally good smartphones are neck and neck with each other down the home stretch that a photo finish will probably be used to declare the winner. On the other hand, perhaps personal preference and also the user's bank balance might be the final deciding factor. You cannot go wrong with picking up either of the two premium smartphones in the first place.