Xiaomi 13 Pro review: Nearly as good and expensive as the Galaxy S23 Ultra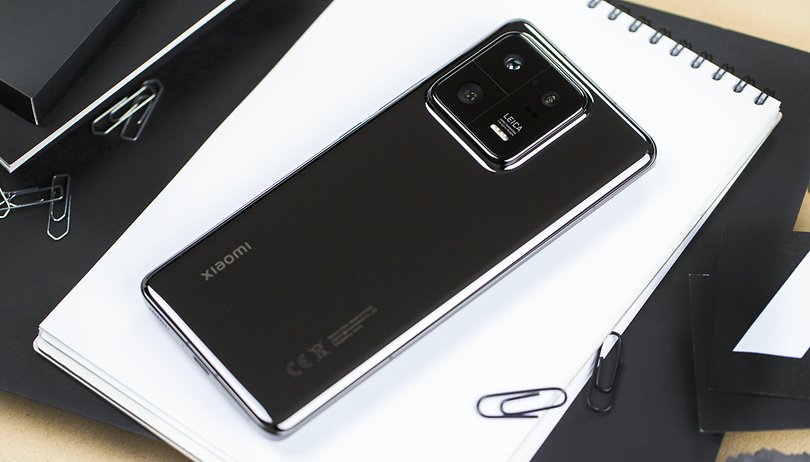 In our test, we put the Xiaomi 13 Pro to the test after the manufacturer's significant price increase this year, bringing its cost to nearly 1300 euros (around $1,376). Our main focus was to determine if the 1-inch camera sensor justifies the steep price difference. Find out the answer to this question and more in our comprehensive review.
Good
Premium finish

Premium OLED display

Main camera lens with 1-inch sensor

Very solid battery life

120W wired charging, 50W wireless

Stable Snapdragon 8 Gen 2 performance
Bad
Not much new in MIUI 14

The 50 MP telephoto lens is not transcendent

Design without any risk

No microSD or jack
The Xiaomi 13 Pro in a nutshell
The Xiaomi 13 Pro is available in Europe since February 26, 2023. It comes in a single memory configuration of 12/256 GB sold for 1,300 Euros (around $1,376). Yes, the price is pretty similar to the Samsung Galaxy S23 Ultra in the region.
As a reminder, last year, the Xiaomi 12 Pro was sold only in a 12/256 GB version sold 1099 euros. Xiaomi has therefore significantly increased these prices. Is this price difference justified?
This year, the Xiaomi 13 Pro has a big selling point with its 1-inch prime lens. This is the same sensor as in the Xiaomi 12S Ultra, which won the title of best photo smartphone last year (but is only available in China). Xiaomi also claims to have made great progress on the autonomy. It also benefits from a better update policy.
Just a friendly reminder: Xiaomi doesn't have official sales channels for their devices in the United States. If you're interested in purchasing the Xiaomi 13 Pro, you'll have to import it from China through the Amazon Marketplace.
Xiaomi 13 Pro design and build quality
The Xiaomi 13 Pro has a very premium design and finish that lacks a bit of originality and can even look a bit dated. I even find its look a little too garish.
---
Pros:
Very neat finish.
Successful black color.
Gorillas Victus on the front and back, aluminum frame and IP68 certified.
Cons:
No 3.5 mm jack.
No microSD port.
The curved screen+glossy back combo lacks panache.
---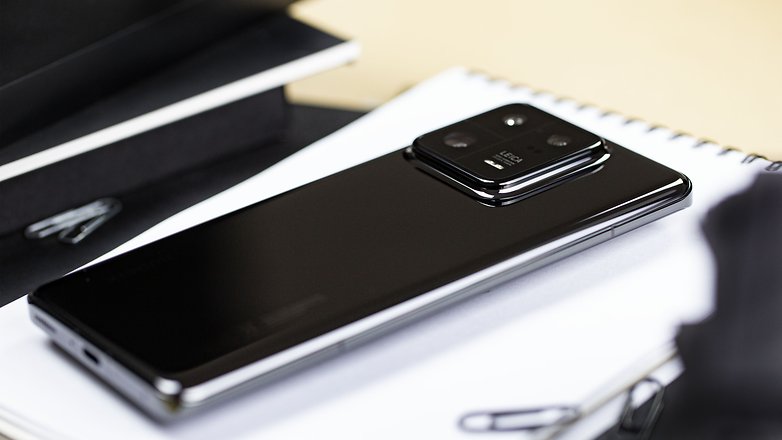 The Xiaomi 13 Pro comes in two colors: Ceramic White and Ceramic Black. And if I find this color successful, I admit I'm not a big fan of glossy glass backs anymore. The coating gives the impression of having a transparent shell on the back.
We find Gorilla Glass Victus on the front as well as on the back and the Xiaomi 13 Pro is also IP68 certified for water and dust resistance. As for the frame, it is made of aluminum and the screen has curved edges.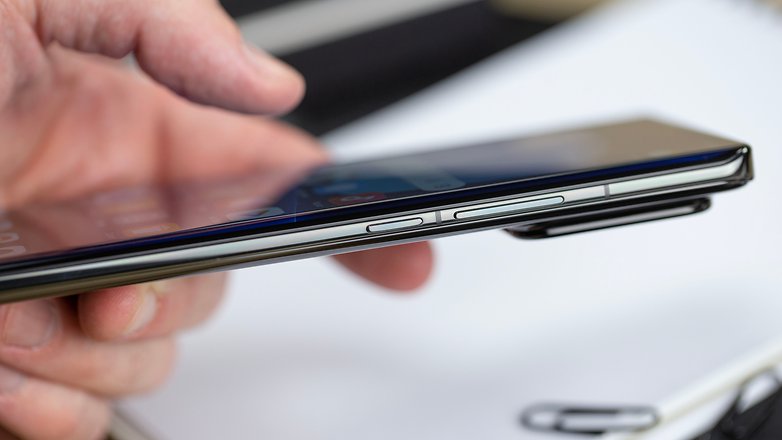 At the back, we find the gargantuan, I say, the gigantic camera module that is arranged in a square island at the top left. There are silk-screened demarcation lines on it to separate the different camera lenses and the flash. We can also see the Leica logo, which is located just above the flash.
Overall, the finish is very neat. That is undeniable, but I preferred the matte coating of last year's models to this year's more glossy one. I'm also getting tired of curved screens. Oddly enough, the straight edges of the base Xiaomi 13 look more modern to me.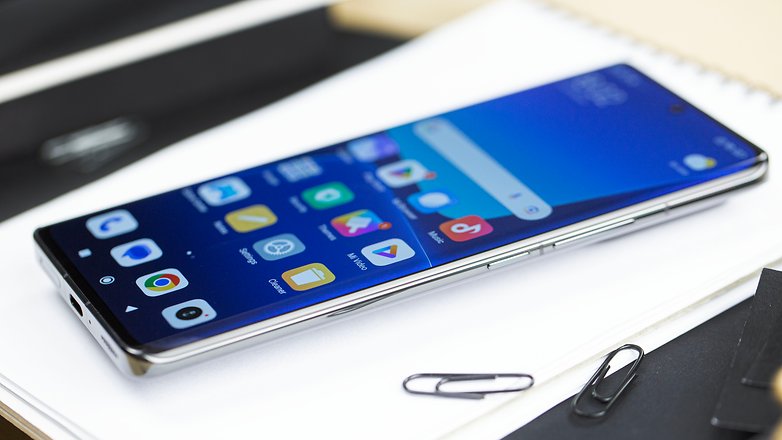 Xiaomi 13 Pro display
The screen is always one of the strong points of Xiaomi smartphones. Without much surprise, the Xiaomi 13 Pro does very well with its 6.73-inch Oled panel with a 2K (QHD+) resolution of 1440 x 3200p, a refresh rate of 120 Hz and a maximum brightness of 1900 nits (peak).
---
Pros:
A very bright OLED display.
120 Hz and LTPO technology.
QHD+ resolution.
Cons:
---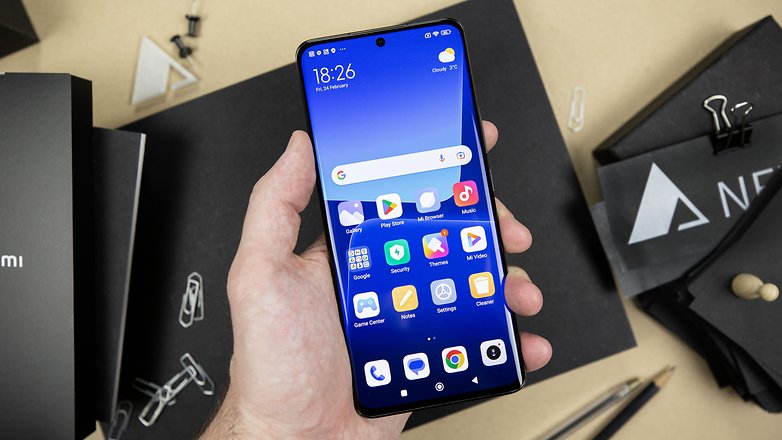 The display of the Xiaomi 13 Pro is most certainly the brightest screen on the market today. I don't have precise measurements to provide you with. And the 1,900 nits brightness can only be achieved at peak. In other words, this occurs on a tiny part of the screen only. In HBM (with the brightness at max), Xiaomi promises to reach 1,200 nits.
What is certain is that the screen is legible in all circumstances. I found the slab particularly well-lit during my gaming sessions and with the right settings in terms of colorimetry, the multimedia experience is almost flawless on the Xiaomi 13 Pro.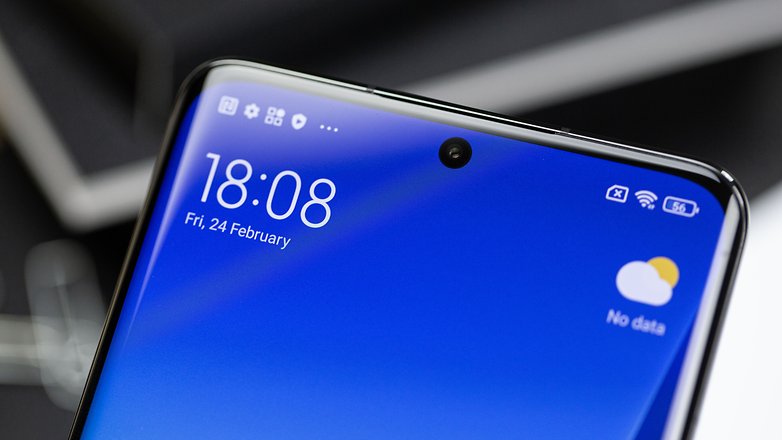 The refresh rate can vary from 1 to 120 Hz thanks to the embedded LTPO technology. But, as with all other smartphones with LTPO panels, I could never see that famous 1 Hz in action.
In addition to the QHD+ definition, Xiaomi also offers several modes to improve image quality with its AI image engine. You can upscale the resolution of videos, improve the quality of your photos in your gallery via scene detection and improve the dynamic range of selected videos.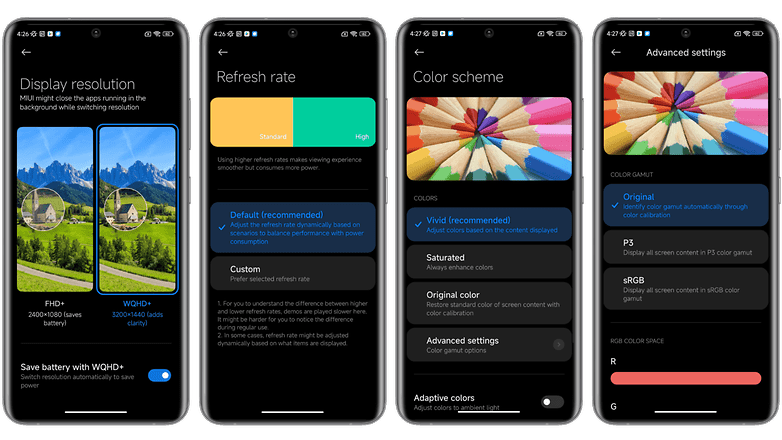 Interface/OS
The Xiaomi 13 Pro runs on MIUI 14, the manufacturer's new Android 13-based overlay, and will receive 3 Android updates and 5 years of security updates.
---
Pros:
Good update policy.
Enlarged folders on the home screen and dual clock widget are convenient.
Cons:
Many pre-installed apps.
Still no themes and icons in Android 13 wallpaper colors.
---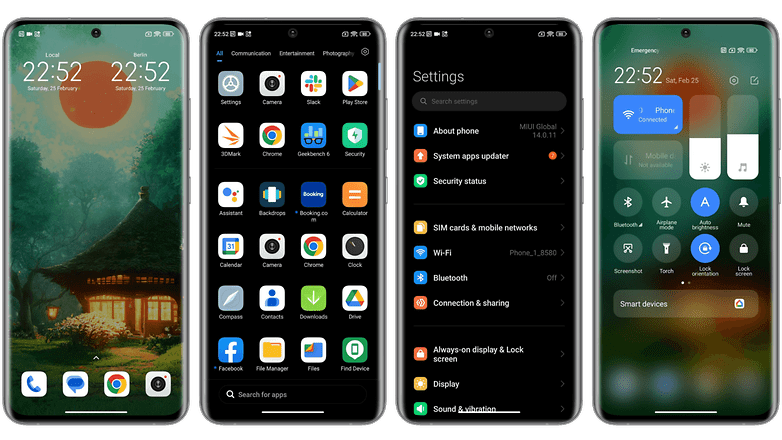 MIUI 14 is finally official and its deployment on Xiaomi, Redmi and Poco smartphones is about to begin. I'm going to offer you a full test of Xiaomi's new Android 13 overlay.
Note for now that MIUI 14 doesn't bring any big visual changes or big features. A few new widgets have made their appearance. The home screen customization menu seems to have been revamped with a more visual and colorful interface. The interface is also full of bloatware. On a smartphone phone over $1,000, I find it quite annoying.
One example is the dual clock widget. It allows you to display the time on two different time zones at the same time on your home screen.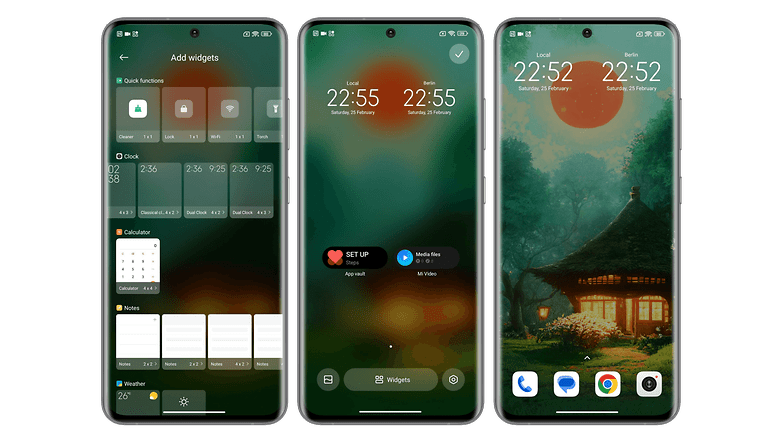 I also like the ability to expand the application folders, a bit like on Nothing OS. On the other hand, Xiaomi was also supposed to give the ability to enlarge individual application icons. But this option is no longer available in the stable version of MIUI 14. A real shame.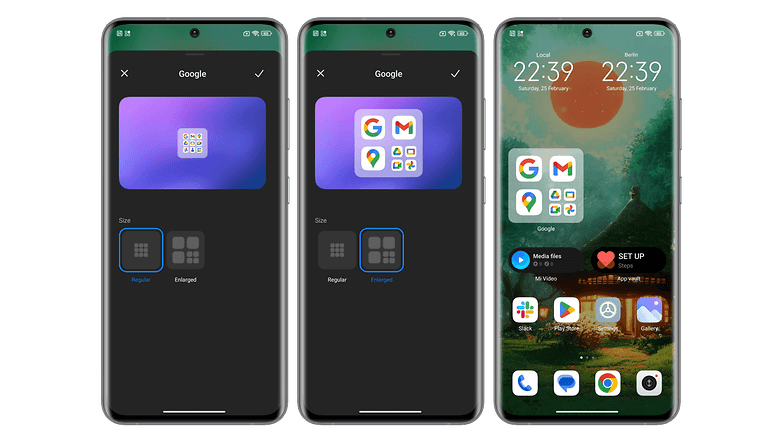 Among the other notable features brought by MIUI 14, we can mention the improvement of the windowed mode. Now you can directly switch an app into a floating window by opening it from the Side Bar (the contextual menu to swipe from the edge of the screen).
In the photo application, Xiaomi has also implemented a "voice trigger" that allows you to take a picture by saying "Cheese" out loud. It's fun, not at all essential, but it works pretty well. It's a suitable alternative to a timer for taking group photos, for example.
Xiaomi 13 Pro performance
The Xiaomi 13 Pro features Qualcomm's Snapdragon 8 Gen 2 SoC and up to 12GB of LPDDR5X RAM as well as up to 256GB of UFS 4.0 storage.
---
Pros:
Raw performance at its best.
The performance gain of SD 8 Gen 2 really noticeable.
Good stability.
Cons:
Complete lack of thermal bridging, which raises questions about durability.
---
The first thing we can note is that the performance gain between the Snapdragon 8 Gen 2 and its predecessor is quite notable. It's silly to say, but that's not always the case with every new generation of chips. So the Xiaomi 13 Pro easily outperforms the graphics benchmarks I submitted it to.
Xiaomi 13 Pro
Xiaomi 13
Xiaomi 12 Pro
Apple iPhone 14 Pro
3D Mark Wild Life
Too powerful
Too powerful
8108
Too powerful
3D Mark Wild Life Stress Test
Best loop: 13.232
Worst loop: 10.402
Best loop: 12.914
Worst loop: 10.432
Best loop: 10.028
Worst loop: 4625
Best loop: 9599
Worst loop: 8121
Geekbench 6
Single: 1403
Multi: 5106
Single: 1481
Multi: 4310
Single: 1325
Multi: 4310
Single: 1885
Multi: 5406
But Xiaomi's big flaw has always been the temperature control. Or rather its absence. The Xiaomi 13 Pro maintained a stability rate of 78% on 3DMark's Wild Life Stress Test benchmark (20 minutes duration).
This is very good. Better than the Samsung Galaxy S23 Ultra, for example. But if we look at the curves below, we can see that Xiaomi applies almost no thermal throttling or "thermal throttling."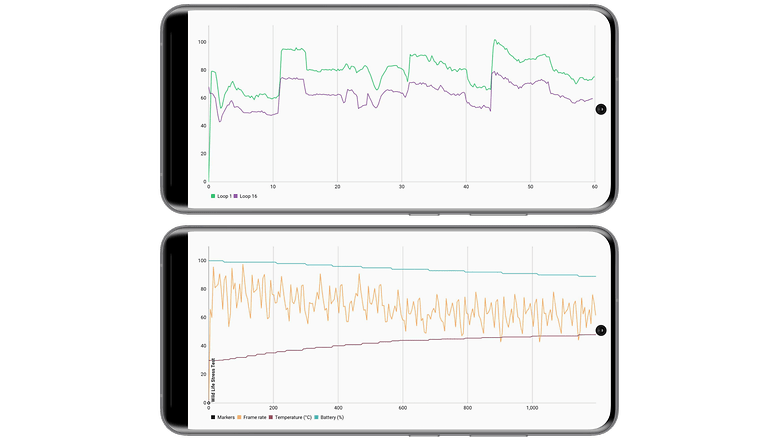 However, the smartphone does overheat. On the benchmark mentioned above, it reached 48 °C. In general, the temperature starts to be damaging to components from 45 °C. For all that, the Xiaomi 13 Pro barely slowed down the pace. So we can ask ourselves if this excellent stability is worth the candle when it comes to the durability of the phone.
In concrete use, on Apex Legends Mobile and Genshin Impact, two very resource-intensive mobile games, I was able to play at 60 FPS almost constant with all graphics options pushed to the maximum.
I could notice some very rare jerks on Genshin Impact. And I felt the temperature rise as I approached the hour mark. It wasn't extreme, I could still hold the smartphone in my hands without much discomfort. But it was noticeable.
Xiaomi 13 Pro camera
The Xiaomi 13 Pro features a triple camera module with a 50.3 MP main lens, a 50 MP ultra wide-angle lens and a 50 MP telephoto lens. The selfie camera offers a resolution of 32 MP.
---
Pros:
Great daytime rendering with the 1-inch lens and Leica Authentic mode.
The effective telephoto lens in x3.2 and x5 zoom.
The richly detailed selfies (in the foreground).
8K video.
Cons:
The night photos a bit too noisy.
The dedicated night mode is not great.
---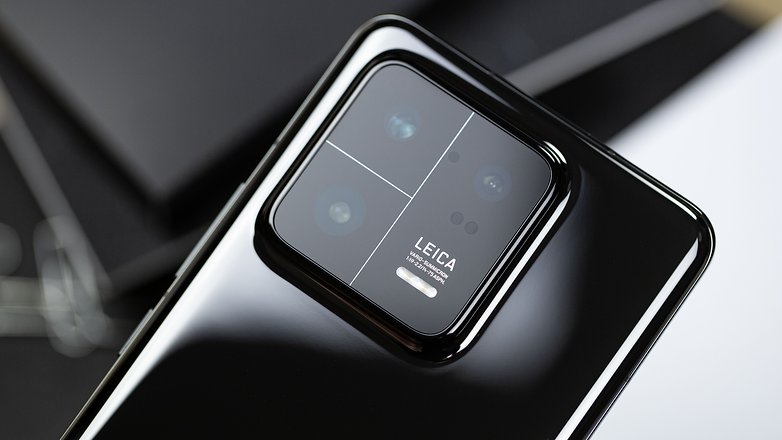 I'm lucky enough to have been in Barcelona for my test (and for MWC 2023). So, I was able to take pictures in near-optimal light conditions.
On the Xiaomi 13 Pro, we find the same main lens as the Xiaomi 12S Ultra, with its 1-inch Sony IMX 989 sensor. With 4-in-1 pixel binning, we get 12.5 MP shots captured with fairly large 3.2 µm photosites. The level of detail and sharpness is logically good. And it allows zooming x2 from the main lens to limit losses.
The dynamic range is also rather well managed, especially with the Leica Authentic mode (which I used for all my test photos). The shadows are present but do not drown the shot. I really like this style effect. The other mode, Leica Vibrant, saturates the colors too much for my taste.
I was not impressed by the telephoto lens on the other hand. This focal length offers a native x3.2 zoom. It is based on an in-house design that Xiaomi calls Liquid Lens, which includes a floating lens group. The lens is divided into two groups that can be moved, allowing for a variable focal range.
At x3.2 and x5, the results are convincing in terms of sharpness and exposure. But I find Samsung or Huawei's solutions more efficient. The maximum zoom level of x70 is useless, but Xiaomi offers a guiding system like what is done by Samsung, which is a good thing.
I found the quality of selfies very good, though. But the depth of field of the 32 MP front lens is too shallow. The person(s) in the foreground are very detailed, but the backgrounds are blurred or too smooth.
At night, the Xiaomi 13 Pro does well, but again, I find it does not fare as well as a Galaxy S23 Ultra or an iPhone 14 Pro (Max). In really dark scenes, digital noise is present. And the dedicated night mode does not really correct the shot.
But in good conditions, and with the main lens, I find the rendering very natural. Note also that the telephoto lens does quite well at x3.2.
On the video side, the Xiaomi 13 Pro can record up to 8K at 24 FPS.
Xiaomi 13 Pro battery
The Xiaomi 13 Pro packs a 4,820 mAh battery that supports 120-watt wired fast charging, 50-watt wireless charging and 10-watt reverse wireless charging.
---
Pros:
Solid battery life.
Very fast wireless and wired charging.
Charger included in the box.
Cons:
---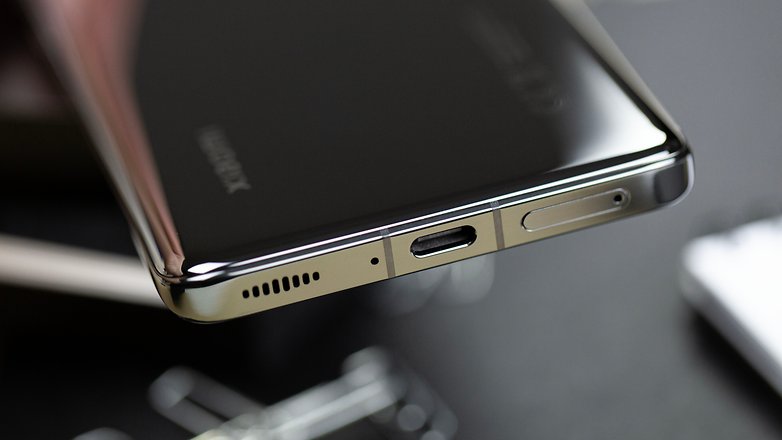 Xiaomi has clearly stated that its Xiaomi 13 Pro is more enduring than Apple's iPhone 14 Pro Max, a benchmark in the field. I put it through the PC Mark battery life benchmark with the Full HD+ display and adaptive refresh rate. The Xiaomi 13 Pro lasted 13:07 before dropping below 20% battery life.
This is an excellent score, as good as the Galaxy S23 Ultra (13h09) even though the latter had the screen in QHD+. In concrete use, you can easily last a day and a half or even two days before having to plug it into the mains.
When it comes to charging, Xiaomi is clearly one step ahead of its competitors. The 120 watt wired charging is very fast and allows you to go from 0 to 100% in less than 20 minutes.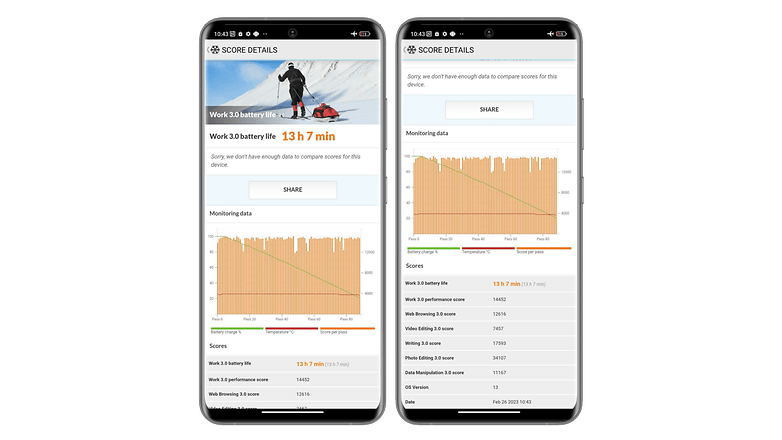 Xiaomi 13 Pro technical specifications
Device
Illustration
Design
Aluminum frame | Gorilla Glass Victus front and back | IP68 curved screen
Display
OLED 6.73 inches
QHD+ (1440 × 3200 pixels)
120 Hz LTPO refresh rate
Memory
12 GB LPDDR5X RAM
256 GB UFS 4.0
CPU / GPU
Snapdragon 8 Gen 2 (4 nm)
GPU: Adreno 740
Photo Module
Main Lens: 50.3 MP | f/1.9 | OIS
Ultra-wide: 50 MP | f/2.2 | FOV 115
Telephoto lens x3,2: 50 MP | f/2.0
Selfie: 32 MP | f/2.0
Video
8K at 24 FPS
OS
MIUI 14 based on Android 13
3 years of Android updates
5 years of security patches
Battery
4820 mAh
120W wired charging
Wireless charging 50 W
Reverse wireless charging 10 W
Charger included
Dimensions and weight
162.9 × 74.6 × 8.4 mm
210 g
Connectivity
5G, Wi-Fi 6E, Bluetooth 5.3
Final verdict
The Xiaomi 13 Pro is an excellent high-end smartphone. But it's still a bit below the Galaxy S23 Ultra, in my opinion. The camera module lacks a bit of versatility. The design is a bit has-been (but very neat). And the software experience suffers from a lot of bloatware.
But apart from that, this smartphone has plenty of qualities.
The 120Hz QHD+ OLED display is very well calibrated for multimedia content. The triple camera module isn't the best on the market, but the daytime rendering with the 50.3 MP main lens and its 1-inch sensor is very convincing, and the Leica Authentic mode gives a real flair to shots taken with the Xiaomi 13 Pro. The Xiaomi 13 Pro benefits from a better update policy, gradually approaching that of Samsung.
The battery life is very solid and Xiaomi remains the best performing high-end manufacturer on fast charging right now, especially compared to Apple or Samsung who are clearly lagging.
I find the price a bit exorbitant, but prices are going up, that's just the way it is, and it doesn't seem to bother the fan people.
---
Last updated in February 2023. Please note that previous comments have been preserved for reference.