Xiaomi 13 Pro hands-on: Mixed expectations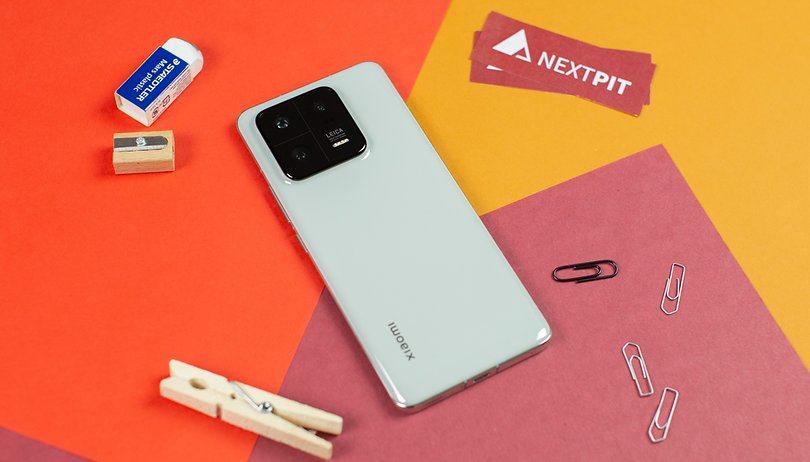 The Xiaomi 13 Pro is one of the new flagships of the Chinese giant in 2023. It takes the 1-inch camera sensor from the Xiaomi 12S Ultra, one of the best camera smartphones on the market, and promises excellent battery life that is supposed to surpass the iPhone 14 Pro Max. In this hands-on, I share my first impressions of the Xiaomi 13 Pro.
Good
Premium finish (Gorilla Glass Victus, aluminum frame, IP68)

Premium OLED display (120 Hz, 1900 nits, 2K/QHD+)

Main camera lens with 1-inch sensor

120W wired charging, 50W wireless

Stable Snapdragon 8 Gen 2 performance
Bad
Nothing much that is new in MIUI 14

The 50 MP telephoto lens is not amazing

Conservative design

No microSD slot or 3.5mm jack
The Xiaomi 13 Pro in a nutshell
The Xiaomi 13 Pro was launched in China on December 12, 2022 alongside the Xiaomi 13 as reported by my colleague Matt. The smartphones do not have a global release date yet, but thanks to our contact at TradingShenzhen, we've already gotten our hands on both devices.
In China, the Xiaomi 13 Pro comes in four memory configurations:
8/128 GB: 4,999 yuan ($745)
8/256 GB: 5,399 yuan ($805)
12/256 GB: 5,799 yuan ($865)
12/256 GB: 6,299 yuan ($940)
As a reminder to everyone, the Xiaomi 12 Pro was sold only in a single 12/256 GB configuration for $1,190 last year. This year, we can expect a price hike for the Xiaomi 13 Pro at the same configuration. Xiaomi has also confirmed that the Xiaomi 13 Ultra will be released globally later this year.
The Xiaomi 13 Pro is Xiaomi's mid-range flagship in 2023. It is more premium than the base Xiaomi 13 and focuses mainly on photography, with its 1-inch Sony IMX 989 prime lens, as well as battery life. In particular, Xiaomi claimed that the Xiaomi 13 Pro's battery should last longer than the iPhone 14 Pro Max, which so happens to be one of the best in the market right now.
Design
The Xiaomi 13 Pro boasts a very premium design and finish which does lack a bit of originality and can even look a little dated.
---
Pros
Very neat finish.
Sober pastel colors.
Gorillas Victus on the front and back, aluminum frame, and IP68 certification.
Cons
No 3.5mm jack.
No microSD port.
The curved screen+glossy back combo lacks panache.
---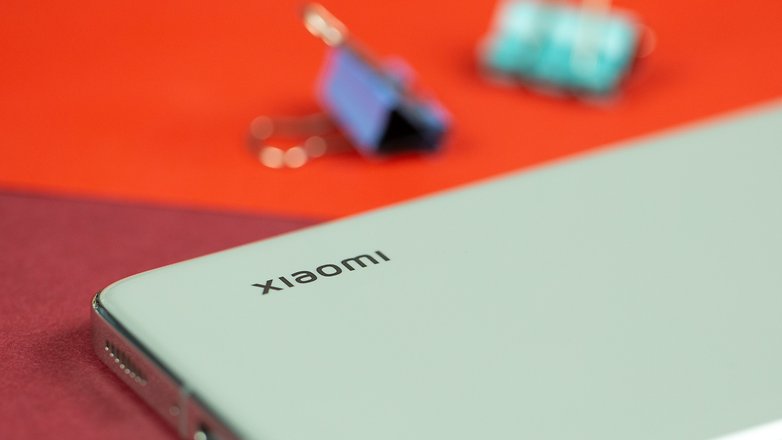 The Xiaomi 13 Pro comes in four colors: Ceramic White, Ceramic Black, Ceramic Flora Gree,n and Mountain Blue. I received the Ceramic White color as my hands-on unit.
And I find this off-white quite classy, especially since the back is made of... ceramic (yes I know, it's totally crazy, who could have predicted it?). There is Gorilla Glass Victus on the front and on the back and the Xiaomi 13 Pro is also IP68 certified for water and dust resistance. As for the frame, it is made of aluminum and the screen has curved edges.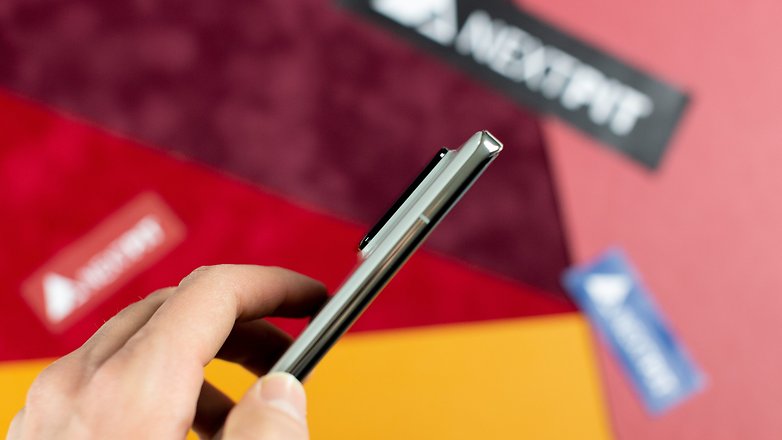 At the back, we find the gargantuan, I say, the gigantic camera module that is arranged in a square island at the top left. There are silk-screened demarcation lines on it to separate the different camera lenses and the flash. We can also see the Leica logo, which is located just above the flash.
Overall, the finish is very neat. That is undeniable, but I preferred the matte coating of last year's models to this year's more glossy one. I'm also getting tired of curved screens. Oddly enough, the straight edges of the base Xiaomi 13 look more modern to me.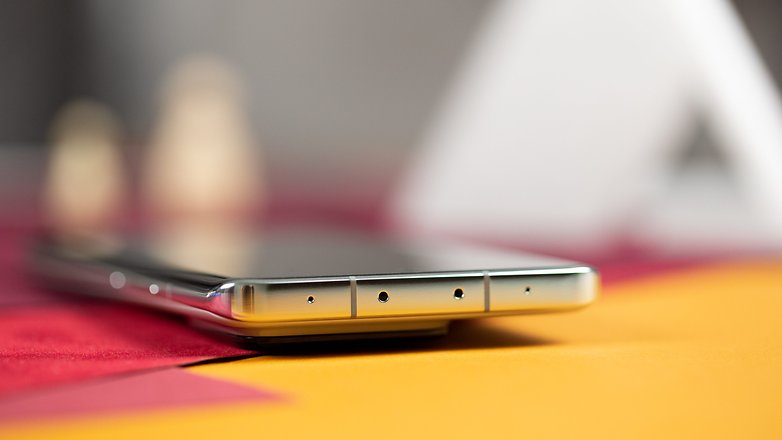 Display
The display is always one of the strong points of Xiaomi smartphones. Without springing a surprise, the Xiaomi 13 Pro does very well with its 6.73-inch OLED panel with a 2K (QHD+) resolution of 1440 x 3200p, a refresh rate of 120 Hz, and a maximum brightness of 1900 nits (peak).
---
Pros
A very bright OLED display.
120 Hz and LTPO technology.
Cons
---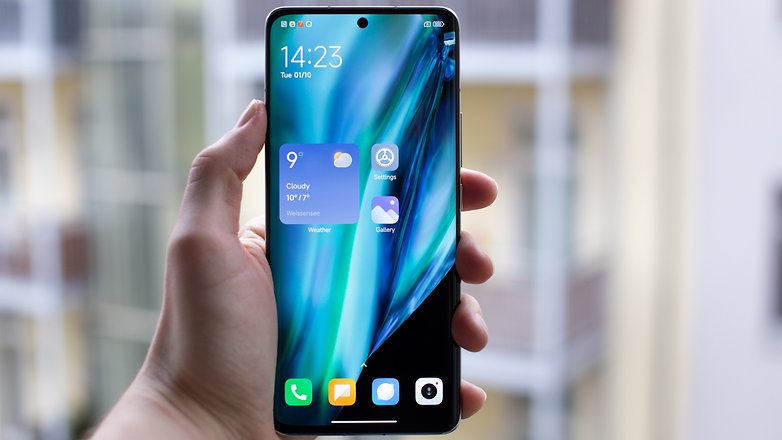 The display of the Xiaomi 13 Pro is most certainly the brightest screen on the market today. I don't have precise measurements to provide you with. And the 1,900 nits brightness can only be achieved at peak. In other words, this occurs on a tiny part of the screen only. In HBM (with the brightness at max), Xiaomi promises to reach 1,200 nits.
What is certain is that the screen is legible in all circumstances. I found the slab particularly well-lit during my gaming sessions and with the right settings in terms of colorimetry, the multimedia experience is almost flawless on the Xiaomi 13 Pro.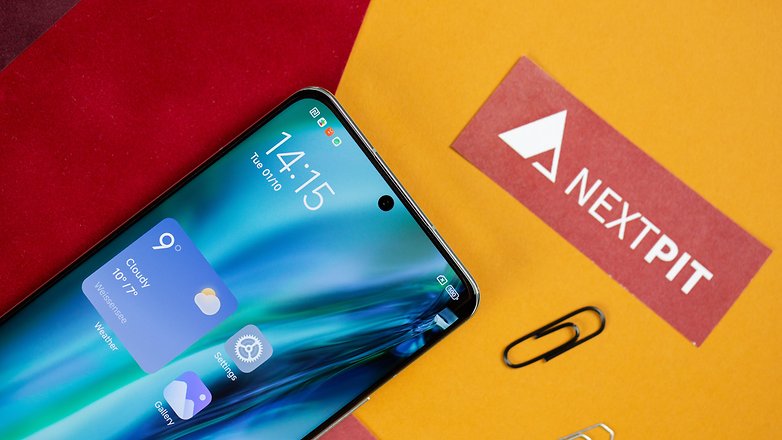 The refresh rate can vary from 1 to 120 Hz thanks to the embedded LTPO technology. But, as with all other smartphones with LTPO panels, I could never see that famous 1 Hz in action.
In addition to the QHD+ definition, Xiaomi also offers several modes to improve image quality with its AI image engine. You can upscale the resolution of videos, improve the quality of your photos in your gallery via scene detection and improve the dynamic range of selected videos.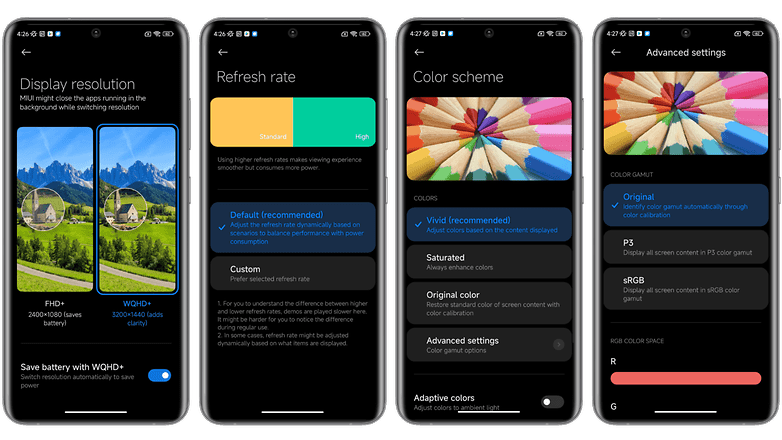 Interface/OS
The Xiaomi 13 Pro runs on MIUI 14, the manufacturer's new skin that is based on Android 13. As the smartphone is not yet official in Europe, I do not know how many Android updates and security patches it will receive.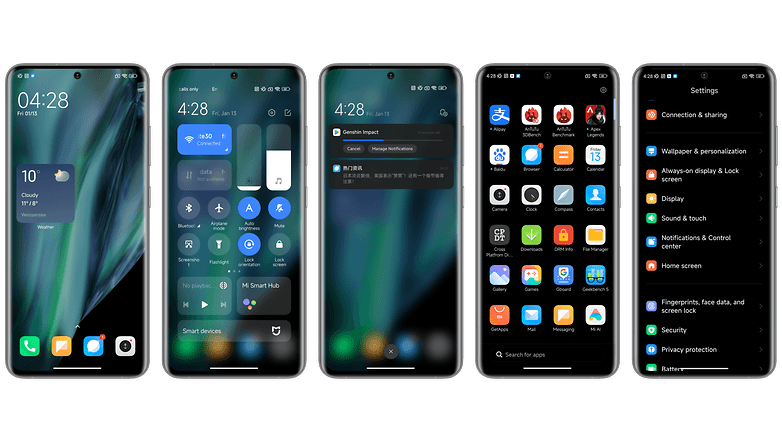 I'm really not going to be able to comment on the software experience offered by the Xiaomi 13 Pro. I will offer a full review of MIUI 14 when the global version is officially rolled out.
On this Chinese ROM that I used, I didn't notice any major changes compared to MIUI 13 anyway. Some new widgets have appeared though. The home screen customization menu seems to have been revamped with a more visual and colorful interface.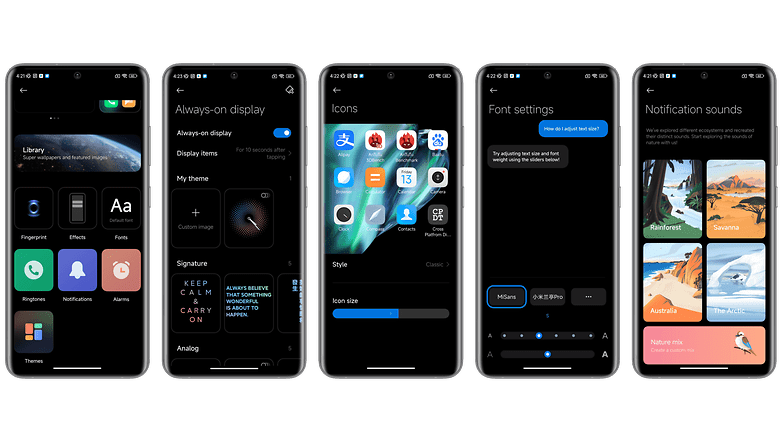 I also noticed this feature, which is apparently exclusive to the Chinese market, known as Taplus. It allows you to display contextual info about items on the screen when you perform a long press. Basically, if you do it on an image or a screenshot, for example, it shows you shortcuts to scan a QR code, search for the image, copy text, etc.
Basically, it works a bit like Google Lens, except that you're not limited to your image gallery, but you can use it in other applications.
Performance
The Xiaomi 13 Pro features Qualcomm's Snapdragon 8 Gen 2 SoC and is mated up to 12GB of LPDDR5X RAM as well as up to 512GB of UFS 4.0 storage (UFS 3.1 for the 128GB version).
---
Pros
Raw performance at its best
The performance gain of SD 8 Gen 2 really noticeable
Progress on temperature control
Cons
---
The first thing we can note is that the performance gain between the Snapdragon 8 Gen 2 and its predecessor is quite noticeable. It's silly to say, but that's not always the case with every new generation of chips. So the Xiaomi 13 Pro easily outperformed in the graphics benchmarks I submitted it to.
Xiaomi 13 Pro
Xiaomi 13
Xiaomi 12 Pro
Apple iPhone 14 Pro
3D Mark Wild Life
Too powerful
Too powerful
8108
Too powerful
3D Mark Wild Life Stress Test
Best loop: 13,091
Worst loop: 10,207

Best loop: 12,914
Worst loop: 10,432

Best loop: 10,028
Worst loop: 4,625

Best loop: 9,599
Worst loop: 8,121
Geekbench 5
Single: 1,509
Multi: 5,006
Single: 1,481
Multi: 4,310
Single: 1,325
Multi: 4,310
Single: 1,885
Multi: 5,406
But Xiaomi's major flaw has always been temperature control. I bring good news then, as there does seem to be some improvement this year. The smartphone still exceeded 45°C in benchmarks. But in real life use conditions, I did not experience any overheating.
The performance of the Xiaomi 13 Pro was also much more reliable with a stability rate of 78% on the Wild Life Stress Test benchmark of 3DMark (20 minutes duration).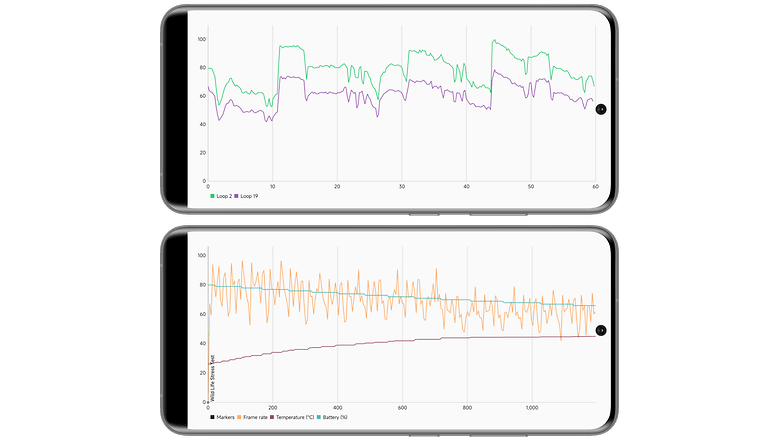 On Apex Legends Mobile and Genshin Impact, which are two very resource-intensive mobile games, I was able to play at 60 FPS almost constantly with all graphics options pushed to the maximum.
I could notice some very rare lag on Genshin Impact, but I need to spend more time in the game to make a definitive opinion. But it's undeniable that Xiaomi has made a lot of progress in terms of performance stability and temperature control.
Photo quality
The Xiaomi 13 Pro features a triple camera module with a 50.3 MP main lens, a 50 MP ultra wide-angle lens and a 50 MP telephoto lens. The selfie camera offers a resolution of 32 MP.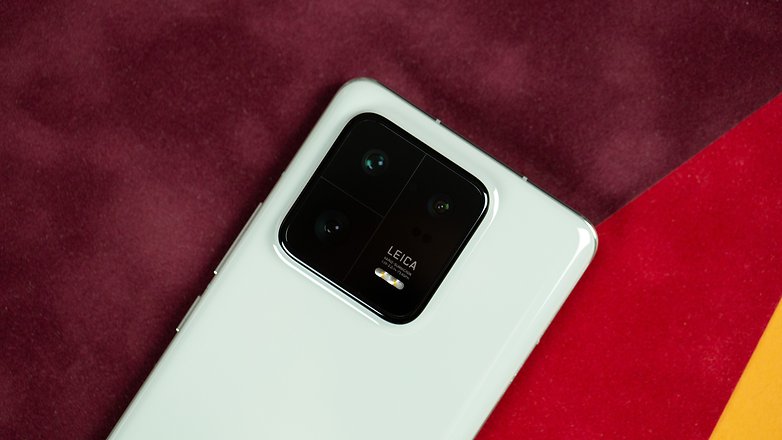 Once again, I will reserve my opinion until my full review is published. Winter in Berlin is all gray and ugly and I didn't manage to capture the 30 minutes of sunlight per week that would have allowed me to snap shots under more favorable conditions.
The Xiaomi 13 Pro relies heavily on photography as its selling point. There is the same main lens as the Xiaomi 12S Ultra, with its 1-inch Sony IMX 989 sensor. With 4-in-1 pixel binning, we get 12.5 MP shots captured with fairly large 3.2 µm photosites. The level of detail and sharpness are excellent, where it allows one to enjoy 2x zoom from the main lens to limit quality loss.
I was not impressed by the telephoto lens on the other hand. The 70x zoom level is pretty much useless. But I hope to change my mind when I get to shoot in clearer weather.
I found the quality of selfies to be very good though. Xiaomi's partnership with Leica has some strings attached, where we find the two Leica Authentic and Leica Vibrant modes which I had already mentioned in my review of the Xiaomi Mix Fold 2.
Battery life
The Xiaomi 13 Pro packs a 4,820 mAh battery that supports 120-watt wired fast charging, 50-watt wireless charging and 10-watt reverse wireless charging.
---
Pros
Super fast wired and wireless charging.
Charger is included in the box.
Cons
---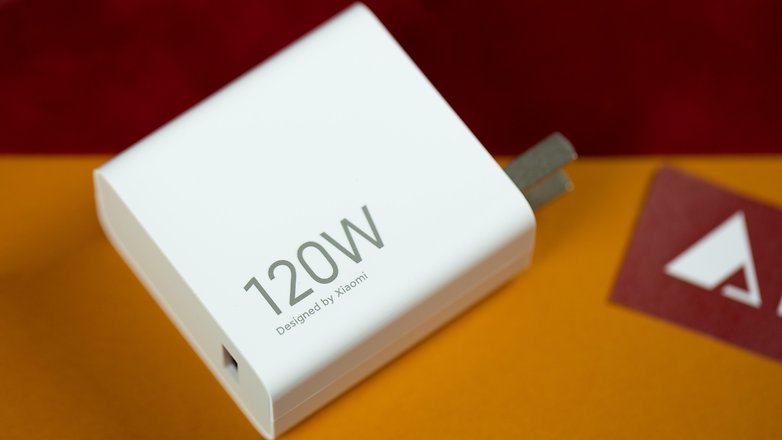 I haven't used the Xiaomi 13 Pro long enough to give you a concrete opinion about its battery life. But at the launch in China, Xiaomi clearly stated that the Xiaomi 13 Pro will last longer than Apple's iPhone 14 Pro Max, with the latter being an industry leader in its class. I'll let you know how it turns out in my full review.
When it comes to charging, Xiaomi is clearly ahead of its competitors. The 120-watt wired charging is very fast and allows you to go from 0 to 100% in less than 20 minutes. I can confirm these values even though I've only done three full recharges as I pen down my thoughts.
Conclusion: My first impressions
The Xiaomi 13 Pro ticks almost all the boxes to be a great high-end smartphone. The OLED display is top notch, as always, and the 120Hz/QHD+ combo is perfect for consuming content. The battery life promises to be solid enough to last the distance and the fast charging is among the most efficient on the market. Xiaomi has also made a lot of progress on the performance stability of its smartphones and exploited the new chip from Qualcomm very well.
But I found the Xiaomi 13 Pro to still lack a bit of panache. The design is getting really old and I didn't notice any new features in MIUI 14. All that remains is to see how much the photo quality will tip the balance, once I can review it under better conditions.
See you in a few weeks' time, probably at MWC 2023 for the global launch and the publication of my full review!