What is the resale value of your smartphone?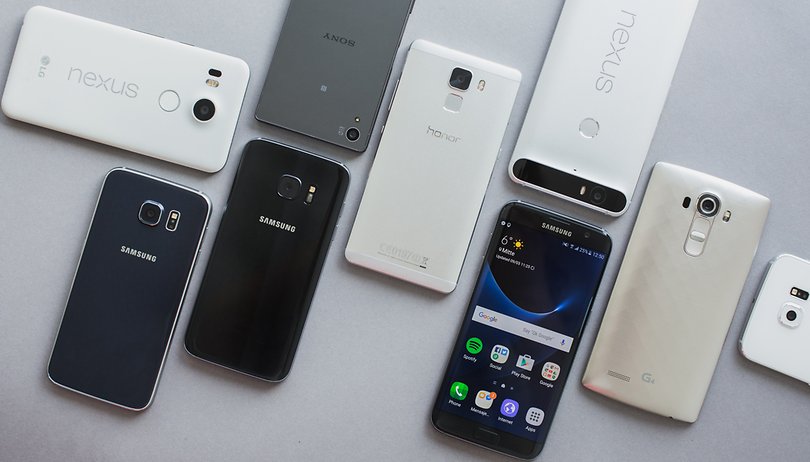 When you buy an Android device you usually purchase for two years but inevitably the next generation comes out the following year and you still have one year left to go. If you want to do an early upgrade you'll need to sell that old phone. But what is it worth? Which phones really hold their value? Let's take a look.
There are a couple of different ways we can find out what your old device is worth. We're going to show you how to cross-check the value of your used phone on different sites. And we'll take a look at how some 2015 and 2016 high-end device have held their value.
To be sure, there are many factors that go into the resale value of an Android device. And just because a phone has a low trade-in rate doesn't necessarily mean it's a poor performer. It's possible that the next generation was just released or other factors.
To check the value of the old smartphones we'll elaborate here, we'll use Movaluate and cross-check it with what used phones for the same carrier are going for on Amazon. Movaluate gives you different factors you can input to find what you can sell it for, like display condition, housing condition and functionality. But you should probably get under other sellers on Amazon to ensure the device is sold in a timely fashion.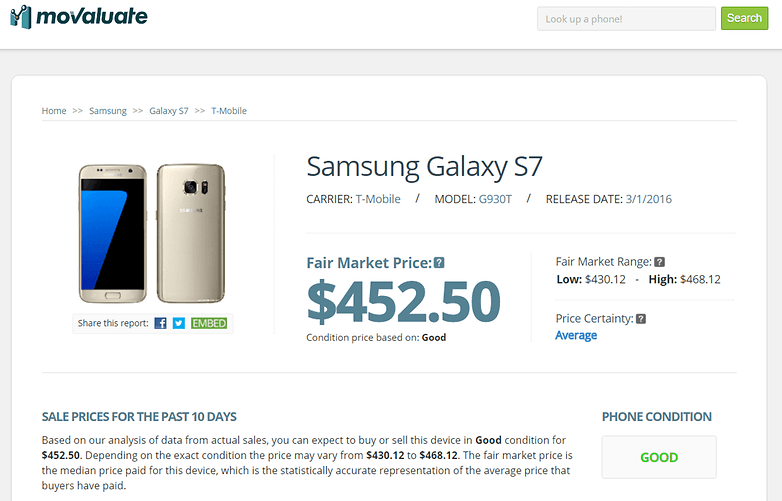 Samsung Galaxy S7
The Samsung Galaxy S7 hit the market with a bang. It was priced around $700 when it was initially released back on March 1 of this year. No successor has hit the market from the Galaxy S series and none is expected to hit the market anytime soon. Samsung devices tend to be durable and stay running for a long time so we could expect a used one to keep its value for a while.
As you can see from the price above from Movaluate the Samsung Galaxy S7 (T-Mobile provider) is listed at $452.50 if the used device is in 'Good' condition overall. You can also take a look at what they're going for on Amazon below and the prices are relatively the same. That means this device lost about 30 percent of its value in about five months. Overall, if you want to upgrade and you have this device you'll get a good chunk of cash to go towards your next phone.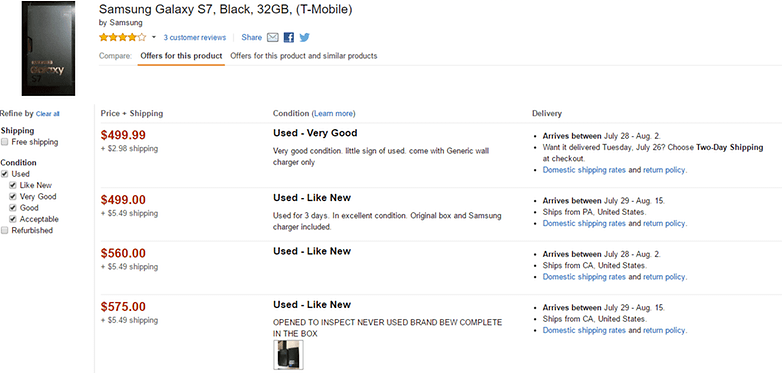 Samsung Galaxy Note 5
The very popular Galaxy Note 5 has retained its interest and there are some die-hard fans. Its successor, the Galaxy Note 7, is expected to hit the markets in the coming weeks and this might change the current pricing as Note 5 owners look to upgrade.
So far the used Note 5 prices have remained relatively stable and you'll get almost as much as a Galaxy S7 that was released about eight months after the Note 5. Amazingly, you can get $362.50 for one of these used. So as the release of the Note 7 nears you potential Note 5 buyers might want to pay attention as the prices should decrease. And if you're thinking of upgrading you may want to unload now.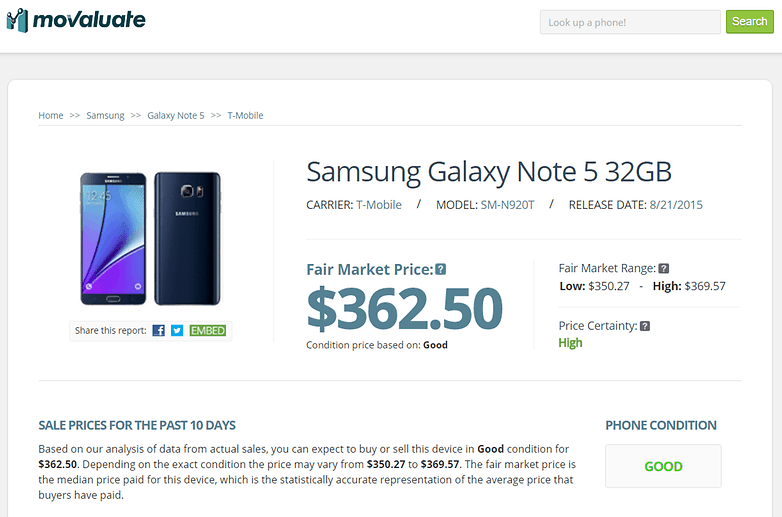 Samsung Galaxy S6
Now, onto a device that already has a successor out, the Galaxy S6. This device was released back in April of 2015 at a high price and today you'll get around 30 percent of what you paid for it new when it was initially sold. There are a couple of factors but the fact that the successor, the Galaxy S7, addressed so many of the concerns over the S6 made the price go down for a used S6.
The current resale value of a Galaxy S6 is $259.99. Now that's not a ton of money for a flagship Samsung barely over a year old and you may want to hold onto it for a while longer before you trade up. I would recommend waiting next year for the S8 if you want to stay in this series.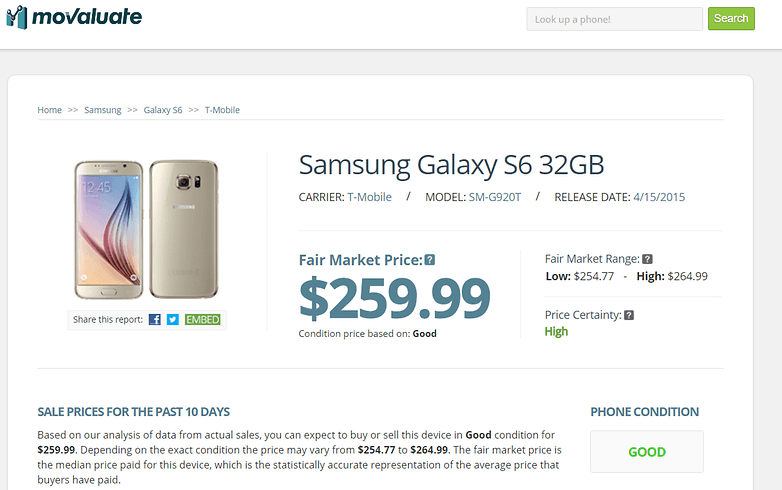 LG G5
While the Galaxy S7 retained its value well, another device the doesn't have a successor but was released around the same time, the LG G5, did not keep its price well. We could attribute this to a lack of interest in the device. This geeky smartphone had a lot of features but did not sell well to the public at large.
The LG G5 gives us a good look at what can happen to a phone's value when the device is not popular after release. You'll only get about 50 percent of the value of the device if you try to sell it now. After about three months on the market you'll only get $368.75 – ouch.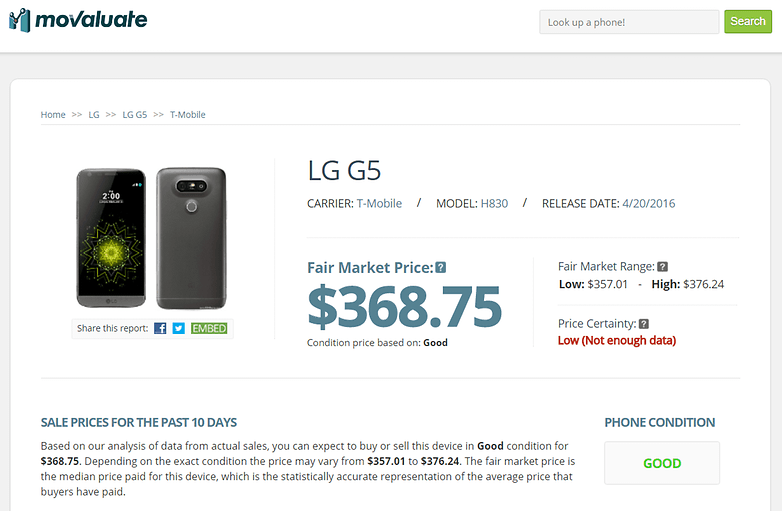 Google Nexus 5
Now, what happens when you get a classic device and want to resell it. Well, these phones understandably do the best in resale. The Nexus 5, despite having successors and being almost three years old, still yields a decent price if you want to sell it used.
The Nexus 5 gives us a view of how buying quality devices can give you lots of value in the long run. If your Nexus 5 is still in good condition you can get almost $100 for it to go towards a new phone. That's incredible and shows how going for a quality new phone can really help you.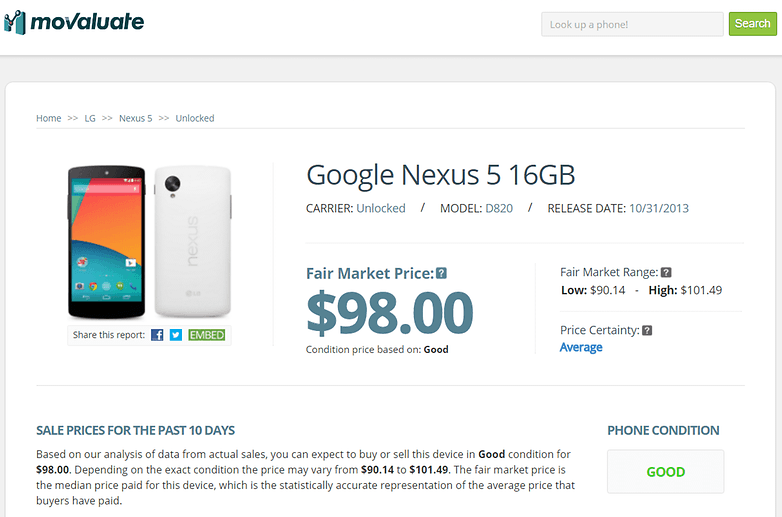 What do you think about resale values of phones? Let us know in the comments.