watchOS 8: Everything you need to know about the new Apple Watch OS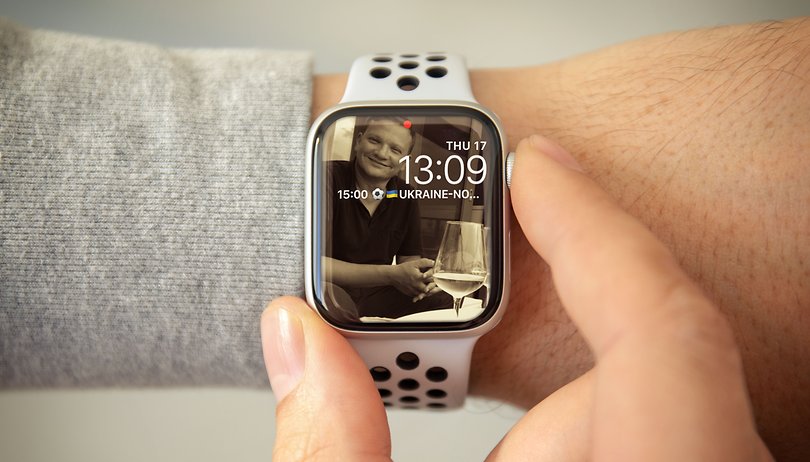 The watchOS 8 is here! Today, September 20, 2021, Apple made the new software available as a free download for all models from the Apple Watch Series 3 and newer. We at NextPit have already used watchOS 8 and will show you all the highlights concerning the latest version, while we look forward to installing the update as well.
watchOS 8: Highlights
It is actually remarkable how Apple succeeds time and again in releasing devices without having to undergo plenty of visual changes and yet keep people on the edge of their seats. After the update is revealed, you often ask yourself: "Was there something more?". And after three days, it feels like it has always been. There are three functions in watchOS 8 that I would call my absolute favorite features:
1. The new messaging app
A good example of an inconspicuous makeover would be the News App. There is only one dialog for replying, including typing, scribbling, and dictating. That's so much better.
2. Sleep tracking
With watchOS 8, the Apple Watch can measure your breathing rate while you sleep. So you will be directly informed directly about pauses in breathing or should you experience restless sleep at night. As a person who is notorious for his snoring, I'm excited to see how it works in everyday life. Unfortunately, the collected data is not that well organized yet.
3. New features for cyclists
Apple has a few specials just for fans of muscle-powered two-wheelers. With watchOS 8, calorie tracking for e-biking sessions has improved. And there is an improved fall detection that does not suspect a fall immediately after every fall in the bike park. As a frequent cyclist, all I can say is "Great!"
Jump to:
watchOS 8: What's new?
Probably the most exciting question is: What's new with the latest software version? I've been using watchOS 8 for a few weeks now, so I have a pretty good idea of what to expect. Even if much of the watch is new, most of the new functions are not immediately apparent. Rather, one gradually discovers a huge chunk of it, or wonders whether this has not always been the case.
In any case, there is a lot going on with the Apple Watch with watchOS 8. We have therefore pieced together the most important functions for you:
Two types of training for the watch
With the watchOS 8 update there are two new types of training to choose from on the watch. Tai Chi and Pilates happen to be exercises where slower movements are performed.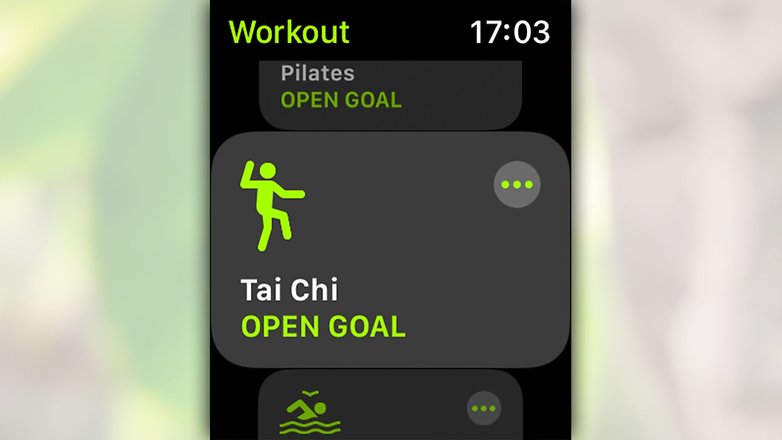 Apple did mention that they have developed new heart rate and movement algorithms that allow it to detect the exact measurements for the above-mentioned activities.
New app for better mindfulness
The breathing app has been around since watchOS 3, where it has been providing users with a meditative atmosphere ever since then. Apple has made improvements to the app and included "reflection" as an option.
The watch will ask questions at certain intervals which are intended to ensure you remain in a positive state of mind. This is only logical: the name of the app changes after the update to Mindfulness.
We took a closer look at the app and here is a detailed description of mindfulness on watchOS 8 for you.
Sleep breathing rate measurement becomes a part of sleep tracking
While sleep tracking has so far only been able to register movements during sleep in order to be able to draw conclusions about how deep was your sleep alongside the heart rate, the Apple Watch powered by watchOS 8 is also capable of measuring one's breathing rate.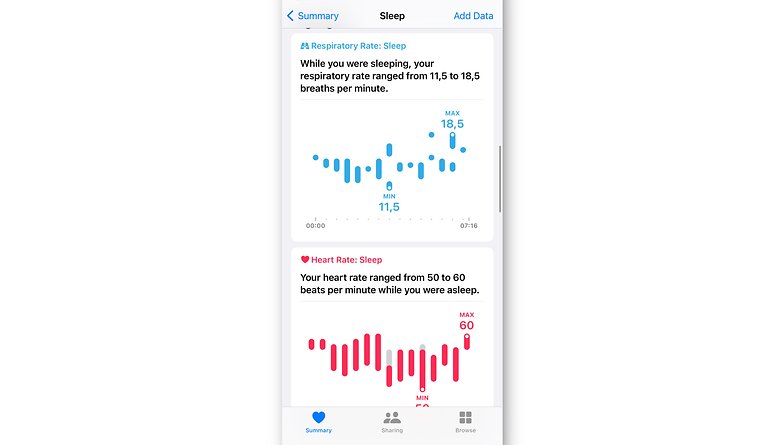 You can find the newly collected data in the health app. With watchOS 8, you can also view the average number of breaths per minute during the night. By the way, in order to measure this, the Apple Watch will rely on the watch's accelerometer.
Personally, I currently lack the context of what the values mean. It would be our turn here to find out just how we can interpret these measurements and work with them to lead a healthier life.
Messages and contacts changes will hopefully simplify interaction
The two apps, Messages and Contacts, have received significant improvements. Anyone who has ever written a message using their Apple Watch would know that the dictation function usually works very well.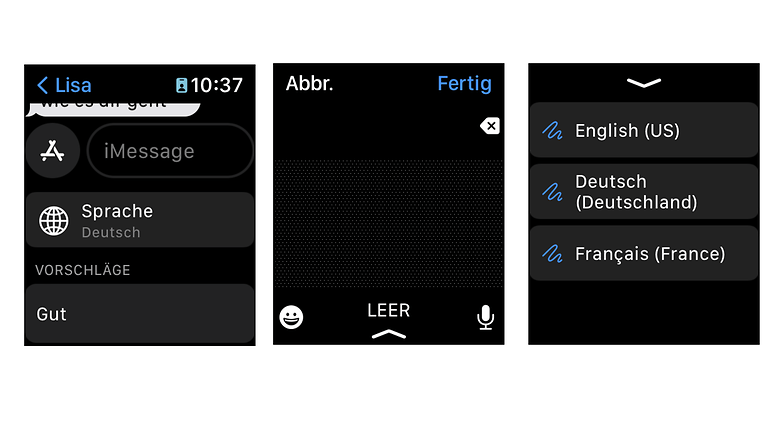 There should be time when you would much rather provide a short reply to a message. This is made easy with a selection of default replies. However, they do not always suit the situation. If you wanted to scribble something before on watchOS 8, you had to change the view. With the new Apple Watch operating system, the new user interface will combine scribbling, dictation, and emojis in a single view.
What I personally found to be even more important is this: Dictated messages can FINALLY be edited. Personally, I use the dictation function very often - and it was often very annoying if you made a mistake. Then you either had to start over or live with the mistake in the text. That is now a thing of the past.
iPhone as a keyboard for the Apple Watch
The next function shouldn't see too much use, as you probably use the iPhone directly in such a situation. This function which I discovered by accident, is practical, but as usual:
If you begin a message on the Apple Watch, the connected iPhone shows a touch field on the home screen. This allows text to be typed on the iPhone, which is then transferred directly to the Apple Watch.
Brand new Contacts app on the Apple Watch
So far, contacts could not be searched or changed directly on the watch. With watchOS 8, contacts can now be searched, added, and even edited. Now how about that for progress?
Editing is not a really comfortable experience though. However, it is always adequate to quickly add a contact while you are on the move.
Wallet is even more useful now
Unfortunately, I cannot test this option due to the lack of compatible cars. But what should be possible with the new wallet app on the Apple Watch sounds extremely cool. Thanks to ultra-wideband, or UWB for short, the smart watch can be used as a digital car key. The car can be unlocked using the watch from a distance and started from the driver's seat.
When autumn rolls around, apartment, office, and hotel keys can also be added to the wallet. For example, the Hilton Group wants to equip its hotels with an appropriate system so that you can obtain the hotel key on your wrist in advance.
In the USA, driver's licenses and ID cards can also be stored in a secure and encrypted manner in the wallet app. These are then also accepted by US security authorities at airports. This example shows what is theoretically possible, but we shouldn't even dare to dream of such possibilities being implemented on a global scale for now.
Home app under watchOS 8 has been redesigned
The innovation here would keep smart home fans out there happy. Now, you can access and control devices and lighting conditions right on your wrist. With watchOS 7, the Home app resembles more of a list of accessible smart devices in your home.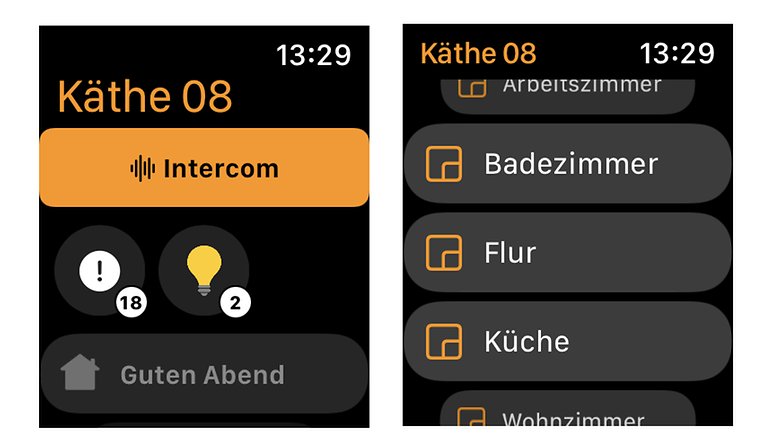 In the latest version, individual devices, scenes, and rooms can be accessed quickly.
Focus is also built into watchOS 8
One of the best features on macOS Monterey, iPadOS 15, iOS 15, and watchOS 8, in my opinion, is the Focus option.
Under different modes, you can define just what kind of distraction that you would allow in each case. If a focus is switched on, you only get notifications from people or apps and also calls, that you have explicitly approved prior to this.
While we will write our own article about this topic and explain how the focus options can be used as effectively as possible, the design options for focus on the Apple Watch are of course only possible to a limited extent. Regardless of which connected Apple device you switch the focus on, it is transferred to other devices. Basically, this means you can also set a focus on the watch, which also applies to Mac, iPad, or iPhone simultaneously.
Portraits watch face: I can now see myself. And others too, of course!
Fun fact that I wasn't even aware of: Having a portrait is one of the most popular settings when it comes to watch faces. Apple has responded accordingly and has come up with a new option for this: portrait photos taken with the iPhone can be brightened with an overlay effect. The app can also recognize faces in photos and enlarge these sections.
I recently edited my watch face accordingly and I'm thrilled. Now, I can look at myself all the time and don't even need selfies anymore. How vain!
New tracking possibilities while on an e-bike
During Apple's keynote about the iPhone 13 and the new Apple Watch Series 7, Apple also revealed some improvements in watchOS 8, especially for cyclists. In the future, the Apple Watch is able to recognize whether you are traveling on an e-bike or not. The calculated calorie consumption will then be adjusted accordingly to reflect the amount of physical exertion that you put in - whether you are relying on battery power or good, old-fashioned pedal power. There is also improved fall detection: With the help of improved algorithms, the Apple Watch detects whether you are currently hurling down an uneven surface with your bike, or whether you have just fallen and urgently need help.
Unfortunately, we haven't been able to test out these functions yet. But basically, it's something that I like very much personally. I actually go around town on my e-bike every now and then, and am always amazed at the high number of calories burned as depicted on my Apple Watch while forming very little sweat on my forehead at the same time. So that I can no longer lie to myself, this option - assuming it works really well - is one of my top three favorite functions of watchOS 8.
watchOS 8: These Apple Watch models will receive the update
These are the Apple Watches that will receive the watchOS 8 update:
Apple Watch Series 3
Apple Watch Series 4
Apple Watch Series 5
Apple Watch SE
Apple Watch Series 6
And of course, Apple will pre-load the upcoming Watch Series 7 with the new watchOS 8 right out of the box.
watchOS 8: How do I install the update?
From September 20th onwards, Apple will roll out the watchOS 8 update for free. Follow these steps below to install the update on your Apple Watch (from Series 3 onwards).
Launch the Settings on your Apple Watch, either via Siri or via the app list. Optionally, you can also click on the app for the Apple Watch (the app is known as Watch) on the iPhone (from iPhone 6s onwards), then General -> Software update.
Select General.
Select Software Update.
Tap Install.
Tap OK.
Launch the watch app on the iPhone.
Agree to the terms and conditions on your iPhone.
Tap Download & Install on the Apple Watch.
Conclusion
The watchOS 8 certainly doesn't mark a new era for the Apple Watch. But it does bring us a ton of new features that will be extremely useful for the wearer, especially for those of us who also use other Apple devices. Apple continues to connect its products on an even deeper level, making them a real pleasure to use them because of that.
The new health features well hopefully encourage you to become more active. As soon as the Apple fitness service Fitness+ is available in your region, you will be amazed at how much more varied your personal fitness regime can get! Are you excited at what watchOS 8 will bring to the table?