Ugreen Nexode 300W Review: Power to Charge Anything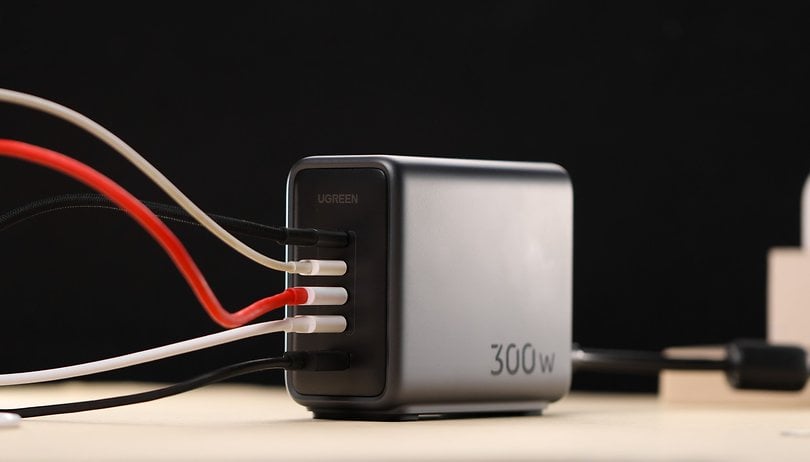 Ugreen is no stranger to high-power multiport chargers, and the Nexode 300W is the newest and most powerful entry in the GaN-powered charger lineup. The new device is the world's first 5-port 300W charger, including 140W support. nextpit had the chance to test the power supply and what can you expect for its price tag.
Good
USB PD 140W support

Excellent build quality

Good thermal management

Handled four laptops with no issues
Bad
Not cheap

Heavy and bulky
Ugreen Nexode 300W: All deals
In a nutshell
USB is now the de facto standard for most new daily electronics and is used to charge even most mainstream and enterprise laptops. The USB Power Delivery (USB-PD) standard supported for quite some time 140W output, but until now, that power was reserved for chargers featuring a single USB-C port, or at best only one port in use on multi-port chargers.
Today's Ugreen Nexode charger claim to fame is being the first 300W multiport charger, but it is much more than a spec number. The Nexode 300W features a dedicated 140W port that outputs at that power regardless of the number of devices plugged in.
All that power charges (sorry) an equally hefty price but, unlike previous models tested here on nextpit, it doesn't cost one dollar/euro per Watt, going for an MSRP of $269.
Built like a tank
If you are looking for a compact charger to carry everywhere, you will have to look for other models in Ugreen's lineup. The Nexode 300W is a desktop charger first and foremost. Of course, it fits in your backpack, but at 30.61 oz (868g), it is far from pocketable.
---
Pros:
Cons:
Heavy.
The USB-A port is upside-down.
---
Measuring 6.49 x 4.9 x 4.2 in (16.5 x 12.5 x 10.7 cm), the Ugreen Nexode 300W is designed to sit upright on top of your desk, featuring a pair of rubber feet on the bottom side around the specification and certification label. On the visible sides, the charger features the usual Ugreen design, with a matte gray finish and just the "300W" logo on one of the sides and the Ugreen logo on the port side with the necessary port labeling.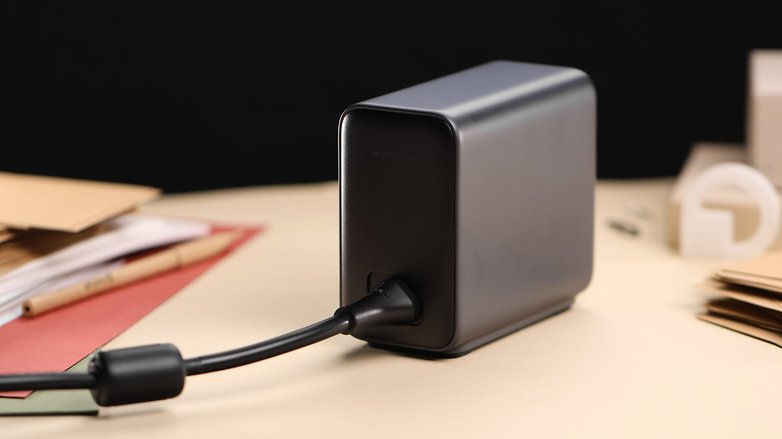 On the back, there is only the input port for the included power cord, which not only feels very well-built, it comes with two velcro straps.
On the front, there are four USB-C ports and a single USB-A port, which is annoyingly mounted upside down. So the general tip of having the thumb on the cable's USB logo doesn't work with the Nexode 300W. The issue is not exclusive to the reviewed charger, and can also be found on my personal 65W adapter.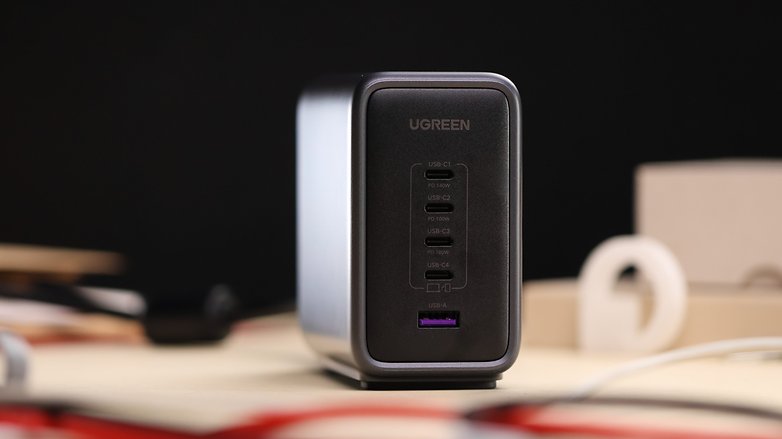 Besides the charger and the detachable power cord, the Nexode 300W box includes a nice braided 240W-rated USB-C to USB-C cable.
Output power and port selection
Despite having fewer ports than the 200W unit nextpit reviewed in the first half of 2023, the Nexode 300W offers more than enough options to charge your devices, and it is even easier to choose which port to use for each device ... In our tests, it was capable of charging simultaneously four laptops, including a 96W-rated MacBook Pro.
---
Pros:
Nice port selection.
Didn't get warm to the touch.
Cons:
---
With the Ugreen Nexode 300W charger, the topmost plug is always ready to supply 140W using a compatible cable, like the one included. For the remaining ports, I will save some paragraphs with this handy infographic supplied by Ugreen: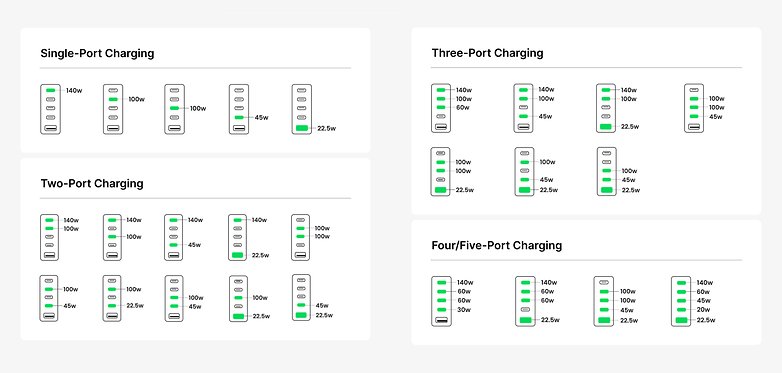 Simply put, the output power is higher on the top ports than on the bottom ones, so simply plug your devices from the most to the least powerful starting from the first port. Similar to previous Ugreen chargers, you can quickly check which device category should go on each port.
While charging four laptops at the same time, the Nexode 300W warmed up slightly but never got too hot to the touch. Partly responsible for that, the GaN technology (Gallium Nitride) also ensures that the Ugreen charger does not need a cooling fan to dissipate heat.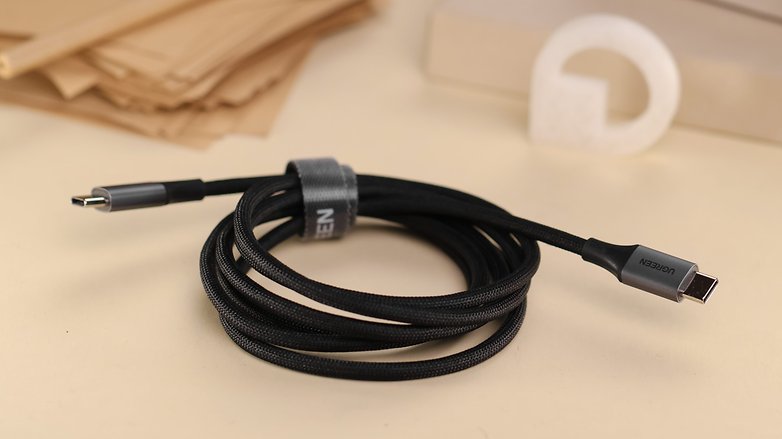 One last comment, during nextpit's test, the Nexode 300W didn't emit coil whine, behaving well in our crowded but quiet office.
Final verdict
Chargers are never really exciting products, but apparently, there are a bunch of charging nerds in the nextpit HQ. As soon as the Nexode 300W was unboxed, there were whispers from a colleague to "borrow" it on a permanent basis. However, as soon as the charger was put to work feeding energy to four of the office's notebooks, those whispers dissipated.
The Nexode 300W charger means business and could even power (small) LAN parties with energy left to charge personal devices. It not only reduces the number of power outlets used at the same time, but it also saves a bunch of space when you consider the volume of four regular laptop power bricks.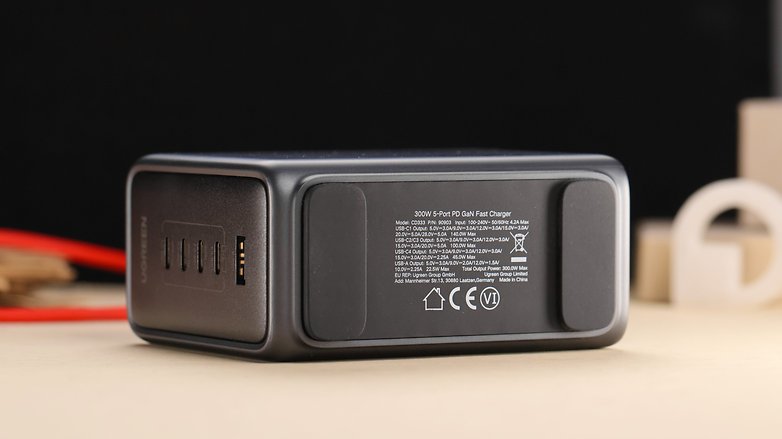 As we go higher in the number of ports and power output, there is a smaller target market for high-end chargers. But if you are on the small (and privileged) group of people who own at least three USB-PD compatible devices capable of charging at 65W or higher and for some reason need to have them all plugged at the same time with power left for a smartphone and a tablet, there is no better option in the market.
Until, of course, Ugreen or some other brand comes to market with a 240W-capable multiport charger, of course.