Soundcore Space Q45 review: As good as Sony or Bose for half the price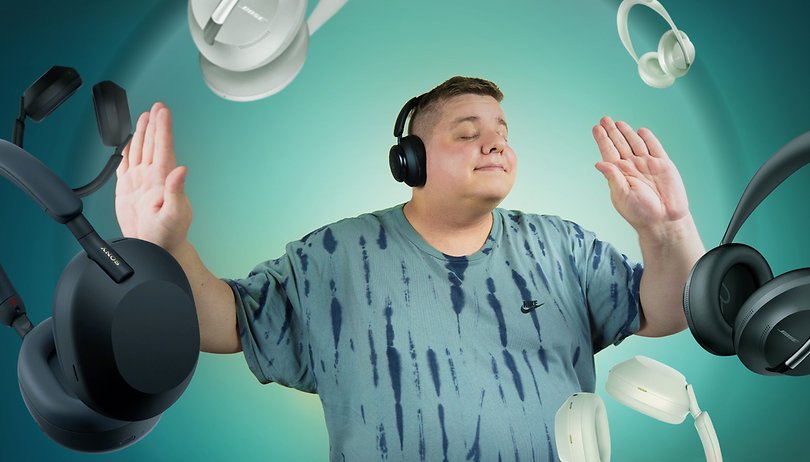 The Soundcore Space Q45 is a wireless headset with active noise reduction that retails for less than $150. It claims to perform as well as its competitors from Sony or Bose, although those are twice as expensive. In this Soundcore Space Q45 review, I share my full opinion about this Bluetooth headset and can proudly say that it offers an excellent value-for-money proposition.
Good
A beautiful finish

Effective and adjustable active noise reduction

Excellent battery life

Comprehensive companion app and controls

LDAC, Bluetooth 5.3, multipoint support

Affordable price
Bad
Lots of plastic parts

Not the most durable design

No IP rating and gets complicated for sports use

Audio quality is not on par with the market leaders
Design and ergonomics
The Soundcore Space Q45 is made almost entirely of plastic. The headphones are not certified to be water- or dust-resistant either, but this type of compromse is not surprising in this price range. Especially so as Soundcore compensates for this somewhat cheap design with a very neat finish.
---
What I liked:
Very neat matte black finish.
The well-padded earpads.
Rotating earpieces that can be folded for easier transportation.
What I disliked:
No IP rating, complicated to use for sporting activities.
A lot of plastic (except on the hinges and the headband).
---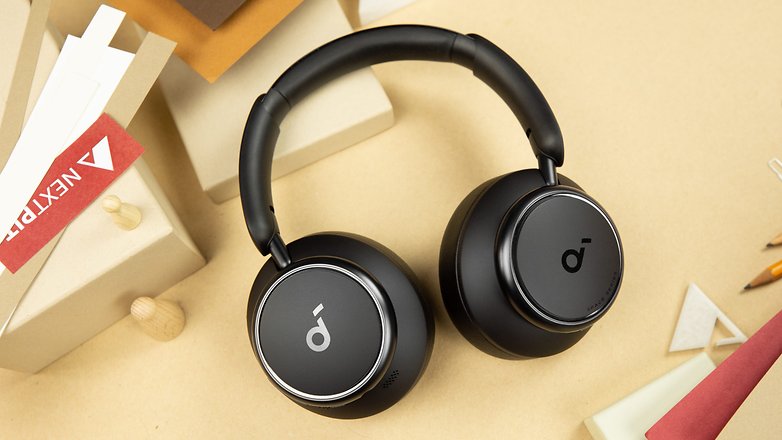 The Soundcore Space Q45 comes in a single shade - black. The coating is mostly matte, with some shiny and metallic elements to spruce it up. The contrast of texture and colors is very nice with its subtle blue reflections. We are not feeling the 100% plastic vibe either, since the hinges of the earpieces are in aluminum and the headband arrives in metal.
The Soundcore Space Q45 is a circum-aural headset, which means that the ear cups surround your ears. These ear cups can rotate by themselves all the way to 45° to better fit your head, but also so you can fold the headphones and make them more portable. The headband is quite flexible and did not bother me and my monumental melon.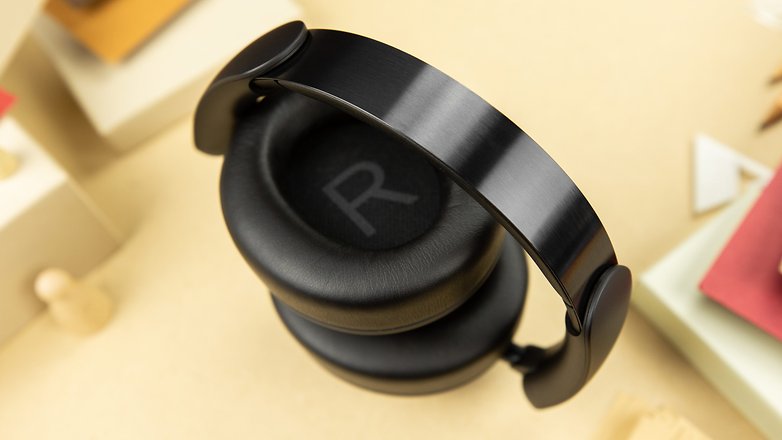 The headband and ear pads are very generously padded. The Soundcore Space Q45 is very comfortable to wear and not too heavy either, despite weighing in at 295 grams. The fake leather or "plastic leather" that covers the ear pads is not very breathable though. If you sweat a lot like me, or if you are active in sports, do take note that the headphones have no IP rating for water resistance.
Audio quality
The Soundcore Space Q45 features 40mm drivers in each earpiece. It is compatible with Sony's LDAC audio codec for Hi-Res audio and can cover frequencies from 20 to 40,000 Hz. In practice, it's a very bassy headset with a sound quality that's a bit behind the market references that Soundcore wants to compete with.
---
What I liked:
Good sound spatialization.
LDAC codec supported.
What I disliked:
Profile is far too low.
Audio quality is not as good as the market leader.
---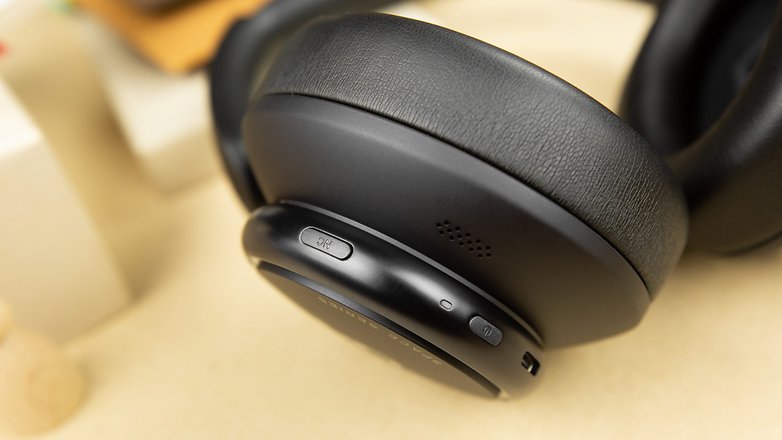 The audio quality is the only point that betrays the price of the Soundcore Space Q45. The sound quality is not bad, but it's a sound worthy of a wireless headphone that costs no more than $150.
It is clearly a step below what Sony offers on the WH-1000XM5. So yes, while Sony's offering is more expensive than the Space Q45, it is indeed this kind of model that Soundcore wants to compete with. So the comparison is not unfair.
Basically, the first thing we notice is that the Soundcore Space Q45 is a very bassy headphone; dare I say too much on the heavy side? On some Drill tracks, the bass was so exaggerated that my ears hurt after a few minutes of continuous listening. I had the same problem while watching movies or series.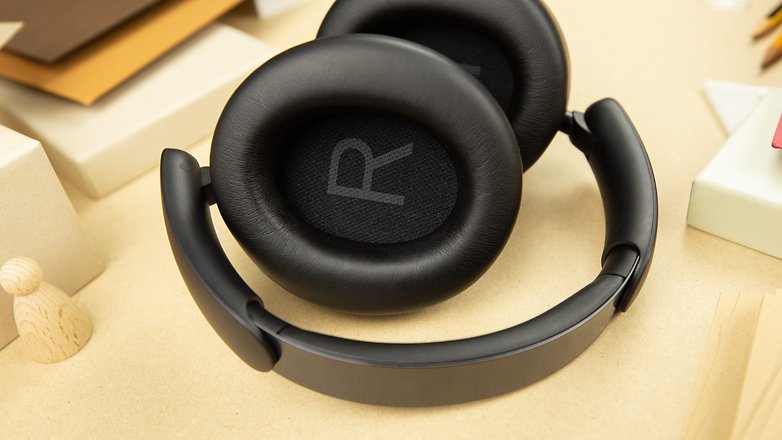 And I don't have particularly sensitive hearing. It is therefore almost compulsory to go through the equalization settings and manually attenuate the bass or opt for the "Bass reducer" preset in the Soundcore application.
As for the mids, they are a bit too low, which accentuates the problems linked to the very low profile of Soundcore. And as the headphones can go up to 40.000 Hz, we have a lot of amplitude for the highs. And I found them very precise, clear without being shrill, even at high volume.
As for the spatialization, it is very good, the sound is quite immersive and all-encompassing. And the Soundcore Space Q45 also supports the Sony LDAC audio codec in addition to the basic SBC and AAC codecs.
ANC and micro quality
The Soundcore Space Q45 has two microphones to handle ambient sounds. The headphones offer active noise reduction and a transparency mode, both of which are manually adjustable.
---
What I liked:
Very effective active noise cancellation.
Possibility to adjust the noise cancellation manually.
What I disliked:
The microphone quality when it comes to calls.
---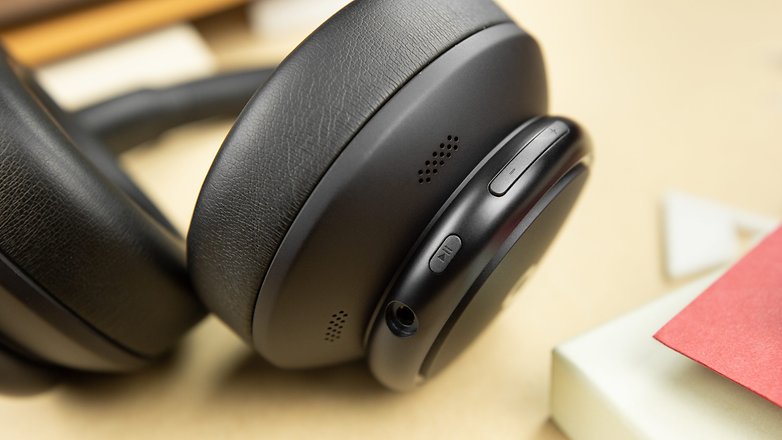 The active reduction of the Soundcore Space Q45 is very effective. I wish I had the Sony WH-1000XM5 under my belt to compare. But I found the Soundcore model to be very successful in attenuating most sounds. I'm pretty sure that if I had you blindly test the Soundcore Space Q45 and any other $300 headphones, you wouldn't be able to tell which one had the best ANC.
The headphones can detect several noise scenarios (transportation, airplane, indoor, office, etc.) and adjust the noise reduction accordingly. But you can also manually set the intensity of the noise reduction via the Soundcore app.
The transparency mode is also quite effective, although I don't use this kind of feature much because it totally distorts the sound quality when you listen to music. But the voices are particularly well isolated from the rest of the ambient noises, which is practical when you work in open spaces like me.
As for the quality of the calls, I found the microphones of the Soundcore Space Q45 to be quite bad. Outside, in complicated audio environments, the headset cancels the outside noises pretty well, but the voice quality is still rather suspect. It's the same indoors even in a quieter environment. Everything is audible and intelligible and we can totally consider it for professional calls. But the quality is clearly inferior to what we can get from Sony, for example.
Application and features
The Soundcore Space Q45 can be set up via the official Soundcore companion app, which is available on Android and iOS. The headphones ditched touch controls in favor of physical buttons, which can be adjusted via the app and work very well.
---
What I liked:
User-friendly companion app.
Well-placed touch buttons and comprehensive controls.
Adjustable ANC and transparency mode.
Equalizer with many presets.
Bluetooth 5.3 and multipoint connectivity.
What I disliked:
No Fast Pair or Swift Pair for pairing.
No port detector.
---
The Soundcore application is very complete and its interface is neat and user-friendly. It allows one to juggle between ANC, normal and transparency modes, adjust the control buttons, and manage the equalizer.
Adjusting the ANC is where things get more complicated. We can juggle between three modes: active noise reduction / normal / transparency mode. But you can also opt for a personalized active noise reduction and choose among 5 intensity levels for the ANC. The same goes for the transparency mode.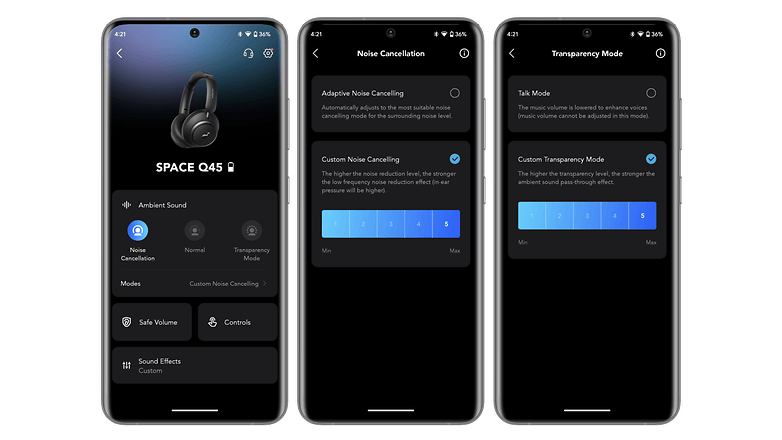 The Soundcore Space Q45 also lacks touch controls, but I think it's a good thing. This is especially since the physical buttons are very well placed, very responsive, and functional.
On the right earpiece, we have the play/pause button and the volume buttons. A long press on the volume buttons allows you to advance to the next or previous song.
On the left earpiece, we have the power button (which is also used for Bluetooth pairing) and the button to activate the ANC and the transparency mode.
This last button also serves as a multifunction button. Via the Soundcore application, you can assign a shortcut to it to activate a bass-boosting mode via a double tap. Unfortunately, no other shortcut can be assigned to this double tap gesture.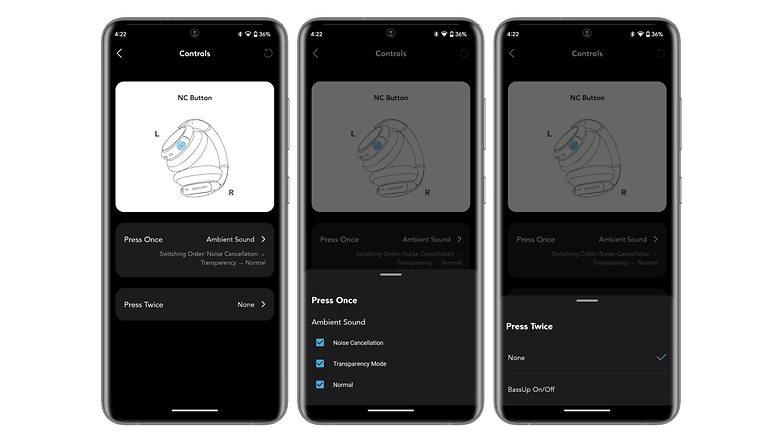 The Soundcore equalizer is also very complete. The app offers a lot of presets depending on the genre of music or type of content you want to listen to. You can also create your own settings via the eight-band equalizer and save your custom profiles.
Once again, far more expensive wireless headphones do not offer as much customization options as the Soundcore Space Q45. It's not as extensive as Sony's, but the user experience is already better than what Bose or even Sennhseiser offers.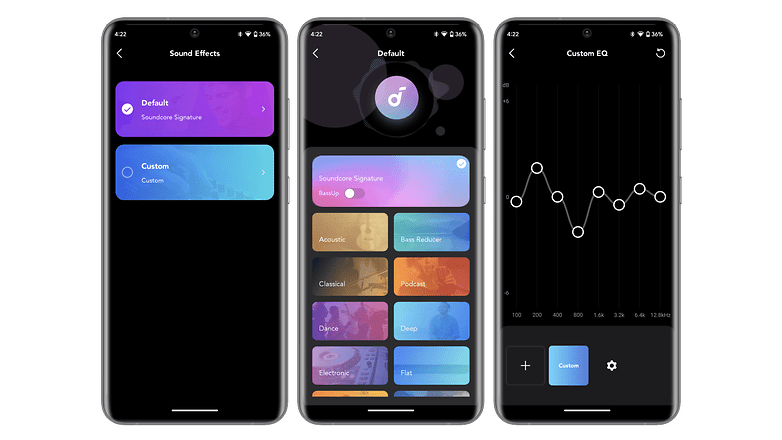 Apart from the application, the Soundcore Space Q45 offers a lot of features that are usually only found on more expensive models. For example, it offers multipoint Bluetooth to connect to several devices at the same time.
That feature worked really well, as I could switch from my smartphone to my laptop without any problem. The headset also connects via Bluetooth 5.3. On the other hand, the Soundcore Space Q45 does not offer Google's Fast Pair or Microsoft's Swift Pair function for quick pairing.
It also lacks port sensors, to pause and resume music automatically when you take the headset off and on.
Battery life
The Soundcore Space Q45 offers one of the best battery life in the market for a device in its class. The manufacturer announced a battery life of 65 hours without the ANC and 50 hours with ANC enabled. On paper, it is largely above what Sony, Bose, or Sennheiser promise. And it proved to be true in everyday use.
---
What I liked:
Excellent battery life of over 50 hours.
5 minutes of charging = 4 hours of listening.
What I disliked:
---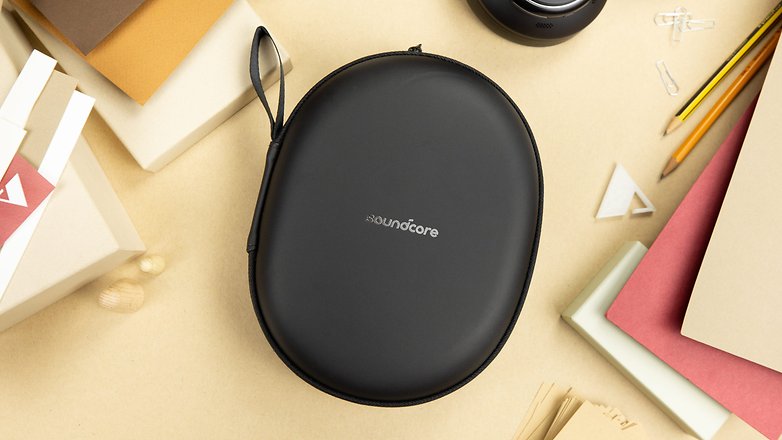 I have been using the Soundcore Space Q45 for over two weeks. On average, I've been able to go over 50 hours with the ANC for most of the time. It takes a while to achieve a full charge, as is always with this kind of products. But I can't give you a concrete timeframe since I left it plugged in overnight. In any case, 5 minutes of recharging allows you to gain the equivalent of 4 hours of listening time.
With the LDAC codec (and ANC) activated, the Soundcore Space Q45's battery had a little more trouble. Still, the headphones still lasted over 40 hours. This is clearly the best model on the market in terms of battery life in this price range.
The only hitch is that since it doesn't have a port sensor, the Soundcore Space Q45 doesn't automatically turn off when you take it off. Many times I would forget about it after removing it from my head and leave it connected for nothing. Thankfully, you can set a delay between 30 and 120 minutes for the headphones to automatically turn off if there is no activity detected.
Conclusion
The Soundcore Space Q45 is a consumer wireless headphone with an excellent price-to-performance ratio. Its active noise reduction is very effective and highly customizable. The battery is simply the best on the market with a minimum of 50 hours of guaranteed listening (with ANC enabled, no less!).
Only its audio quality is a little below that of the segment's leaders, and that betrays it and reminds us that we are listening to a mid-range headset. But frankly, for 99% of users who only listen to MP3 streams, it's an almost imperceptible compromise.
This is especially since we also find functions that are normally reserved for the top of the range models, such as the LDAC codec or the Bluetooth multipoint connectivity. In short, functionally, the Soundcore Space Q45 has almost everything found in a $300 to $400 headphones. If you're an audiophile first and foremost, you might find the sound quality to be off-putting.
As for the vast majority of users, this is clearly THE wireless headset that I would advise buying if you want plenty of bang for your hard-earned buck.