Zooming made easy: A guide to the Galaxy Watch 5 (Pro) camera controls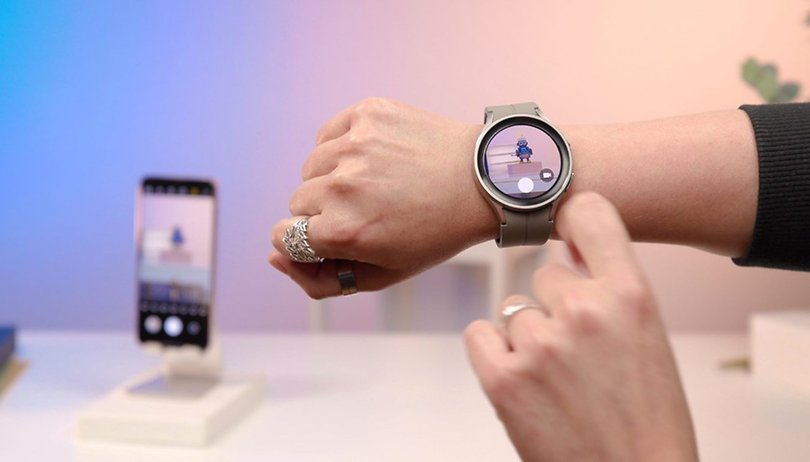 Among the notable features that Samsung shipped to the Galaxy Watch 5 and Galaxy Watch 4 series through an update last month was the remote camera zoom. Basically, it allows zooming in or out using the watch's remote camera controller app. NextPit shows you the step-by-step guide on how to use zooming on a Samsung smartwatch.
Samsung's watches already come with a remote camera function. However, the controls are limited to taking still photos and videos at a fixed view of your camera phone. It's only this year that Samsung introduced zooming capabilities.
Which Galaxy Watch models are supported by camera zoom control
Through an over-the-air software update that was released in January 2023, the pinch-to-zoom and slide-to-zoom features were added to the Galaxy Watch 5 (Pro) and Galaxy Watch 4 (Classic). Samsung has not confirmed if older watches, especially the Galaxy Watch 3, will also receive a similar zooming capability. Here are the current devices that support the new camera zoom controls:
Which One UI version gets the camera zoom control
Updating your Galaxy smartwatch is not enough to successfully take advantage of the zoom control. Samsung notes that your Galaxy phone should run on the One UI 5.1 based on Android 13 OS or later version of Samsung's operating system. Below is a list of Galaxy devices that are already running or can be upgraded to the latest One UI:
Samsung Galaxy S23 series
Samsung Galaxy S22 series
Samsung Galaxy S21 series
Samsung Galaxy S20 series
Samsung Galaxy Note 20 (Ultra)
Samsung Galaxy Z Fold 4 / Galaxy Z Flip 4
Samsung Galaxy Z Fold 3 / Galaxy Z Flip 3
Method 1: How to use pinch-to-zoom on a Galaxy Watch
There are two ways to use the zoom function when remote controlling a Galaxy camera phone using a Galaxy Watch. The first method presented below is the pinch-to-zoom gesture. As the name implies, you can maneuver right on the watch's screen.
Be sure your phone and smartwatch's Bluetooth connection are switched on and paired.
Open the app menu on your Galaxy Watch.
Scroll and select the remote Camera app.
Pinch in or out on the Watch's display to zoom to select the right zoom level.
Tap the shutter button to take a photo or record a video.
Method 2: How to use slide-to-zoom on a Galaxy Watch
As easy as the first method, the next way to use the camera zoom on a Galaxy Watch is by sliding your finger on the bezel. This works on all new Galaxy Watch models except on the Galaxy Watch 4 Classic that comes with a rotating bezel. Thus, you'll need to mechanically rotate its bezel when zooming.
Switched on Bluetooth on both Galaxy phone and smartwatch and ensure both are paired.
Open the app menu on your Galaxy Watch.
Scroll and select the Camera app.
Touch the Watch's bezel clockwise to zoom in or counterclockwise to zoom out.
If you are ready, you can tap the shutter button to start taking a photo or video.
The zoom function on the Galaxy Watch's remote camera controller is simple and easy to use. What other features would you like to see Samsung add to their watches? We're interested in hearing your suggestions.