Flagship face-off: Samsung Galaxy S23, Plus and Ultra compared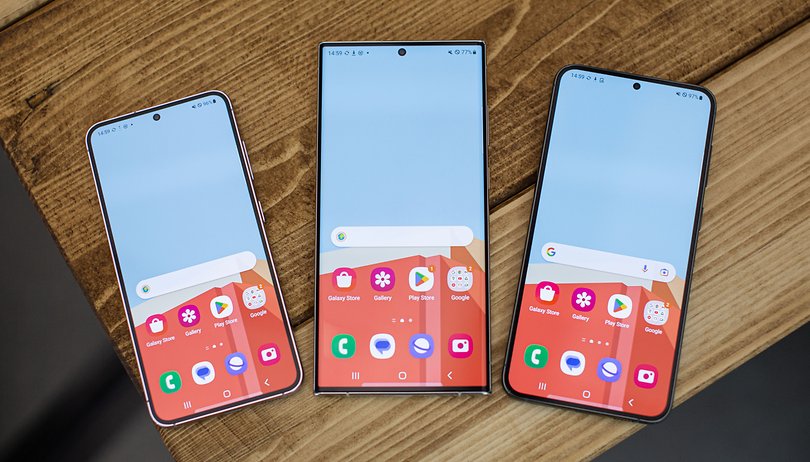 As usual, Samsung launched the Galaxy S23, Galaxy S23+, and Galaxy S23 Ultra at the beginning of February. What can Samsung's flagship smartphones do, how do they look, how much do they cost, and how do they differ? You can get all the answers about specs, features, prices, and availability in this comparison.
The new high-end smartphones from Samsung are now on the market. Of course, the NextPit editors have taken a close look at every single model. Based on our experiences, we will compare the three phones with each other in this article and tell you about the similarities and differences.
So let's not waste any time—let's start with the comparison of the technical specs.
Galaxy S23, Galaxy S23+ and Galaxy S23 Ultra compared: Technical specifications
Editorial tip
Price tip
3rd place
Product
Picture

Display
6.1", Dynamic AMOLED
2,340 x 1,080 px
120 Hz refresh rate


6.6", Dynamic AMOLED
2,340 x 1,080 px
120 Hz refresh rate


6.8", Dynamic AMOLED
3,088 x 1,440 px
120 Hz refresh rate (LTPO)


SoC
Snapdragon 8 Gen 2 for Galaxy
Memory
8 GB RAM
128 GB, 256 GB storage

8 GB RAM
256 GB, 512 GB storage

8 GB, 12 GB RAM
256 GB, 512 GB, 1 TB storage

Expandable memory?
n/a
OS
OneUI 5.1 based on Android 13
Cameras
Main: 50 MP, f/1.8 aperture, OIS
Ultra wide-angle: 12 MP, aperture f/2.2
Telephoto: 10 MP, f/2.4 aperture


Main: 50 MP, f/1.8 aperture, OIS
Ultra wide-angle: 12 MP, f/2.2 aperture
Telephoto: 10 MP, f/2.4 aperture


Main: 200 MP, f/1.7 aperture, OIS
Ultra wide-angle: 12 MP, f/2.2 aperture
Telephoto 1: 10 MP, f/2.4 aperture
Telephoto 2: 10 MP, f/4.9 aperture



Selfie camera
12 MP, f/2.2 aperture
12 MP, aperture f/2.2
12 MP, aperture f/2.2
Battery
3,900 mAh
25 W wired charging

4,700 mAh
45 W wired charging

5,000 mAh
45 W wired charging

Connectivity
5G / LTE / Wi-Fi 6E / Wi-Fi Direct / Bluetooth 5.3 / NFC
5G / LTE / Wi-Fi 6E / Wi-Fi Direct / Bluetooth 5.3 / NFC / UWB
IP Certification
IP68
Colors
Green, Phantom Black, Lavender, Cream.
Only for Samsung: Graphite, Lime

Green, Phantom Black, Lavender, Cream.
Only for Samsung: Graphite, Lime

Green, Phantom Black, Lavender, Cream.
Only for Samsung: Graphite, Sky Blue, Lime, Red

Dimensions and weight
146.3 x 70.9 x 7.6 mm, approx. 168 g
157.8 x 76.2 x 7.6 mm, approx. 195 g
163.4 x 78.1 x 8.9 mm, 233 g
Good

Compact and good haptic feedback
Outstanding display
Very good performance
Excellent picture quality
Larger battery (compared to its predecessor)
More earth-friendly inclusions

Great workmanship and trendy design
Competent performance
Excellent camera system
Long battery life

Superb AMOLED QHD+ screen at 120 Hz refresh rate
Highly polished finish
Most versatile 200 MP camera module on the market
Snapdragon 8 Gen 2 makes all the difference
Excellent battery life which is a feat for Samsung
4 years of Android updates + 5 years of security updates
The integrated S Pen is as cool as ever

Bad

No LTPO display
Charging speed is archaic
No UWB
No microSD support
No 3.5mm audio port

A lot of unwanted, pre-installed apps
Fast Charging still lags behind the competition

Nothing much new in One UI 5.1
Same design as last year
Archaic 45-watt charging speed

Rating

Read the Samsung Galaxy S23 review

Read the Samsung Galaxy S23+ review

Read the Samsung Galaxy S23 Ultra review
Offers*
Carrier deals*
You might have noticed it when you first skimmed the specs: All models rely on Qualcomm's Snapdragon 8 Gen 2, and for the first time anywhere in the world. Furthermore, only the base model is available in a 128 GB variant. We will now go into everything else thoroughly. Bear in mind that we have had very little hands-on time so far. Therefore, we'll essentially compare the three smartphones based on the technical specifications alone.
Jump to:
Display and design
Let's just make short work of the display: Samsung is the display king, which the S22 series proved once again last year—and therefore didn't really have a reason to make any improvements here. This means that the panels look exactly the same again as last year. Thus, the Galaxy S23's display measures 6.1 inches across diagonally with a resolution of 2,340 x 1,080 pixels. The Plus model retained a similar resolution at 6.6 inches, while the 6.8-inch Ultra remains at 3,088 x 1,440 pixels this year.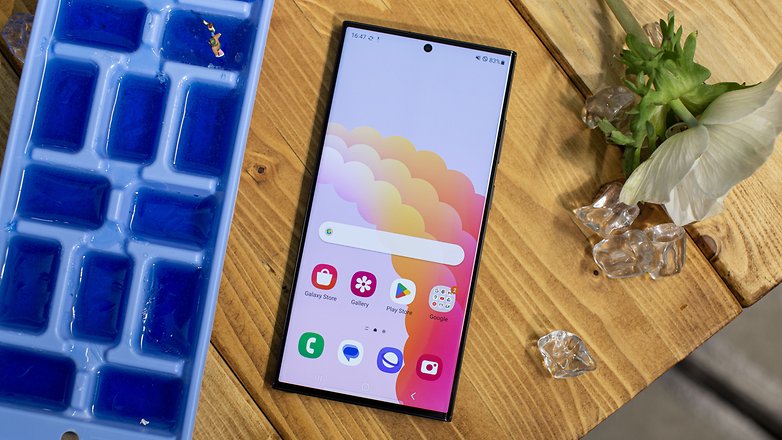 All three models offer us a refresh rate of 120 hertz, so there is nothing new to report here either. Only the Ultra clocks down to 1 Hz, the other two devices have a range between 48 and 120 Hz. Samsung wants you to enjoy these high-quality AMOLED panels for longer and protects them with the brand-new Gorilla Glass Victus 2. However, first drop tests indicate that the new glass does not really make the devices more resistant.
You will also find the same material at the back, which means we can now turn to the design of the new models. If you were hoping for a completely fresh design idea, you will most probably be disappointed. The Ultra uses the look of its predecessor, which was already based on the angular look of the previous Galaxy Note. This also includes the fact that the S Pen is only integrated into the Ultra.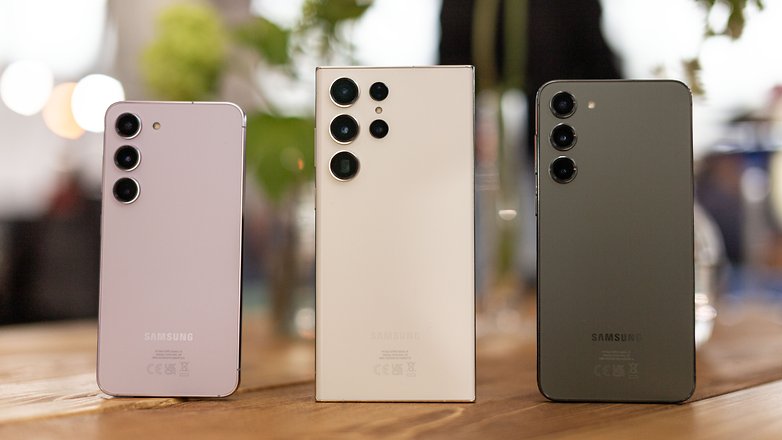 The base model and the S23+ also changed more than... oh, wait: Yes, something has changed, because the usual camera islands have now disappeared. Thus, both models adapted the design of the Ultra for the camera for the back. Instead of the aforementioned island, you will now be able to see individual camera lenses.
Of course, all three devices are IP68-certified once again, and the amount of recycled plastic parts used has doubled to 12. By the way, the dimensions have only seen minimal change. The thickness even remained exactly the same, which means that the S23 and S23+ are 7.6 mm thin, while the Ultra is still 8.9 mm.
Performance and connectivity
Oh, Samsung—finally! All models in all versions and in all markets have just one SoC model: the Qualcomm Snapdragon 8 Gen 2! This means, that wherever you are, you no longer have to worry about whether the local S23 model might have less performance than the US model. And for you, US folks: You'll get a considerably faster SoC than Galaxy S22 owners elsewhere.
Not only that, the new S23 range is faster than the Snapdragon 8G2 found in other models: Samsung gives its devices an exclusive "For Galaxy" variant of the flagship SoC. This means higher clock speeds than normal which were supposed to give 34% more CPU performance and 41% more GPU performance compared to last year's model. You can see what the new handsets are capable of in the benchmark table below. In comparison, you can see last year's S22 Ultra on the right. As a reminder: The Galaxy S22 Ultra (review) has the Exynos 2200 on board (euro-spec).
Galaxy S23
Galaxy S23+
Galaxy S23 Ultra
Galaxy S22 Ultra
3D Mark Wild Life
Too powerful
5682
3D Mark Wild Life Stress Test
Best loop: 11049
Worst loop: 6169

Best Loop: 12958
Worst Loop: 8047

Best loop: 12278
Worst loop: 7386

Best loop: 5741
Worst loop: 3351

Geekbench 5
Single: 1537
Multi: 4807

Single: 1528
Multi: 4823

Single: 1912
Multi: 4981

Single: 1155
Multi: 3356

In the tests, we noticed that the Snapdragon 8 Gen 2 in the Xiaomi 13 Pro reviewed here on NextPit runs more stably. In return, we did not see excessive heat development (only the Galaxy S23 got warmer in the benchmark test). Either way, Samsung takes a big step forward in performance compared to last year, and that is the case for all three devices.
In terms of storage, the 128 GB storage size is slowly but surely being phased out: Only the Galaxy S23 is still in the race with this variant. By the way, the 128 GB version is the only one with UFS 3.1 storage as all other sizes rely on the faster UFS 4.0 memory! The following configurations are available:
Galaxy S23: 8 GB RAM, 128 / 256 GB ROM
Galaxy S23+: 8 GB RAM, 256 / 512 GB ROM
Galaxy S23 Ultra: 8 GB RAM, 256 GB ROM
Galaxy S23 Ultra: 12 GB RAM, 512 GB / 1 TB ROM
Here, too, we enter familiar territory: 12 GB of RAM and 1 TB of internal storage are only available in the Ultra. There are also very few changes in terms of connectivity—Wi-Fi 6E was already part of the package last year. However, all three devices now use the Bluetooth 5.3 standard.
Cameras
As experience shows, this is where things get more exciting, because Samsung tried to equip its best model better than the others in this aspect, just just like how Apple did with its iPhone. To be more specific, this meant that the South Koreans offer us a quad-camera configuration with a 200 MP sensor for the very first time in the Galaxy S23 Ultra. The rest of the Ultra lineup plays a familiar tune: An ultra-wide angle camera at 12 MP, plus two telephoto sensors at 10 MP each.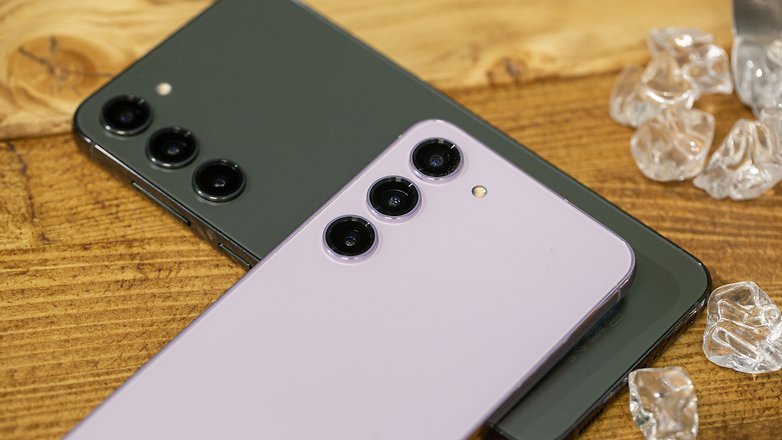 Meanwhile, in terms of hardware, the S23 and S23+ don't differ in anything on paper: Yet again, Samsung combines a 50 MP cam with a 12 MP ultra wide-angle and 10 MP telephoto lens. However, all three models march in step with a 12 MP selfie camera with dual-pixel technology in the front.
Sample pictures from the Galaxy S23
Positive: Although not that much has changed on the spec sheet, our testers unanimously report that Samsung delivers better results than last year in almost all disciplines. This means that the main camera in all three models takes even better photos in daylight, but especially improves in night photos and generally pictures in worse conditions.
Review photos from the Galaxy S23+
The triple optical and 10x digital zoom is also praised. The Ultra trumps here with a 10x optical zoom. Likewise, our reviews unanimously report the improved quality of selfies, which is owed to the larger sensor. There hardly seem to be any real weak points in Samsung's cameras, only Antoine notices two points in the S23 Ultra: The device still reacts a bit nervously when focusing and the portrait mode could also crop the subject more clearly in Antoine's opinion.
Photos took by the Galaxy S23 Ultra
However, this is complaining on an extremely high level. The best cam is found in the Ultra, but the other two camera systems in the base model and the Plus are also extremely versatile and high-quality. In addition, there are software features like astrophotography or the new option to crop objects from pictures. Please click through the galleries to get an impression of the powerful cameras.
Software
In terms of software, all three models are once again on par with each other because they all arrive with OneUI 5.1 that is based on Android 13. Nothing much has changed since the current version.
The difference is found in the S Pen, which has been integrated into the flagship model since last year and which also expands the software features compared to the other siblings.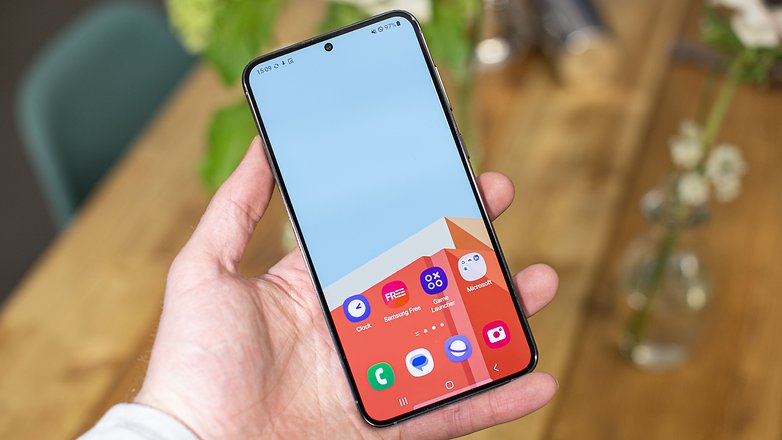 As usual, when it comes to Samsung, there are no differences between the different models in terms of the exemplary update policy: Thus, all benefit from the long support, which promises us four major Android updates and five years of security patches.
In our tests, there was only one real point of criticism in the software category: Excessive bloatware! Samsung could get rid of some of the preinstalled apps. Apart from that, we give the beautiful One Ui 5.1 top marks in all reviews.
Battery life and quick charging
The battery is not exactly Samsung's pride and joy for the Galaxy S series for some time now. The company probably has its own reasons for not joining the industry's quick-charging race. But it is what it is: The base model still charges at 25 watts, with the other two at 45 watts. Inductive charging is available at 15 watts. And, simply because it is a nice tradition at Samsung, there are no chargers bundled with the smartphones upon purchase.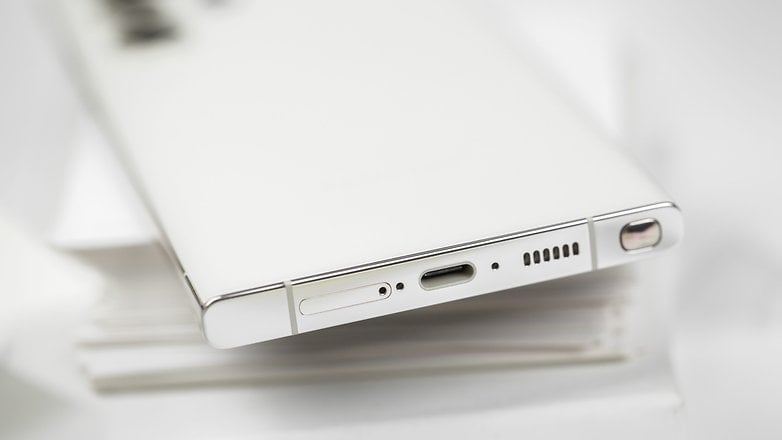 At least the battery capacity has been increased in two of the three devices: The Galaxy S23 now has a capacity of 3,900 mAh with the S23+ sporting at least 4,700 mAh. The Galaxy S23 Ultra, on the other hand, remains at an ample 5,000 mAh.
Matt was a bit disappointed when testing the Galaxy S23 because charging took almost two hours and the battery benchmark test "only" came up with 13 hours and 44 minutes until the battery was sucked down to 20 percent. Camila, on the other hand, managed more than 15 hours with the Galaxy S23+, which is fantastic. Antoine ended up with just over 13 hours with the Ultra but had also tested under slightly more demanding conditions. He assumes that it will also land at 15, 16 hours under identical conditions—flight mode and 200 nits brightness.
Price and availability
For Samsung customers in the US, there's some good news here. While prices for the S23 lineup have risen across the globe (especially in Europe), they're identical to last year's S22 lineup prices. The Galaxy S23 is available starting at $799. The cheapest S23+ will set you back at $999, while those who lust after the Ultra model will have to pay at least $1,199.
Galaxy S23 price overview
| Models and MSRP | 128 GB | 256 GB | 512 GB | 1 TB |
| --- | --- | --- | --- | --- |
| Galaxy S23 | $799.99 | $859.99 | ❌ | ❌ |
| Galaxy S23+ | ❌ | $999.99 | $1119.99 | ❌ |
| Galaxy S23 Ultra | ❌ | $1199.99 | $1379.99 | $1619.99 |
As you can see, only the base model is still available with 128 GB (UFS 3.1), both Galaxy S23+ and S23 Ultra start at 256 GB (UFS 4.0), but are also significantly more expensive than last year. If you want to buy the Galaxy S23, S23+ or S23 Ultra, you can find all information in our linked article.
Conclusion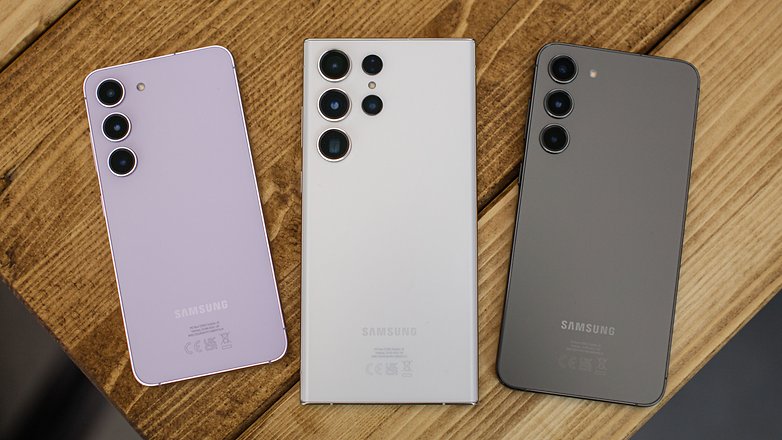 Please bear in mind that there are no concrete recommendations for anyone to make a purchase decision now, simply because we still have to take a closer look at all three devices before we are able to do so. However, we can already say this much: Samsung has done an admirable job of product refresh this year, which is also due to the powerful Snapdragon 8 Gen 2 and the fact that the entire series now carries a more consistent look.
Even though a look at the technical specs leads us to fear that the new models have only improved minimally, the impression is deceiving. Performance, cameras (especially night and selfies), battery life - all three devices improved everywhere.
Those who bought the S22 series last year do not really have to upgrade at any price. You already have strong smartphones with the S22 series, which will easily be technically up-to-date for another one or two years and will also be provided with software updates accordingly. However, if you are looking for a new Android phone anyway, you will hardly get past Samsung in 2023.
But which of the three models should it be?
Priced shy of just $1,200 at a minimum, the Ultra would only be my top recommendation for those who absolutely need the best camera or the S Pen. Everyone else can be sure that they will also be happy with the S23 or S23+ thanks to the identical SoC and software everywhere.
What do you think about the new Samsung flagships? Do you already have your favorite in mind? Will Samsung be able to stand up to the competition with this lineup in your opinion? Write it down in the comments.
---
Article last updated in March 2023 to include a video comparison.