Samsung Galaxy S22 vs. Galaxy S21: Is it worth the upgrade?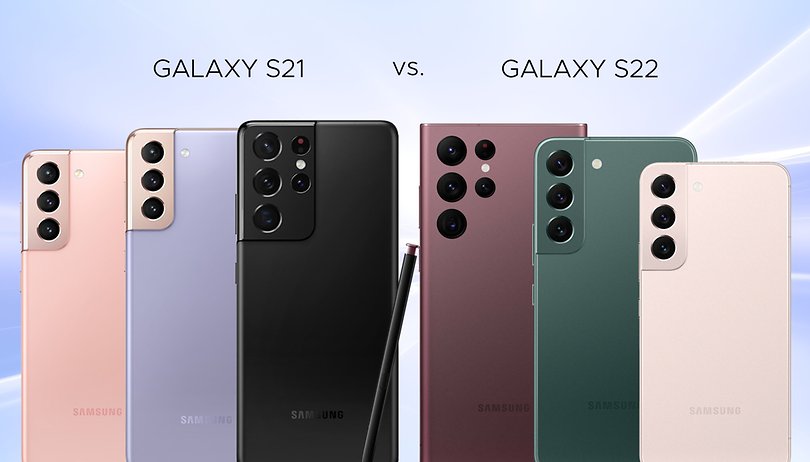 Samsung has unveiled the Galaxy S22 series and thus the latest generation of its flagship smartphones. We take a look at the technical specifications and compare them with their respective predecessors from the S21 series. Is it worth making the switch to its successors? We clarify that in this article.
The Galaxy S22 continues to be one of the most important smartphones of the year, and it was unveiled in early February. We were able to check out the S22 in an initial hands-on. We also look at the Galaxy S22 Ultra by sharing out first impressions of the Note heir. We will also provide you with the complete reviews as soon as possible, of course. Until then, we will a glimpse at how these smartphones fare based on their paper specifications.
Do you, as an owner of the Galaxy S21, S21+ or S21 Ultra, need to treat yourself to the new model? Or are the differences negligible? We find out in this article and as usual, we will begin with a comparison of the technical specifications in table form:
The new base model
The new Plus model
The new Ultra
Base 2021 model
2021 Plus mode
2021 Ultra
Product name
Image
MSRP
from $799
from $999
from $1,199
from $799
from $999
from $1,199
Technical specifications
6.1 inch, Dynamic AMOLED
2400x1080 pixels
Exynos 2200 (Europe)
128 / 256 GB ROM
8 GB RAM
Triple camera
Main camera: 50 MP
Ultra wide-angle: 12 MP
Telephoto camera: 10 MP
3,700 mAh, 25 W
February 2022
6.6 inch, Dynamic AMOLED
2400x1080 pixels
Exynos 2200 (Europe)
128 / 256 GB ROM
8 GB RAM
Triple camera
Main camera: 50 MP
Ultra wide-angle: 12 MP
Telephoto camera: 10 MP
4,500 mAh, 45 W
February 2022
6.8 inch, Dynamic AMOLED
3088x1440 pixels
Exynos 2200 (Europe)
128 GB / 256 GB / 512 GB / 1 TB ROM
8 / 12 GB RAM
Quad camera
Main camera: 108 MP
Ultra wide-angle: 12 MP
Telephoto camera 1: 10 MP
Telephoto camera 2: 10 MP
5,000 mAh, 45 W
February 2022
6.2 inch, Dynamic AMOLED
2400x1080 pixels
Exynos 2100 (Europe)
128 / 256 GB ROM
8 GB RAM
Triple camera
Main camera: 12 MP
Ultra wide-angle: 12 MP
Telephoto camera: 64 MP
4,000 mAh, 25 W
January 2021
6.7 inch, Dynamic AMOLED
2400x1080 pixels
Exynos 2100 (Europe)
128 / 256 GB ROM
8 GB RAM
Triple camera
Main camera: 12 MP
Ultra wide-angle: 12 MP
Telephoto camera: 64 MP
4,800 mAh, 25 W
January 2021
6.8 inch, Dynamic AMOLED
3200x1440 pixels
Exynos 2100 (Europe)
128 / 256 / 512 GB ROM
12 / 16 GB RAM
Quad camera
Main camera: 108 MP
Ultra wide-angle: 12 MP
Telephoto camera 1: 10 MP
Telephoto camera 2: 10 MP
5,000 mAh, 25 W
January 2021
Pros

Finally faster Quick-Charging in the Plus model
Actual telephoto lens at last
Samsung builds the best displays
Smaller and handier

Full range of hardware
Comes with the S Pen
Great workmanship and materials
One UI 4.0 is fun to use

Comparatively compact
Fast when compared to the Plus & Ultra
Surprisingly high-quality plastic back
Long update period

Brilliant 120 Hz display
Exynos 2100 without any performance drawbacks
Finally, the courage for a fresh design
Extremely well manufactured
Triple camera convinces for the most part
OneUI 3.1 is pretty and has long updates

Daring and self-confident design
AMOLED display with WQHD+ & 120 Hz refresh rate
Exynos 2100 offers a lot of performance
The most versatile camera module on the market
Highly effective 10x zoom
Good battery life
OneUI 3.1 fluid and feature-rich

Cons

Few significant improvements
Very small capacity battery in the base model, plus only 25-watt charging
Memory is not expandable
SoC advantages remain to be seen

Ordinary design
Very little real innovation

Battery life is too short
No S Pen compatibility
No UWB chip
Memory not expandable

Cheat pack as telephoto camera
No micro-SD slot
Battery life is not outstanding despite a 4,800 mAh capacity
No S Pen compatibility
Simply too few innovations

Exynos 2100 is not more powerful than the Snapdragon 888
No charger included
No microSD port
Fast charging only with 25 watts
S Pen is an afterthought
Its price

Check offer*
A look at the table should already provide you a first impression. As always, we will of course update this article once we have finished the reviews. If you like, you can already order the new handsets via the following links. If you need additional details before making a decision, just read on.
Jump to:
Samsung Galaxy S22 vs. Galaxy S21: Display and case
If we were to place the new and old models next to each other, we only see minor design changes in the S22 and S22+ compared to their predecessors. The screen size has decreased by 0.1-inch across diagonally in each case, whereas it remains at 6.8-inches in the Ultra models. The camera array also sees a slight revision in the base model and the Plus variant.
The S22 Ultra stands out here as well, which no longer relies on the raised island as it seamlessly transitions into the casing. Instead, Samsung relies on a design in which the lenses are free-standing and remotely reminiscent of a spider's eyes.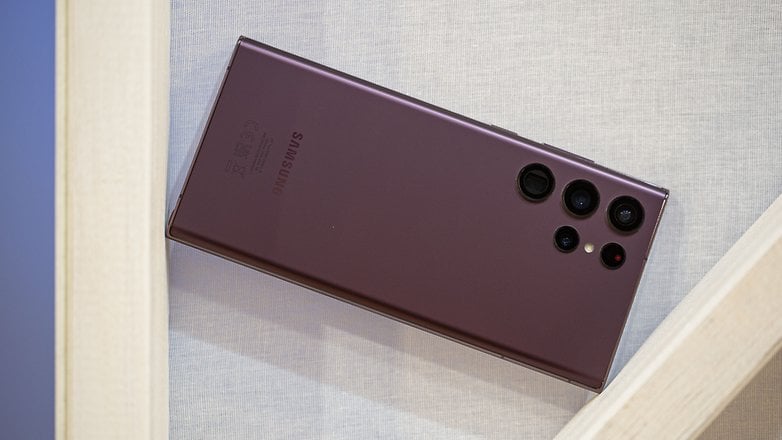 We have to praise Samsung for the fact that has now also equipped the basic S22 model with a glass back. All three devices thus come with Gorilla Glass Victus+, and all models, regardless of whether they are from 2021 or 2022, are also IP68-certified and lack a slot for memory expansion.
The S22 Ultra, by the way, was released by Samsung as a legitimate heir to the now-discontinued Note line. This includes the more angular shape known from the Galaxy Note and of course, the S Pen. Support for the S Pen was already available in the S21 Ultra last year, but this year's implementation of the S Pen is so much better as it is embedded into the smartphone itself and supports Bluetooth!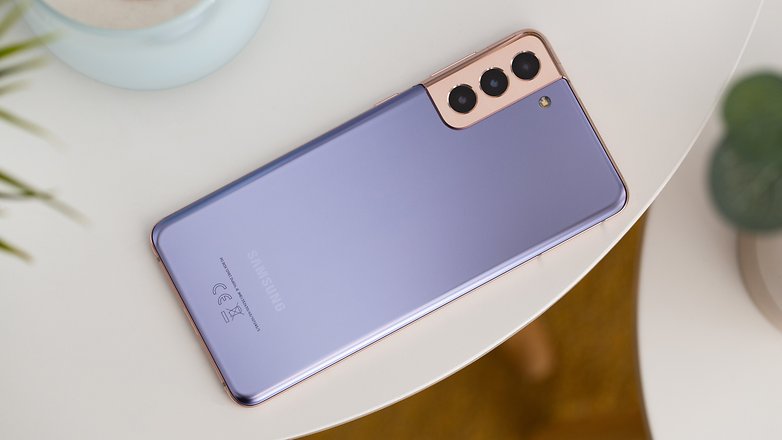 The Galaxy S22 and S22+ are available in four colors: Phantom Black, Phantom White, Green and Pink Gold. The colors look great, but the monochromatic S22+ looks more boring than the predecessor with its applications in another color. The Ultra comes in the same colors, except for Pink Gold, with Burgundy replacing it. Additional colors are available online if that's not enough for you.
The displays have not changed in terms of resolution or refresh rate. The latter now fluctuates between 1 and 120 Hertz, depending on the requirements. However, the adaptive refresh rate advertised by Samsung turned out to be misinformation as the base models sport a range of 10 to 120 Hertz. Here, the hardware manages anywhere from 48 to 120 Hertz. Furthermore, at least the Ultra's display has now become brighter: You get up to 1,300 nits with the two smaller models, while the Ultra now goes all the way up to 1,700 nits, doing a whole lot more than the already very bright 1,500 nits on the S21 Ultra.
Samsung Galaxy S22 vs. Galaxy S21: Performance and connectivity
In Europe, the Exynos 2100 act is followed up by the Exynos 2200 SoC, and there is also an expected update in other regions where the Snapdragon 8 Gen 1 is tipped to be featured instead of the Snapdragon 888 SoC. It is becoming apparent that the performance of the Samsung SoC could be inferior to that of the Snapdragon 8 Gen 1. However, we will also discuss whether there really is such a striking difference and how much better the new smartphones perform compared with the S21 series in tests.
There was almost nothing new in terms of storage: 8 GB of working memory and the choice between 128 GB and 256 GB in the S22(+) remained the same as last year. There was even a downgrade in the Ultra: Instead of 12 or 16 GB, the options are 8 and 12 GB of working memory in 2022. In return, the option to select the S22 Ultra with 1 TB of storage has been added this year.
Let's briefly talk about connectivity: Wi-Fi 6E and Bluetooth 5.2 were only available for the Ultra last year. This year, all three devices benefit from it. Otherwise, everything remains the same as last year. You will again be able to enjoy 5G connectivity and NFC, of course.
Samsung Galaxy S22 vs. Galaxy S21: Cameras
In the Galaxy S21, 12 MP had to be enough, but now there is a main camera at 50 MP in addition to the ultra wide-angle and telephoto lenses. However, it is more exciting that we now find an optical triple zoom as part of the formation. Significant improvements are hardly visible, at least on paper. Like the telephoto lens, the main camera offers optical image stabilization and should be able to capture more light.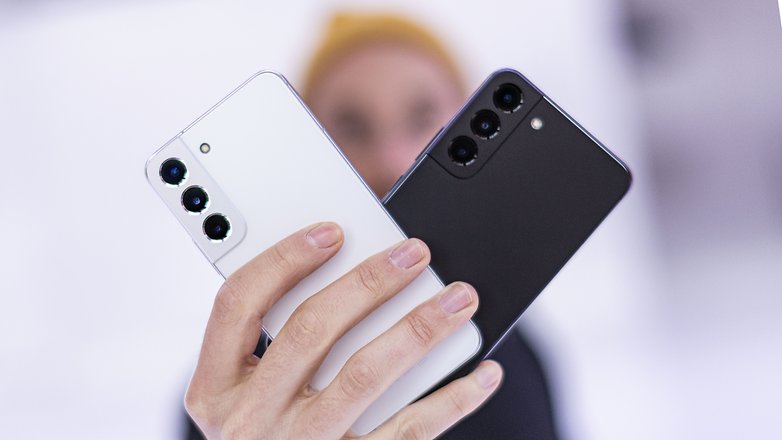 On the Ultra, there is once again a quad-camera setup like last year, with an additional telephoto lens boosting the offering compared to the S22 and S22+. It is noticeable that the main camera now offers 108 MP resolution. Samsung relies on 10 MP for the selfie shooters in the smaller devices and 40 MP in the Ultra. Thus, there is nothing much that is new here, either.
However, the South Koreans did let it slip at the presentation that the cameras benefit from AI-supported image stabilization. Samsung has also coined a new buzzword known as Nightography. The new features are supposed to help you turn "night into day", but I'd rather refer to the upcoming tests just to be sure. Better safe than sorry and shoot myself in the foot!
Samsung Galaxy S22 vs. Galaxy S21: Software
We can tick off this category in a short while. This is because the three new smartphones ship with Android 12 as well as OneUI 4. The predecessors were shipped with Android 11, but a look at our article about Android 12 updates for Samsung devices shows the following: The S21, S21+ and S21 Ultra have already received the update to Android 12. Thus, the new models hardly offer any significant advantages in terms of software.
However, you can of course expect updates for a longer period. Samsung has just presented its new update policy for some models. It provides for four major Android updates and even up to five years of support when it comes to security updates. The S21 models also benefit from this, but they already have one year and one major update under their belt.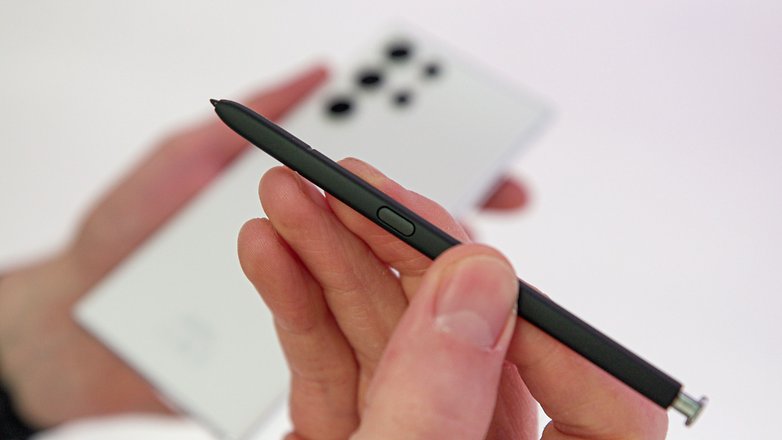 Samsung Galaxy S22 vs. Galaxy S21: Battery and Quick Charging
We come to another category where improvements in the Galaxy S22 is incremental. You can still only charge the base model at 25 watts. Like the Plus model, the capacity has even shrunk by 300 mAh. To have 3,700 mAh in the S22 and 4,500 mAh in the Galaxy S22+ might be something you want to be cautious with in this day and age. The capacity of the S22 Ultra remains at 5,000 mAh though. We will find out whether the slightly smaller displays and more efficient processors can compensate for the reduction in battery capacity in our reviews.
Meanwhile, the S22+ and S22 Ultra can be charged at speeds of up to 45 watts. Once again, you will have to purchase the charger separately for all models. Wireless charging remains at 15 watts and reverse wireless charging is still possible.
Samsung Galaxy S22 vs. Galaxy S21: Price and availability
In the meantime, all three new smartphones are available for pre-order and are also already part of smartphone plans. In this table, you can view when will they be shipped and how much the different configurations cost:
Galaxy S22
Galaxy S22+
Galaxy S22 Ultra
Price

8/128 GB: $799
8/256 GB: $849

8/128 GB: $999
8/256 GB: $1,049

8/128 GB: $1,199
12/256 GB: $1,299
12/512 GB: $1,399
12/1 TB: $1,599

Availability
S22 Ultra available from February 25, 2022, S22 and S22+ from March 11.
The price structure has remained constant compared to the previous year. "Thanks" to the chip crisis, Android smartphone prices do not depreciate that quickly, which also applies to last year's S21 range. Nevertheless, prices are gradually going to drop in due time, so should keep an eye on our Galaxy S21 price check for daily updated prices.
Conclusion
Here's the usual disclaimer: This is just a preliminary conclusion that are based solely on the available technical specifications. It will only get really exciting when we have reviewed all three models and tell you something more about the processor performance, camera features and battery life. Based on this, a switch from the S21 to the S22 and from the S21+ to the S22+ is not necessarily recommended. Sure, the base model now offers an optical 3x zoom as well as a glass back, while the S22+ charges much faster than its predecessor, but are they really deal-breakers?
But these are not the upgrades that should drive you to your trusted smartphone retailer. However, things are different with the Galaxy S22 Ultra! First of all, you get a fresh design and the S Pen included. This makes the S22 Ultra exciting for those who mourn for the Galaxy Note series. The S Pen supports Bluetooth, so you are functionally on par with Samsung's former business-class smartphones.
The maximum working memory for the Ultra remains at 12 GB this year, but you can now also get a fat 1 TB storage option. Are the improved performance, faster Quick Charging, and the new main camera reason enough for a new purchase? If you do not need the S Pen, I would rather advise you to at least wait for our review.
Regardless, the Galaxy S21 Ultra is still an absolutely outstanding top smartphone. Basically, owners of the S21 Ultra do not have to buy a new device for $1,199.
We have already asked you in our survey concerning what you think of the S22 models. Tell us in the comments whether you own one of the 2021 models and whether you are thinking of making an upgrade.