Realme GT 3 Hands-on: 240W Charging Will Blow Your Mind!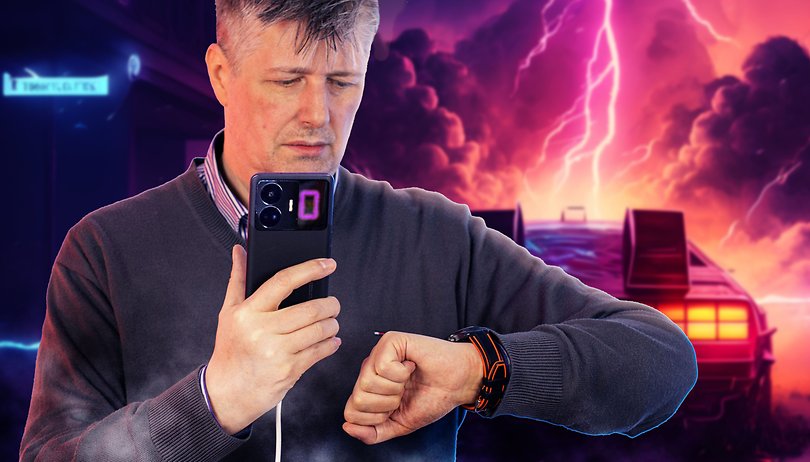 Nothing is faster than the Realme GT 3: It is the first smartphone that charges its battery with 240 watts. But that is not its only highlight. You can read more about the spectacular features under the hood in our review of the Realme GT 3.
Good
Fastest charging worldwide

Fancy 144 Hz display

Exciting RGB notification LED

Snapdragon 8+ Gen 1
Bad
No flagship camera

No IP certification

No wireless charging

No analog headphone jack

No microSD card support
My opinion on the Realme GT 3 in brief
The Realme GT3 is the global version of the Realme GT 5 and was officially unveiled on February 28 at the Mobile World Congress 2023. It won't be sold in the US and there is no date for the official sales launch in Europe yet, but Realme wanted to hype the device anyway.
Nevertheless: We have learned that the Realme GT 3 with 8 GB of RAM and 256 GB of internal and non-expandable program storage will cost 649 Euros. Our test device is equipped with 16/256 GB but more storage options should be available. In terms of colors, black (Booster Black) and white (Pulse White) are waiting in the wings in Europe. The trendy purple version is only planned for the home country China for now.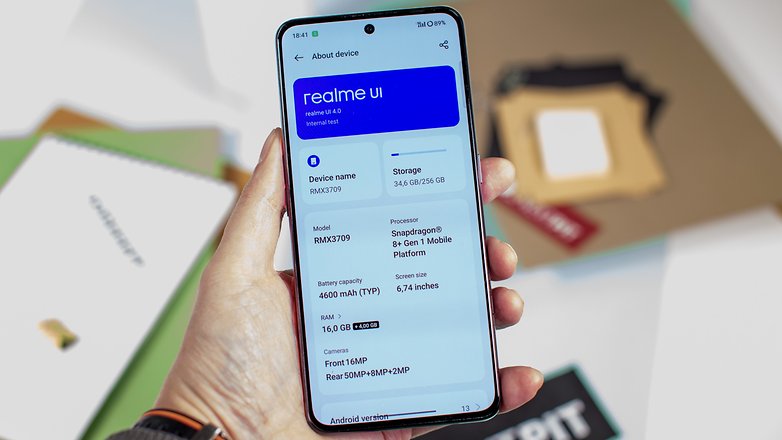 In any case, it's worth the wait: The selling point par excellence for the Realme GT 3 is the included power supply, which delivers a crazy 240 SuperVooc watts. Realme advertises under 10 minutes for a full charge. That is a bit too optimistic according to our tests, but between 10 and 15 minutes are definitely possible. That is of course pure insanity and should be one of the selling points of the Realme GT 3.
The Snapdragon 8+ Gen 1 is only a breath away from Qualcomm's current flagship and delivers more than enough performance. The 6.74-inch AMOLED display offers a resolution of 2772 x 1240 pixels and an exceptionally high refresh rate of 144 Hz. Then there is only the main camera, which could stand in the way of a top rating.
However, Realme delivers as expected with its GT 3 here as well. It is not in the class of a Samsung Galaxy S23 Ultra (see camera review) or the Apple iPhone 14 Pro (see camera review), but the GT 3 does not see itself there. The smartphone is more of a "semi-flagship", and as such, I can recommend it to you without hesitation in my short summary.
Design & Display
The Realme GT3 is not spectacular in terms of design. It does not have the two racing stripes of the Realme GT Neo3 reviewed months ago over the entire back, and the paper design of the Realme GT 2 Pro reviewed shortly after has also been sworn off in 2023. And what can I say: I like it that way!
Pros:
Optimally positioned keys.
Refresh rate of a gaming smartphone (144 Hz).
Flat-screen.
Maximum brightness of 1,400 nits.
High-quality workmanship.
Breathing Light.
Cons:
The 6.4 x 29.8 x 0.3 in (163.9 x 75.8 x 8.9 mm) and 7 oz (199 g) light "semi-flagship" from Oppo's subsidiary offers an excellent feel thanks to its rounded back and centrally positioned buttons. Our test sample came to the NextPit editorial office in the color Booster Black, which is characterized by a matte and thus fingerprint-resistant design. On the back of the white model, the full-width camera array is even more visible.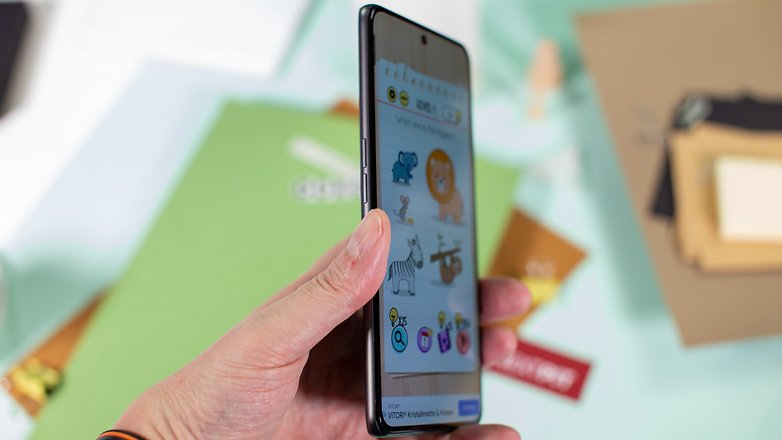 But the glass, which also integrates the so-called "Breathing Light" on the right side, is installed flush with the rest of the back. Only the triple camera, which is housed in two circular openings on the right side, rises out of the casing along with an elongated LED dual flash.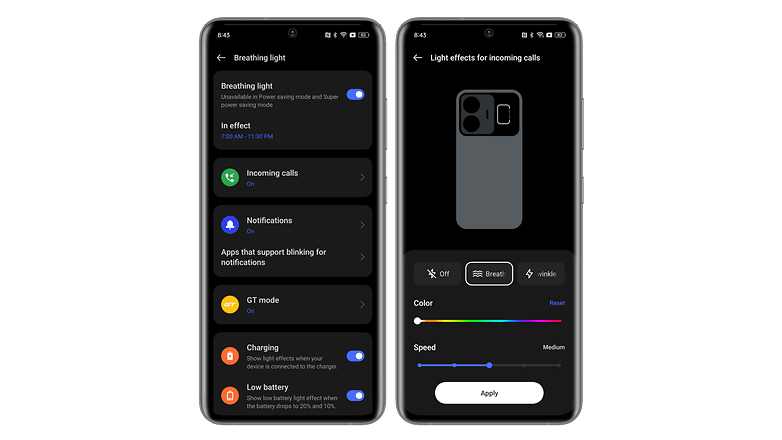 The so-called "Breathing Light" is a multicolor LED shaped into a rectangle, which indicates incoming notifications or a low battery, or visually accompanies the charging process itself. The "Pulse Interface" offers corresponding settings. Personally, I like the implementation quite a bit, since it is hard to spot when not in use. You have to come with a magnifying glass to recognize the lettering and the pattern reminiscent of a gaming smartphone.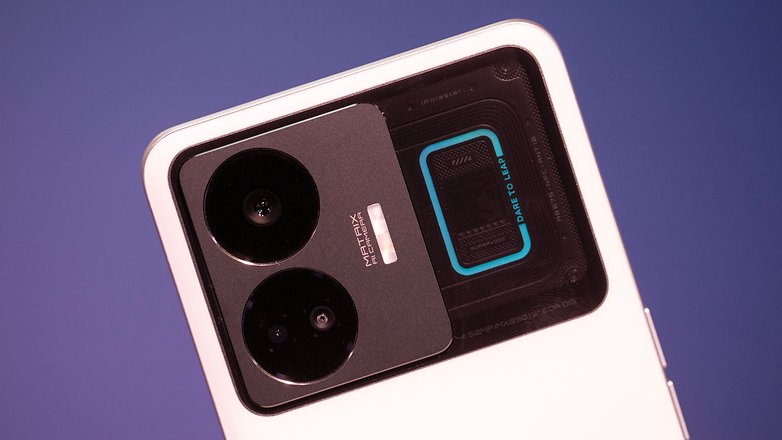 The AMOLED display of the Realme GT 3 has a diagonal of 6.74 inches and offers a resolution of 2,772 x 1,240 pixels, which goes beyond the typical Full HD Plus resolution. Realme calls it a 1.5k resolution, which is of course nonsense when viewed in detail. Actually, the marketing phrases are not even necessary with the "flat" screen. With a maximum refresh rate of 144 Hz, the panel compares well with the competition.
The brightness is also impressive: The Realme GT 3 achieves 1,400 nits at its absolute peak—that is in a small area of the screen. The maximum brightness without direct sunlight is a proud 1,100 nits (HBM) in the Realme GT 3. The typical brightness is specified at 500 nits. That does not sound very bright at first, but it is more than enough to ensure perfect legibility.
There is of course also the classic always-on display with its different designs and optional timed settings. Speaking of time: The GT 3 also offers a so-called "Bedtime Mode", which turns down the display brightness and switches the display to black and white. Also, only calls from selected contacts are then allowed through.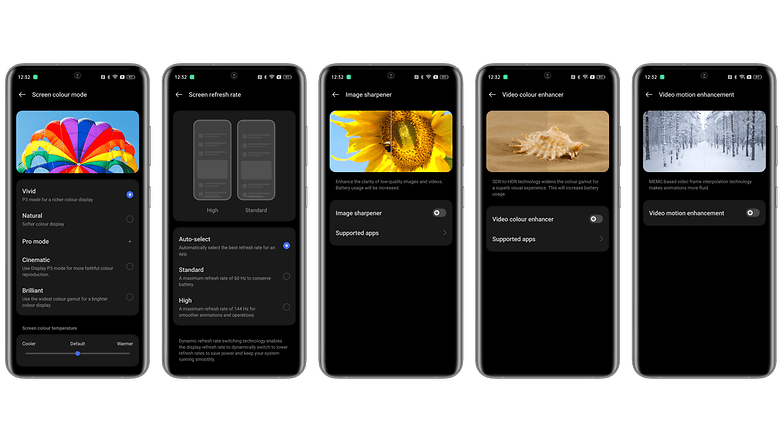 Realme also offers extensive settings to customize the coloring of the screen. For example, there is a full-screen mode and sharpness options and the possibility to manually change the frame rate. And even though the GT 3 doesn't have a flagship-typical LTPO panel with variable 1 to 144 Hz, according to Realme, seven refresh rates are possible in "Automatic mode": 40, 45, 60, 72, 90, 120, and 144 Hz.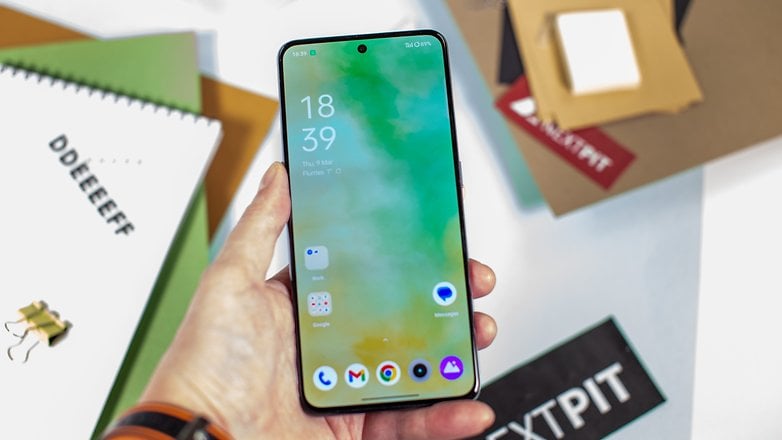 Interface/OS
The Realme GT 3 comes to the customer with ColorOS 13, which is of course based on Android 13. The Google security update is dated February 5, 2023. The Oppo user interface only becomes visible when you dig a bit deeper into the settings. According to the smartphone, it runs Realme UI version 4.0 (RMX3709_13.1.0.10).
Pros:
Known usability from OnePlus and Oppo.
Acceptable update policy.
Cons: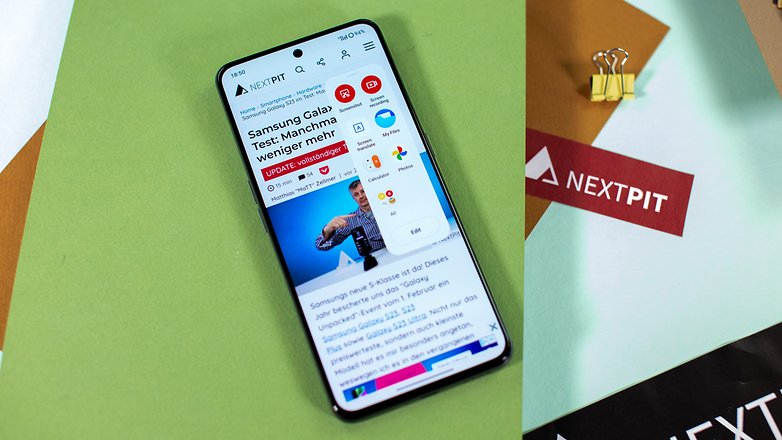 As with many Chinese manufacturers—see Xiaomi—the update policy is not clearly clarified for the Realme. Upon inquiry, we learned that the Realme GT 3 can expect three Android system updates and four years of Google security patches. To what extent these are released regularly will likely vary from smartphone to smartphone. My personal guess is that this should be directly related to the sales figures.
The interface is "airy", the various elements are well hierarchized, and navigation is quite intuitive. There is the same shelf menu (swiping from top to bottom on the home screen) as on Oppo and OnePlus. Realme also offers dynamic themes, which were implemented together with Android and its many personalizations. Among other things, one can apply the dominant color of the wallpaper to the rest of the user interface. Theme-specific icons are not included here, though.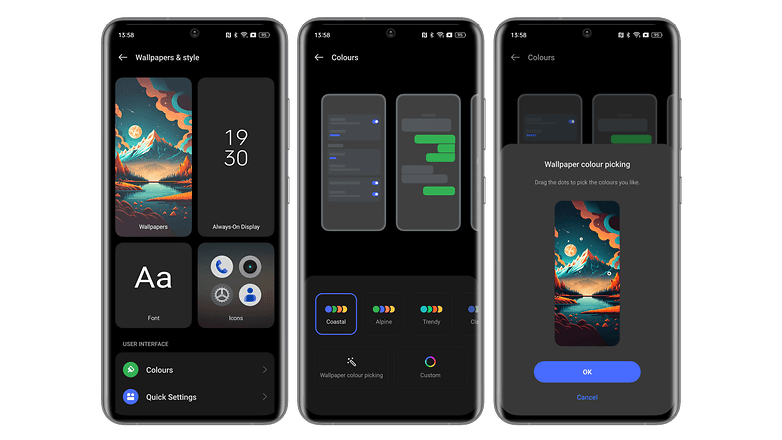 Performance
The Realme GT 3 does not have a Snapdragon 8 Gen 2 installed, which is actually used in just about every current flagship smartphone as the current premium processor. No, the BBK subsidiary company installs a Snapdragon 8+ Gen 1 instead, which is basically last year's flagship processor. That is basically quite a clever idea, which not every manufacturer necessarily follows right away.
Pros:
Powerful Snapdragon 8+ Gen 1.
Sufficient power in all situations.
Fast LPDDR5x RAM.
Cons:
Unclear storage policy.
No microSD card support.
Whoever installs Qualcomm's current flagship processor now also has to pass on flagship prices to the customer. And since Qualcomm has something of a monopoly position when it comes to smartphone processors, that can end up ugly for the wallet. In this respect, I welcome the decision to use the Snapdragon 8+ Gen 1 manufactured in the 4 nm process in the Realme GT 3. Unlike its predecessor, it has also proven itself in terms of heat generation and delivers a smooth 3.2 GHz with its ARM Cortex-X2 prime core.
Since it is an octa-core processor, there are three more performance cores (2.5 GHz) and four energy-efficient Cortex-A510 cores (1.8 GHz). The package is rounded off by an Adreno-730 GPU in the Realme GT 3. You won't have any performance problems for the next couple of years with this combination.
Realme GT 3
Oppo Find N2
Samsung Galaxy Z Fold 4
Huawei Mate XS 2
3D Mark Wild Life
Maxed Out!
Maxed Out!
8611
5793
3D Mark Wild Life Stress Test
Best loop: 10360
Worst loop: 6393
Best loop: 10389
Worst loop: 6459
Best loop: 10332
Worst loop: 5606
Best loop: 5782
Worst loop: 3267
Geekbench
(v6)
Single: 1386
Multiple: 3946
(v5)
Simple: 1046
Multiple: 3556
(v5)
Single: 1332
Several: 3947
(v5)
Single: 840
Multiple: 2759
As expected, the benchmark results look very good. Nevertheless, some aggressive thermal downshifting was noticed, which led to a remarkable framerate loss.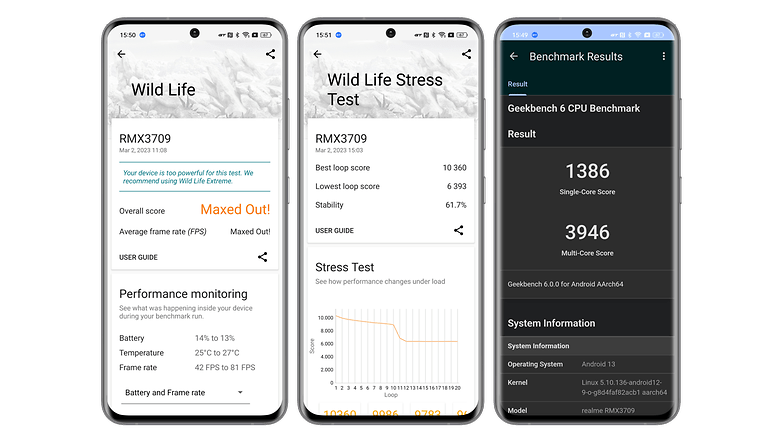 In the performance category, we also take a look at the memory distribution. We already mentioned it in the topic of prices: Realme has only talked about 8 GB LPDDR5X RAM and 256 GB internal UFS 3.1 storage so far. However, we have 16 GB of RAM and 256 GB of program storage in our test device. In the Chinese market, on the other hand, they also offer 8/128, 12/256, 16/512, and even 16 GB of RAM and 1 TB of NAND storage. We do not know why it is not yet clear when will the device launch and which markets will get which storage options.
There is no storage expansion via microSD card. Even though I list this among the negative points: I do not see it as a real disadvantage with 256 GB of storage.
Photo quality
The Realme GT 3 has a triple camera installed on the back, even though the two circular apertures would have us believe otherwise. There is a main camera with 50 MP based on the Sony IMX890 image sensor. This is joined by an 8 MP ultra-wide-angle camera and a 2 MP macro camera, which also functions as a microscope camera. The selfie camera, located at the top left of the display (punch hole), has a resolution of 16 MP.
Pros:
Surprisingly, the microscope camera.
Daytime photos are quite pleasing.
Cons:
Camera setup is generally mid-range.
No improvement over the pre-production model.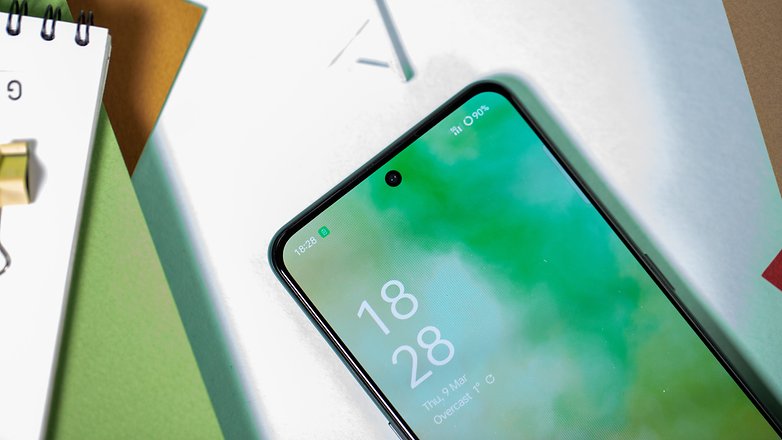 It actually quickly becomes clear that Realme didn't put much thought into the camera setup. There is the 50-MP main camera, identical to last year's model, with an equivalent focal length of 24 mm, aperture of f/1.9, optical image stabilization as well as Phase Detection Auto Focus (PDAF). The sensor again comes in the 1/1.56-inch format.
The 8 MP ultra-wide angle camera (112 degrees) is basically a slap in the face already but is topped by a 2 MP macro camera. To make sure it doesn't look too ridiculous, it has somehow inherited Oppo's praised techniques and I admit that Realme got me with the microscope feature, as I always found the results fascinating.
So in the end it's only the daytime shots that are really convincing. The photo with the deserted corridor inside a high-rise building shows that the parquet floor is nicely detailed all the way to the end. Even the rear door can still be recognized crisply.
The wide-angle shots are okay on their own. Compared to the main camera, the colors have absolutely nothing to do with each other. Zoom shots are still okay up to 5x magnification. Shots at 10x or even 20x magnification only serve to clarify who or what exactly is there.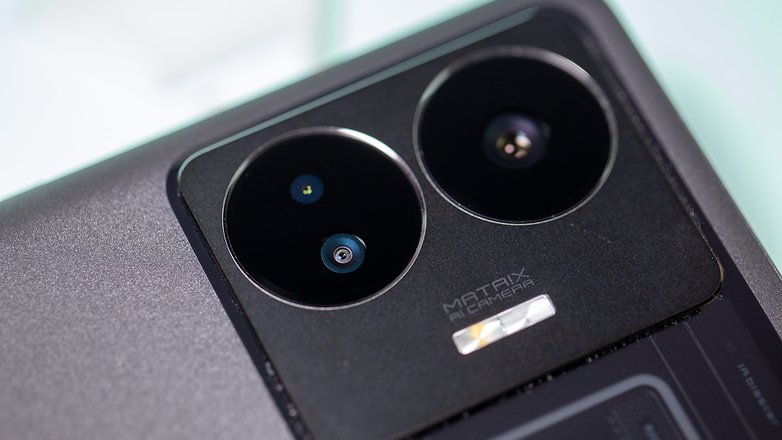 Night shots are okay so far, but not a big surprise. Thus, it only remains to summarize and repeat: The camera is average, but no more and no less.
Autonomy and fast charging
The battery is one of the most important purchase criteria for customers, along with the purchase price and the camera. Realme is also aware of this, which might not be the case considering the total capacity of the built-in battery of 4,600 mAh. However, the sensation is the "Safe Fast Charge" system with a whopping 240 watts. Here, the manufacturer claims to charge the Realme GT 3 from 0 to 100 percent in under 10 minutes.
Pros:
240 Watt SuperVooc charging.
Good battery life of almost 2 days.
Again: 240 Watt SuperVooc charging.
Cons:
Varying charging times.
No wireless charging.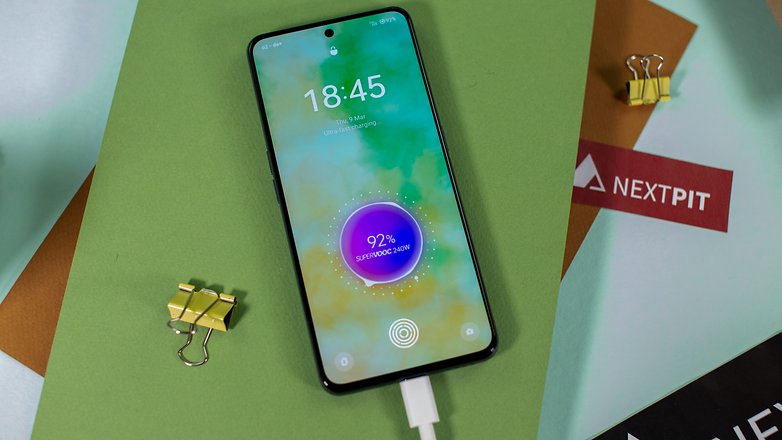 The bad news first: For one thing, the stated charging time of less than 10 minutes doesn't really work. Secondly, there is no wireless charging in the Realme GT 3. So, two points that aren't that great. But depending on the situation in which you charge the battery, there are also different charging times. Thus, I could determine times of 13 to 18 minutes to charge the battery from 0 to 100 percent.
Realme itself admits that various circumstances have to be ensured for the magic 10-minute threshold. Examples: The "Smart rapid Charge" mode has to be turned on, the "Breathing Light" has to be turned off for that and the smartphone's temperature including room temperature has to be below 25 degrees Celsius (77°F).
To be on the safe side, there is also a video for you that shows an average value quite well. However, the video starts at a capacity of 10 percent. The other tests were actually only performed when the smartphone shut down on its own because the battery was completely empty.
Last but not least, I of course have the runtime for you, how long the battery really lasts. After all, that's what we're charging the good stuff for. We traditionally use the "Work 3.0 Battery life" test, which starts with a screen brightness of 200 nits and a capacity of 100 percent in flight mode.
And so it took 13 hours and 34 minutes until the test stopped at a remaining capacity of 20 percent. For comparison: Samsung's Galaxy S23 with a 3,900 mAh battery lasts 13 hours and 44 minutes. In daily use, I managed just under two days. That means 9 percent were still on the display in the evening. I would describe the usage as average. However, hardcore users should certainly manage a day.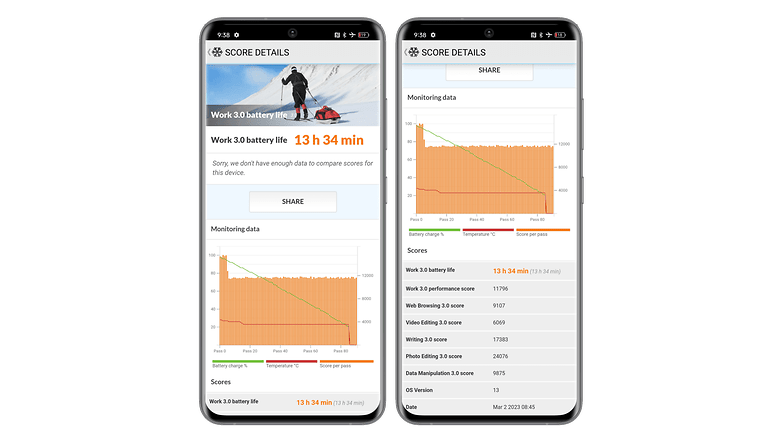 Conclusion: My first opinion
Technical data
Device
Picture
Design

Flat screen
Matte glass coating, plastic frame
No IP rating
Colors: Black and white

Screen

6.74 inch AMOLED
1240 x 2772 pixels
144 Hz refresh rate

Memory

8/12/16 GB RAM
128/256/512/GB/1TB UFS 3.1 ROM

CPU / GPU

Qualcomm Snapdragon 8+ Gen 1 | Adreno 730 GPU

Camera

Main: 50 MP | f/1.9 | PDAF | OIS
Ultra-wide angle: 8 MP | f/2.2 | 112° FOV
Macro: 2 MP | f/3.3
Selfie: 16 MP | f/2.5

Video
Interface/OS

Realme UI 4.0 based on Android 13

Battery

4600 mAh
240W wired charging
No wireless charging
No reverse wireless charging

Audio
Dimensions & Weight

6.45 x 2.98 x 0.35 in | 7 oz
163.9 x 75.8 x 8.9 mm | 199 g

Connectivity

5G | Wi-Fi 6 | Bluetooth 5.3 | NFC
Conclusion
For a long time, Realme was considered a low-cost manufacturer with high-performance smartphones primarily for the Indian market—almost like Xiaomi once was. They still try to stay true to this principle with a price starting at 649 Euros for—the lack of a better word—a semi-flagship.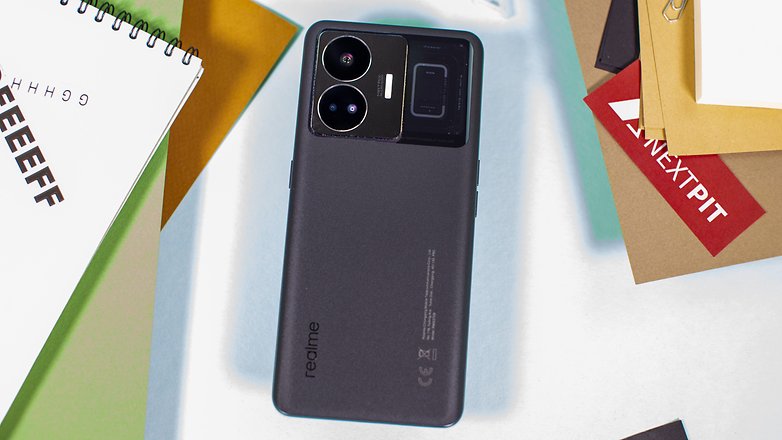 The Realme GT 3 certainly succeeds in this with its processor, 240-watt fast charging technology, Dolby Atmos stereo speakers, and 144 Hz display with 1.5K resolution. The build quality including the "Multicolor Breathing Light" for notifications is also pleasing. However, details like IP certification, the rather average 50 MP triple camera, and the lack of wireless charging show that the GT3 has a long way to go to become a real flagship.
Thus, the Realme GT 3 is clearly a compromise smartphone that is more likely to find its target group among youngsters who are basically in a hurry—youngsters without a need for outstanding photo quality, but for power when charging and gaming. Thus, the smartphone has its space on the market and even gets 3.5 stars because it offers exactly what you can expect nowadays for the price. On top of that, it offers a few extraordinary features with the microscope camera, 240-watt charging, and the smart notification RGB LED.
However, those who give great importance to the rather neglected criteria will probably be better served with a OnePlus 11 (review) or even Samsung's Galaxy S23 recently reviewed—but they will have to pay considerably more.