Qualcomm takes the AI race to flagship phones with the Snapdragon 8 Gen 3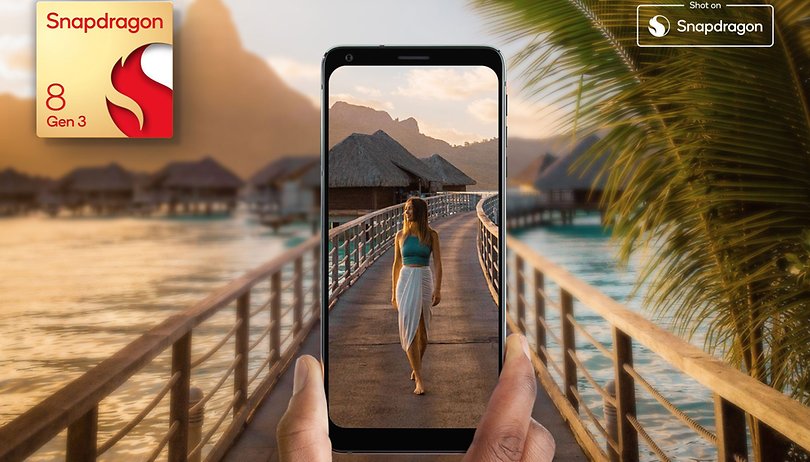 To kickstart its annual Snapdragon Summit, Qualcomm announced its flagship mobile processor for 2024. Besides the usual improvements in performance and efficiency, the Snapdragon 8 Gen 3 promises to take generative AI features to the next generation of flagship phones.
Before all the artificial intelligence talk, however, expect the Snapdragon 8 Gen 3 to be the mobile processor to beat in the Android ecosystem, replacing the current king, the Snapdragon 8 Gen 2. Qualcomm promises a 30% faster and 20% more efficient CPU, 25% faster GPU performance, and 25% better GPU power efficiency.
Snapdragon 8 Gen 3
Snapdragon 8 Gen 2
Dimensity 9200+
Apple A17 Pro
Google Tensor G3
Prime core

2x Apple custom @ 3.78 GHz

Intermediate core

2x Cortex-A715 @ 2.8 GHz
2x Cortex-A710 @ 2.8 GHz

4x Cortex-A715 @ 2.37 GHz

Efficiency core

4x Apple custom @ 2.11 GHz

RAM

LPDDR5X-9600
4x 16-bit @ 4800 MHz
(76.8 GB/s)

LPDDR5X-8400
4x 16-bit @ 4200 MHz
(67.2 GB/s)

LPDDR5X-8533
4x 16-bit @ 4266 MHz
(68 GB/s)

LPDDR5-6400
4x 16-bit @ 3200 MHz
(51.2 GB/s)

GPU

Adreno 750
Vulkan 1.3
Hardware ray tracing

Adreno 740
Vulkan 1.3
Hardware ray tracing

11x ARM Immortalis-G715
Vulkan 1.3
Hardware ray tracing

6x Apple custom GPU

Hardware ray tracing

ISP

Up to 320 MP
(Imagiq 890)

Cellular modem

5G (sub-6GHz+mmWave)
(Snapdragon X75)

5G (sub-6GHz+mmWave)
(Snapdragon X70)

5G (sub-6GHz+mmWave)
(Snapdragon X70)

5G (sub-6GHz+mmWave)
(Exynos)

Connectivity

Wi-Fi 7
Bluetooth 5.4
(FastConnect 7800)

Wi-Fi 7
Bluetooth 5.3
(FastConnect 7800)

Wi-Fi 7
Bluetooth 5.3
(Filogic)

Process node
Fabbed in TSMC's 4nm-class process node, the Snapdragon 8 Gen 3 brings yet another core layout to the mobile space. The octa-core chip packs one 3.3 GHz Cortex-X4 prime core, five Cortex-A720 performance cores split between 3.0 and 3.2 GHz, and only two Cortex-A520 efficiency cores.
While the 8 Gen 2 already replaced an efficiency core with a performance one, the 8 Gen 3 takes it one core further. At the same time, all CPUs now only have 64-bit support, concluding the transition from 32-bit apps.
With TSMC's N3 process basically exclusive to Apple for the foreseeable future, and unable to match the A17's frequency clocks, Qualcomm opted to enlist more performance cores, further breaking away from the 1+3+4 layout that became a standard in the Android space.
The change should prove a reasonable jump in performance for heavy tasks and games, but it remains to be seen if phones will be able to keep up with heat dissipation under longer heavy tasks.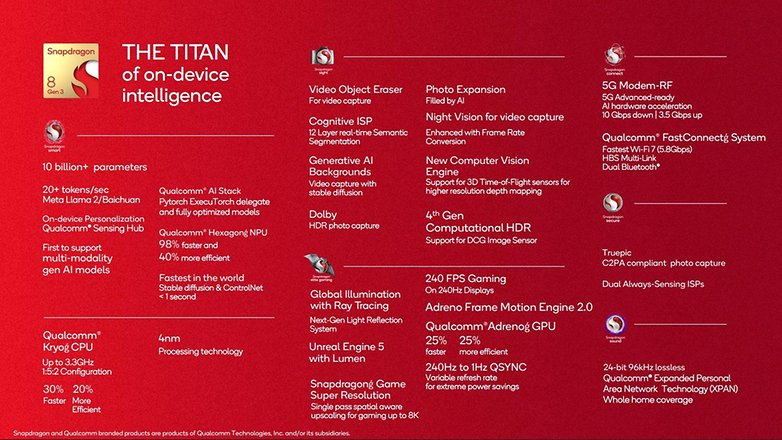 On the graphics side, the new generation Adreno GPU (presumably the Adreno 750, Qualcomm stopped advertising generations long ago) once again brings real-time ray tracing, this time including global illumination and Unreal Engine's Lumen support.
Qualcomm advertises support for 240 fps gaming, but realistically, only games with basic graphics could reach that level of performance.
To prove me wrong, developers can count on the Snapdragon's Adreno Frame Motion Engine 2.0, a feature similar to the frame generation technology increasingly popular in the desktop space—AMD FSR3 Fluid Motion Frames and Nvidia DLSS 3. The tech promises—in supported games—to double the frame rate without increasing power consumption.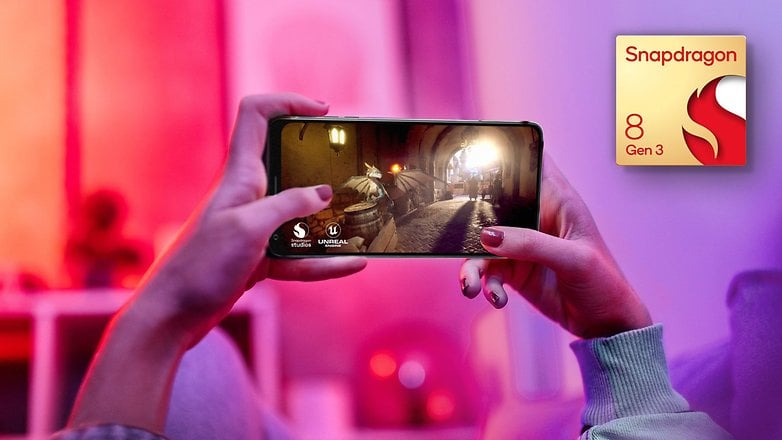 On the connectivity front, the new Snapdragon X75 modem does not bring an upgrade in terms of raw speeds (10 Gbps downlink and 3.5 Gbps uplink), but Qualcomm advertises the component's AI features to improve connection stability and power efficiency. Truth be told, AI support to have better antenna utilization was already available on the previous X70 modem, found not only on Android flagships but also on the iPhone 15 family.
Curiously, despite packing the obligatory #AI hashtag, the modem didn't deserve much attention from the company. Even more sidelined were the Wi-Fi and Bluetooth features, courtesy of the FastConnect 7800 core. To sum up, we find support for the latest Wi-Fi 7 and Bluetooth 5.4 standards.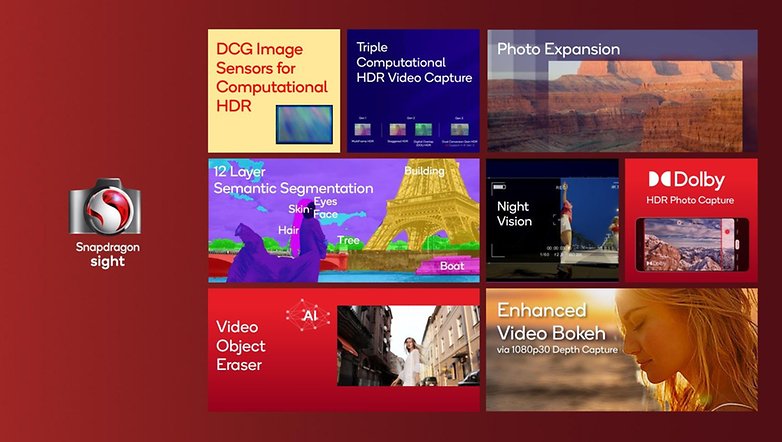 For the camera, the Spectra image signal processor (ISP, also without a version number) still supports up to three 36-megapixel cameras, a single 108 MP camera at 30 FPS with zero shutter lag, or 200 MP for a single take shot. The core can now identify and process up to 12 different layers of elements in the shot (e.g. eye, body, hair, sky, cloud, ground, car), and brings improved support for HDR sensors and the new Ultra HDR file format.
AI is the new 5G
And since it is 2023, there are many AI claims on the image and neural processing on the Snapdragon 8 Gen 3. Including mobile's fastest Stable Diffusion processing image generation, support for Meta's Llama 2 among other 20 different AI models, and PyTorch support to identify which core is best suited for the task (NPU, GPU, or CPU).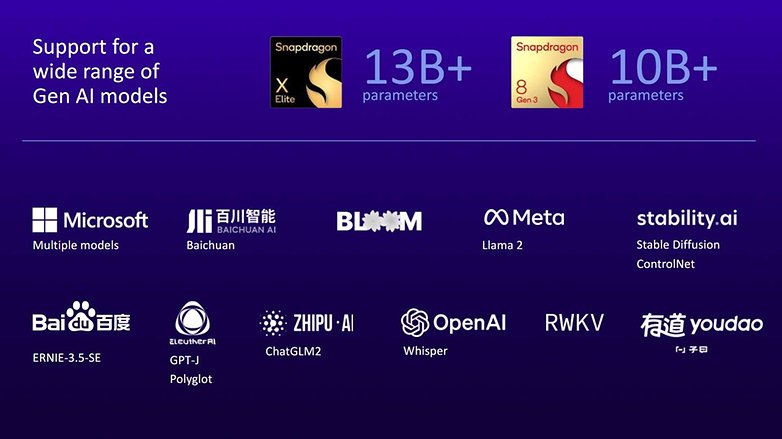 For end users, Qualcomm demonstrated a photo expansion feature that generates realistic imagery outside the original shot, similar to what Google demonstrated on I/O 2023. More impressively though, was a brief demonstration in partnership with ArcSoft showing a Magic-Eraser-like feature to remove unwanted people or objects from videos. It remains to be seen, however, if the feature will be licensed by phone brands to integrate into their gallery apps.
Likewise, Qualcomm showed some impressive demos for AI, including an assistant that plans a trip according to your wishes and creates a link to book it over Skyscanner, but until most SoCs have a similar level of support we don't expect to see those features catching up in daily apps.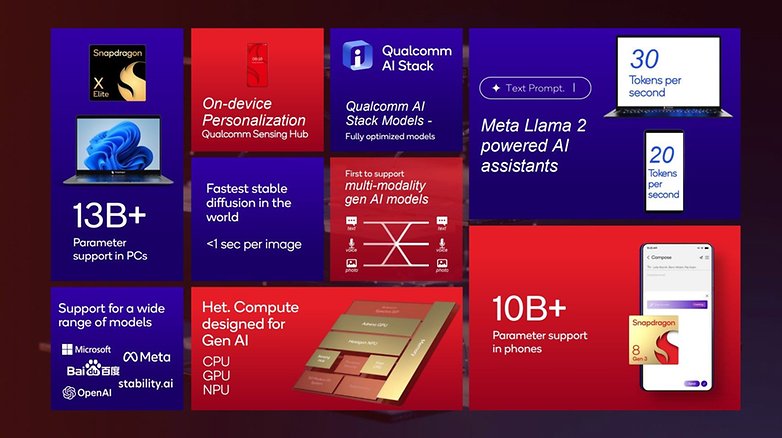 Skepticism aside, it is not a new investment for Qualcomm, who has been touting its chip's AI capabilities for quite some time on the Hexagon DSP. It remains to be seen how app developers will use these features to see how useful they can be for the average user.
According to Qualcomm, devices powered by the Snapdragon 8 Gen 3 will be available from ASUS, Honor, iQOO, MEIZU, NIO, Nubia, OnePlus, OPPO, Realme, Redmi, RedMagic, Sony, Vivo, Xiaomi, and ZTE.
Similar to previous Snapdragon Summits, Samsung is not on that list, but expect to see the 8 Gen 3 powering some of the Galaxy flagships in 2024, even with persisting rumors that Exynos is Back (again).