Qbo You-Rista review: the connected coffee machine with Alexa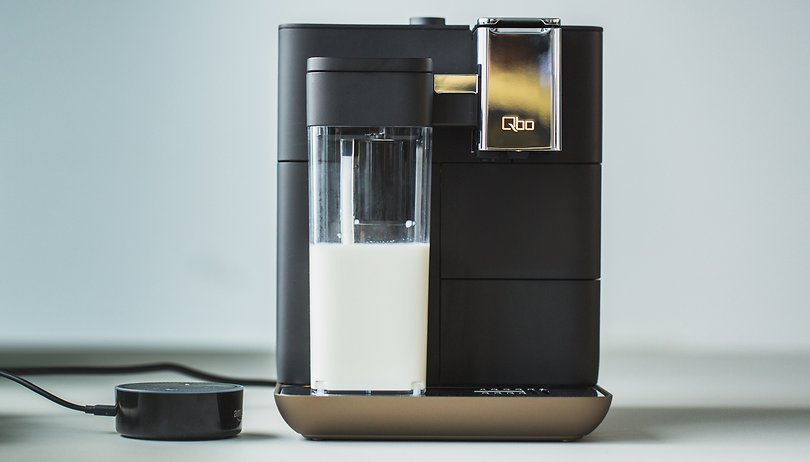 The Qbo You-Rista from Tchibo isn't your average coffee or espresso maker. It's a premium capsule machine with a milk system, Wi-Fi connectivity, its own app and Amazon Alexa compatibility. In this review, we find out if it lives up to expectations.
Good
Build quality

Design

Coffee quality for the price

Qbo app and custom drink recipes
Bad
High price of machine

Lack of coffee variety

Impractical but cool Alexa compatibility
Release date and price
The Qbo You-Rista is available from Tchibo in Germany and Austria for €249 (about $310), and from Amazon.de now for just €199. The Milk Master is available separately for €69 (about $86), but when purchased with the You-Rista machine at Tchibo, the total set is €299 (about $372). The Qbo app, Alexa skills and machine interface are available in both English and German. It is unclear whether the device will be released in the US or UK in the near future.
The coffee and espresso capsules can be ordered for €2.95 (about $3.67) for a pack of 8, or €9.95 (about $12.38) for a pack of 27. Enough capsules for 1 coffee per day for a year is around €140 (about $174). For comparison, one 12 oz bag of ground Starbucks House Blend costs $6.98 and makes about 24 cups, which means you'd pay $111.68 for a coffee per day for a year. That's not a massive price difference compared to the alternatives. Drinking Starbucks Verismo pods once daily, on the other hand, will cost you about $305 per year if you buy in packs of 72. Even more expensive, Nespresso capsules cost $1.10 each, so 1 year of daily coffee is $402.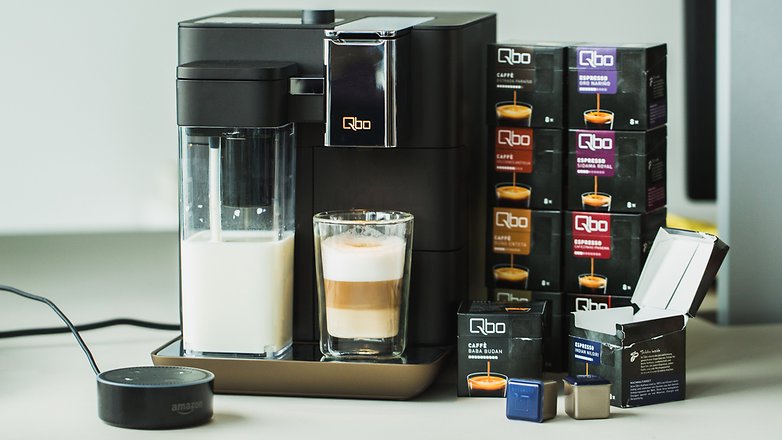 The You-Rista machine and Milk Master will set you back €299 (about $372), not including Cleaning capsules, Descaling tablets or any accessories. How does that compare to the many other options available to coffee lovers? The Starbucks Verismo V Brewer costs $149 while its milk frother is $59, which adds up to $208 ‒ a not so insignificant saving, looking at the equipment alone and not counting the expensive pods. It's not connected, though. The Nespresso Prodigio is connected, making it the clearest competitor, costing $199, or $249 including its Milk system. The Prodigio doesn't have Alexa compatibility, but it does have an app.
On the other hand, a basic coffee machine with a timed brew feature costs less than $20 and an espresso maker with a steamer costs around $35. Does the You-Rista provide hundreds of dollars more in value than standard machines? How does it stack up to the competition? Let's find out.
Design and build quality
Unboxing and setup
When unboxing the You-Rista machine and its various accessories, it is clear that great attention to detail was paid to the design of the packaging and of the pieces themselves, as everything looks high quality and fits together perfectly. The machine doesn't take up too much space on the countertop compared to others. The entire setup process takes quite a bit of time, as you have to clean and assemble the physical parts of the machine and then set up the software side of things. Once you've plugged in the rather short power cord and turned the device on, the machine's display walks you through the process of rinsing the machine itself and the Milk Master, setting preferences like language and local water hardness and connecting to Wi-Fi via the Qbo app. After this point, you should allow the machine to download its Firmware update for the new Amazon Alexa features and then unplug the machine and start it back up again. Then, you can activate the Qbo skill in your Alexa app and Alexa Voice Control in the Qbo app.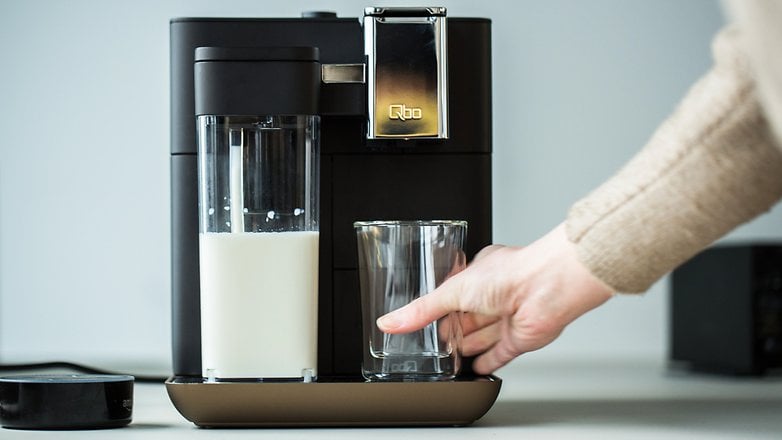 Sustainability
Qbo has a whole page on its website showcasing its dedication to sustainability. All of its coffee is produced by Rainforest Alliance certified farms, which is a plus, although it isn't Fairtrade, so farmers aren't guaranteed minimum prices. The capsules save space thanks to their cube shape, and they contain no aluminum. The completely plastic capsules are recyclable.
Brewing
Making a coffee or an espresso drink is simple with the You-Rista machine. After filling the water tank and the Milk Master, put an empty cup under the spout and a capsule under the lever. The machine will detect which capsule you've put in the machine and display information about the type of coffee on the screen, a feature which can be disabled, and then you can select which type of drink to brew. There are several preprogrammed drink choices (Ristretto, Espresso, Caffè, Caffè Grande, Espresso Macchiato, Cappuccino, Caffè Latte, Cafè au Lait, Latte Macchiato, Iced Cappuccino, Iced Caffè Latte, Iced Latte Macchiato, Cold milk froth, Warm milk froth). It is also possible to add your own custom drink recipes, which I will discuss more in the Software section below. Brewing is quick and relatively quiet compared to similar Keurig machines I've used in the past.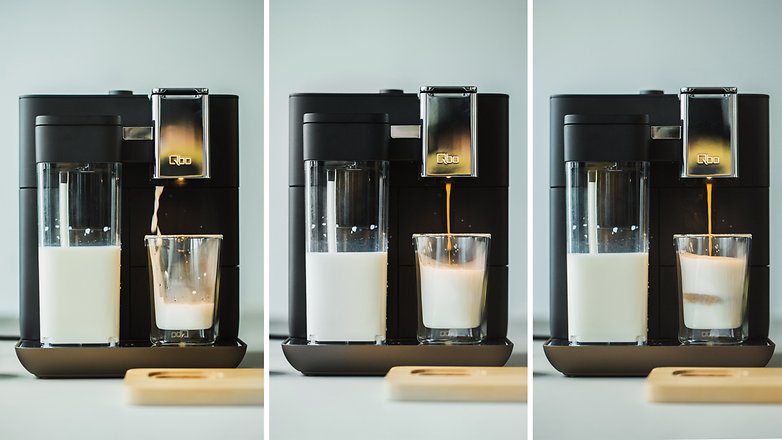 Coffee quality
The Qbo coffee and espresso flavors range from light to intense, with something for almost everyone's taste, whether you prefer a plain, black drink or one with milk and foam. The entire range tastes high quality, and several of the coffee and espresso variants mix surprisingly well with milk (Cafè Baba Budan and Espresso Oro Nariño, for example). For a plain drink, Cafè Buna Enteta, Cafè Estrada Paraíso and Espresso Sidama Royal are crowd pleasers. Though, if you find yourself attached to a particular brand of coffee already, Dunkin Donuts for example, you'll be happier with one of the Keurig machines which allow third party flavors. Starbucks and Nespresso also offer their own varieties and machines.
With the Milk Master, you can make drinks with cold or hot milk, and cold or hot milk foam. The Milk Master works quickly and effectively, producing nice results every time.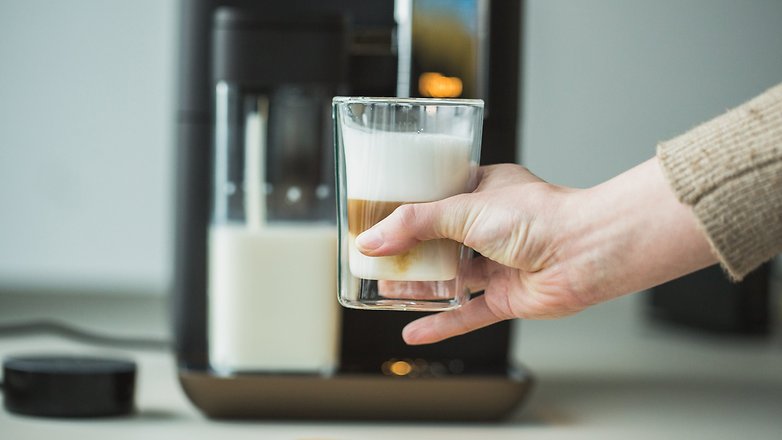 Accessories
The You-Rista has accessories available for it, designed to match the machine's design. I tested it with two 200 ml glasses, which are double-walled and hand-blown, and two stylish bamboo trays. There are other glass sizes, including 80 ml espresso glasses and 300 ml macchiato glasses, with spoons of corresponding sizes to go with them. There are also stainless steel, reusable cooling cubes for the Milk Master, which you can store in your freezer, to chill milk in the machine for a better end result. Though they look nice, none of these accessories are necessary, as cold milk from the fridge and your favorite coffee cup or glass will work just fine.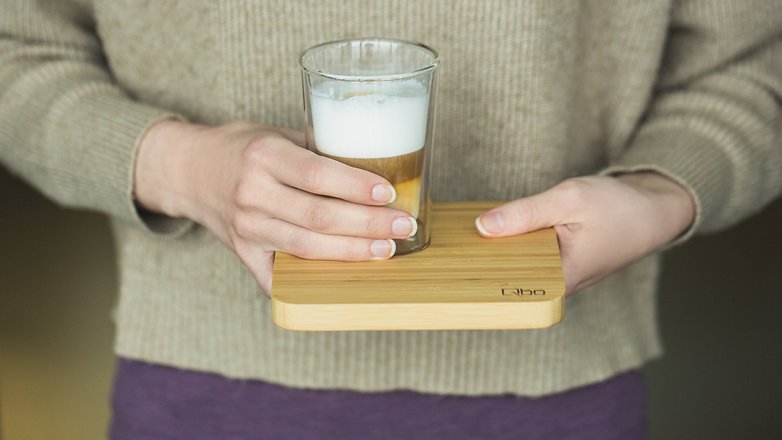 Cleaning
Each time you turn on the machine and after each use of the Milk Master, the machine will prompt you to allow it to rinse itself by default, so you should always leave an empty cup nearby to catch the rinsed out liquid. Furthermore, the machine will sometimes splash while brewing, so you should always keep a towel nearby to wipe up any stray coffee or milk that makes its way onto the machine or nearby countertop.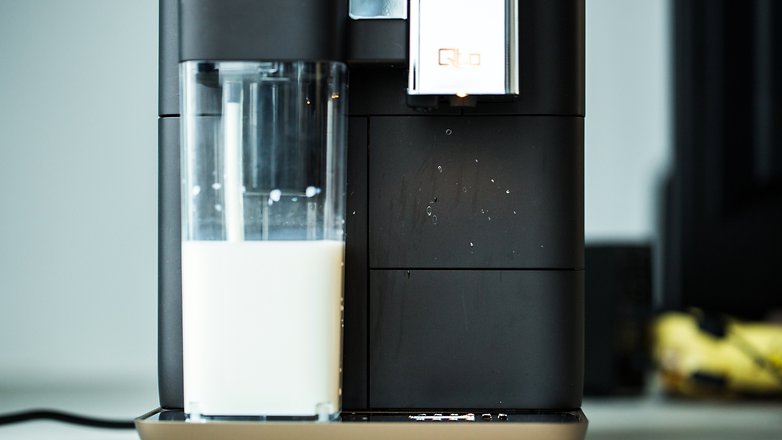 Keeping the device clean inside and out is not an issue thanks to the design of the drip trays and the removable Milk Master, which can be cleaned with warm water and mild soap by hand. Cleaning capsules and descaling tablets can be purchased for long-term cleanliness of the machine. For the Milk Master, replacement parts will become available soon in the form of a Freshness Set.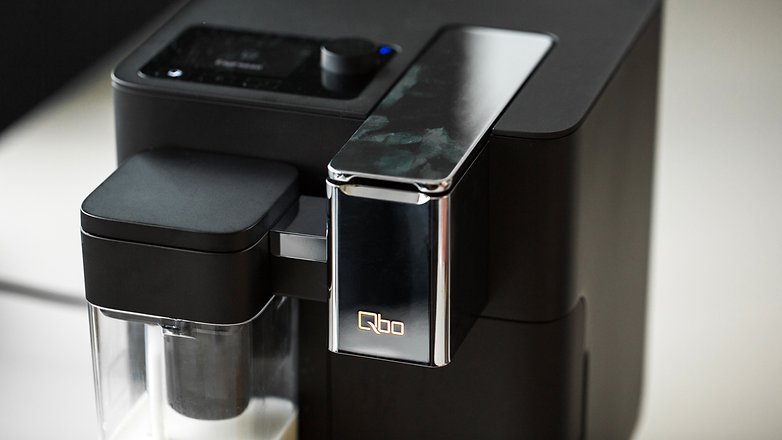 Software
The most basic way of controlling the Qbo You-Rista is by using the display on top with the control buttons and dial. It is possible to use the machine entirely with this method, though you'll be missing out on features without the Qbo app (available for iOS and Android) and Alexa. Once you download the app and connect the machine to Wi-Fi, you can begin creating custom drinks. With the swipe of a finger, you can change the flavor and ratio of coffee, milk and foam to your heart's content, then save the recipe under a special name like "Joe's morning latte". I find this to be a useful and compelling feature.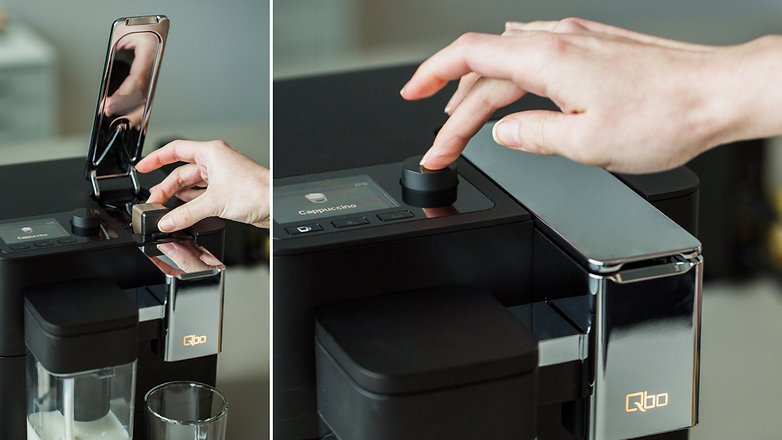 After a firmware update, you get new features like Remote or Timed Brew and Alexa Voice Control. From the app, you can send custom drinks to the machine for one-time brewing or add them to the machine's drink menu so they're always available, with or without using the app. You can also schedule drinks to brew at a certain time, to have it ready when you wake up for example. Or it can start brewing coffee remotely, in case you're on your way to the office.
Scheduled or remote brewing through the app, however, aren't necessarily the most practical. If you want to schedule a drink to brew for the next morning, then during the night before, you have to fill the water tank with water, the Milk Master with milk (and add cooling cubes so the milk hopefully doesn't spoil overnight), set a cup under the spout and insert the capsule. If you do all of this preparation beforehand, with the scheduled brew feature, you only save yourself less than a minute of waiting time for your coffee to brew after pressing the button. The scheduled brew feature is available on coffee pots that cost less than $20 and take about as much time to set up beforehand, though the remote brew feature certainly isn't. In the end, these two features and their meager time savings don't justify the price of this machine.
Alexa compatibility
The same applies for the Qbo Alexa skills, it's neat but not super practical. If you have an Alexa device, like the Echo Dot we tested the machine with, you can ask Alexa to make your favorite drinks. Saying "Alexa, start Qbo" or "Alexa, tell Qbo" will start up the Qbo skill. Then you can tell Alexa "I'd like a coffee" or "Please make me a coffee in...10 minutes/tomorrow at 6 in the morning". If you're not sure what you want, ask Alexa "Which drinks can you prepare?" or "Tell me something about coffee" to learn a thing or two.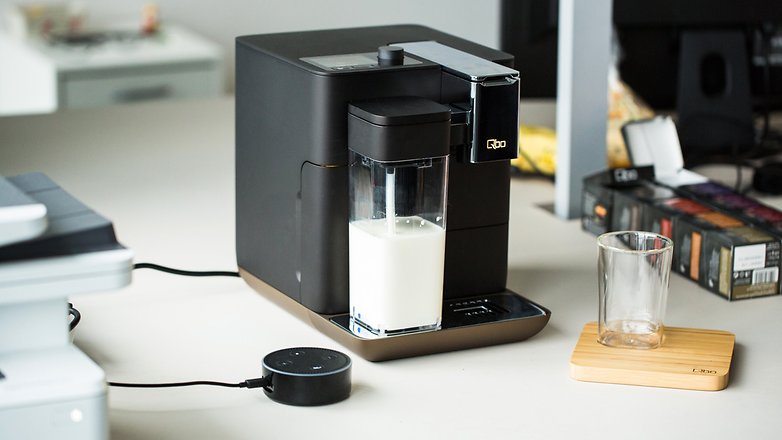 Before you ask Alexa to make a coffee though, you have to set up the machine, put a cup under the spout and the capsule inside. Isn't the point of it all to be hands-free? I have a hard time imagining a situation in which I am fully capable of using my hands to put a capsule in the device and set a cup under the spout, but need to ask Alexa to brew an espresso instead of just pressing the button on the top of the machine. It's a fun feature to try out and show off to friends, but it seems entirely unnecessary. In my opinion, Alexa compatibility isn't a good enough reason to choose this machine over any other.
Final verdict
The Qbo You-Rista is an interesting concept with great design and build quality, plus some unique features. Being able to create custom drink recipes with the app is cool and useful, though the Alexa compatibility falls short of that, being cool but not especially useful. For the environmentally conscious, the recyclability of the capsules is a nice touch. Compared to the competition, namely the connected Nespresso Prodigio, its main advantage is cheaper capsules and Alexa compatibility. Compared to the other alternatives, like less costly Starbucks Verismo, Keurig or standard coffee machines, the You-Rista offers more in terms of special features and, in some cases, drink quality. Whether that justifies the cost is up to your budget, habits and taste.
What kind of coffee maker do you prefer? Would you consider a connected machine? Discuss with us in the comments!