How is a Mobile Balcony Power Station with Storage Built?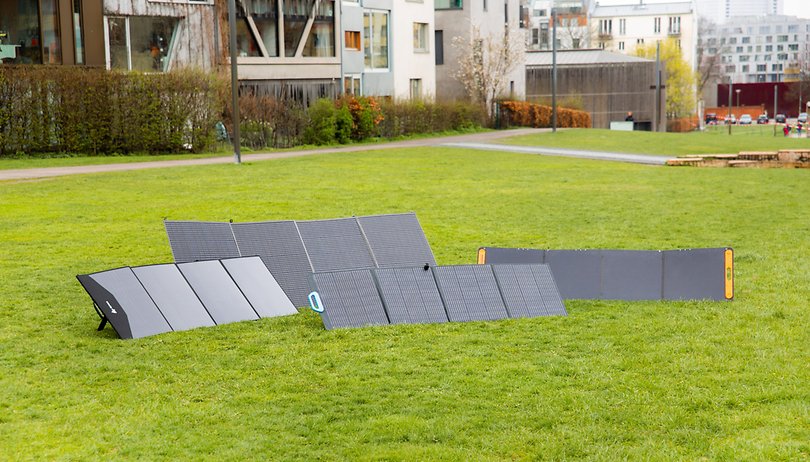 A balcony power plant, uncomplicated and without the need for building modifications, can be easily set up. For instance, instead of permanent solar panel installations, a solar generator with up to 600 watts output can be used without requiring a permit. We'll guide you through setting up a mobile balcony power plant with storage, enabling diverse energy use.
Many people are especially concerned about energy this summer. Not only have prices skyrocketed, but the heat has also increased significantly. The use of air conditioners and smart fans could push the power grid to its maximum consumption during this high-temperature season. If you want to be more self-sufficient in terms of energy supply, then a mobile balcony power unit with storage might be just the thing for you. We will show you how a solar generator works, too.
Before we dive into the individual components, do take note that different states have different regulations. As such, it's important to consult local authorities, the homeowner association, and possibly a legal advisor before installing a balcony solar power system.
What does a mobile balcony power station with storage consist of?
Balcony power station, part 1: Solar cells
There are, of course, many ways you can obtain solar power. Whether it is via the roof, on the balcony, or taking advantage of free space in the corner of your apartment balcony. Most solar solutions are permanently installed and thus intended for long-term use.
This is great when it comes to maximizing the use of renewable energy, but the effort to set it up is also higher. Therefore, we limit ourselves to mobile solar panels, which you can operate either in your garden, on your balcony, or terrace—or of course, somewhere in the city park.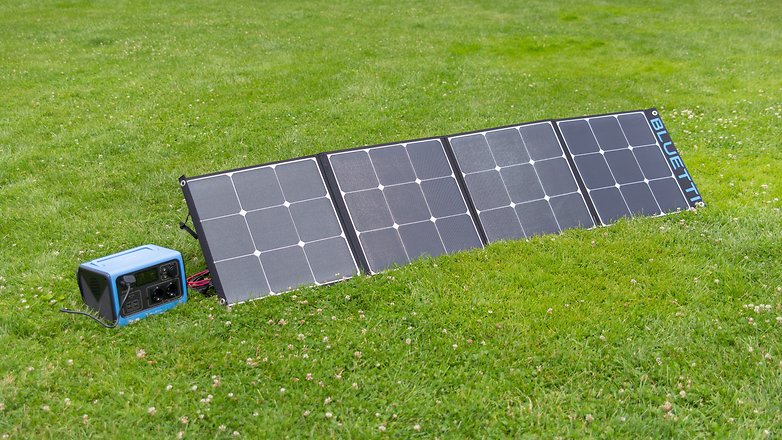 When it comes to solar panels, the generated power should be the primary factor to be considered by you. Most mobile solar panels are rated between 50 and 300 watts. With eight hours of sunshine, this would result in 400 Wh or 2.4 kWh, which you can theoretically obtain from the sun.
How much percentage of the nominal power you actually achieve depends on:
First, the orientation. Of course, the ideal orientation is to have it face the sun exactly. If your solar panel is fixed, facing it south is ideal. If you or the solar panel are flexible enough, it is highly recommended you rotate it to face the sun accordingly.
Second, the weather. When the sky is completely overcast, solar panels usually deliver somewhere between zero and 20 percent of the nominal power. Under the blazing midday sun, it is quite possible to reach 100 percent. Also do note that the efficiency of solar panels is better at low temperatures: For each degree of increase in heat, the efficiency drops by about 0.4 percent.
Another important factor is whether your solar panel is weather-protected. The Bluetti solar panel pictured above, for instance, is protected according to the IP65 rating and will therefore work even when it is caught in the rain. Do take note that the mobile solar panels are not as weather resistant as solar panels meant to be installed permanently.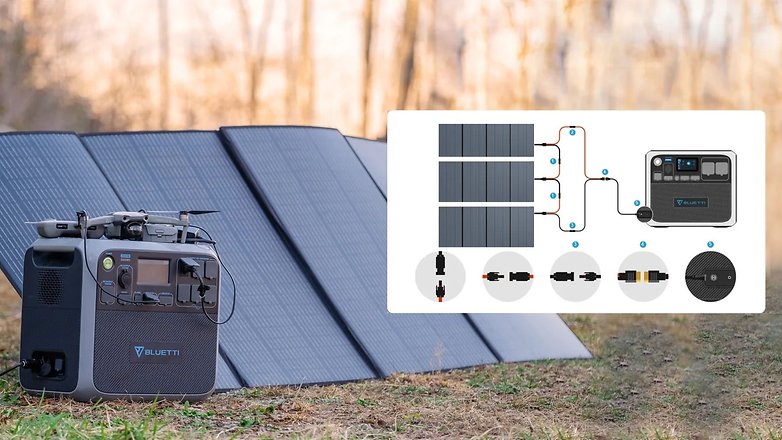 Balcony power station, part 2: The home battery backup
The second important part is a storage unit for the collected energy. Of course, you can connect all kinds of devices directly to the solar panels and charge your notebook or run a mobile refrigerator when the sun is shining. Just bear in mind that only some solar panels have the option to directly connect devices, and that's typically only USB.
However, it makes much more sense to temporarily store the power in the home battery backup so that you don't miss a single ray of sunshine and can use the energy optimally.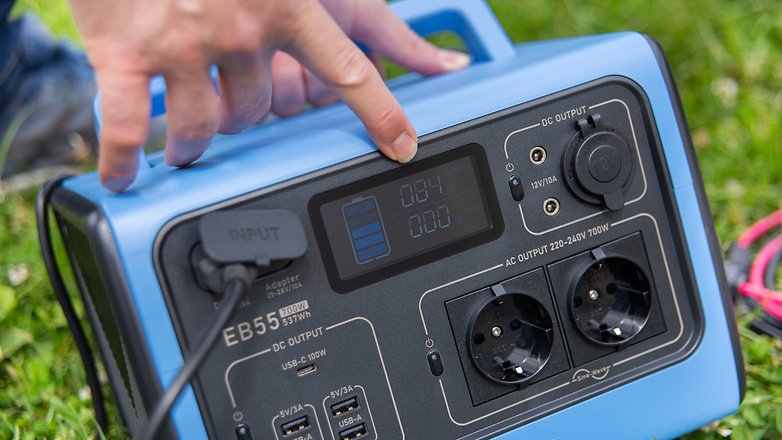 Of course, it is critical for a power station to have the right connectivity for your solar panel. You are safe from headaches if you purchase the solar panel and the power station from the same manufacturer—usually, you will find suitable bundles from them, which may also come at a discount compared to the total price of the individual components.
You can charge this portable power station not only via solar but also via a power supply. With a fully charged power station, you are well-prepared for emergencies, as well as have the luxury of baking your own waffles in the park. The general rule of thumb here is: the higher the capacity, the heavier and less mobile the power stations are. On the other hand, with a higher capacity, you can power your electrical devices longer.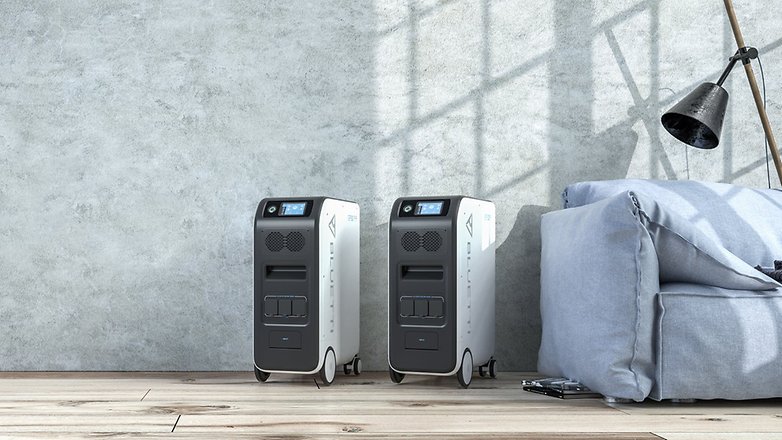 A refrigerator requires 100 watts—with 537 Wh, you can power it for a good five hours. With the 5,000 Wh Bluetti EP500, you would be able to keep your fridge running for about two days in the event of a total power failure. By the way, you'll find at least one standard 110V socket in pretty much every power station, where larger devices often offer additional connections, additional output power, or also double up as a UPS.
If you have your mobile balcony power station in addition to your home battery backup, you can then ideally compensate your power consumption under appropriate weather conditions and be completely self-sufficient—or you can at least extend the runtime by quite a distance.
Are you prepared for power outages in winter—and if so, how? We look forward to your input in the comments!
---
This article is part of a collaboration between NextPit and Bluetti. Of course, this collaboration has no influence on the editorial opinion of NextPit.