Poll of the week | Alexa or Cyberdog: How smart is your home?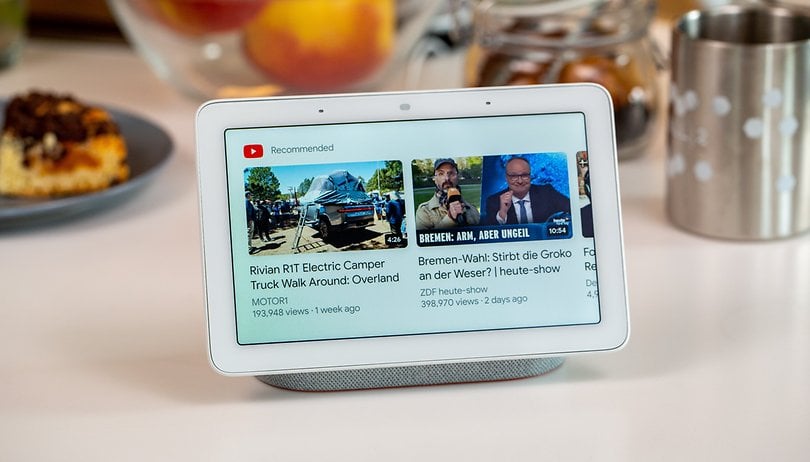 We wanted to learn from the NextPit community how their smart homes are doing. Does Alexa set the tone for your home? Is your lighting smart? We were able to answer these and many more questions in our survey of the week - here is our analysis of the poll results!
We asked you four questions at once, and each of them was about your smart home. We would like to thank you all for your participation and are pleased with the uniformity across our three different domains. Exemplary of this is the very first question, which only asked if you have already installed a smart device at home.
As you can see from the image below, the NextPit community is just as tech-savvy as we thought: More than 70 percent of you said you own at least one smart home device. France leads the way with 79 percent. This is followed by the German community with 72 percent and finally the English-speaking community with 64 percent.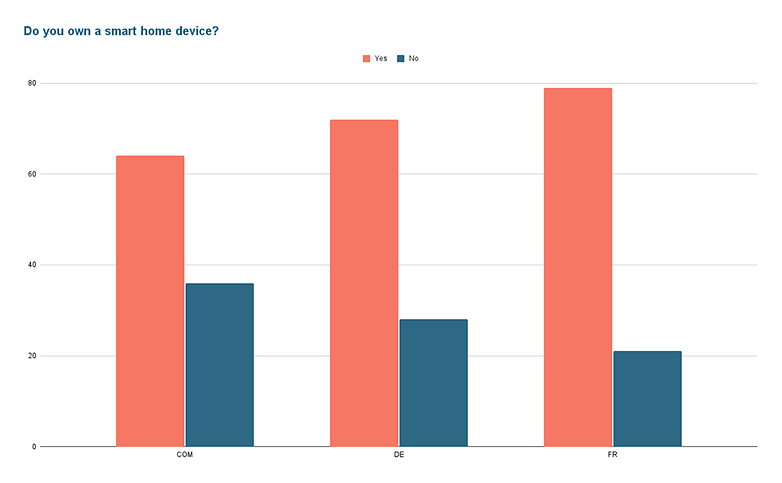 After that, it was a matter of a rough classification: What types of smart home tech are you involved with? Although there were some differences in the characteristics, the tendencies were again very similar across all three domains. As you can see in the following graph, lighting dominates everywhere. Most of you are already active in this area.
Here, too, France is ahead: as in Germany, around four out of five participants in France already have smart lighting in their homes, and the COM community is no further behind with 70 percent. This is followed in France by surveillance technology, while in Germany it is small appliances. Large appliances and vacuum robots are still at the bottom of the field on all our sites.
By the way, your comments criticized the fact that the "None" option was not available. It turned out that some of you are not interested in bringing smart tech into your homes. That's where the security issue comes in, as storm describes on the English site:
Most of this stuff is too dependent on external servers that are insecure and unnecessary. They should be able to talk directly across my network to my device on the app there, no home server to play intermediary and collect and store my data insecurely. Or traverse the internet independent of the home server like email or web traffic.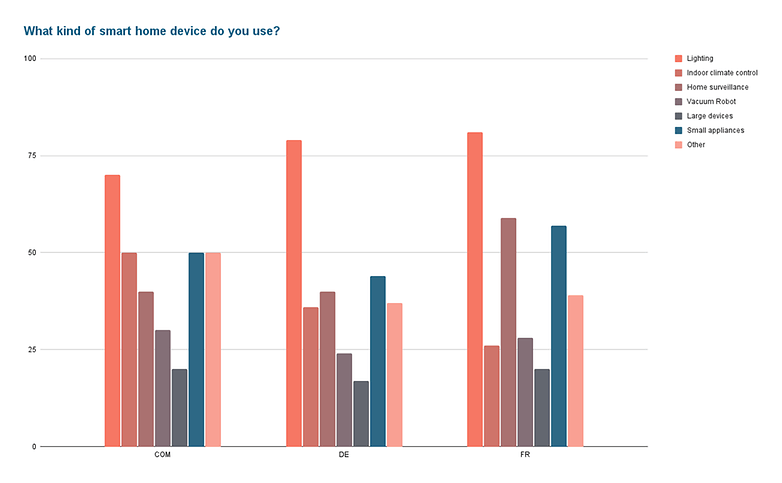 Looking ahead: Which smart home technology are you interested in, and what are you getting?
In the last two questions, we looked more to the future: What are you interested in and what do you bring into your home from this technology? What I find interesting here is the look at the German side: although 39 percent of you want to upgrade your smart home, almost as many (38 percent) are not planning anything in this direction. Here, in the COM and FR communities are much more advanced: 56 percent (COM) and 55 percent (FR) want to upgrade their smart home.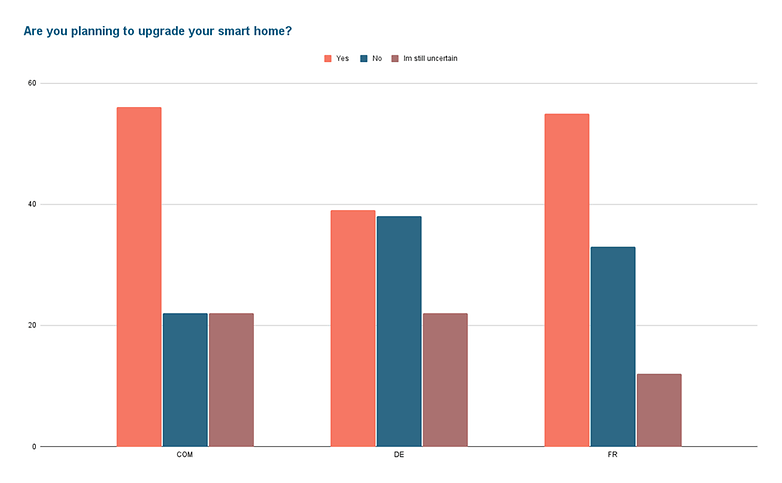 In our German community, several of you (for example Tobias G., Michael B. and Olaf Gutrun ) have already spoken up and are very eager to use smart home appliances. Thank you very much for your detailed comments on the topic!
Finally, we dove deeper and wanted to know which area of this technology interests you the most. Several answer options were possible at the same time. Once again, the topic of lighting came out on top. Even though the English-language domain lags behind with 50 percent, DE (69 percent) and France (67 percent) pull ahead. Accordingly, we should also focus more on lighting here on NextPit, if you have your way.
Your enthusiasm for smart entertainment is similarly high. But smart network technology and smart surveillance are also high on your list when it comes to smart homes. Personally, I would have honestly expected more interest in smart cleaning products, because at least in my circle of acquaintances I notice it more.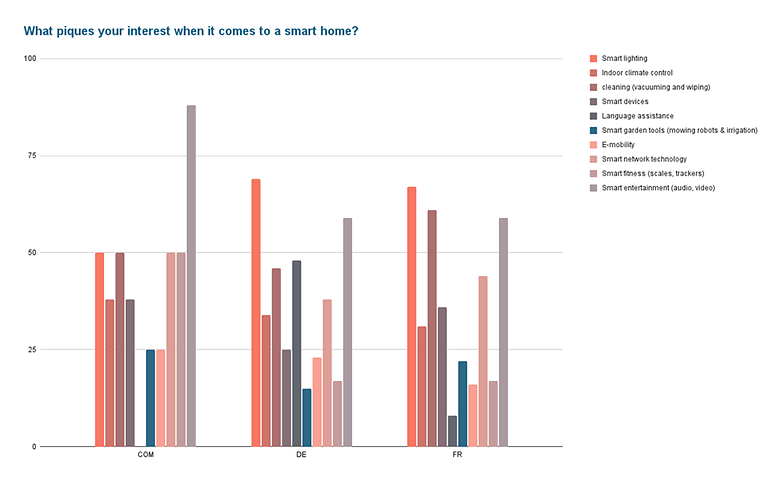 ---
Original article
Do you activate your house lights using Alexa or via a conventional switch? Do you still perform your vacuuming chores manually or do you have a vacuum robot to suck up all the dirt on your behalf? Do you still make that walk to the mailbox or does the Xiaomi Cyberdog already do it? In our latest survey, we want to know just how smart your home is. At the same time, you can tell us what you're interested in when it comes to smart homes!
The topic of smart living is represented rather differently among the NextPit editorial team. While my colleague Camila Rinaldi can control her apartment via voice commands like The Sorcerer's Apprentice by Goethe, I don't even own a smart speaker. Even among nerds and geeks, interest in the topic of smart homes is quite different and therefore we want to know what you think about it.
After all, our news about the new Xiaomi e-scooter and the Govee Glide Hexa smart panels were hotly debated last week. Of course, we want to respond to this and in the future, we will also be guided by your interests. Following up on our question from 2017, we would therefore like to ask first: How smart is your home?
How smart is your home?
Let's begin with the first question we asked you half a decade ago: It's about whether you own a smart home device. This means smart speakers, smart lamps, smart light switches, and other IoT devices.
We're less interested in your motivations this year, but feel free to discuss your likes or dislikes about the topic in the comments. Instead, I'd like to repeat the question about what types of smart home devices you own.
Although I don't quite understand Eric's distinction between large and small devices, I'd like to carry over the questions from 2017 for as a comparison. In addition, there is another question I would like to ask you in 2022.
What are you interested in when it comes to smart homes?
If you voted "Yes" in the previous survey, you can continue to vote in this survey. Of course, we want to include your interests in our future reports. So please let us know which smart home topics you find yourself getting all excited about.
Since our survey is already pretty complex, I'm redirecting directly to the comments for further discussion. Share your current smart home status with me and tell me your areas of interest in detail. I also hope I did not leave out any crucial areas in my question about your interests.