Polk Command Bar with Alexa: seems like a good idea, but...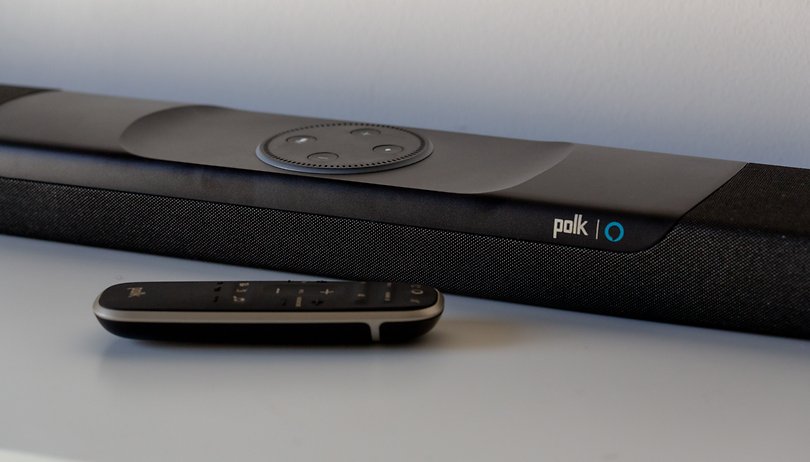 Digital assistants are becoming more common in our lives, not least because manufacturers are now integrating them into a wider variety of devices as well. Audio manufacturer Polk has now set about integrating Alexa into a sound bar. Sounds very useful, at least in theory. But what else can the sound bar do? We listened and learned. NEXTPITTV
Good
High quality workmanship

Amazon Alexa integrated

Good remote control

Simple setup
Bad
Sound isn't very good

Alexa integration is too visually obvious
A little too expensive
Polk Command Bar is available in black only. The package contains not only the loudspeaker but also the matching subwoofer. The system is available to purchase online from $250. For the performance that the sound bar ultimately offers, even this appealing price might ask a bit too much.
The design is appealing
A sound bar has only one place in the living room: under the TV. For this reason, the designs are usually similar between different brands. Ultimately, it is always a black speaker bar.
In principle, Polk's Command Bar is not out of line here, only the ring and the buttons in the middle catch the eye , strongly reminiscent of an Amazon Echo or Echo Dot. Even the LED light ring was accommodated. This, of course, is intended to remind you of Amazon's smart speakers. That's what makes the Command Bar so special: it's equipped with Amazon Alexa, but more about that later.
The design is otherwise appealing and restrained. It is not conspicuous and therefore fits into practically every living room. As written at the beginning, the package also includes a powerful subwoofer with 100 watts. It is quite tall, but looks good.
There is ultimately nothing to complain about when it comes to either component: nothing wobbles, the surfaces are of high quality and look as much.
There are several connections on the back. If you have a TV with an ARC connection, the sound bar should be connected via HDMI. Otherwise, you also have the possibility to connect the Command Bar via an optical audio connection. Of course, signals can also be sent to the device via Bluetooth, or two HDMI connections are also available on the rear. One of them is positioned in such a way that a Fire TV stick fits perfectly and literally disappears. Note, however, that the TV sticks are not the 4K version.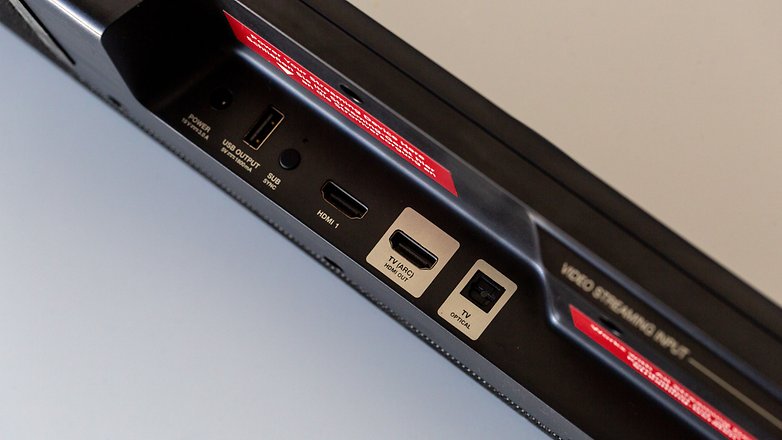 Alexa is always ready
The Polk Command Bar is one of the first soundbars with integrated Amazon Alexa. The voice assistant works similar to Amazon's own Echo devices. Just call the assistant by name and ask your question or give your commands. There is also a dedicated button on the remote control that activates the microphone and lowers the TV sound so that the assistant can hear everything well. But Alexa doesn't react as fast and reliable as with an Echo.
Alexa can do almost everything that the Echo can . However, phone calls don't work, you need Amazon's hardware for that. Of course, this may change in the future due to updates. Otherwise, there are actually no differences. Alexa is always easy to understand and has no problems following your commands.
Unfortunately, one thing bothered me a lot: Alexa's voice always depends on the set volume and, in my opinion, it is a bit too loud. The voice is also used for other announcements, such as which tone is played. Every morning, for example, when I switch on the TV, the voice literally roars at me with "TV AUDIO". Sure, it gets me feeling more awake, but this is not really pleasant. A separate control of the volume of the voice would have been more pleasant.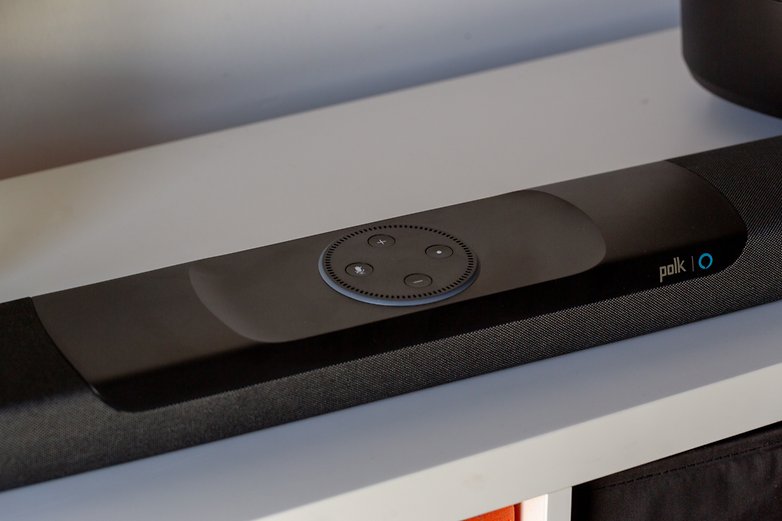 A rock-solid app
As is the trend these days, Polk naturally also supplies the companion app. This is absolutely necessary, if only to set up the Command Bar and connect it to your Wi-Fi. The Alexa functionality, connection to Spotify and more must also be set up here. Overall, the app makes a professional impression and reliably handles all tasks. It's not really great that you have to set up yet another account for your devices at home. But one has probably got used to it more or less nowadays.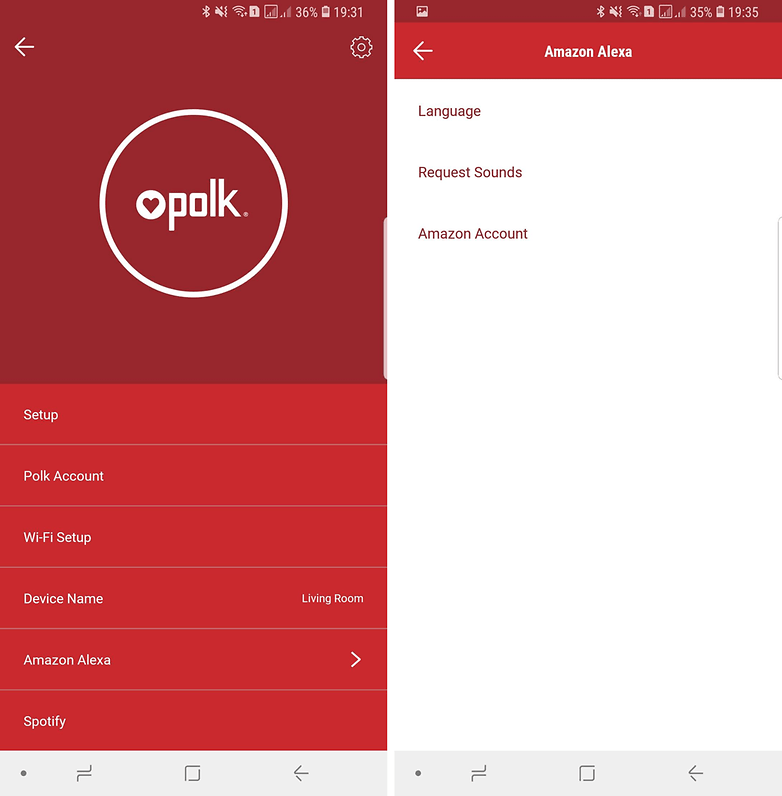 Unconvincing sound
With all the special features and great design, one thing ultimately counts for most in a sound bar: the sound. And here's the thing: it can't really convince me . It doesn't sound well balanced and seems flat overall, even if the bass is sometimes powerful thanks to the supplied subwoofer. You can adapt it to your own taste, as is the case with a subwoofer. But in the end the subwoofer doesn't make a good impression, the bass is a bit spongy every now and then and not quite as to the point as I would like it to be. The sound bar itself lacks a certain depth and three-dimensionality, the mids are often lost.
But it has a useful feature that I have come to appreciate. You can adjust the volume of voices using the remote control. You can screw around with it for fun to make voices sound funny and inappropriate, but if you are hard of hearing or like to watch programs in a second language, this can help a lot in understanding. I always set the voices a little louder than normal, I just find it more pleasant. A function that really makes sense.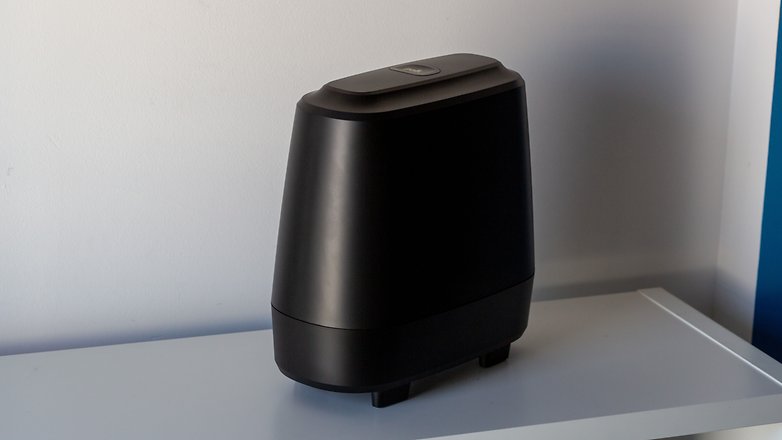 The Command Bar comes with three sound profiles: Movie, Sports and Music. The differences are not blatant, but audible. Annoying: If you increase the volume of the voices, e.g. in movie mode, this setting is not reset when switching to music mode, but simply adopted. That means you have to change the volume of the voices every time you switch between TV sound and Bluetooth music. Linking the setting to the mode would have simply solved the problem.
Final verdict
In the end, I remain unconvinced by the Polk Command Bar. The idea of integrating Amazon Alexa into a sound bar sounds very good and also makes a lot of sense. But in the end it falls short of a good standard for the basic characteristics of a sound bar . I also doubt that I really need the big ring so conspicuously in the middle of the soundbar.
But much more important is the audio quality, and here the Command Bar is a bit disappointing. Of course, I can't expect high-end sound for $250, that's clear. But if the sound bar doesn't sound much better than the pitiful speakers of my TV set, something is clearly wrong.
Other manufacturers, such as Sonos, are also taking up the idea and integrating voice assistants. If you want a smart assistant in your living room anyway, we'll soon see how the market develops and what can be offered at different price points. My advice is to wait and compare the other options.