Nexus 5 tips and tricks to make your phone awesome
Update:

Updated for Marshmallow!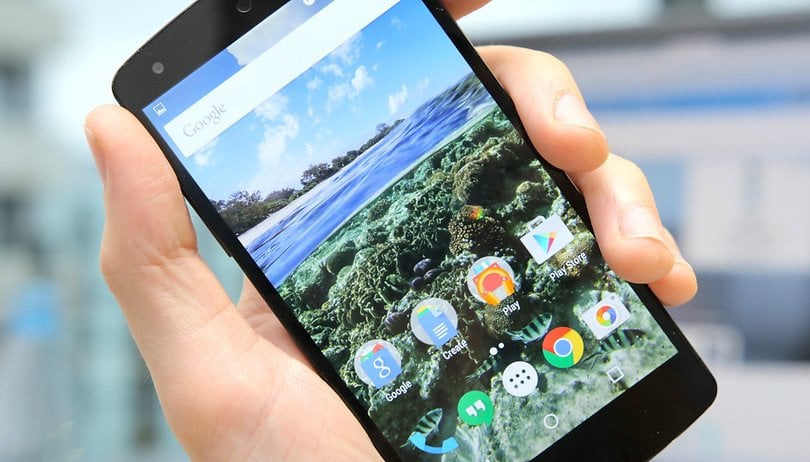 Thanks to a tasty injection of Android 6.0 Marshmallow, the Nexus 5 has a new lease of life. We've already written a lot about how to get more from your Nexus 5, and now that it has the latest Android version, there are even more ways to boost its performance, customize its settings and generally make it more useful. Here are our favorite Nexus 5 tips and tricks.
Buy Now: Nexus 5 cases and covers from Amazon | Caseable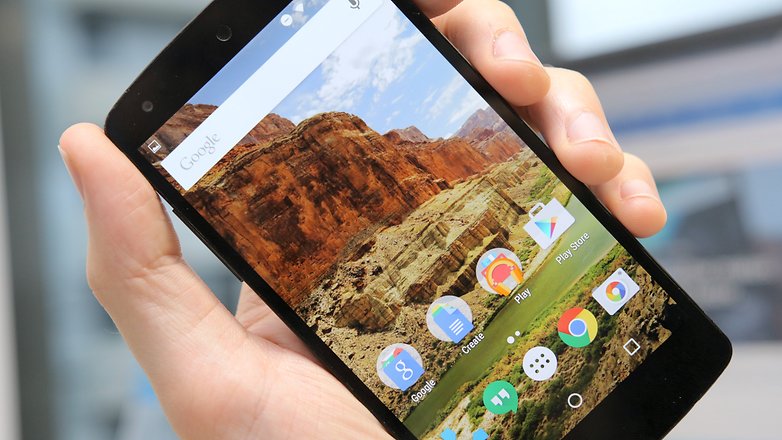 Use Google Now on Tap
Because the Nexus 5 is one of the lucky devices to be running Android 6.0 Marshmallow, it can take full advantage of Google Now on Tap. Google Now on Tap performs context sensitive actions and provides information about what's currently displayed on screen. It's something you have to use in order to understand the full benefits, so just hold down the home button to launch it.
If it isn't already enabled, don't worry, holding down the home button will ask if you want to switch it on. Just tap Turn on to do just that.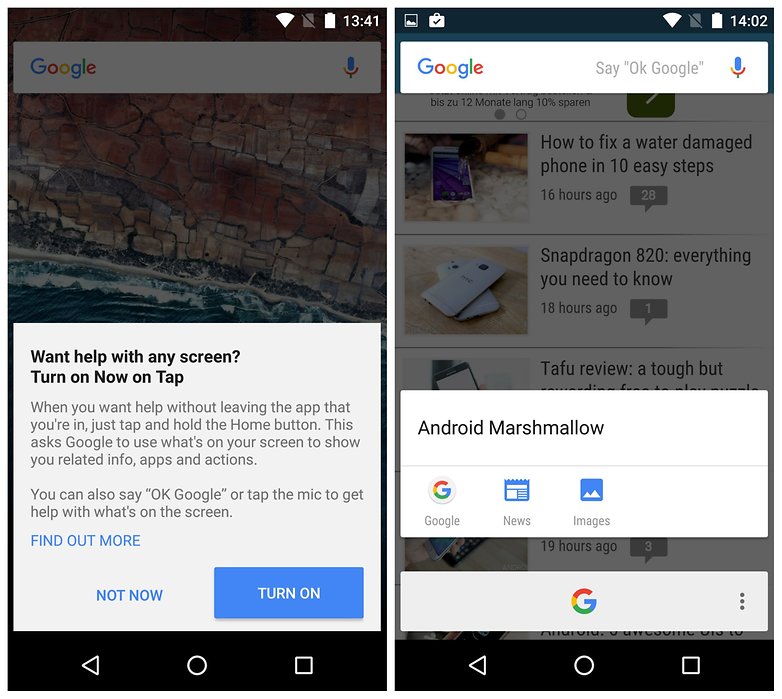 Set up Smart Lock
Smart Lock allows you to unlock your phone without a password under certain circumstances. For example, you can set up a trusted location (such your home), and when your Nexus 5 is in that area, it will unlock without a password or PIN code. This takes away the hassle of entering fiddly codes, without compromising security.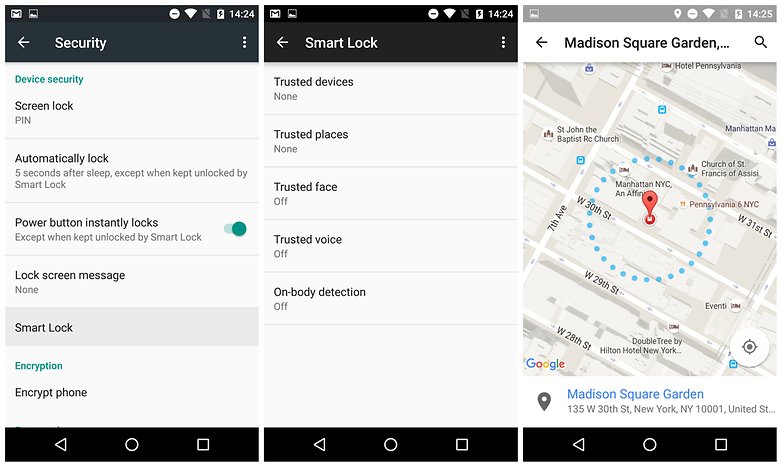 Take better photos
The Nexus 5 has had its fair share of camera problems, but thankfully, improving your snaps is pretty hassle-free. Simply set your default mode to HDR+ and watch the camera's contrasts, motion-blur and low-light performance increase. In the Google Camera app, bring up the menu (tap the three dots), select the HDR+ option in the middle, and watch your images get an immediate boost. There's very little reason not to be taking all of your photos in HDR+ mode, save for a marginal hit to the battery.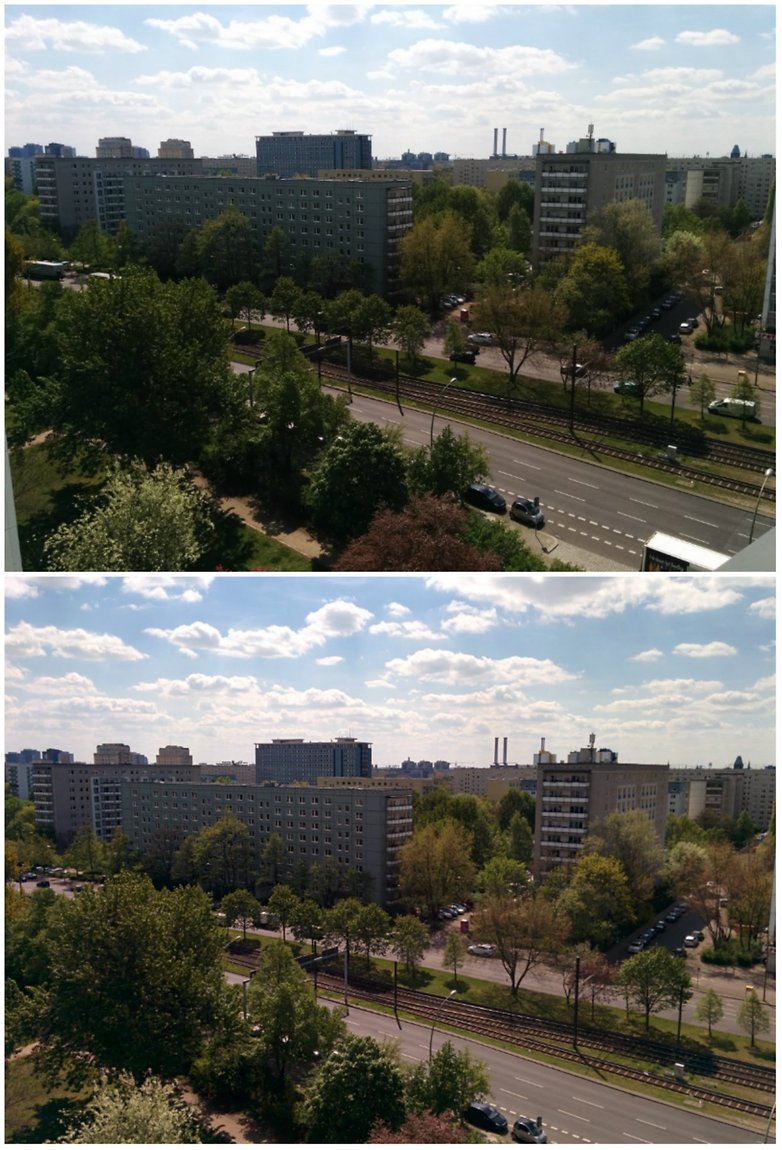 While you're at it, you might want to start using manual exposure, so you can make subtle EV corrections on your pictures. Go to you camera app, slide in the Camera options from the left, then tap the cog (settings) icon. Next go to Advanced and then enable Manual exposure.
A new '+/-' icon will appear at the bottom of the list when you tap the three dots (options) icon in future; this allows you manually set the exposure value. Give it a try and you might see a dramatic difference in your pictures.
Change your brightness automatically at different times of the day
Though it's not specific to the Nexus 5, this feature will certainly aid it. The Nexus 5 battery life is notoriously short, and this simple addition could help reduce battery consumption, as well as saving you time.
BrightTime is an app currently in its early stages of development, and as such, it's not in the Play Store. That being said, it does work perfectly on the Nexus 5. and installing it is easy.
Go into Settings menu and tap the security option to enter the security menu. Scroll down to Unknown sources and make sure it's enabled (move the slider to the right). Next, head here from your device browser to download the app.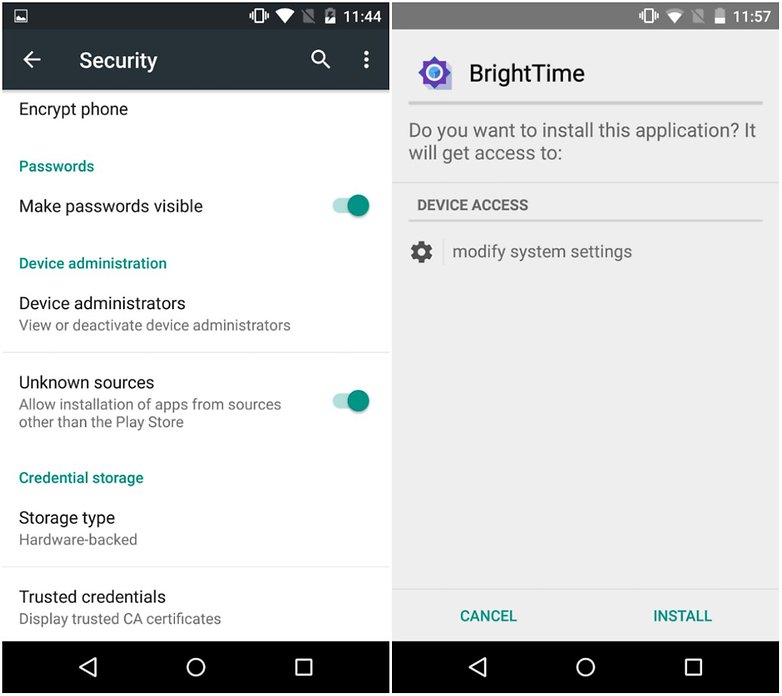 Once it's downloaded, you can tap on the notification to open the install wizard. Some security warnings may pop up, and these should be taken seriously when downloading apps from outside of the Play Store. However, we've verified this app ourselves, and you can usually trust what appears on the XDA Developers forum. Follow the install instructions when they open.
Once BrightTime has been installed, it will launch, and you will be presented with a schedule. Now you can set a custom brightness level, which will automatically activate when it reaches the time of day that you specify. It's a simple idea, but this app can be really useful. I always turn my brightness to a minimum when I go to bed – it's even easier when your phone does this automatically.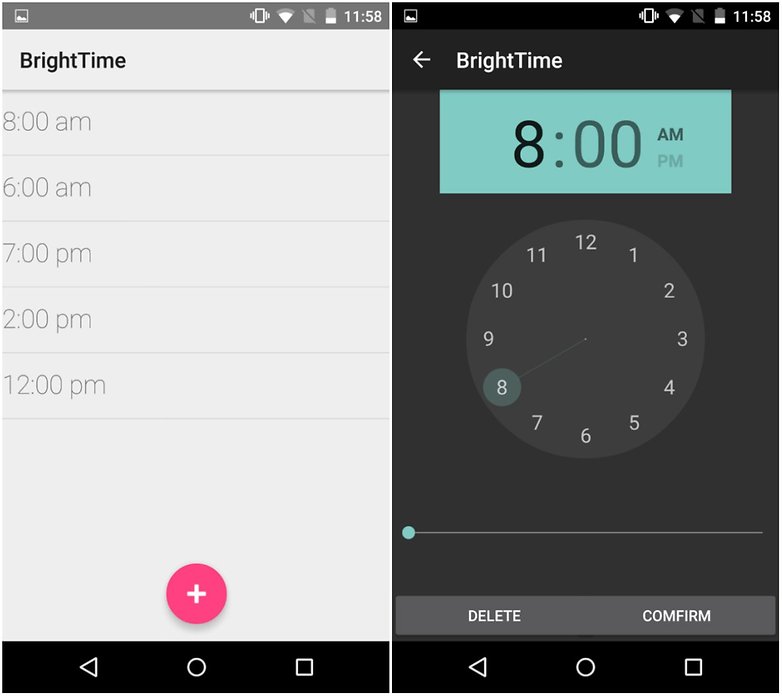 Ditch Hangouts
Sure, Google likes to force things down our throats, like making it so that you almost need a Google+ account just to get out of bed in the morning, but you don't have to jump aboard the Hangouts train just because Google wants you to. Just install another messaging app that you actually like or already use (such as Viber, Kik, or Tango) and set that as the default messaging app.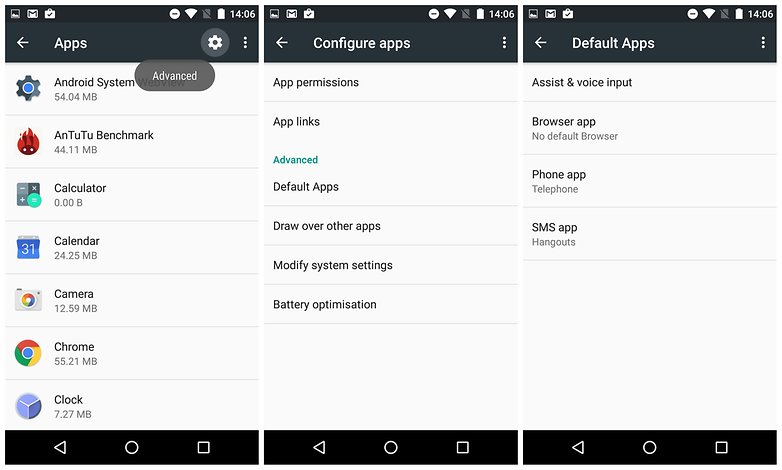 Capture photos while recording
You can capture stills while recording a video on the Nexus 5, and it's incredibly easy to do. Just start recording a video, and tap the screen whenever you want to take a snapshot. The picture will automatically be saved to your internal storage and can be accessed from your gallery anytime.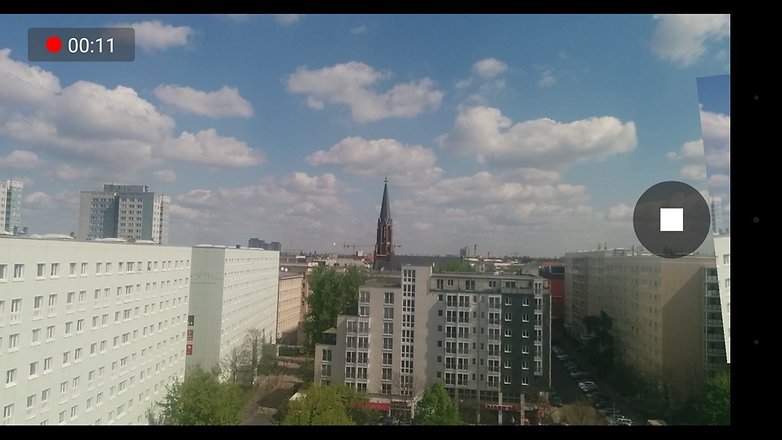 Quickly access your alarm and quick settings
To quickly access your quick settings, just drag down with two-fingers from the top of the screen. Oh, you were already aware of that? Well, what about this: while you're there, notice you have a flashlight app installed too. Cool, right? What, you knew that as well? OK, try this: if you have an alarm set up, tap the alarm display next to the date and time for a quick shortcut to your alarm settings. You didn't know about that one, did you?!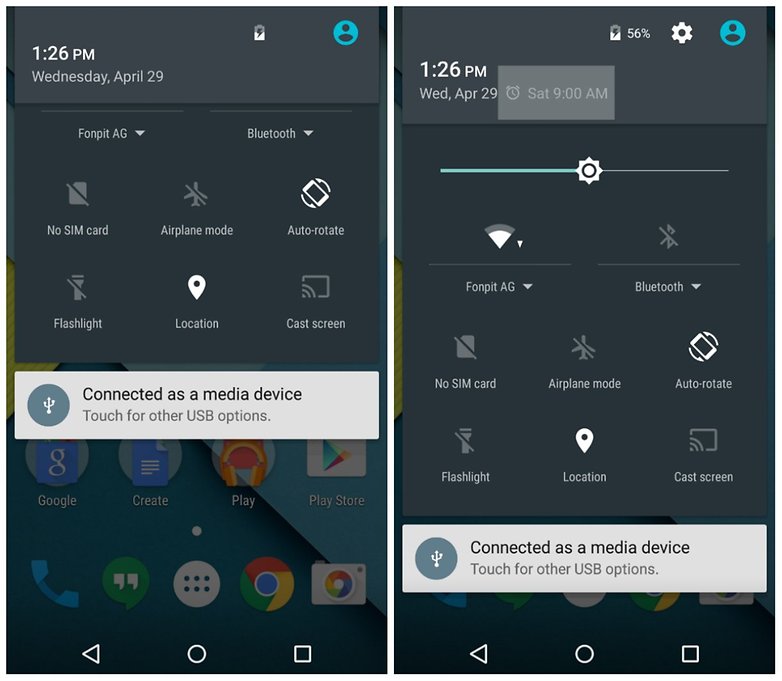 Turn off Google Now on Tap
We love Google Now on Tap, but if you don't actually use it, you can just turn it off. The quickest way to disable Now on Tap is to tap and hold on the home button (the same as to launch it). A menu will briefly appear and if you tap the hamburger (three dots) icon, you will be able to hit Settings to be taken straight to the Now on Tap page. Move the slider to the off position to disable it.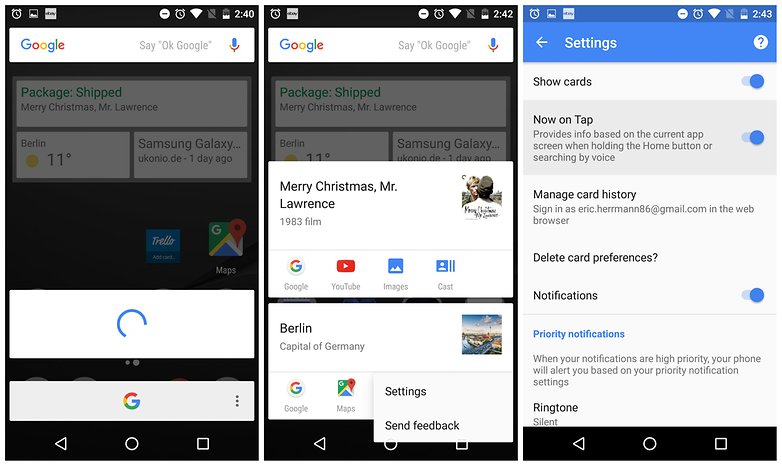 Make use of Google's app integration
Even if you don't use Google Now, that doesn't mean Google's presence isn't still everywhere to be found in the Nexus 5 experience. From the persistent voice command search bar on the home screens to the smart dialer that integrates a search function and auto-complete, Google is intertwined on the Nexus 5 like nobody's business.
Seeing as this is actually a very powerful tool (and only a little scary), you may as well get on board and put it to good use. The more you learn about Google's integrated services the quicker and easier your Nexus 5 experience will become. Check out a few examples below.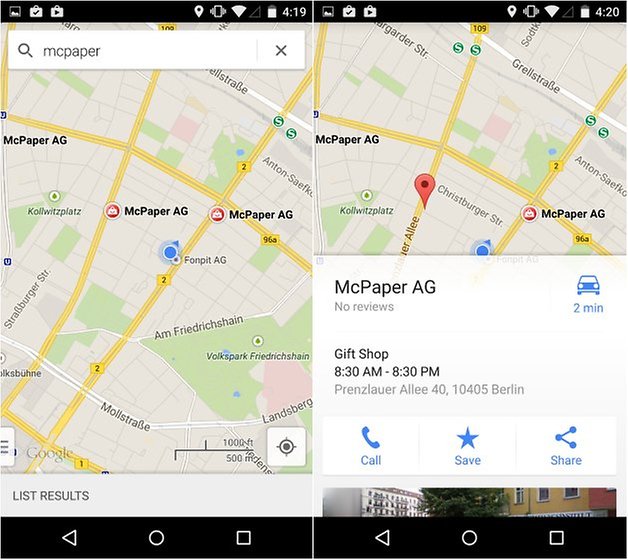 In Google Maps, just swipe up from the bottom on an address search result to get contact details and more for that location.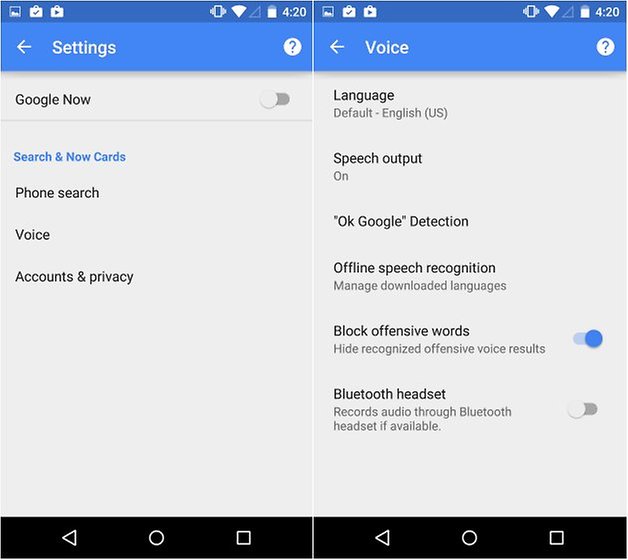 You can also use Google's voice search on any home screen or within Google Now. Just say ''OK Google'' and search away. You don't even need to put on an American accent anymore, because Google is rapidly expanding the supported languages.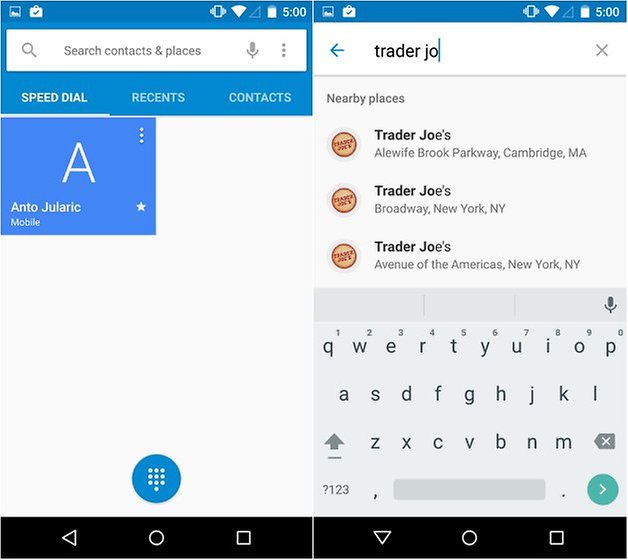 From the default dialer screen (the one with your last calls and frequent contacts), just type your search terms in the panel at the very top. Google will search local content and return results right in the dialer.
Print via the Cloud
As of Android 4.4, there is an easy way of printing your documents, images, and photos from any printer, provided that is connected to the same Wi-Fi network you're on and you have Cloud Print Service enabled. All you need to do is activate it by going to Settings > Printing and click on the Cloud Print option. Once enabled, you can use this service to print via the cloud.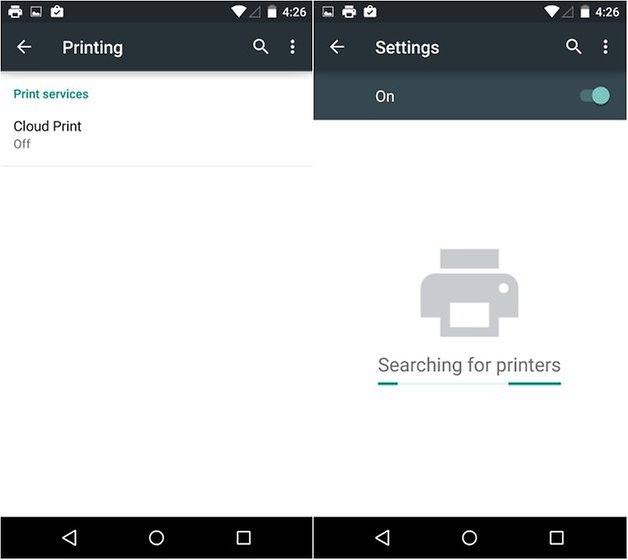 Organize your screen with folders
It's a pretty simple trick, but I've seen pleny of completely unorganized home screens. By placing similarly themed apps together in a folder, you can have your most essential apps at the tip of your fingers without having to deal with pages and pages of icons.
Simply long-press on an app and then drag it onto another app icon and it'll automatically create a folder. From there, you can rename the folder to whatever you like. In our example, we've placed Calculator and Calendar into the same folder in the picture below.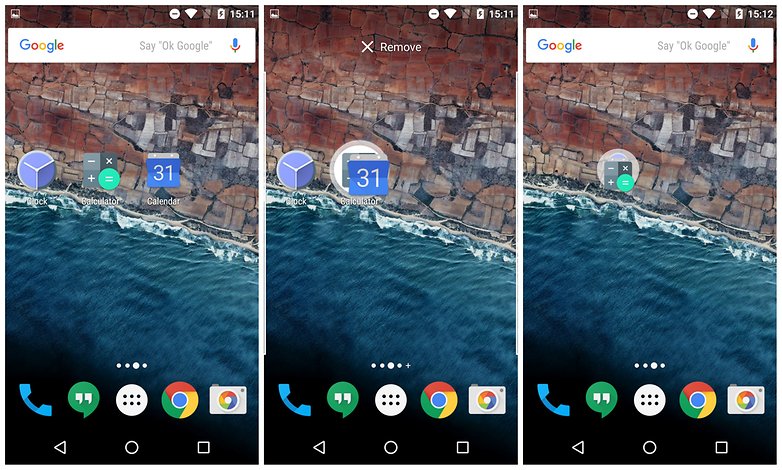 Root, root, root.
If you want to take total control of your Nexus 5, install a custom ROM, remove native applications, or try out some apps that require root access, then maybe it is time to consider rooting your Nexus 5. Follow our step by step tutorial on how to root the Google Nexus 5 to get started.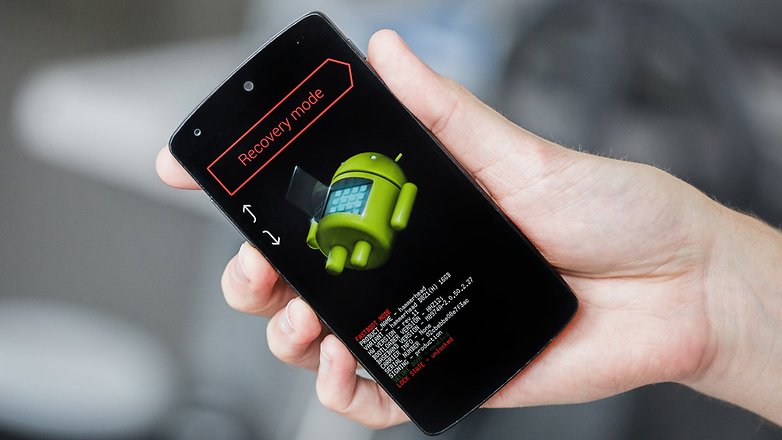 Save your battery by limiting Wi-Fi
Having a little bit of an issue with your Nexus 5 not being able to last the entire day? It may be because of some of the settings that are enabled by default. Marshmallow comes with the fantastic battery saver mode, but if you're looking to gain a little bit more life, you can first stop the device from constantly using Wi-Fi during sleep.
Go to Settings > Wi-Fi > Advanced Options and you can decide whether you can to keep Wi-Fi on when the device is asleep, so that it's not running when you're not using it.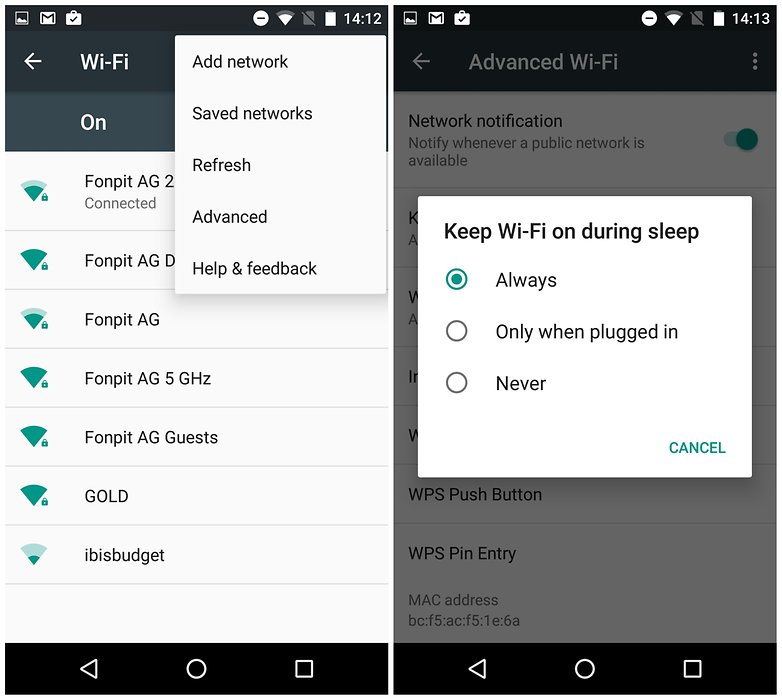 Another battery saving tip is to use only your Wi-Fi and mobile networks, as opposed to GPS, in order to determine your location. You can access these settings in Settings > Location. While this might reduce the accuracy of localization services, it will help save some of your battery over the course of the day if you set it to Battery saving instead of High accuracy.
Quick access to the camera and Voice Search
One of the best parts of having a mobile device with a camera is to be able to take photos quickly on the fly. Rather than having to unlock your device, fire open the camera app, and then take a picture, you can access your camera straight from your lock screen.
All you have to do is click the icon in the lower right corner of your lock screen and drag it to the left. Voila! Your camera will fire up. The same thing goes for voice search. Why unlock and launch a voice query when you can start it straight from the lock screen?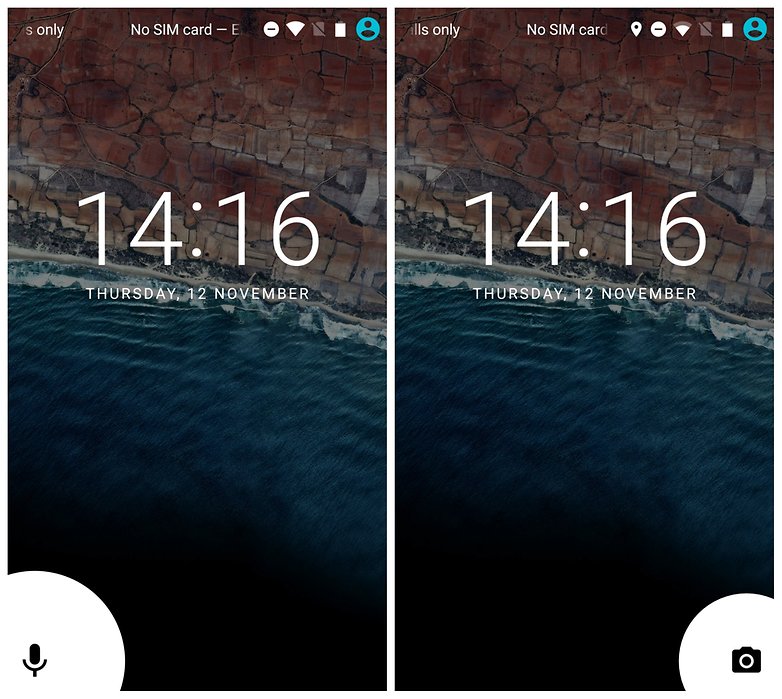 Don't forget that there's also a trick to make your Nexus 5 screen bigger, and that we've already shared the solutions to some common Nexus 5 problems.
Have any of these tips been helpful for you? What other tricks do you know for the Nexus 5? Share them in the comments.