Nanoleaf Aurora review: A modern way to light up your home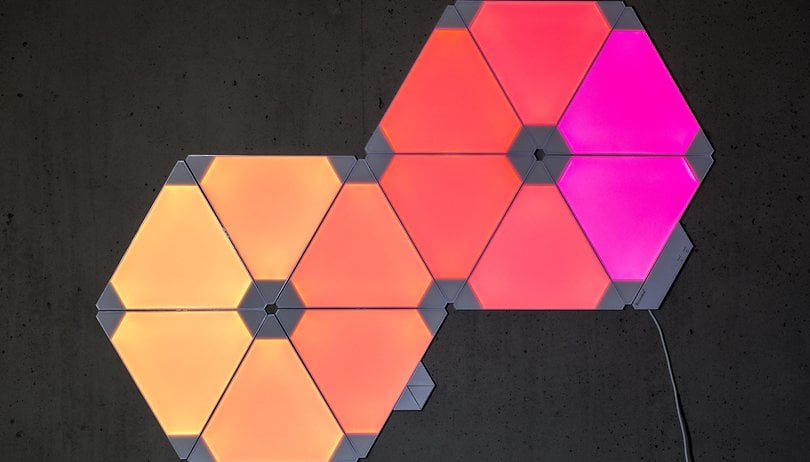 Nowadays, there's more out there than just the standard smart light bulbs. Nanoleaf is looking at smart homes and lighting from a new angle, and it's offering modular and personalizable lights capable of giving a touch of color to any room. We've stuck (literally) Nanoleaf's Aurora Smarter Kit and the Aurora Rhythm module to the wall of our labquarium, and below we'll run you through how it went.
Nanoleaf Aurora Smarter Kit: What's inside
When you open the box, you'll see nine modular triangles of 100LM each, which can all be interconnected. Tunable light temperatures range anywhere from 1200K-6500K. If you're a fan of LEGOs, then you'll love putting these lights together. How? However your heart desires.
In the Smarter Kit, you'll find 9 panels, 9 connectors, 1 controller, 28 double-faced pieces of tape and a power supply.
One of the major pros of Nanoleaf Aurora lights is the personalization: each triangle has three slots where you insert the plastic connectors (they look like SIM cards) included in the box. These connectors let you attach all the triangles together to create any design you want. Later on, you'll have to decide on that shape according to what you like and the space you have available.
If nine triangles aren't enough for what you want to do, however, you can always buy an expansion pack with three additional panels for $59.99. Here in the office, we decided to get one the expansion packs, so Luca and I were having a blast combining 12 triangles into a bunch of different shapes. You can connect up to a maximum of 30 panels to one power supply without any hubs or bridges. Make sure to keep in mind though that the more you connect, the more the control will overheat where the current passes through it.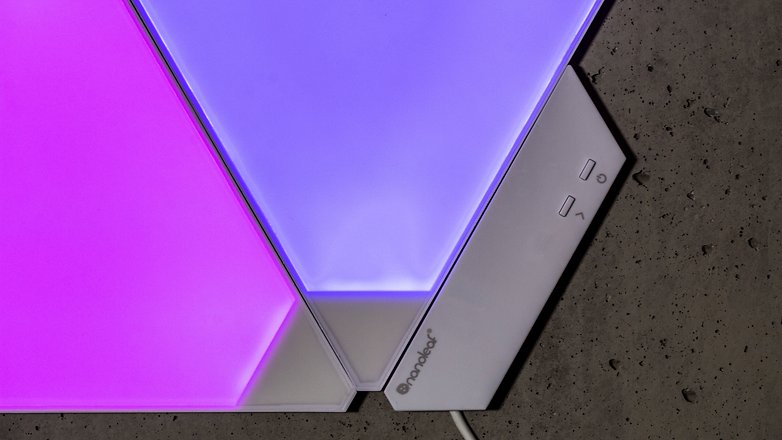 Nanoleaf Aurora: installation and features
Connecting the triangles for the first time will give you the impression that they're a bit loose, maybe a bit unstable, and that they don't feel very resistant. I didn't actually think they'd stick to the wall connected like that. Also, it seemed like they weighed way too much to hang on the wall with only a few pieces of double-sided tape. But, I was proven wrong.
All connected together, it looked like it weighed too much to hang on the wall. But, I was proven wrong.
I would recommend that at first, you put the pieces on a table or the ground to make your design, and then stick them to the wall and connect them one-by-one. If you try to connect more than one piece at a time, you'll probably need another pair of hands, and you'll run the risk of having a lopsided design (like what happened to Luca and me). Lastly, connect the controller with the physical buttons that let you turn it on/off and control the lights. You'll also have to plug it into the outlet of course.
Once you've decided on your design, download the app on your phone and connect Aurora Nanoleaf to the Wi-Fi. The first few attempts with our Samsung Galaxy S8 did not go well, but then we switched to an LG V30, and everything went smoothly. Within a couple of seconds, we were all paired up. So, apparently, the problem was with the S8. What happened to us though, was that it would lose connection and we'd have to unplug it from the outlet to make sure the lights would respond to commands.
Once you get everything up on the wall and connected together, you can quickly get to the preset colors that come stock on the app or even make your own by clicking on the (+). Next, pick the colors you like the most and save the result. Now, you'll find your chosen color combo with the other ones, and you can change it or delete it by clicking on the edit button.
Once you're in the app, it's very straightforward to see precisely how you've designed your lights. By clicking on the triangles (in the app, not physically, unfortunately), you can choose the color you want for that specific triangle. You can also connect, move and erase pieces while it's turned on. Later on, if you add any triangles, they'll automatically follow the selected color pattern.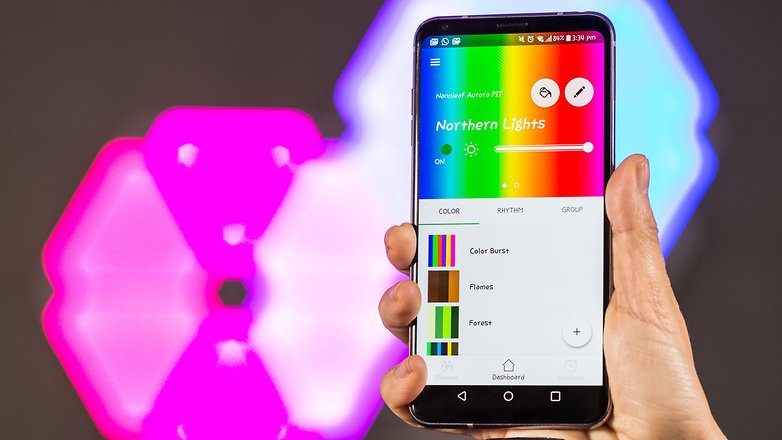 From the app, you can adjust the brightness and light dynamics, in other words, the sequence and speed that they turn on. There are six different modes, each with subsections that let you play around with the direction or pattern the colors of the lights change from one triangle to another.
Furthermore, you can save your set up in the cloud and program the lights to turn on/off at specific times. One of the great things about Nanoleaf Aurora is that it works with Assistant, Alexa, and Siri. I gave it a test run with Assistant, and with one voice command I could turn the lights on and off, as well as change the pattern. Response time was almost immediate! There's just one downside to this whole thing: the cable.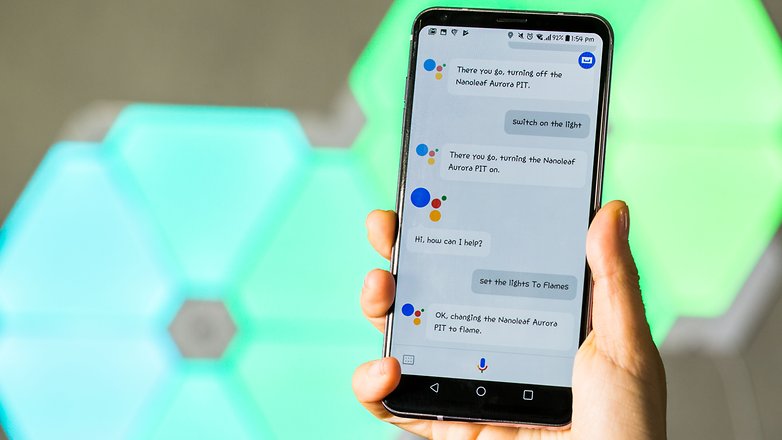 Aurora Rhythm: light up your music
There's also an additional module that can be connected to the triangles to synchronize the lights with music in real time. Music or voice: all you need to do is talk to see how the lights change based on the sound. To set it up, the only thing you need to do is connect it to the Nanoleaf Aurora, and you're done. Without a doubt, one of the best things about these devices is their ease of use and installation.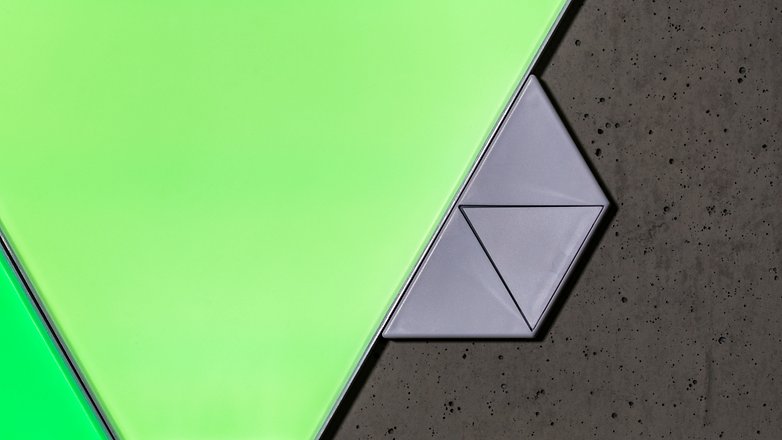 Before going any further, make sure you've installed the latest version of the app's software (Settings> Firmware updates>Version 2.1.3). I'd recommend putting Rhythm next to a speaker so you can admire how it works. Going from one rhythm to another takes a few seconds (at most), but this doesn't dampen the overall user experience any.
In general, this extension is designed for music lovers and a really cool idea for anyone who wants to put a Nanoleaf Aurora in a space with music, like a living room or bar. Aurora Rhythm isn't included in the Smarter Kit, but you can buy it separately for around $49.99.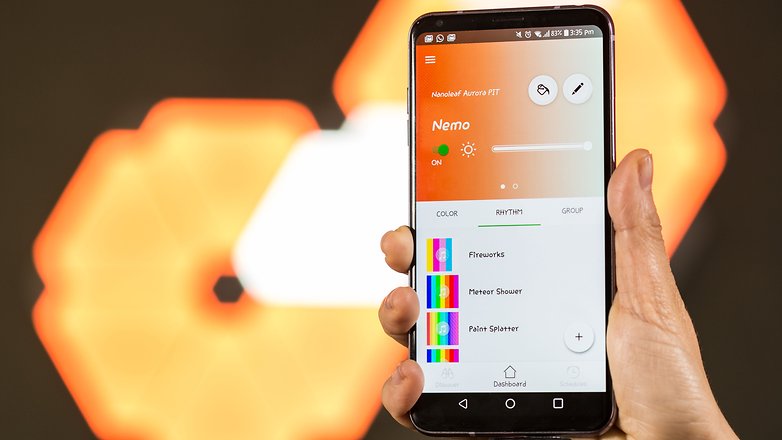 Nanoleaf Aurora: price
Nanoleaf Aurora is available on the brand's official website, the Apple Store and Amazon for $229 for the base kit with Aurora Rhythm and free shipping within the U.S. On Amazon, the price is about $220 (without Aurora Rhythm).
The expansion kit, which includes three additional panels, costs about $70 on Amazon.
Conclusion: is it worth it?
It's true that the modular lights from Nanoleaf Aurora aren't the classic style smart light bulbs that improve your day-to-day life. However, they do take your Smart Home to the next level. They're more free, decorative and fun.
Nanoleaf Aurora isn't a must-have device, but I bet that once you try them out, if you can afford to spend around $200, that you'll want them, either in your house or your business. They're blowing up with YouTubers and really are a lot of fun. They're easy to install and manage through the app or with voice commands.
Pros:
Easy to install and use
Beautiful lighting effects combined with music
Versatility and personalization
Voice commands from Alexa, Assistant, and Siri
And the cons? If I were being a bit picky, I'd say that some connectors are a little shoddy, and the price is a bit high, but just by a little. I say just a little because there isn't much price difference between them and the kits from Philips Hue. The one big difference being that the Nanoleaf modular lights aren't meant to be a light source like standard light bulbs. I think Nanoleaf has done a great job on these modular smart light bulbs. It's true, they're not essential, but they are really cool to have in your house, especially if they're connected to an Aurora Rhythm.