Motorola Razr (2023) Review: Finally a Flip Foldable for Cheap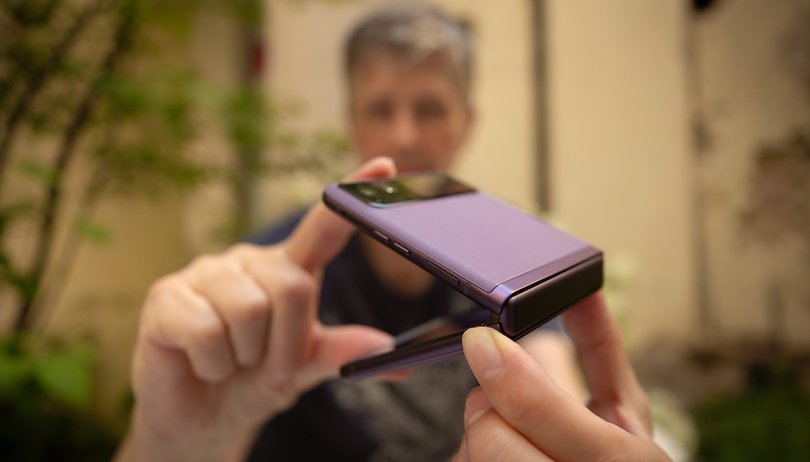 Motorola surprised us with two Razr foldable phones this year. The Plus model, which is undoubtedly supposed to be the flagship among the foldable smartphones in a clamshell design, and the "inexpensive" Motorola Razr (2023). While we have already tested the Motorola Razr+ (2023), today is the turn of the entry-level foldable. What do you give up for a cheaper price tag? We will find out for you in this review of the Razr (2023)!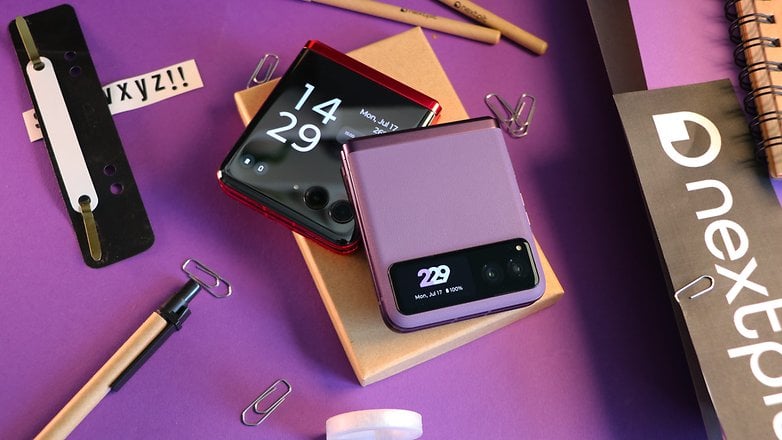 Note: The review unit was a European-spec Motorola Razr 40. Motorola hasn't revealed pricing or launch information for the US market.
Good
Sufficient performance

Pleasant form factor

Wireless charging

Optimal grip

Moto My UX

Good price
Bad
No headphone socket

No storage options

No microSD card support
Motorola Razr (2023): All deals
Motorola Razr (2023) in a nutshell
If you are looking for a small, and pocketable Android smartphone, but do not want to shell out a thousand bucks on a phone, the Razr (2023) will be near the top of your shopping list.
Except for the 165 Hz refresh rate (144 Hz), the Motorola Razr (2023) has an identical, foldable 6.9-inch internal display as the Plus (2023) model. It offers good viewing stability, contrast, and brightness even under direct sunlight. The processor is rather mid-range with a Snapdragon 7 Gen 1, but it is completely sufficient for all everyday tasks and games.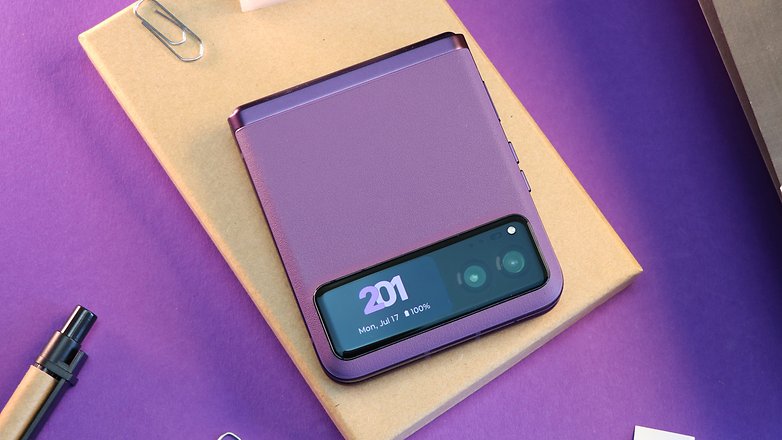 Lenovo's subsidiary has improved the main camera and battery capacity in our test device so that it still has an added value compared to the Ultra.
The biggest difference in the truest sense of the word can be seen in the 1.5-inch thin display on the outside of the Motorola Razr (2023), which, like the competition—the current Samsung Galaxy Z Flip 4 (review)—is more for quick information than a full-fledged replacement display, like the Razr+ (2023). If that is enough for you, you will be very happy with the base model of the 2023 Moto Razr and also save quite a bit of money.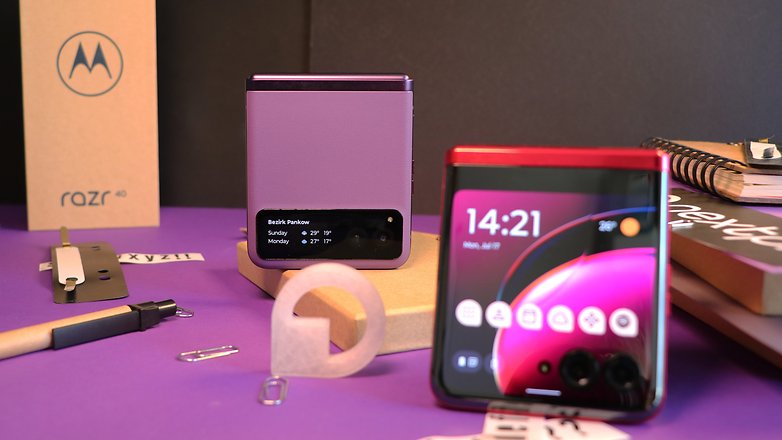 Motorola Razr (2023) design and build quality
The Motorola Razr (2023) differs in size from the Plus (2023) only in nuances that are not visible to the naked eye. With a size of 73.95 x 88.24 x 15.8 mm and a weight of 188.6 g, it is the ideal pocket companion. Competitor Samsung shows it impressively in its daily commercials: the clamshell design also delivers useful advantages in other ways, such as the group photo at a 90-degree angle positioned Razr, which automatically creates the selfie after a counter with a practical hand gesture.
Likes:
Optimal, space-saving form factor.
Quality workmanship.
Water-repellent according to IP52.
Grippy faux leather back.
Dislikes:
Visible crease.
No jack socket.
Missing microSD support.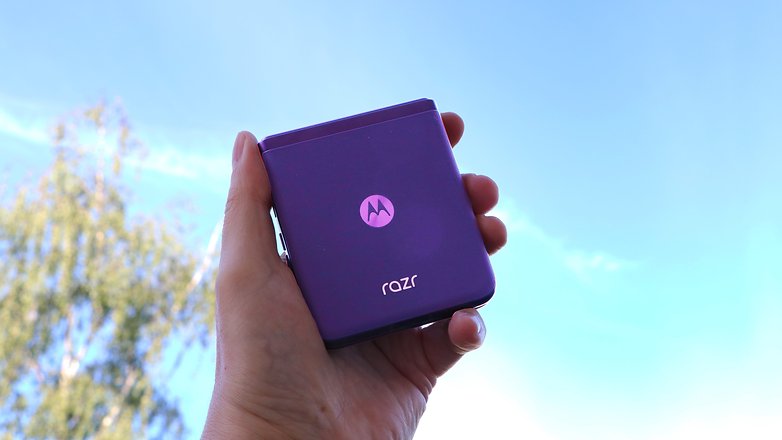 It already has a certain coolness factor to close the smartphone with one hand like a "Star Trek Communicator" with a rich flip sound. Our model has an aluminum frame (7000 alloy), a slightly rubberized surface on the front and back, which can also be called "vegan leather" for marketing purposes. A secure grip is thus guaranteed and the nasty fingerprints are stopped.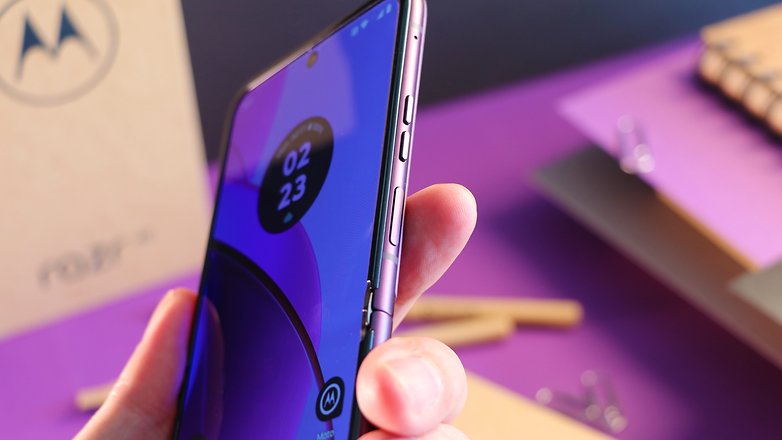 You will find on the right side the perfectly positioned power and standby buttons. Both face and finger scanning work quickly and reliably. The two volume buttons are also very easy to reach when opened and closed.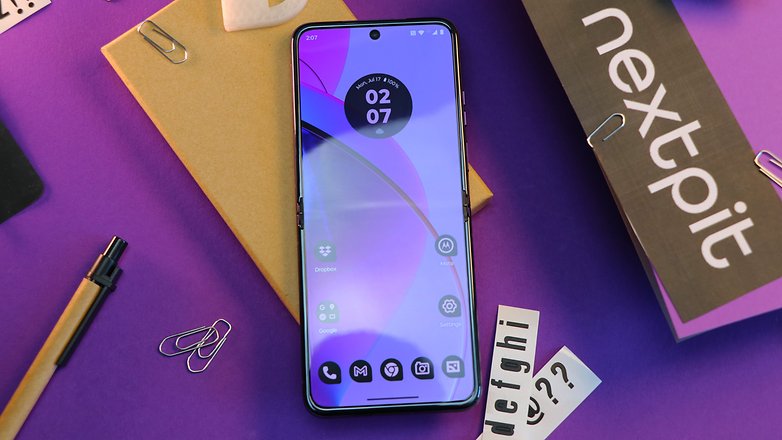 If you are looking for criticism, you will find it in the right position in the visible and also noticeable crease. Personally, it doesn't bother me because the hinge leaves a decent impression and the crease isn't really noticeable in daily use of the Motorola Razr (2023). On top of that, the foldable is also IP52 certified and can therefore be taken to the poolside during your next swim. The Razr display can be read perfectly even in direct sunlight.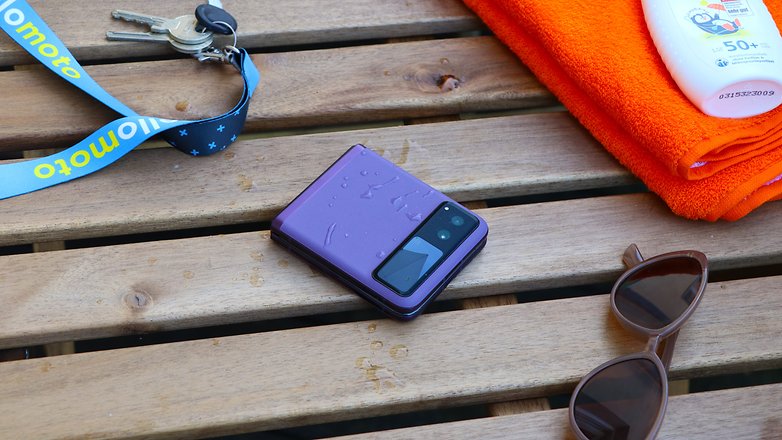 Motorola Razr (2023) display
This is made possible by the maximum 1,400 nits (peak) of the 6.9-inch and, above all, foldable pOLED display of Motorola's Razr (2023). Unlike its Plus brother, it does not have a refresh rate of 166 Hz, but a still impressive 144 Hz using LTPO technology. The FHD+ resolution (2,640 x 1,080) at 413 PPI is absolutely identical. The same goes for the sampling rate of 240 Hz-even 360 Hz in gaming. But there is also something to gawk at on the outside of the Razr (2023)!
Pros:
High touch sensitivity.
LTPO, HDR10+ and DCI-P3 color space.
Unusually high refresh rate.
Up to 1,400 nits brightness.
Cons:
The 1.5-inch external OLED display with a resolution of 194 x 368 px at 282 PPI serves mostly to show notifications. With a maximum brightness of 1,000 nits, this includes things like the time, date, current battery capacity, music control, weather, and the next upcoming appointments. Besides that, answering phone calls and accessing the most important quick settings (BT, Wi-Fi, flight mode, flashlight, hotspot, etc.) can also be done on the outside.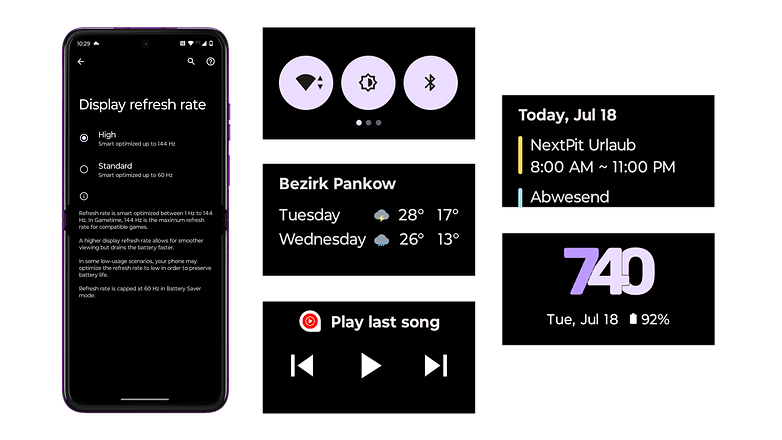 However, the activation of the outdoor screen, via a twist gesture, to a preview image of the photo app is considered a special highlight. Here, the modes of the main cameras—like video and photo including zoom levels, portrait, and wide-angle—can be controlled via touch gestures. A hand gesture (open palm) triggers the photo after a three-second counter. Of course, a good old press on the volume buttons also works.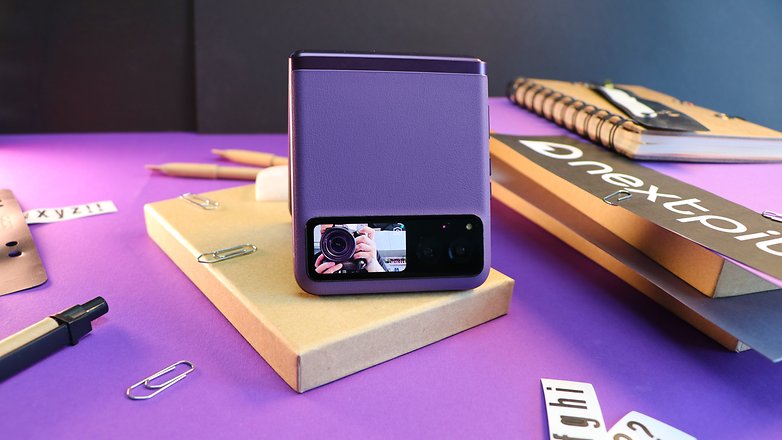 When opened, the Motorola Razr (2023) is hardly distinguishable from a conventional smartphone in my opinion: rich colors, optimal contrast, and good viewing angle stability. If you put your Moto foldable on the desk like this, you even get the Moto My UX typical always-on display, as long as the Razr senses movement.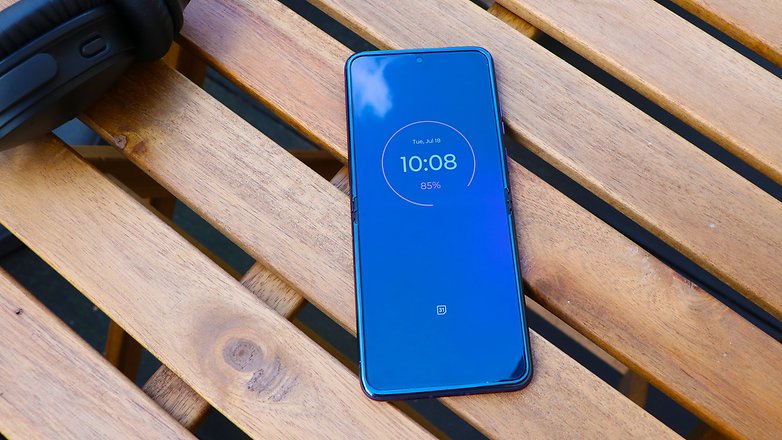 Motorola Razr (2023) software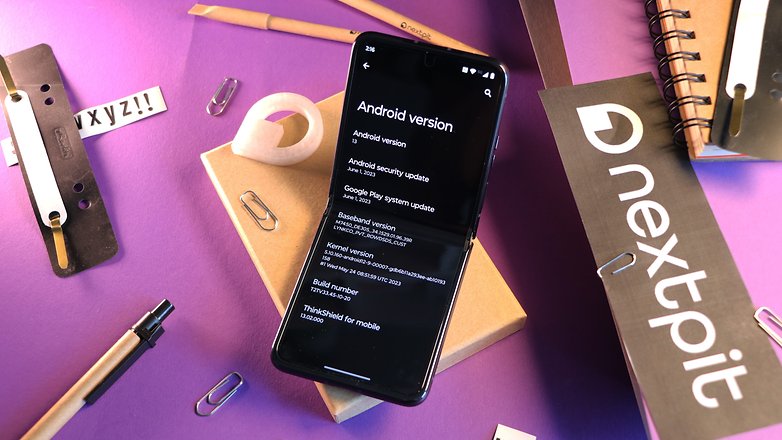 As a former Google company, Motorola knows what a vanilla Android smartphone should look like. And indeed, the Motorola Razr (2023) also follows the former reputation. The phone came with Android 13, the in-house "Moto My UX" user interface, and a security patch from June 1, 2023. The Lenovo subsidiary promises three system updates and four years of security patches for the Razr (2023), which is not up to Samsung's policy, but except for one year less security, on par with Google.
Pros:
Almost without bloatware.
Update policy almost on Google level.
The unobtrusive "Moto My UX" user interface.
Additional security through ThinkShield for Mobile.
Cons:
Two more bloatware apps found.
Still behind Samsung's update policy.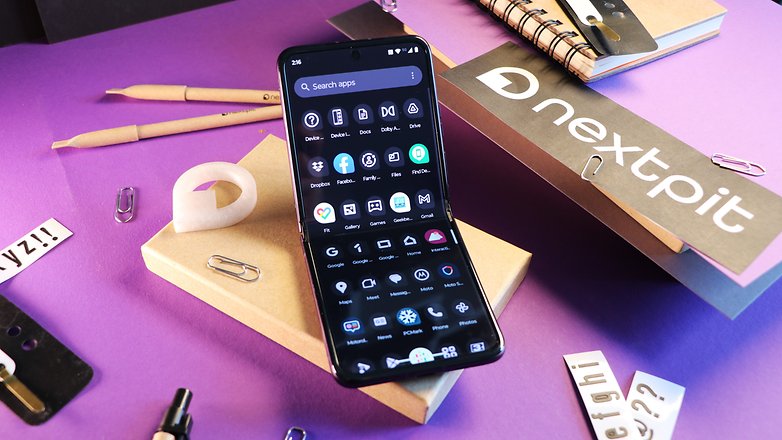 The Motorola Razr (2023) also comes with little to no bloatware. The Lenovo subsidiary has only not yet been able to part with the Booking.com and Facebook apps. TikTok and Spotify, on the other hand, which were preinstalled on the Plus, are only optionally available on the base model during the initial setup, as are many other Google applications. It remains to be seem how the US-spec model will fare in that regard...
The company deserves our special attention with its in-house user interface "Moto My UX", which is very close to what Google offers us with Android 13. Among them the individual color customization of the system and its icons—if desired also based on the wallpaper used—the font or the app layout.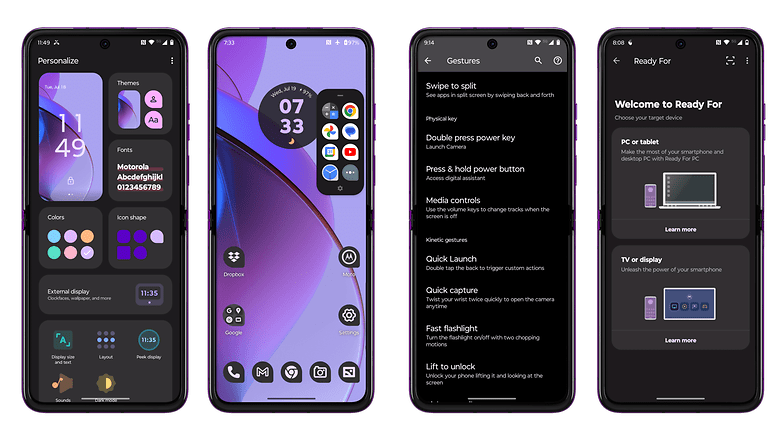 However, the sidebar, the gaming hub, Swipe to Split or the "Ready For" feature for using the smartphone on the PC or TV are also quite useful little helpers that almost perfect the use of the foldable smartphone. There are also lots of customization options for the external display but obviously not on the same level as in the Razr+ (2023).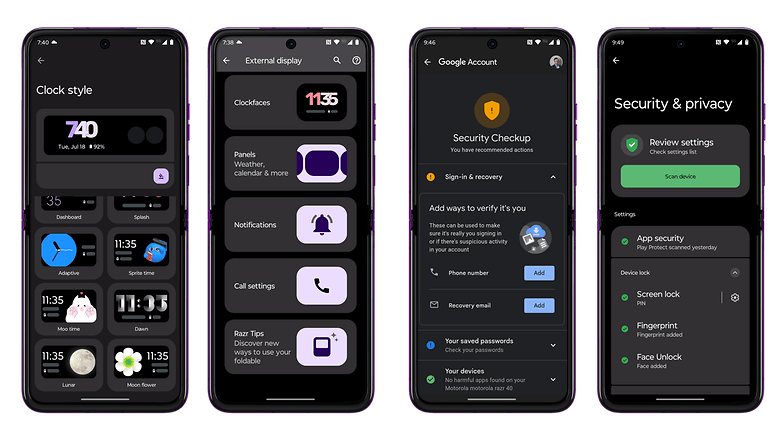 Starting with different clocks, to the possibility to choose which of the panels and messages should be displayed on the outside. It's also important to note here that in addition to the hardware features for security (fingerprint sensor and Face Unlock), ThinkShield for Mobile also protects you from threats like malware, phishing, and network attacks with regular security checkups.
Motorola Razr (2023) performance
Besides the slim external screen, the installed Snapdragon 7 Gen 1 is the biggest difference from the Plus-foldable. The SoC manufactured in a 4 nm process is located in the upper mid-range category in terms of performance and was not only sufficient for all everyday applications in our test but also for computationally intensive games like Real Racing 3.
Pros:
Completely sufficient processing power.
No unusual heat development.
Cons:
Relatively early throttling.
No support for a microSD memory card.
The processor, presented in May 2022, is equipped with a total of eight cores, of which four Cortex-A710 with a maximum clock rate of 2.4 GHz can be classified as performance cores and four Cortex-A510 with a maximum frequency of 1.8 GHz as efficiency cores. The system is completed on-chip with an Adreno-644 graphics chip and an X62-5G modem.
In addition, Motorola installs a total of 8 GB LPDDR4X of RAM and 256 GB UFS 2.2 of internal storage in the Razr (2023). Motorola does not provide for an optional expansion, such as with a microSD memory card, for the Razr (2023).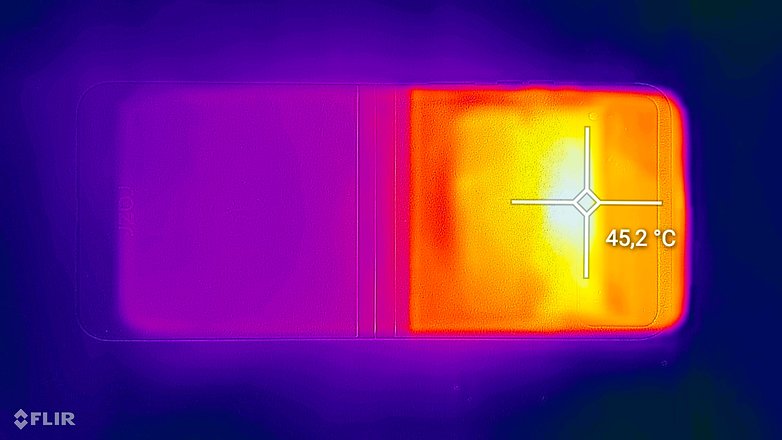 As far as heat management is concerned, the processor behaves moderately. The processor seems to be well-adjusted on the software's side, as it slows downs quite early to avoid uncomfortable temperatures. Other than that, we found no issues or restrictions while running apps & games available in the Google Play Store—including our weekly top 5 recommendations.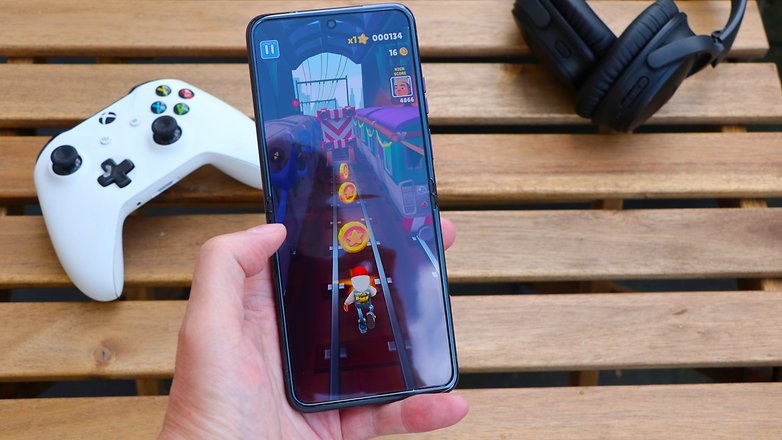 Of course, no smartphone test goes out of nextpit without the hard facts of a Geekbench and 3D Mark benchmark test.
Motorola Razr (2023)
Motorola Razr+ (2023)
Motorola Razr 2022
Samsung Galaxy Z Fold 3
Oppo Find N2 Flip
Snapdragon 7 Gen 1
Snapdragon 8+ Gen 1
Snapdragon 8+ Gen 1
Snapdragon 888
MediaTek Dimensity 9000+
3D Mark Wild Life
2042
Maxed Out!
6838
5683
8205
3D Mark Wild Life Stress Test
Best Loop: 2078
Worst Loop: 2038
Best Loop: 7010
Worst Loop: 3563
Best Loop: 7306
Worst loop: 4107
Best Loop: 5579
Worst loop: 3435
Best Loop: 8244
Worst Loop: 4673
Geekbench 5
Single: 793
Multi: 2807
Simple: 1303
Multi: 3712
Single: 1310
Multi: 3957
Single: 1095
Multi: 3239
Single: 1130
Multi: 3364
A direct comparison with the other foldables shows that the Razr (2023) is clearly at a disadvantage here. But I'll repeat myself: You won't have any problems in everyday use. If you think that level of performance is not good enough for you, there is always the Plus model.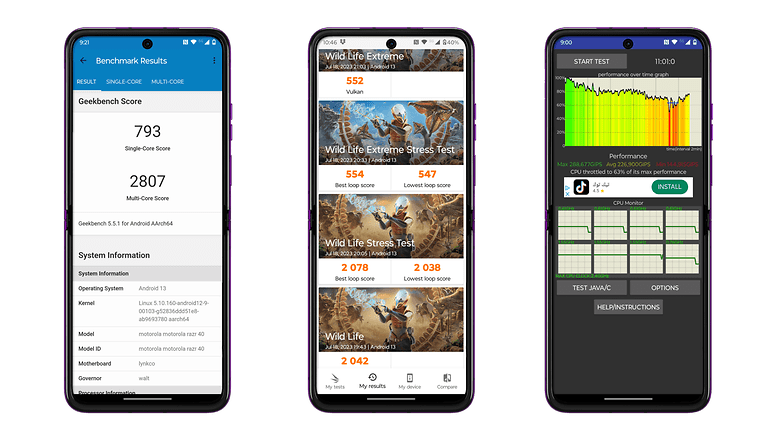 Motorola Razr (2023) camera
The Motorola Razr (2023) has another surprise in store for us in the camera department. It is not the front-facing camera, which is a 32 MP punch-hole camera like in the Plus (2023) at the top center. No, it is rather the 64 MP main camera that astonishes us a bit. This is a 1/2.55-inch OV64B image sensor from OmniVision with PureCel Plus S technology. In the flagship, on the other hand, it is only a 12 MP image sensor, also 1/2.55 inch in size.
Pros:
Good main, macro, zoom, and wide-angle shots.
Daytime shots succeed as well as ever.
Added value due to cover display.
Cons:
8x digital zoom is too little.
Night shots are not bad...
... but also not the foldable's strength.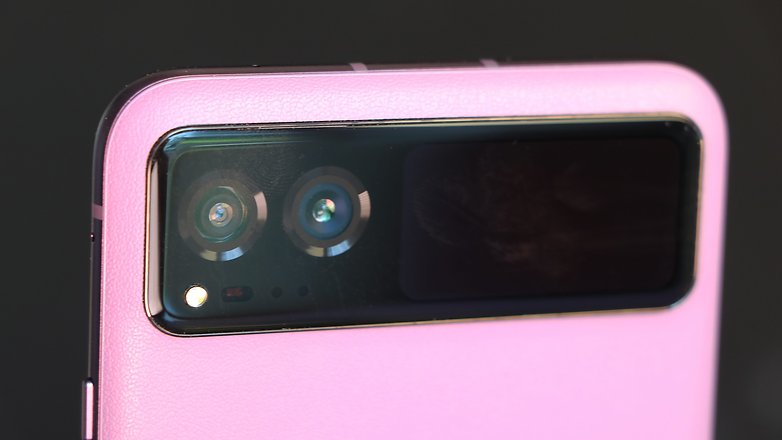 However, Motorola uses the so-called quad-pixel technology for the Razr (2023)'s main camera, which creates a 16 MP image with a pixel size of 1.4 µm from the actual 64 MP camera, with a pixel size of 0.7 µm. Thus, the Ultra flagship, whose 12-MP image already has a pixel size of 1.4 μm without pixel binning, is almost equaled in the end. However, the Ultra has a maximum aperture of f/1.5 compared to the f/1.7, which thus lets more light onto the sensor.
For comparison, I've created one test image during the day with the quad-pixel technology (16 MP), once with the pure 64 MP, and a photo with the Motorola Razr+ (2023) (12 MP).
The second main camera in both cases is a 13 MP ultra-wide-angle camera with a 1/3 inch image sensor that works with a pixel size of 1.12 µm and is also used for macro shots with an aperture of /f 2.2. However, in our Razr (2023) tested here, the camera is allowed a field of view (FoV) of 120 degrees, while it is only 108 degrees in the Razr Plus.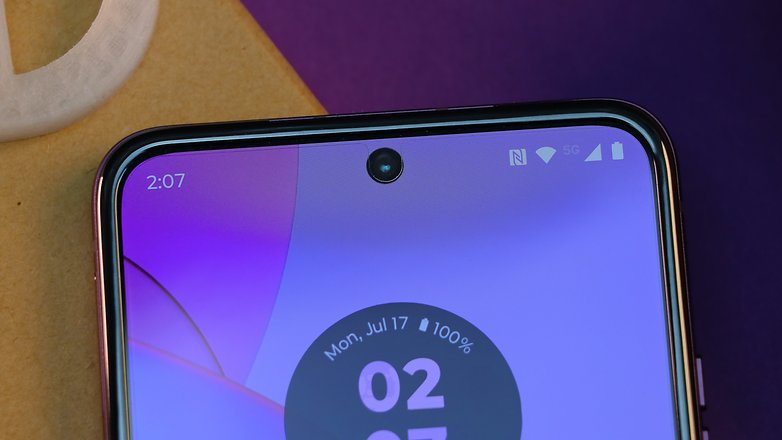 For the sake of completeness, we should also mention the front camera's use of quad-pixel technology, which fuses a pixel size of 1.4 µm (8 MP) at an aperture of f/2.4 and a pixel size of 0.7 µm (32 MP) in the end.
Whether it's daytime, wide-angle, macro, or portrait shots, just about anything results in good pictures under daylight. We even like the up to 8x zoom shots better on the Razr (2023) than on the Plus (2023) model. The same applies to the night shots, which, in my opinion, no longer show as much noise as on the Plus. But don't get me wrong: The pictures are not flagship level, but rather mid-range, with a slight tendency upwards.
For such a small foldable, however, it is definitely worthy of recognition and probably should be classified in the top segment.
Motorola Razr (2023) battery
To our surprise, this year's basic foldable has more energy in the tank with a capacity of 4,200 mAh than the flagship, which has to make do with 400 mAh less at 3,800 mAh. This difference should be noticeable in daily use as well as in our battery test.
Pros:
Wireless charging is possible.
33 watt power supply included.
The battery is sufficiently sized.
Cons:
A full charge takes 1 hour.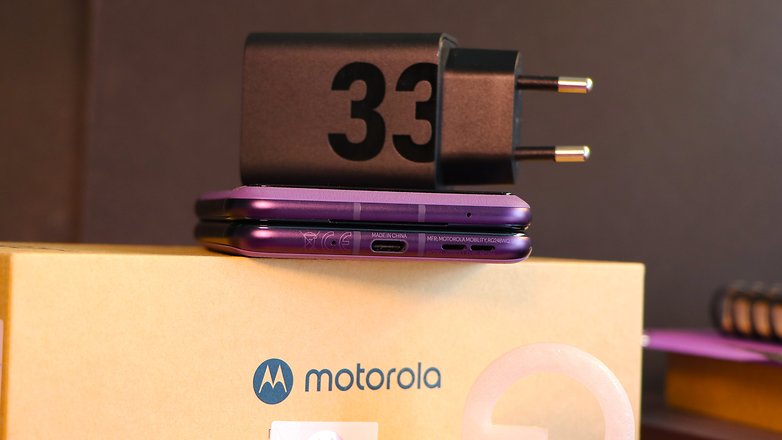 Using the European-spec 33 W charger, if you drain your battery down to the last bit of energy—which is usually not recommended—you have to wait for an hour for a full recharge. You get 17 percent after five minutes and 57 percent after half an hour.
However, you can easily get through the day with that, as I did in my case with several Google accounts that have to be synchronized. I would even increase it to one and a half days before you supply yourself with new energy via cable or wirelessly (5 W).
In our test with the PCMark Work 3.0 battery test, we still managed 11 hours and 31 minutes in flight mode, a display brightness of 200 nits, and 60 Hz operation. It was just under an hour less in the Razr+ (2023). I also did a test with a refresh rate of 144 Hz for my own interest.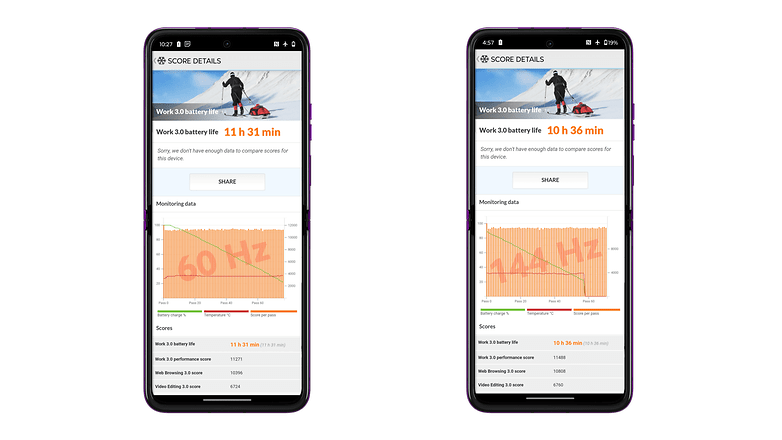 Here, it was only 10 hours and 36 minutes in the end. So, it can be seen that despite intelligent regulation, which is done by the system in both cases (60 and 144 Hz), a low screen refresh rate is advantageous in terms of battery consumption.
Motorola Razr (2023) technical specifications
Technical data
Device
Image
Internal display
6.9 inch OLED, FHD+
2,640 × 1,080 px (413 PPI)
LTPO, 144 Hz refresh rate
Touch rate: 240 Hz/360 Hz (in gaming mode)
max. 1,400 nits
External display
1.5 inch OLED (8-bit)
194 x 368 px (282 PPI)
60 Hz refresh rate
touch rate: 120 Hz
max. 1,000 nits
Dimensions
Opened: 73.95 x 170.82 x 7.35 mm (H x W x D)
Closed: 73.95 x 88.24 x 15.8 mm (H x W x D)
Weight
188,6 g
Colors
Sage Green, Summer Lilac, and Vanilla Cream
SoC
Qualcomm Snapdragon 7 Gen1
Memory
(in Europe)
8 GB LPDDR4X RAM
256 GB UFS 2.2 ROM
Software
Android 13 | Moto My UX
Expandable memory
❌
Main camera
64 MP | f1.7 aperture | 1/2.55 inch | 0.7 µm pixel size | OIS
Quad pixel technology: 16 MP | 1.4 µm pixel size
Ultra-wide-angle camera
13 MP | f/2.2 aperture | 1/3 inch | 120° viewing angle | 1.12 µm pixel size | Macro
Selfie
32 MP | f/2.4 | 0.7 Pixel Size
Quad Pixel Technology: 8 MP | 1.4 µm Pixel Size
Video
4K at 30 fps | FHD 30 / 60 fps
Audio
Stereo speaker | Dolby Atmos
Battery
4,200 mAh
Wired charging
Max. 33 W
Wireless charging (Qi)
5 W
UWB
No
Other
IP52 certified
USB Type C (2.0)
NFC, BT 5.3, Dual-SIM (5G),
WLAN 2.4, 5 and 6 GHz
Aluminum frame (7000 alloy)
Faux leather back
Final verdict
Motorola presented two foldables this year. Okay, nothing special you say, Samsung has been doing that for years. But Motorola offers two foldables with the same form factor—the clamshell design—from the Flip family. And Motorola is now competing with the South Korean company twice in this segment: once with the Razr+ (2023), with an extremely large and full-fledged outdoor display, and the Razr (2023) base model, which rather belongs to the inexpensive foldable category at just under 900 Euros (US pricing still pending).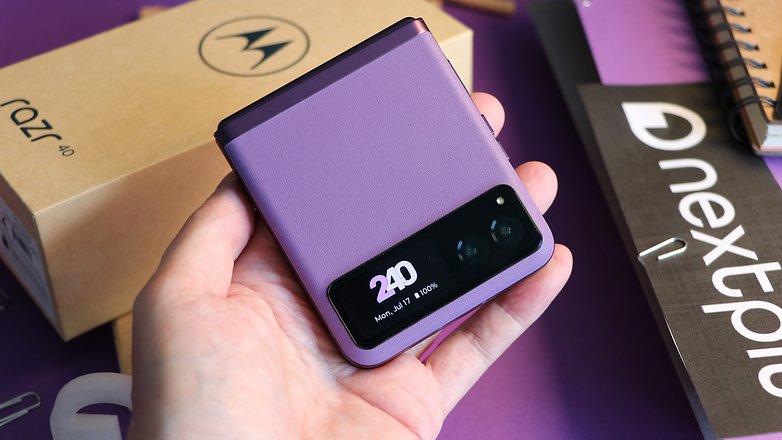 This is not only reflected in the 1.5-inch small external display, which primarily serves as a quick source of information but also in the upper mid-range processor, the Snapdragon 7 Gen 1. Nevertheless, it is completely sufficient for all everyday tasks, as well as computationally intensive games. On top of that, the Motorola Razr (2023) offers a better main camera and bigger battery than the Razr flagship and thus takes excellent daytime pictures and lasts even longer.
If you've been debating whether or not to get your first foldable and find the form factor attractive in terms of size, the latest Motorola Razr (2023) might be just the right choice. I can't really think of any reason that would speak against the new Razr, except that it is not a flagship. But if you want that, buy the Razr+ or wait for the Samsung Galaxy Z Flip 5.