Moto G (2014) battery tips for superior battery life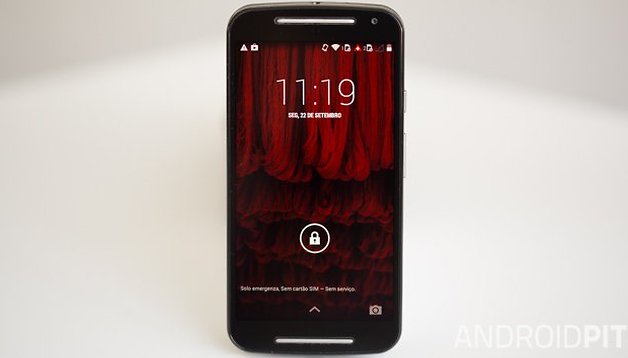 We love the Moto G (2104) - it took a near-perfect starting point and made it even better. But its battery, like most affordable devices, could be improved. So we've pulled together the best Moto G (2014) battery tips to bring some serious battery life to one of the best budget Android devices around. NEXTPITTV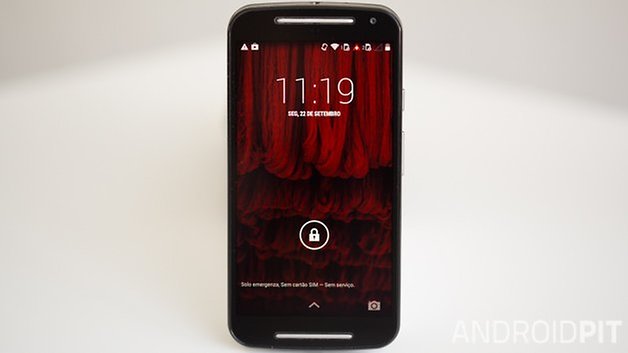 Best Chrome extensions for syncing with your Android
Stop over-syncing
The same can be said for your app syncing schedule. While have Gmail sync every fifteen minutes when you could just refresh it every time you open the app? You can easily change sync settings in most app's individual settings, and Google services can be managed in Settings > Accounts. Just open your Google account and uncheck the Google services you don't actually use or cancel sync for all Google accounts in the overflow menu.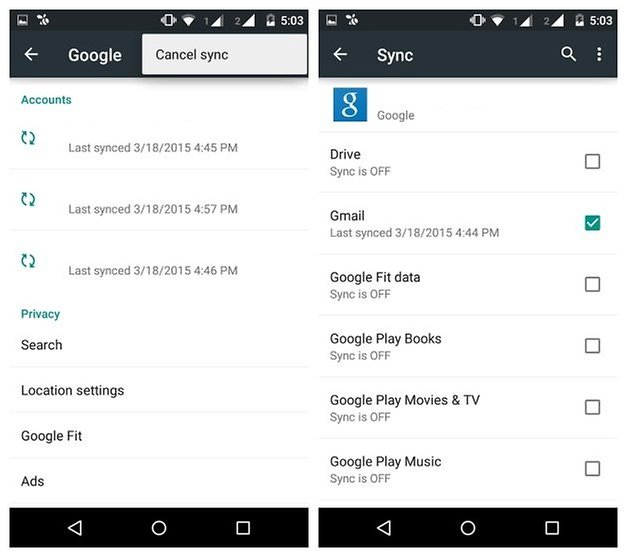 Google Now is in the same boat. While it's a great service and immensely useful at times, if you never find yourself using voice commands, paying attention to Google Now's card suggestions or otherwise making use of what it offers, you can simply turn it off in your Google Settings app (the gray one with a little 'g' on it). Just turn off Google Now cards and ''OK Google'' hotword detection.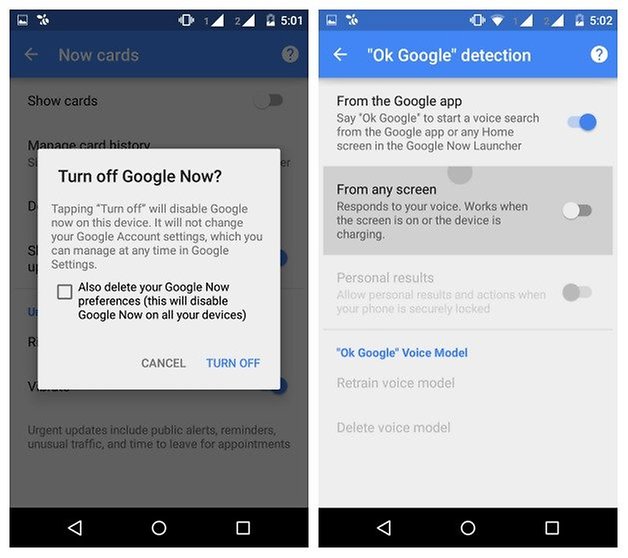 Lower screen brightness
This is a no-brainer for any phone. The screen is the biggest battery suck of all, so dropping the screen brightness to as low as is comfortable for you is the easiest way to save on battery life.
Also, auto-brightness is a bit of a power suck because it is continuously bumping the screen level up and down according to your environment, whether it's needed or not. You can very quickly bump up your screen brightness in the Quick Settings anyway.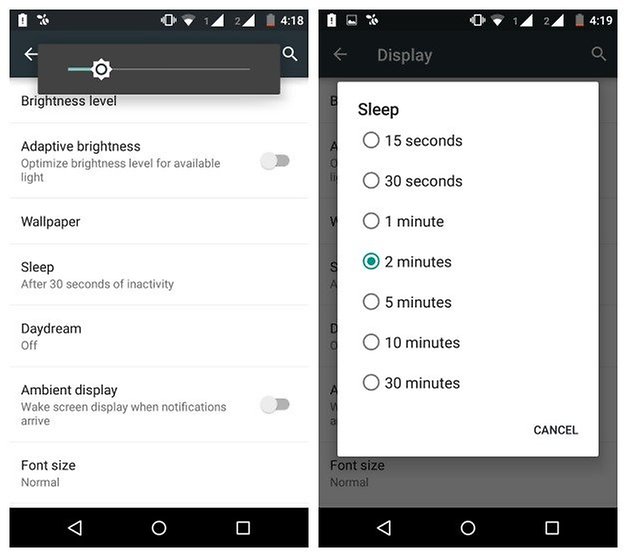 Shorten your screen timeout
Another dead obvious one for all phones, your screen timeout settings should be kept as short as possible. Most phones come with a two-minute default setting which is way more than most people need.
If you put your phone down and the screen turns off after 30 seconds rather than two minutes, just think of the battery saving you'll make. If you can live with 15seconds the difference will be even greater.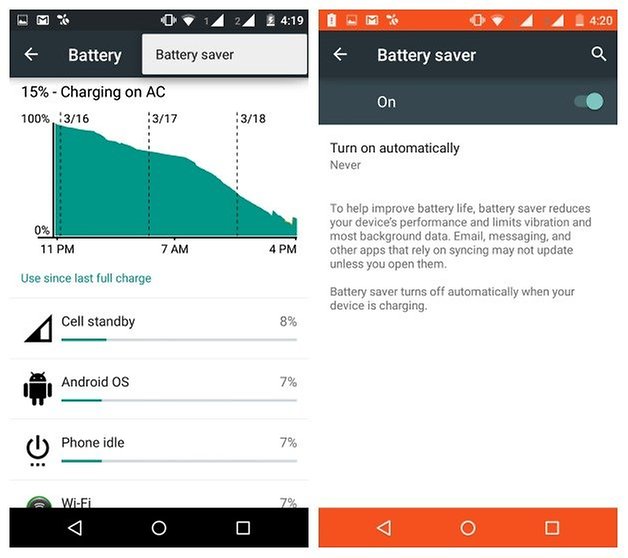 Use Android Lollipop's Battery Saver Mode
Android 5.0 Lollipop introduced a system-level Battery Saver mode. It can be set to automatically turn on at five percent or 15 percent battery life and will limit the performance and functionality of your phone to get you enough battery life until you find a charger.
Battery Saver great as a last minute back up plan, but it's important to know that some background processes like app syncing won't work during this time. Go to Settings > Battery and tap the overflow menu in the top right corner to access and enable Battery Saver.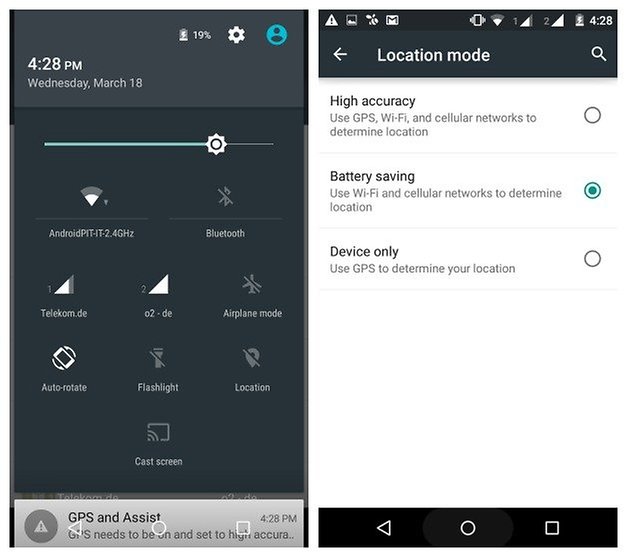 Keep GPS off
GPS is one of the biggest draws on an Android phone so it should be used sparingly, like when you actually have to navigate somewhere. Keeping Location Reporting either off or in Battery Saving mode is also wise.
GPS can be turned on and off in the Quick Settings as well as in Settings > Location. You can also choose your location reporting settings there between high accuracy, battery saving or device only modes.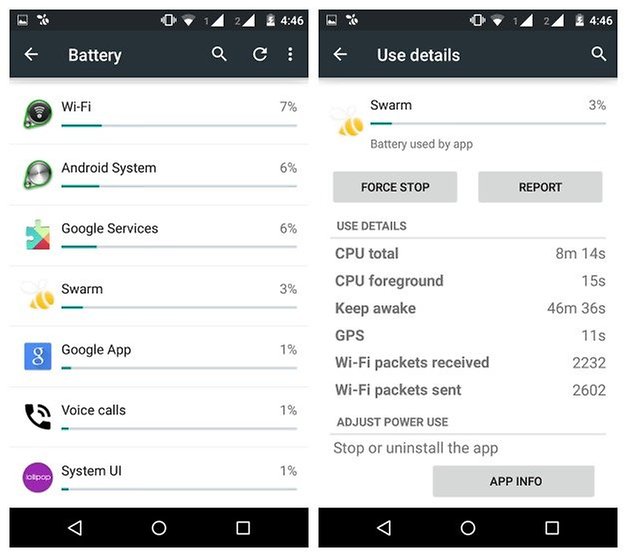 Keep an eye on battery-hogging apps
Sometimes your battery drain problems are purely due to some shoddy app coding. First of all, always make sure your apps are updated to the most recent version. If you want to see which Android apps consume the most battery, then head into Settings > Battery to see a list of the processes and apps most responsible for chewing your battery.
Some apps, like Facebook or Google Play Services are always going to be big battery hogs, but some others can be done away with if they're not an absolute essential. You can also see which apps consume the most RAM here too. Uninstalling apps you don't use is also a wise move.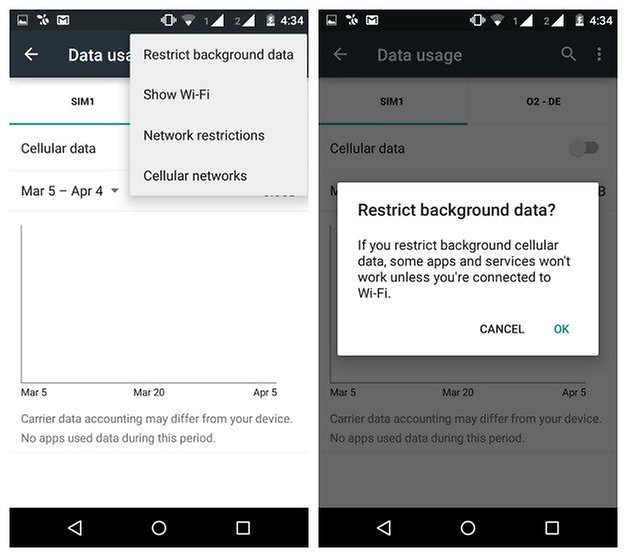 Restrict background data
If you head into Settings > Data Usage and hit the overflow menu in the top right hand corner you'll see an option for restricting background data.
While I wouldn't recommend using this all the time (as it limits your Moto G's ability to sync your apps and otherwise perform how you expect it to), it is a useful trick to have up your sleeve for days when you know you're likely to need all the battery life you can scrounge. Also, Wi-Fi is more energy efficient than mobile data, so use it whenever you can.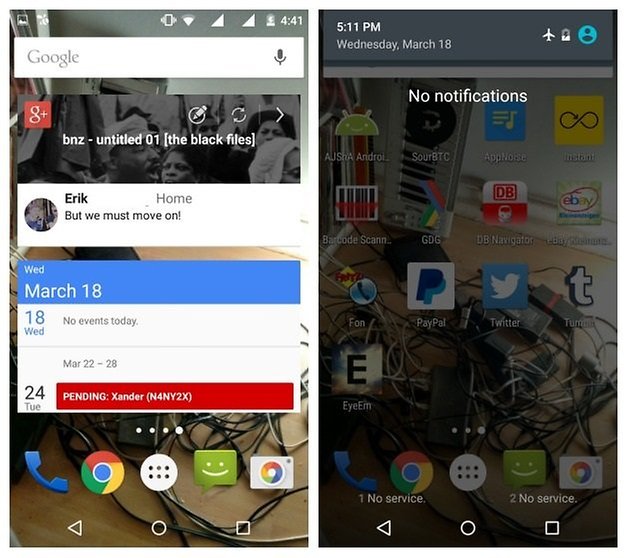 Ditch widgets
While I'm personally a huge fan of widgets, from weather widgets to Reddit to my favorite Android blogs, I also know that having a bunch of widgets spread across your multiple home screens wreaks havoc on all the background data and endless syncing that goes on to keep them up to date.
It is much more energy efficient to simply open apps to get your Android news or weather fix and then close them again. Widgets sync at relatively short intervals all the time, even when you don't really need them to.
Use Airplane Mode
If you're about to step into a meeting for a while and don't want to be disturbed you can very easily switch Airplane Mode in Quick Settings on to restrict your Moto G's connectivity. Not drawing power for Wi-Fi, 4G or Bluetooth will make a difference to your battery life.
The same goes for sitting through a movie or while driving. Why turn your phone on silent when you can put it in Airplane Mode (or better yet, just turn it off for a while)? All of these tips may seem minor, but a lot of small battery tips add up to a lot more battery life.
How else do you conserve battery life? What's your longest screen-on time?