MediaTek Goes All-In with the Dimensity 9300 to Challenge Snapdragon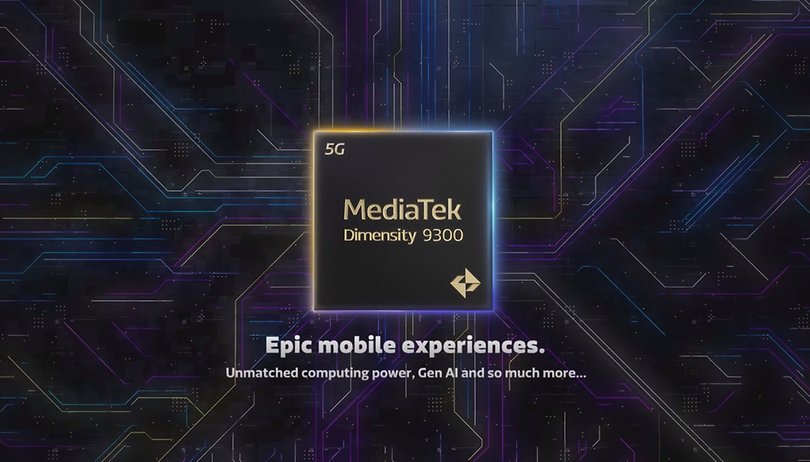 After years of being the eternal underdog in the Android SoC space, MediaTek has gradually attacked the flagship performance segment usually held by the Snapdragon processors. For 2024, the Taiwanese company presented its new flagship Dimensity 9300 chip with a new strategy: Instead of the usual mix of performance and efficiency cores, the new chip packs four prime cores with four performance cores to face the Snapdragon 8 Gen 3 chip.
A few days after the official launch of the rival Snapdragon 8 Gen 3 flagship processor, MediaTek quickly presented its contender for the Android performance crown in 2024: The Dimensity 9300 chip, bringing a different recipe in terms of CPU layout. Gone is the traditional 1+3+4 mix of prime/performance/efficiency cores to be replaced by a straight 4+4 mix of prime and performance cores.
Dimensity 9300
Snapdragon 8 Gen 3
Dimensity 9200+
Snapdragon 8 Gen 2
Apple A17 Pro
Tensor G3
Prime core

2x Apple custom @ 3.78 GHz

Intermediate core

2x Cortex-A715 @ 2.8 GHz
2x Cortex-A710 @ 2.8 GHz

4x Cortex-A715 @ 2.37 GHz

Efficiency core

4x Apple custom @ 2.11 GHz

RAM

LPDDR5T-9600
4x 16-bit @ 4800 MHz
(76.8 GB/s)

LPDDR5X-9600
4x 16-bit @ 4800 MHz
(76.8 GB/s)

LPDDR5X-8533
4x 16-bit @ 4266 MHz
(68 GB/s)

LPDDR5X-8400
4x 16-bit @ 4200 MHz
(67.2 GB/s)

LPDDR5-6400
4x 16-bit @ 3200 MHz
(51.2 GB/s)

GPU

12x ARM Immortalis-G720
Vulkan 1.3
Hardware ray tracing

Adreno 750
Vulkan 1.3
Hardware ray tracing

11x ARM Immortalis-G715
Vulkan 1.3
Hardware ray tracing

Adreno 740
Vulkan 1.3
Hardware ray tracing

6x Apple custom GPU
Hardware ray tracing

ISP

Up to 320 MP
(Imagiq 990)

Up to 320 MP
(Imagiq 890)

Cellular modem

5G (sub-6GHz+mmWave)
(Snapdragon X75)

5G (sub-6GHz+mmWave)
(Snapdragon X70)

5G (sub-6GHz+mmWave)
(Snapdragon X70)

5G (sub-6GHz+mmWave)
(Exynos)

Connectivity

Wi-Fi 7
Bluetooth 5.4
(FastConnect 7800)

Wi-Fi 7
Bluetooth 5.3
(Filogic)

Wi-Fi 7
Bluetooth 5.3
(FastConnect 7800)

Process node
MediaTek used TSMC's third-generation N4 to increase the number of high-performance cores with an added L3 cache to four, running at a slightly lower clock speed than its predecessor—3.25 GHz instead of 3.35 GHz on the Dimensity 9200+'s single prime core.
To replace the intermediate and efficiency cores, the Taiwanese engineers took the bold decision to use four high-performance Cortex-A720 cores, but clocked them at a lower 2.0 GHz—a frequency that is more in line with the A520 efficiency cores than the usual 3.0 GHz seen on the A720.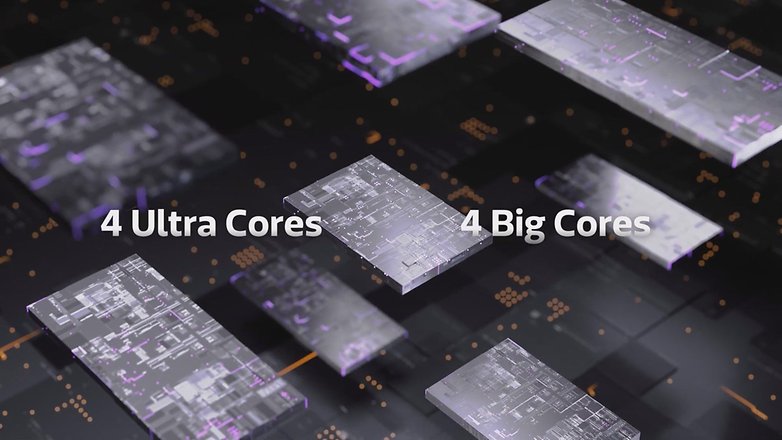 The result should be improved multi-threaded scores on benchmarks like GeekBench, and potentially any heavy workload like image and video processing. However, it remains to be seen if the Dimensity 9300 can keep its clock speeds that high under sustained loads, like games, without overheating or thermal throttling.
On the GPU front, the Dimensity 9300 brings the newest generation of ARM's graphics core, the Immortalis-G720 in a 12-core configuration. The flagship GPU includes Vulkan 1.3 support, including hardware ray tracing for improved lighting and reflections in supported games.
And not one to avoid 2023's hottest hashtag, MediaTek also highlighted its new APU 790 AI accelerator. Similar to Qualcomm, the Taiwanese company has been investing in AI acceleration for quite a few years, and the new AI core promises "one second" Stable Diffusion image generation (like its 8 gen 3 rival) and support for large language models (LLM) from Meta, Baichuan, Baidu, and other companies.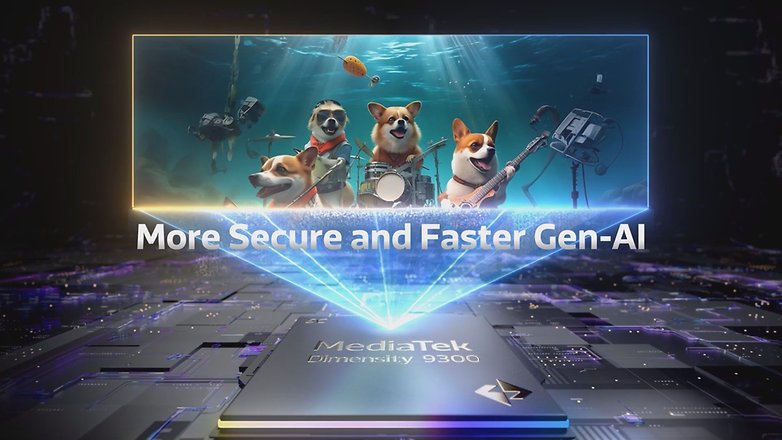 AI features should also enhance image capture, with improved support for object detection, image enhancements, and other generative features powered by LLM. Even cellular connectivity is promised some AI magic, with better bandwidth usage and improved power efficiency.
MediaTek announced that the first Dimensity 9300-powered phones will be available "by the end of 2023", without naming brands or models. A mysterious Vivo phone with model number V23009A has been breaking multi-threaded mobile records at GeekBench 6 in the past week, while another unnamed phone, this time from Oppo recorded some benchmark runs last month.
It will be interesting to test the new flagship phones face-to-face, but apparently, the 2023 launches for the new Dimensity and Snapdragon phones are exclusive to the Chinese market. I guess we will have to wait until MWC 2024 for more details on the new Android flagship phones.