LG Watch Sport hands-on review: a smartwatch saved by Android Wear 2.0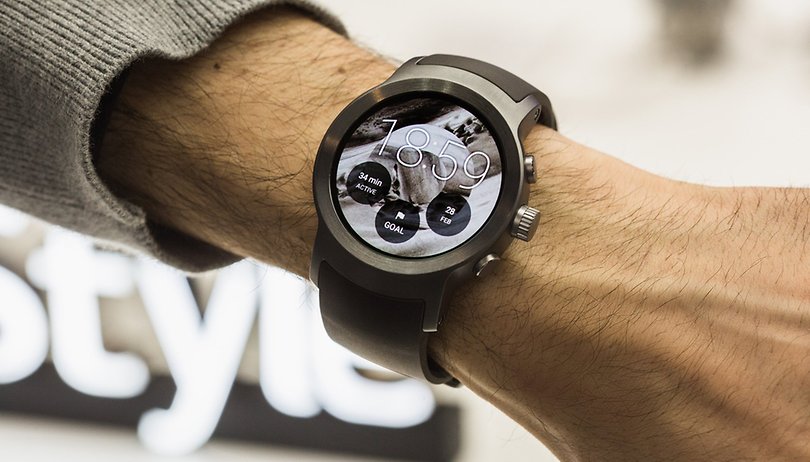 Launched in early February in conjunction with the launch of Android Wear 2.0, the LG Watch Sport is one of two new smartwatches from the South Korean manufacturer. Developed in partnership with Google, the Watch Sport is, as the name suggests, the model intended for a sporty crowd. Since it was presented at the LG booth at MWC 2017, we were able to do a hands-on review. Here are our first impressions.
All about the new Huawei Watch 2
LG Watch Sport release date and price
The LG Watch Style and Watch Sport are the new watches connected from the South Korean manufacturer. They were presented on February 8. In terms of specifications, the Sport Watch is the higher-end of the two. It is has been available since it was announced in the US for $349 in two colors: Dark Blue and Titanium. The watch will also be available in Canada and the UK.
LG Watch Sport design and build quality
The Watch Sport is an imposing watch (perhaps a little bit too much so) that is difficult to hide at 14.2 mm thick. Right away, it's apparent that this smartwatch will be more suitable for users who have big wrists and like to show off their watch. It features a slightly larger screen (1.3-inches) than the LG Watch Style (1.2-inches) and a much more robust design due to its specs, which translates to more weight (89 grams).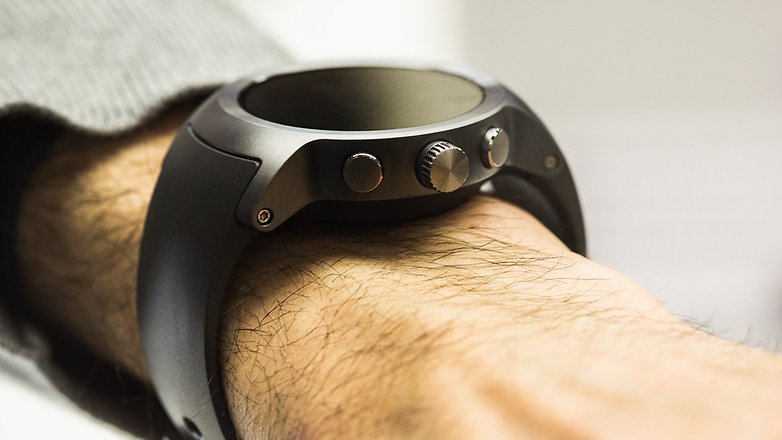 Since it is aimed at athletes, the watch uses resistant, durable materials and has an IP68 certification, which ensures that it is waterproof. It's not a piece of jewelry - it's very much a fitness watch. It offers a matte stainless steel case which is attached to a rubbery-plastic strap that doesn't hold sweat odors. In use, one quickly notices the stiffness of the band. And, unlike the LG Watch Style, this one can not be changed since it integrates some sensors necessary for the operation of the watch.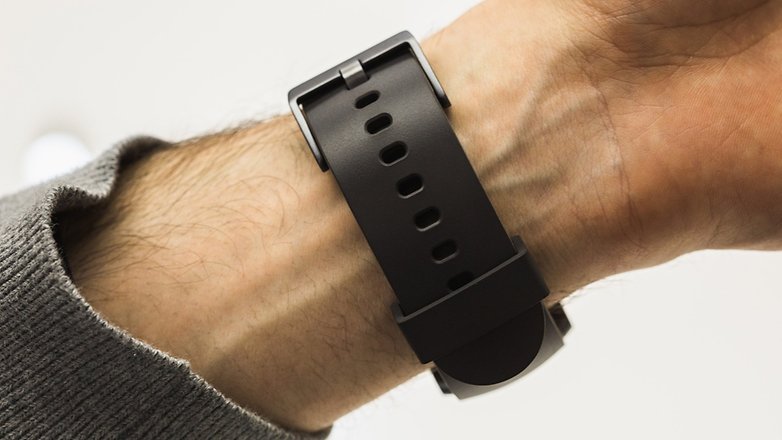 On the wrist, the Watch Sport is nevertheless comfortable and rather pleasant, despite its bulky size. The plastic of the bracelet seems to be of good quality and does not stick to the skin, an important thing for users who like sports.
On the side, there is a rotating knob in the center, similar to what Apple offers on its smartwatch. Two other side buttons are present. They can be programmed for the app of your choice, but by default, they are shortcuts to the fitness application and to Android Pay.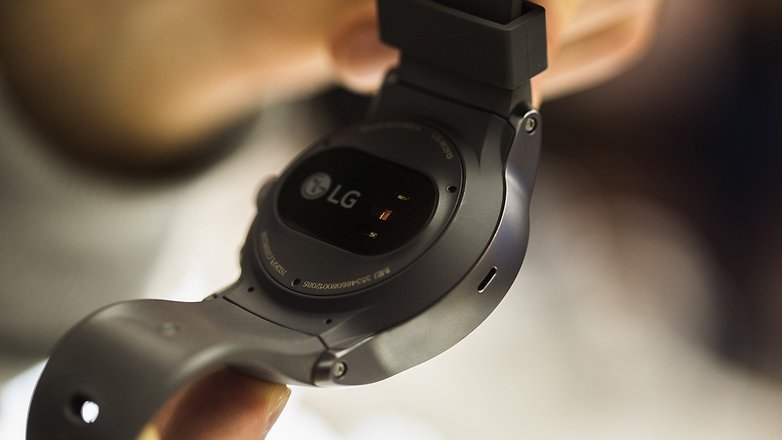 Finally, this model has a microphone and a speaker for making telephone calls, plus a SIM card slot so you can do so independently of a smartphone.
LG Watch Sport display
The new LG Watch Sport features a 1.38 inch screen (covered by a Gorilla Glass 3) with a resolution of 480 x 480 pixels. This resolution is comfortable for daily use. Unlike the Moto 360, the LG Watch Sport makes use of the entire round screen with no empty spaces.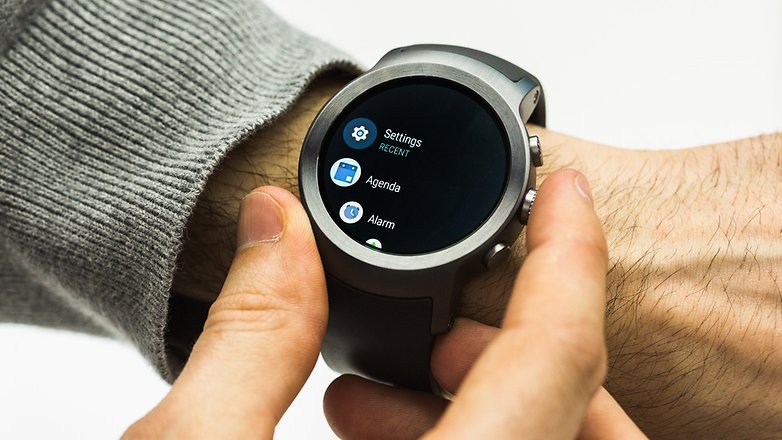 During my hands-on, I found the screen to be very bright and perfectly visible. Unfortunately, I only had the chance to test the watch in indoor lighting conditions. In theory, the watch would automatically adjust its brightness when outdoors.
LG Watch Sport software
It is none other than the new Android Wear 2.0 that equips the new LG Watch Sport. This is the most interesting aspect of this watch. The update was officially announced at the beginning of February and is full of new features which you can find in this watch. New additions include the app drawer and some practical novelties, especially for sports-loving people.
With this new version, you can now install applications directly on the smartwatch. The dials, applications and small games can be installed without connecting to a smartphone. The watch allows you to change the dial and take advantage of the features you prefer, such as displaying the number of steps you have taken or your heart rate.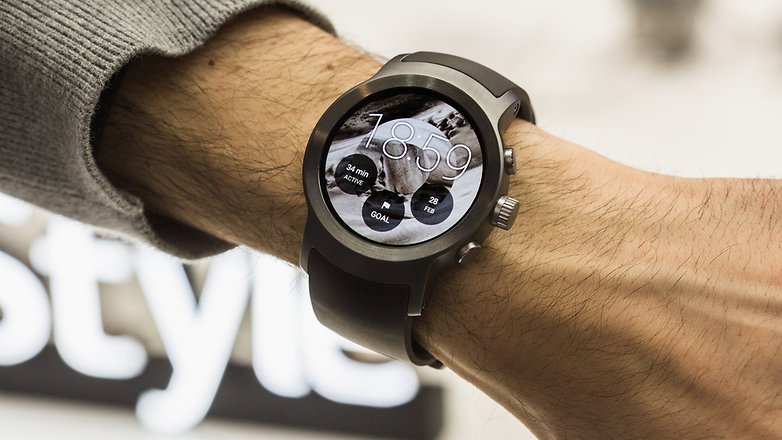 Of course, Google Assistant is included. The LG Watch Sport also has a rotating knob on the side to help when navigating menus. This turns out to be a real pleasure to use. I did not notice any lag during my hands-on review.
LG Watch Sport performance
Under the hood, the LG Watch Sport features a quad core Snapdragon Wear 2100 1.2 GHz processor. The watch also offers 768 MB of RAM, 4 GB of internal storage, Wi-Fi, NFC, Bluetooth 4.2, 4G and is equipped with wireless charging capability. It is important to note that the LG Watch Sport comes with an NFC chip and can therefore be used with Android Pay for mobile payments on NFC-enabled terminals.
Since it is a sport-oriented model, there is also an accelerometer, a gyroscope, GPS and also a heart rate sensor.
LG Watch Sport battery
In terms of battery life, the LG Watch Sport has a battery with a capacity of 430 mAh. With this capacity, one could expect an appropriate amount of usage before the smartwatch dies: a little more than a day with sustained use. This will certainly decrease if you use the GPS or the 4G connection heavily. Only with a full review will we find out for sure.
LG Watch Sport technical specifications
Early Verdict
The LG Watch Style and Watch Sport were Google's headliners during the launch of Android Wear 2.0, but it must be noted that, with the exception of its software interface, the watch does not present a really killer feature to convince new users and boost the smartwatch market.
With its imposing but on the whole successful design, the Watch Sport will be able to attract an audience whose priority is to keep track of their fitness and physical performance. However, competition is harsh in this category, and it isn't clear that the Watch Sport will be able to claim much ground.
LG Watch Sport - where to buy?